Toro y Moi, Noname, Earl Sweatshirt & more helped deliver a blissful experience for dedicated indie fans
Dare I might say, Pitchfork is one the greatest festivals ever? There's a part of me that wants to include the word "indie" within that first sentence, but something somewhere in my brain stops me. It is no doubt one of the greatest indie festivals – and that's a fact. But festival as a whole – well that's something I have to explain. Pitchfork is the most mellow festival in the world. There's no pushing or shoving, there's no 25-minute bathroom lines, you can shop, you can sit, hell you could even take a nap if you wanted to. Drinks are cheap and food is abundant, everyone who attends is there for the music and the best part: when one set ends you ca turn to the stage behind you and can immediately see the next one.
The online publication Pitchfork, which runs the show, is known for its captious criticisms equally as common as its courteous compliments – both produced through a number rating.  Impose Magazine headed to Pitchfork on Sunday to get a little taste of it all and to create our own "Pitckfork-esque" ratings on the day. 
Sunday's stacked lineup featured some of indie music's greatest hip hop, R&B and dance music with performances from L'Rain, Erika de Casier, Noname, Xenia Rubinos, Earl Sweatshirt and the highly anticipated Toro y Moi and The Roots. 
Words by Kelly Kerrigan
8.5 – Japanese Breakfast's collab with Goose Island Brewing "Be Sweet Lager" 
Not only was Be Sweet Lager wrapped in the most adorable packaging, (that I was tempted to save forever) but the lager was actually very digestible with its nodes of sweetness, so much so even non-beer drinkers could enjoy. You couldn't purchase this special beverage unless you found the Goose Island cocktail bus and it sold out midway through the day. 
4.0 – Badbadnotgood's absence 
In the era of cancellations, it's impossible to get angry over anyone's absence on a lineup, but Badbadnotgood's planned set would have been the icing on the cake to an almost perfect Sunday. Luckily, Chicago's Natural Music Society stepped in to bring some ecstatic minimalism to the late afternoon. 
3.0 – The Weather 
This year Chicago served up some of its most classic bipolar weather to Pitchfork attendees – densely humid, then blistering heat, chilly nights, and pouring rain filling the festival grounds with mud. Sunday glittered with scattered rain and muggy heat but of course it's not something Pitchfork attendees haven't seen before. 
10 – The inclusion of rap acts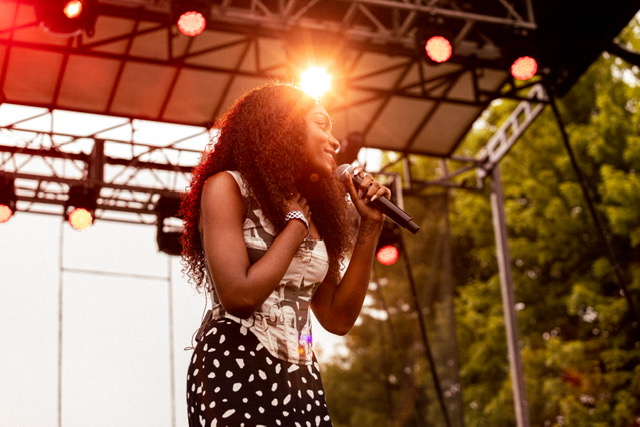 From Noname to Earl Sweatshirt, Wiki to CupcakKe – it's clear that this year, specifically on Sunday, Pitchfork aimed to include more rap acts on the lineup. Chicago's Noname played for one of the biggest crowds of the day and promised the audience that "this is not a regular performance." She spoke from the soul while intimately connecting the audience to her words. Earl Sweatshirt opened with the punctual masterpiece "Riot" and spent the set making the audience laugh, "I'm not going to lie to you, I'm wearing flip flops." 
9.5 – Toro Y Moi's Set 
Now on tour with his newest LP MAHAL, Chaz Bear, better known as Toro y Moi, revisited Chicago for the first time in a long time. He faithfully reintroduced himself to the city by opening his set with hits off the new record "Deja Vu," "The Loop,""Postman" and "Magazine." Conceptually different compared to Bear's earlier work, MAHAL is a thematically strung together collection of songs with creative compliments – videos, visual assets and a jeepney. At Pitchfork Fest, the songs off MAHAL translated harmoniously with the rest of his set of old hits, building up to the grooviest of dance parties. Throughout the performance, Bear dipped his toes into almost every genre he's ever played with. He whisked through R&B bangers "New House" and "Rose Quartz," tapped into his electronic stylings, telling the crowd, "I hope you like 160 bpm," and performed "The Difference," his Grammy-nominated collaboration with Flume.  I, along with what seemed like the rest of the audience, was pleasantly surprised with Bear's set; it sounded fantastic, he looked great dancing around on stage, and ultimately, it felt good to welcome the music powerhouse that is Toro y Moi back to Chicago. 
10 – The Roots close it out & cover "Running Up That Hill" 
The Roots closed out Sunday night with a lengthy jam sesh, even covering Kate Bush's recently-resurged chart topper "Running Up That Hill" (thanks to Stranger Things) in Union Park. Through the dancing, the rhymes, the reggaeton, and Questlove's impeccable drumming, The Roots closed out the music-centered weekend perfectly with lots of music and instruments; the set featured tubas, saxophones, and even a flute fusing together jazz and hip hop, funk and soul.