Time to get real weird with it
We're living in weird times. And after all the crazy things that we have had to endure over the last few years, it's safe to say there's no going back to the way things were. The energy emanating out of 2022 was full of confusion, trepidation, and eventually, a heavy dose of carefree fuck it energy.
There isn't a better way to capture that state of flux right now than with a soundtrack. As the music industry continued to evolve through post-pandemic hurdles (notably, Taylor Swift Ticketmaster fiascos), bands and artists attempted to make sense of the frantic, ever-changing world around them. Many released albums that tried to tackle these feelings head on, while others tried to escape into their own fantasy world – away from all the chaos, strangeness and evil. Both modes yielded some succinct statements of the times that we are living in. Weyes Blood put a finger on the pulse of our nation, analyzing the ways in which we have become alienated and isolated from one another. She too concluded that we're too far gone to return to a new "normal." Some albums walked away from the rubble with a newfound sense of hope – a spiritual turning of a new leaf – such as Fax Gang's Dataprism. Others were not so optimistic – like Chat Pile's terrifying God's Country, which straight up prophesied the apocalypse and concluded that our days are numbered.
It's as Danny DeVito's character Frank Reynolds says in a particularly unhinged episode of It's Always Sunny in Philadelphia, "I don't know how many years on this Earth I got left. I'm gonna get real weird with it…" With that in mind, here's 50 of our favorite albums from 2022.
40 Watt Sun – Perfect Light
Many artists underwent reinventions of their sound in 2022, but few were as dramatic as 40 Watt Sun's metamorphoses from doom metal to languid chamber folk. There's not a trace of metal to be found on Perfect Light, London musician Patrick Walker's latest release under the 40 Watt Sun moniker. Instead, the album brims with placid, pastoral slowcore tracing a journey full of sadness and tangled nostalgia.
The production on Perfect Light is crisp and clean, allowing listeners to bask in every solitary pluck of acoustic guitar and the solemn reflections within Walker's lyrics. Opening ballad "Reveal," one of the prettiest and most gripping songs of the year, contains sparse chords supplementing Walker's haunting vocals, which express a storm of emotions: loss, longing, regret, and the stinging feeling of holding onto someone in the face of trauma. "Whatever you touch, whatever you feel/ Whatever the cut that life won't heal," Walker croons, exposing the wounds that ensnare a relationship. The album packs a walloping punch as fleeting feelings of hope and joy collide with moments of heartbreaking distress, from the widescreen epic "Behind My Eyes" to the violin-tinged finale "Closure." The average track clocks in at around nine minutes long, giving Walker the space to build tension to searing peaks. Ultimately, it's a therapeutic listen. For those who relate to 40 Watt Sun's intense melancholy and brutal honesty, Perfect Light is a solemn embrace and a reminder of the light at the end of the tunnel. –Jeff Cubbison
Alex G – God Save The Animals
For a songwriter so famously insular, it's almost funny for Alex G to release an album as brazenly titled as God Save The Animals. Per usual, indie rock's foremost DIY recording auteur is just being sincere on his own terms. Stretching his trademark melancholy indie folk sound toward alt-R&B, alt-country, heartland rock and hyperpop, God Save The Animals is both Alex Giannascoli's most surprising and most fully realized album yet. 
The Philadelphia artist has long been a master at lifting the uncanny out of the mundane, and G.S.T.A.'s spiritual bent provides a striking resonance for his songs' typical cast of guilty, lonely characters, enhancing the abstract anxiety of "S.D.O.S.," resigned duty of "Mission" and vulnerable optimism of "Miracles." On top of all of that, the erstwhile bedroom musician is finally vying for the cleaner tones of professional recording studios. For an artist who has never been this straightforward, God Save the Animals can feel a bit like a curtain being lifted. Thankfully and predictably, with the mercurial moods and stylistic diversions you always get on an Alex G record, it's a curtain lift that reveals just as many questions as it answers. -John Warlick
Alvvays – Blue Rev
What do you do when your band's killer sound suddenly spawns a sea of imitators? If you're Alvvays, you level up and prove the copycats just don't have the stuff. Truly, Blue Rev is Alvvays' most indelible set of bittersweet, hazy, perfectly jangly indie pop songs yet, which says a lot for a band with such a killer track record. 
Recorded by producer Shawn Everett in triumphantly crunchy high-definition glory, Rev takes what Alvvays have always done well and screens it in 4K, nestling bandleader Molly Rankin's most emotive and hard-hitting songs yet in widescreen Loveless-esque noise. Although Rankin's lyrics on Rev can scan as dejected compared to her beaming melodies, there's a consistent warmth to her songwriting throughout the record that feels like you're commiserating with a friend you haven't seen in ages. Over mountains of glorious fuzz, it adds up to a remarkably inviting and relentlessly hooky collection you sense imitators will be holding dear for quite some time. -John Warlick
Beach House – Once Twice Melody
Beach House's new album Once Twice Melody, released back in February, is an epic 18-track masterpiece from the Baltimore duo, giving them enough time and space to explore different sounds from their entire discography. Following 2018's breathtaking 7, Victoria Legrand and Alex Scally go even more expansive for their most inspiring range of sounds yet.
The new LP offers plenty of whirring soundscapes to take in, filled with easy-going acoustic guitars and rosy vocoders, water analog synths and startling chord changes which place you in a laid-back mind state. Where the duo once held similarities with bands such as Mazzy Star or My Bloody Valentine, on Once Twice Melody, they explore effervescent sounds often heard from Air, M83 and Kevin Parker's reminiscent production work with Tame Impala. Highlights include the flickering and symphonic "Pink Funeral," as well as "New Romance," whose gleaming walls of synths soar alongside Legrand's lush, whispery vocals. Once again, Beach House prove that they're one of the most interesting and consistent artists of their generation. -Aidan Grant
The Beths – Expert in a Dying Field
The Beths are one of the most consistent bands out there. On their splendid third LP, the New Zealanders once again prove experts in giving the people exactly what they want. And that definitely is not a dying field.
Expert in a Dying Field is the band's most complete emotional ride yet, embracing all the thrilling aspects that have made them the catchiest and most relatable group in the alternative sphere. Frontwoman Liz Stokes steers the ship with her pure and perfect singing voice. The opening title track is an earworm of a thesis statement. Stokes' vocals float gently over gorgeous reverberating melodies and express the bittersweet spectrum of emotions that resonate when a relationship winds down. The album's guitar tones are fuzzy in the power pop vein – propulsive and sentimental with a kick of poignancy to match the lyrics. Jonathan Pierce is a guitar god, wielding explosive power chords and solos all over lead single "Silence Is Golden" to escalate a mounting sense of anxiety. But the most special thing about The Beths is their quirky, empathetic charm that persists even in the most stressful of situations. They're the friends who know exactly what you're going through, and who will do anything to help pull you out of your rut. We all need bands like that in our lives, and Expert in a Dying Field is them at their most down-to-earth. -Kaya Haskins
Big Thief – Dragon New Warm Mountain I Believe In You
Big Thief's fifth album is a tale of questions. On the intro "Change," they ask a simple two letter question, "OK?" On "Certainty," "Why do I string you along?" In the title track, "Hey, you/ Do you remember me too?" 
It's an exploration of nature and the natural flow of emotions – many very painful and some to be avoided. Which points to the leading question on the record, "Would you live forever never die?/ While everything around passes?" Like an hourglass glued to a table, this record sifts through time's possibilities; time that's happened, time that may never happen, time that still has a chance. Dragon New Warm Mountain I Believe in You is about love in all its capacities. It's a journal entry and a thought process of the maybes that haunt and drive us. "Maybe I love you," Adrienne sings on "Certainty." 
Grappling with these questions is what draws me to repeat listens. Take the music away and read the lyrics in their natural state and Dragon is a book of poetry. A story of faith. A spell bound of unanswered prayers. Questions for the wind and an outpouring of love. No matter how many times I press play, the tales feel like they're being told for the first time, and each time they seem to mean something different. As the record consumes you, you feel it thread its way into thickness like a child's folklore. 
Sonically, Big Thief has never followed a typical pattern – sometimes their melodies are hard to digest. As complex instrumentally as they are lyrically, it takes one line, one chord, one solo to soften into their sound and you're hooked. Dragon is one of the most beautiful records of the year, but also one of the most painful, with songs like "Dried Roses" and "Change" cutting to the core. Dragon is for the over-thinkers, the late night poetry readers, the insomniacs, the lovers, the daydreamers. It keeps us pondering while sealing the envelope on the band's ability to string us all along – even for 20 songs. -Kelly Kerrigan
billy woods – Aethiopes
Last year, No Bells published a 2018 interview with New York's billy woods on a range of topics: his childhood, his deep literary interests and influences, formative experiences, the creative process, on Baldwin and Vonnegut, and his thoughts on late stage capitalism's effects on the worker. And when explaining the chorus of Armand Hammer's "No Days Off," woods says he was thinking of the part "in terms of a brutalist conception of late stage capitalism, although plenty of people don't work and they're eating big. The sense of diminishing resources, of working people stretched ever thinner, of a system that's completely without empathy." 
For an artist who has prioritized a sense of privacy throughout his career, the conversation was an insightful look behind the curtain into woods' goals as a musician and artist. But even if you didn't read that, his work speaks for itself, as these themes live in the autobiography of his work and in the scenes and characters he conjures. His first solo project since 2019's dual Hiding Places and Terror Management releases, Aethiopes finds woods partnering with producer Preservation, whose uncanny production provides a murky, suspenseful foundation for woods to navigate through. woods' pen is sharp, and he winds and wields it through stark, cutting commentary further supported by his unflinching flow. With a supporting cast of peers and longtime collaborators including Elucid, Quelle Chris, Boldy James, Denmark Vessey, El-P, Gabe 'Nandez, Fatboi Sharif and more, Aethiopes sounds as dense as it reads, and is a project that demands ample attention to gaze at and unravel. -Chris Cubbison
Binker and Moses – Feeding the Machine
Contemporary jazz fusion has never been darker and more vulnerable in a way that best reflects the times. London musicians Binker and Moses (Binker Golding on saxophone and Moses Boyd on drums) – with help from Max Luthert on tape loops and electronics – delve deep into a full psychological analysis with their 2022 album Feeding The Machine. Key track, amongst the six welcomed lengthy songs to note, is "Feed Infinite." With its meandering crawl into the consciousness, subtle yet catchy beats land with fascinating rhythms that remain memorable. It is a prime study of composition that artists of all genres should review for their educational enlightenment. 
Many of the songs on Feeding The Machine start almost in a waking up sort of mindset supported by immediate introspection. A solitary horn bellows through at intervals that offer a mood change within an already brooding body of work. Listeners will find traces of reminiscent emotions from this past year and beyond to reckon with the present. Thoughts are encouraged to go astray here, and Binker and Moses are eager to do so to prepare for the future – whatever it may be. -Myles Hunt
Bitchin Bajas – Bajascillators
Bitchin Bajas make music that's slow to unravel but still in perpetual motion. Sometimes they make you feel like you're a snake slowly slithering through a rainforest floor, gazing and hissing at all the crazy sights around you. The Chicago trio's latest album Bajascillators is a colorful, ever-evolving collage of analog synths, keyboards, woodwinds and other sounds that expand the mind, numb the body, and hypnotize the soul.
Comprised of four tracks near or over ten minutes long, Bajascillators moves like molasses, adding, shedding and mutating different layers along the way. Shards of new age, ambient and kraut are on display here, but mostly it's a tranquil neo-psych acid trip. Opener "Amorpha" is as shapeshifting as the title suggests; twinkling, effervescent, liquid-like synth tones and softly pulsating cymbals ease you into a state of pure solitude. The sparse "Geomancy" softly chimes its way into your subconscious before blearing into the more upbeat "World B. Free." That track – named after the famed basketball player – introduces funky kraut synths, flute, and propulsive percussion adding to an increasingly quirky energy. Lastly, closing bop "Quakenbrück" opens into a more uptempo psychedelic jam with its off-kilter rhythms and warped analog synth melodies. With Bajascillators, Bitchin Bajas once again make you feel like you're living inside a kaleidoscope. And that's pretty fuckin bitchin. -JC
Black Country, New Road – Ants From Up There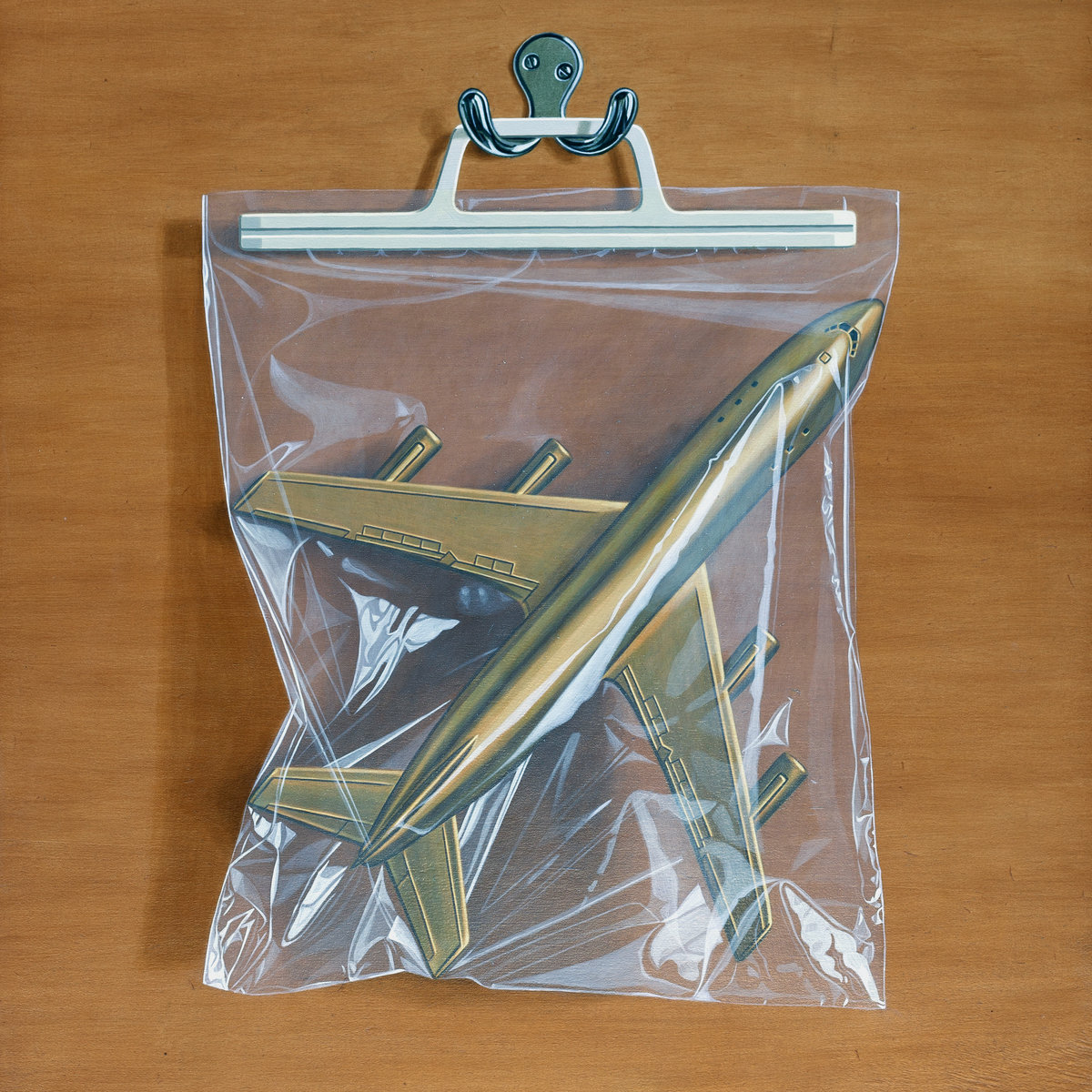 For the second year in a row, Black Country, New Road have made a relentlessly challenging album. The London band's sprawling LP Ants From Up There is more of a soft reboot than a continuation of what we heard on last year's For The First Time. Casting away the talky, verbose post-punk stylings of their peers, they embrace a spectrum of swiveling baroque and neoclassical avant-rock sounds, anchored one last time by the melancholic presence of singer Isaac Wood.
Ants From Up There is the sound of a band completely untethered by their past or genre conventions. Jazz, math, chamber pop, post-rock, and klezmer mingle with zero awareness for personal space, resulting in tracks whose textures encroach on one another in gloriously cluttered ways. Whether it's through pensive ballads ("Bread Song," "Snow Globes") or effusive horn-laced bangers ("Chaos Space Machine"), the band repeatedly sets up the listener for the next big surprise. Through Wood's emotive baritone and the recurring motif of a Concorde jet, BC,NR dissect feelings of longing, regret, alienation and perseverance.  
You're unlikely to hear any of these songs performed live in the future. With Wood having departed the band, BC,NR are likely to undergo another total reinvention of their sound. Recent shows have seen the members trading vocal duties song by song – a method that will likely allow them even more flexibility to really push their boundaries. Whatever that result looks like, it'll probably be something we can't even fathom. That kind of fluidity and unpredictability is special, and so is Ants From Up There. -JC
black midi – Hellfire
Black midi are in the middle of a creative run unheard of for a band in their category, which has something to do with the fact that it's become impossible to pinpoint said category. Despite their come-up as a progressively-minded, jazz-educated rock band prone to math-y jams, Hellfire is too irreverent to be prog-rock, too heavy for jazz, too unbounded stylistically to feel like math rock, and too meticulously composed to be described as jam-based. Whatever the category, Hellfire is an obvious, towering achievement. 
Refining the sprawl of its monumental predecessor Cavalcade, Hellfire is a full-throttle nightmare through noxious war zones, underground mines and suicidal performance art. The record's many moments of perversely dissonant sonics have led some critics to compare it to Primus or Mr. Bungle, and while that's not entirely off, a more salient comparison would be how Hellfire's theatricality, pan-genre ambition and blinding virtuosity recast the band as a funnier, British-born The Mars Volta. However you see it, Hellfire stands in stark contrast to black midi's closest peers, and it's a testament to their artistry that they can wrestle torrents of beauty, humor and genuine profundity out of such diabolical clamor. -John Warlick
Bladee & Ecco2k – Crest
Bladee is in a spiritual phase. He and fellow Drain Gang artist Ecco2K have made plenty of music together over the last decade, but the duo's first full-length collaboration finds the two Stockholm-based mostly-rappers teaching a Metaphysics 101 of their own design. Crest is an album where "we think we exist, that's why we suffer, do we not?" is a perfectly appropriate hook, and one that captures a rare level of acuity for a duo who have always had terrific chemistry. 
Recorded entirely in a tiny red cabin in the Swedish countryside, Crest zeroes in on what have always been Drain Gang's most intoxicating qualities: earnest yet far-out wordplay, undeniable pop charisma, and ethereal, futuristic production. Crucial to the former two factors being in top form here is the latter, with executive producer Whitearmor guiding Bladee and Ecco's meditations through mini-fantasias of airy cloud rap, sugary eurotrance and bittersweet synth-pop. Picture a parallel universe where the Vengaboys listen to Elysia Crampton and write rap songs about Gnosticism and you're halfway there. If you were new to the group, it would be understandable to be overtaken by Drain Gang's singular, unyielding self-belief here, but if you can give into its arcane charms, Crest may be the purest vision of the group's utopian philosophy to date. -John Warlick
Blind Girls – The Weight of Everything
Australia is morphing into a haven for heavy music. Returning four years after their promising debut LP Residue, Gold Coast emoviolence band Blind Girls unleash an intense record full of rapid-fire guitar work, throttling drums, and larynx-shattering vocals. The Weight Of Everything is everything its title suggests – packed with mounting tension, stress and anxiety – conveying the hopeless feeling that the walls around you are closing in.
Shedding a bit of the melodic, skramz-y side of their sound, Blind Girls go darker and more ominous while ratcheting up the inner turmoil. Siren-like riffs open the fraught "The Shape of Harm," which untangles the scars of a broken relationship: "Silent whispers through veins in the floor turn to screams/ As the walls bleed our goodbyes." Singer Shari Brouwer impressively shrieks into the abyss on "Bright Sadness," dialing up the turbulence and the heart wrenching screamo vibes. As the album progresses, fear foments into pain and anger as each histrionic scream forms the final defense against helplessness. Even the most stoic of listeners will succumb to its beautiful brutality. Across 11 songs crammed into 22 short-and-savage minutes, Blind Girls deliver a harsh ride that will simmer with you for a very long time. -JC
The Callous Daoboys – Celebrity Therapist
Sometimes it's impossible to fit a hard rock band into a specific box – especially when violins and saxophones are involved. Long talked about in heavy music circles, Atlanta's The Callous Daoboys dropped the most gloriously chaotic album of 2022. Unafraid to pivot on a dime and at breakneck speeds, the group's sophomore LP Celebrity Therapist succeeds at throwing everything at the canvas – like Jackson Pollack splatter art come to violent sonic life.
Celebrity Therapist revels in its hard-and-fast sweet spot while also demonstrating amazing scope and nuance via gnarled momentum-shifting detours and quirky interludes. Opening track "Violent Astrology" unleashes punishing stop-start math riffs amidst a flurry of screams before unwinding into a cathartic mood spiral. In taking so many risks, the Daoboys repeatedly swing for the fences and connect every single time. Most of the tracks feel like four songs squeezed into one, oscillating perilously between elements of hardcore, mathcore, tech metal, and good old fashioned rock n' roll. On top of that sound palette, the aforementioned violin and sax inject "What is Delicious? Who Swarms?" with spindly jazz and prog textures, dialing up the theatricality several levels.
The Daoboys are forceful nearly to the point of being overwhelming. But it's their knack for unpredictable wild card moves and a subtle sense of humor that makes Celebrity Therapist such a fresh and introspective missive about history repeating itself. Equal parts love and rage, it'll inspire you to dance and sing along as much as it'll stoke your desire to stage-dive and crowd-kill. -JC
Candy – Heaven Is Here
Have you ever seen two families fighting at Disneyland? Have you ever had a dream about dying? Have you ever been punched in the back of the head inside a mosh pit? Have you ever had an anxiety attack in a hospital bathroom? Have you ever been alone in the wilderness and known that you're being tracked, and by something much more powerful than you? Have you ever been completely unmoored in a storm, an eternity away from solid ground? Have you ever felt dread so powerful, you were dragged into an abyss of ecstasy?
Heaven Is Here is less of a metal album and more an artistic study of darkness. It's more akin to Goya's Black Paintings than a standard set of metal tracks, with formulaic structures, sometimes rote themes, and solid, if uninspired, technical musicianship. Candy have found a way to utilize the trappings and techniques of their genre to expand themselves artistically and explore the depths of a concept. From the relentless march of the title track to the erratic, frenetic swarm that is "Transcend to Wet," Candy finds nuance and subtlety in noise and chaos. The current of this swirling nightmare shifts and pulls the listener to its desired intention. Death and darkness is not but a one dimensional concept. There are layers to the concepts explored in this album: tranquility in death, elation in pain, rumination in sorrow.
"Carcass disposed/ Peace in place of death/ Peace in place of devastation/ Divine peace/ Void/ Misery/ Void/ Misery." Perhaps the most exemplary of this is "Perverse," a 10-minute, distortion-soaked descent into the echoes of infinity. There is no respite, no calm in the storm, yet they find contemplation in the waves of noise. It is the wordless thesis of this study, a final breath until the end and endlessness meet. -Seena Ratcliffe
Chat Pile – God's Country
Oklahoma sounds like a hell of a place. 200-foot mountains of led-poisoned mine deposits tower over a rural, ashen wasteland. Livestock are tortured before slaughter. Bible thumpers play judge, jury, executioner. "The Big Friendly" is anything but. Cancerous pollution intoxicates the air. Neglect reigns even as homeless encampments swell. Tweakers and armed robbers wander the streets, but the powers-that-be shrug their shoulders while counting their profits. Assault rifles for all, exit wounds for some. Where solitude can only be found at the bottom of a storm cellar. Another losing season for the Thunder. Thoughts and prayers. God, Guns and Country.
"More than anything, we're trying to capture the anxiety and fear of seeing the world fall apart," Chat Pile bassist Stin shared with New Noise Magazine. On their harrowing debut album God's Country, the Oklahoma City sludge metal band paints an apocalyptic vision that is scarily accurate and vividly rendered. Flammable guitar riffs and molasses-like bass flank singer Raygun Busch's gothically depressive vocals on "Slaughterhouse," a hair-raising exposé of the brutalities of the meat industry. "Why do people have to live outside?" he screams on "Why," a throat-shattering criticism of the system that yields the vicious cycle of homelessness. "Tropical Beaches, Inc." manically blends noise rock, sludge and post-hardcore in its seething indictment of corporate greed. Throughout the album, feelings of fear fester into pain, pain into grief, grief into anger, anger into rebellion, rebellion into hopelessness. If you ever find yourself inhabiting this barren slice of apocalypse – either mentally or physically – just know, you're in God's Country now. -JC
Crack Cloud – Tough Baby
There's a parting-of-the-clouds moment that burns especially bright towards the end of Crack Cloud's genre-broadening sophomore album Tough Baby. After a poignant, solemn look at the systems, institutions, and forces that oppress, divide, and afflict society across the first half of penultimate "Afterthought (Sukhi's Prayer)," the song sheds its skin and births a triumphant fourth-wall breaking moment of clarity overtop of massive horns, bombastic drums, group vocals and an especially memorable performance from the collective's Zach Choy. Presenting images and answers to the plagues of modern living, Choy rounds a closing credits victory lap as he imagines a utopia free of the confines of anxiety, depression, war, and the ills that trickle down from the top. It's a staggering moment of beauty that celebrates community, and it offers a sense of hope that can often feel impossible to access given the state of affairs. It's a reminder that even if the losses pile up, everyone is due for a win. That you're never as lost or alone as society can often make you feel, and that imagining a better future, speaking or singing it out loud, can be the first step to attaining it. 
These themes are expanded on across the rest of the album on songs like "Costly Engineered Illusion" and "Please Yourself." The album widens the group's scope, and recalls similar genre-broadening albums by forerunners within Crack Cloud's lineage, including perhaps The Clash's London Calling and Sandinista. Songs twist and turn, moments of grace and acceptance are hiding just offscreen, waiting for their cue. -Chris Cubbison
Denzel Curry – Melt My Eyez See Your Future
Melt My Eyez See Your Future finds Denzel Curry at his most vulnerable to date. It also doesn't stick to a single sound, but explores a variety of hypnotic beats and vocal styles. The album departs from Curry's traditional sound, which typically relies on heavy bass, fast rapping, and a hard-hitting delivery. Instead, Curry looks inward, focusing on softer jazz-inspired beats while slowing his verses down. It's not an album for the masses, but it definitely feels like an album meant specifically for Curry. This doesn't limit Curry from bringing in some of the biggest names in music, however; Eyez is still saturated with features from the likes of artists like Robert Glasper, Rico Nasty, and slowthai.  
The toned-down production (in comparison to his other projects) allows Curry's signature lyrics to be front and center. He uses Melt My Eyez to reflect on pop culture, provide social commentary, and ponder where he fits into the mix. Rather than being loud and boisterous, we see Curry step back to take in his surroundings and reflect on his career – reshaping his sound to show no matter where in rap he lands, he will land on his feet. –Makaila Heifner
Duster – Together
After a long hiatus, Santa Cruz slowcore purveyors Duster are once again hitting their stride with their second post-breakup album, the depressive, downtrodden but also strangely comforting Together. Like most of their work, the album retains their downcast qualities but infuses brief moments of levity that are soothing and sentimental in ways that almost feel hopeful. Featuring their signature blend of lethargic, reverb-drenched riffage and slowly snowballing rhythms, Together is full of introspection and peace of mind.
Crawling opener "New Directions" captures this light-dark duality perfectly. Deadpan vocals float over charred guitars, looking ahead with persistence and self-care while in the throes of pain: "I've lost touch, I've said too much, been opposites and such/ But I'll take care of all of us." They cast another gloomy shadow on "Retrograde" and counteract it with a strength-in-numbers mentality: "Now don't be sad, you're not alone/ Your friends are standing by/ They're waiting for you back at home/ And all will be alright." Guitar and bass toggle between devastation and warmth, as if seeking a light at the end of a dark tunnel. "Sleepyhead," the most minimal and desolate track, possesses a waking up mindset, like emerging from a deep hibernation with added perspective. On Together, Duster take stock of what they've gained or lost in the face of despair, the takeaway being that we're all fighting this battle as one. If a picture is worth a thousand words, then that album cover speaks for itself. -JC
Elucid – I Told Bessie
The esoteric New York rapper-producer Elucid has received plenty of acclaim for his work with guys like billy woods and R.A.P. Ferreira, but his solo output is a bit slept on. Thankfully, his latest album is helping to change that. An ode to his late grandmother – one of his fiercest champions and inspirations – I Told Bessie is full of heady, jazzy meditations in which Elucid untangles his past and comes to terms with his demons.
Straddling the line between Armand Hammer's pointed defiance and Nostrum Grocers' soulful improvising, I Told Bessie utilizes a bevy of processed samples and loops as Elucid tries to break through his own hardened exterior. Biblical imagery on "Old Magic" provides him the peace of mind to persevere against the snakes and backstabbers trying to hold him down: "Iscariots litter the valley, I fear not in the shadow." Over the rumbling old school rock n' roll of "Smile Lines," he confronts forces inside him: "cut the lock, but not a thief, brazen/ Opal in my teeth, I've been revelatin'/ There's information and information only/ The difference between loneliness and being lonely." With woods contributing features on four tracks and serving as the project's executive producer, I Told Bessie feels like an extension of the Armand Hammer universe, but with Elucid's hypnotic, gravelly flow steering the ship through the mental seasickness. It's the most personal rap album of 2022. -JC
Ethel Cain – Preacher's Daughter
Ethel Cain's Preacher's Daughter is a soaring album found at the intersection of indie rock, pop, gospel, and goth. At age 24, Cain seems to have lived numerous different lives, everyone from the preacher's daughter to a blood-thirsty cult leader. Cain is an unexpected treasure, and she uses her unique position as an indie artist from the rural neck of the Florida panhandle to explore themes of religious trauma, heartbreak, and violence.
Although the album features a few traditional pop songs, such as "American Teenager" or "A House in Nebraska," Cain swiftly disembarks to darker and more sprawling pieces that are equally haunted as they are beautiful. Cain doesn't follow the typical pop formula, but instead, she leans heavily on fuzz, vocal reverb, plucky guitar riffs, often blowing way past the four-minute mark on several key tracks. Preacher's Daughter isn't as shocking or emo as her 2021 debut Inbred, but Cain expands her signature sound to highlight her natural voice and narrative writing. Listeners may draw comparisons to Lana Del Ray's crooning vocals, Lil Peep's ominous production, Taylor Swift's storytelling, and even soundtracks to independent horror films. -Makaila Heifner
Ezra Collective – Where I'm Meant To Be
When I was young, the only exposure I'd had to jazz was hearing it in my dentist's office as I got cavities filled, or in my sterile suburban children's jazz band. Out of context, jazz is often labeled as boring and pretentious. But hiding behind those misattributed labels is a form of pure artistic expression through sound. Jazz, at its highest level, is boundless in its expressive possibility, drawing from any influence or experience in any of the players' lives. It manages to be deeply individual and personal, while being a universal communication, distilling thought into feeling. I love jazz because it can be anything at any time.
Ezra Collective have been performing at this level for some time now. They've been fusing together influences like hip hop, afrobeat, funk and salsa into an undeniable rhythmic behemoth. TJ and Femi Koleoso form a rhythm section that can set a complex, fast-paced dance rhythm and turn it on a dime to the next phrase. Joe Armon-Jones, Ife Ogunjobi, and James Mollison are just as quick and responsive, conversing with their instruments, whipping themselves into a groove-soaked fervor that builds just the right amount of tension until they burst into an ecstatic, Sufic-whirling dervish of a crescendo – all the while still calling back to earlier moments in the song.
Where I'm Meant To Be is full of cultural references from "Welcome to Jam Rock" to Steve McQueen. It captures the essence of the place and time of the musicians involved. It pays homage to London as a true metropolis of the world. One not made from the strait-laced, academic relic of the past, but the present London, one of immense diversity, vibrancy, and fun. One where people from all different backgrounds can come together, bring their individual heritage and influences, and create a sound unique to its place and time. -Seena Ratcliffe
Fax Gang – Dataprism
Blurring the lines between harmony and dissonance is daunting for any band – let alone one whose members have never all been in the same room together. From assembling on RateYourMusic forums and various Discord servers through the release of their haywire debut album Aethernet, the DIY rap collective Fax Gang have been at the forefront of an emerging online movement built on distorted vocals, lo-fi-drenched production, and trap hi-hats. Gen-Z shoegaze cloud rap, or as the internet music community calls it, HEXD. With their latest LP Dataprism, Fax Gang have just about crafted the genre's magnum opus.
Tampering the all-out chaos of their debut, Dataprism is more refined and mature. There's a meditative ebb-and-flow to the album, from its stratospheric crescendos to its moments of intimate, confessional solitude. Philippines-based PK Shellboy is the group's vocalist and guiding light, and his verses are sincere and meaningful even as they're compressed beyond recognition. His voice is just another instrument amongst a backdrop of synths, samples, and beats bitcrushed into oblivion, obfuscating any melodies in sight. Perked ears will unearth the countless sonic treats buried beneath the rubble, with contributions from producers GLACIERbaby, maknaeslayer, Blacklight, kim-j, et al. Throw in a feature from South Korean shoegazer Parannoul on "Four Walls" and you've got one of the year's best songs. Each time Shellboy's voice fades into an ether, Dataprism becomes a thoughtful missive about life in the digital age, where the barrier between virtual and real life is almost nonexistent. Communication breakdown is inevitable, but Fax Gang gives hope that our humanity can prevail. -JC
Hatchie – Giving The World Away
The Brisbane, Australia dream-pop singer and songwriter Hatchie took her sound to swooning new levels on her sophomore LP Giving The World Away. Building off the foundation that she established on her 2019 debut Keepsake, her latest surveys some of early adulthood's most challenging moments.
From start to finish, a glossy production of loud drums, bellowing vocals and shimmering synths all come together to create a catchy, powerful and emotional body of sound. Giving The World Away touches on dependency issues, fear of commitment, and the pain of seeing but not being seen. The 12-track record is vulnerable and packed with heartfelt moments as Hatchie creates an intimate listing experience. Her warm, inviting vocals ride reverberating shoegaze guitars on the radiant opening track and love song "Lights On." The wonderful sixth track "Quicksand" explores an insight into the loss of hope and optimism that comes with age. It's a soaring, explosive slice of dream-pop that captures exactly how exciting the entire LP is in a nutshell. We can't wait to see where Hatchie takes things next. -Aidan Grant
Hi Tech – HiTech
Sometimes you just need a crowd-pleasing record to bump on repeat on a night out, and Hi Tech's Hitech is exactly that record. The Detroit DJ-producer duo of Milf Melly and King Milo are rising arbiters of their city's jit and ghettotech movements – footwork that's both rugged and soulful, and sweating bits and pieces of jungle, electro, tech-house, hip-hop, and whatever else they're feeling in the moment. Under the watchful eye of fellow Detroit spinner Omar S, Hi Tech have crafted a breezy album built for late night adventures through the downtown musical underground.
Maintaining a pace well beyond 150bpm, HiTech packs speedy drums and fluorescent synth chords alongside a gaggle of pitched vocal samples. The woozy opener "All a Vibe" does exactly as its title suggests by setting a tone, while the funky breakbeat of "Big Prism" delivers a heavy dose of loungy, smoked-out green room magic. Melly and Milo fuse the house and footwork sounds of Chicago and Detroit on "I Swear It's A Bop," and mingle in gritty party rap on "Fitness by Milo" and hit closer "Cashapp." Clocking in at just over 20 minutes, HiTech is the type of record to throw on a loop at party and nobody will ever get sick of it. In fact, you'll probably notice new things about it on each spin – a true sign of a future dancefloor classic. -JC
Jockstrap – I Love You, Jennifer B
Just scrapping into their mid-20s, intentionally or not, Georgia Elleny (vocalist and violin) and Taylor Skye (producer), the duo better known as Jockstrap, created a record that is sultry and translucent in representing that phase in your life; the contrast of wanting to grasp onto the messiness of your youth while also being sophisticated. On I Love You, Jennifer B, there's moments of growth – in "Glasgow" the narrator chooses to be alone. There's moments of self-loathing – in "Lancaster Court," the narrator tries to avoid her own gaze. Through distorted drums and pitchy keys, Elleny's vocals glow over the production. Many moments on the record are animalistic and lascivious. On the finale "50/50," Jockstrap perfectly ties together all that the record is – layered and loud, tender and terrifying. 2022 saw many artists delve into the past, sinking their teeth into '80s and '90s music and running with it. A lot of the time, their bluffs are clear carbon copies of what came before, but Jockstrap is a perfect example of a group that draws from the past and turns it into a melting pot uniquely their own.
When I heard the echoey promiscuity in the way Georgia Elleny sings "I believe in dreams" on "Greatest Hits," I was hooked. Totally erratic and enjoyably experimental, Jockstap's debut I Love You Jennifer B is a wild journey with unexpected twists and turns and Tom Drums.  It proves them to be the most erratically prosperous and fanciful vocalists, songwriters, and producers of the year. -Kelly Kerrigan
Just Mustard – Heart Under
Heart Under is a dark album, and like all the great goth acts before them, Just Mustard succumb to the darkness as much as they try to combat it. On their ghostly, radiant sophomore LP, the Dundalk, Ireland band plunges deeper into the shadowy crevices of their sound, extracting skeletal shoegaze and post-punk to spin captivating but harrowing tales of personal strife.
Heart Under expands their sound via smoldering guitar work and feverish rhythms evoking fear, anxiety and transformation. Moments of perseverance are fleeting as the band feels the weight of the world slowly crushing down on them. Droning feedback consumes opener "23," upon which singer Katie Ball's spellbinding voice cuts through rolling waves of static like a machete through butter. On "I Am You," Ball solemnly pleads for a metamorphosis ("Can you change my head?") over sludgy bass, trip hop-infused drums and crackling embers of guitar. Screeching slide guitars and plundering percussion reach a crescendo on "Mirrors" as the band watches the world pass them by, hopeless to stop it. Just Mustard conjures the panic-stricken feeling of searching through a pitch-black room for an exit, but rather than overcoming that desolation, they find themselves endlessly treading in it. The album sounds so cool it almost feels they're basking in it. Ultimately, that commitment to bleakness makes Heart Under all the more haunting and powerful. -JC
Knifeplay – Animal Drowning
Philadelphia musician TJ Strohmer's journey is fraught with self-discovery. Now working as a six-piece, his band Knifeplay's sophomore LP Animal Drowning is a towering step up in his fusion of dream pop and shoegaze. It also captures Strohmer dealing with issues such as death, depression, drugs and heartbreak – all expressed with an empathetic sonic touch. 
With producer Jeff Ziegler in their corner, Knifeplay's sound is bigger, lusher and grander. The instrumentals toggle from cold and gloomy to warm and blanket-like as reverb-soaked guitars swirl alongside keyboards, synths, and orchestral strings. These arrangements evoke feelings of grief, loss, understanding and comfort. Strohmer's earnest, cooing vocals glide over thunderous drums and overwhelming riffs on lead single "Promise," conveying the fear and confusion we feel as we chase our dreams in a world that's constantly trying to hold us back. "When I go/ I know it'll be/ At the hands of me," he croons on "Nobody" over a wall of fuzzy post-rock crescendo-chasing. The sparse ballad "Ryan Song" is twangy and confessional, utilizing solitary piano notes and bending pangs of slide guitar as Strohmer eulogizes a late childhood friend. But the record holds out hope for exploration and discovery as sobering truths slowly reveal themselves. Heartfelt lyrics and whirring soundscapes round out a therapeutic listening experience that'll hopefully inspire others to dream. -JC
Let's Eat Grandma – Two Ribbons
Lush, driving '80s-tinged synths and essential pop choruses are the order of the day on Let's Eat Grandma's excellent third album Two Ribbons. The project is another stunning take on emotive synth-pop from the two songwriters and former childhood schoolmates from Norwich, whose musical dynamic is as tethered to their bumpy friendship as ever.
The album represents a change in direction from previous releases – 2016's I, Gemini and 2018's I'm All Ears – in which they transition from leftfield indie-psych laced with electronic elements to a more palatable, crowd-pleasing pop sound. Stark bass lines and sleek synths recall some of Robyn's best work, with highlights from the album including "Hall Of Mirrors" and "Levitation." On "Insect Loop," a noodling electric guitar sends the spine into a tingle, eventually building to an emotional crescendo and stunning vocal performances from both Rosa Walton and Jenny Hollingworth. Together, the duo parses the twists, turns, and cracks in their friendship as it's played out during their time in the musical spotlight. Two Ribbons is beautiful, brutally honest, and another fresh horizon for Let's Eat Grandma. -Aidan Grant
Machine Girl – Neon White Soundtrack Part I: "The Wicked Heart"
Video game soundtracks don't get the attention they deserve. I've never played Neon White, but after listening to Machine Girl's soundtrack for it, I'm sure it's fucking awesome. Pt. I: The Wicked Heart contains some of the most imaginative, concise, and incendiary music that Matthew Stephenson has ever made. Because it's tethered to a presumably sick game, there's a strong sense of world-building going on, making it all the more thrilling.
As king of NYC's electronic noise scene, Machine Girl is mostly known for a dissonant, industrial mode of digital hardcore. Stephenson largely sidesteps those rougher edges in favor of a rave-y, melodic tapestry of EDM – exploding with bits and pieces of atmospheric drum n' bass, breakcore, and ATARI-fueled acid house. "Cloud Nine" ratchets up the adventure via puncturing amen breaks intwined with glistening technicolor melodies, while "The World To Come" contains motorized hardcore breaks alongside neon-streaked synths – conjuring the ominous feeling of a dangerous cosmic odyssey. Wicked Heart is a diverse album, but no stylistic detour feels out of place, from the title track's fiery blend of jungle and gabber to the calming, celestial glitch house of "Solitary Grace." You'd think that in order to truly appreciate a soundtrack, you'd need to absorb the media it's attached to. That's not necessarily the case here, as Wicked Heart stands on its own as a collection of dazzling, pulverizing electronic music. It's more than just a perfect backdrop for a puzzle solving, first-person shooting anime space opera. It's one of the year's best albums, period. -JC
Mindforce – New Lords
Sometimes the most insightful thing you can say about an album is that it just fucking rules. New Lords, the latest and greatest record from metallic hardcore overlords Mindforce, tears out of the gates at full pelt and feels as though it could run straight through ten thousand brick walls. Incorporating thrash sounds into their decidedly New York sound, they create something both familiar and absolutely their own. 
Ripping solos and tight musicianship translates the energy of being at a live show, surrounded by flailing bodies, the smell of sweat and cigarettes, the feeling of safety in community in what would otherwise look like an incredibly violent, unsafe place. 10 songs and 17 minutes later, New Lords leaves you breathless and hungry for more. -Seena Ratcliffe
Naked Flames – Miracle in Transit
2022 saw another slew of DIY artists ignite the internet's electronic underground, but it was Bristol's Naked Flames that captured our hearts the most. The anonymous producer and No Agreements member's latest album Miracle In Transit is a true breakthrough and a pure and euphoric ride from start-to-finish. It's also a heady psychedelic listening experience that feels unshackled from the confines of style and structure.
As Flames trades in a dash of their lo-bit roots for a more refined hi-fi palette, Miracle In Transit feels incredibly dance-y and energetic but also strangely relaxing. Even as sleek, fizzing house beats fly at you at rapid-fire speeds, a flurry of glassy synth tones and rumbling bass grooves stroke your ears in a spine-tingling ASMR sort of way. Swooning opener "Pan Matsuri" reels you into a prism of translucent synths and pitched vocal samples, inducing a nirvana-like dream state. "Carrot Car" turns up the tempo with stabbing melodies and squiggly funk bass lines. Pangs of longing and heart-on-sleeve optimism flow through the watery, effervescent stunner "Under Every Tree in England." Throughout the record, sounds bounce and ping off one another like a molecular experiment. Every song is a boundary-pushing spiritual journey. Miracle In Transit will either inspire you to take an edible and meditate or dive into a crystal-clear lake. Either way, Naked Flames would approve. -JC
The Orielles – Tableau
Artists that evolve in experimental directions are a joy to follow. On Tableau, Halifax, England trio The Orielles take a bold and brilliant step forward in their progression. Departing from their groovy, disco-tinged post-Britpop roots, their fourth album is a daring and abstract canvas of art rock sounds – loaded with neo-psychedelic layers, minimalistic electronic experiments, and cinematic emotional range.
Tableau is a grand widescreen journey that's unafraid to indulge in stylistic tangents. Glitchy intro "Chrome I" sets a hypnotic tone before morphing into the depressive shoegaze of "Chrome II." They wrangle a dizzying array of keyboards and modular synths on "Airtight," and later explore effervescent, shapeshifting baroque and dream pop on "Beam/S." Esme Dee Hand-Halford's voice is always radiant even as its periodically pitched in a myriad of autotuned directions. The glossy, retro-sophistipop single "The Room" features sharp streaks of violin, molding a darkly wistful tapestry in the vein of The Last Shadow Puppets. All three members of The Orielles are in telepathic lockstep as they demonstrate their jammy, improvising powers on various instrumental interludes and the sprawling eight-minute epic "The Improvisation 001," which includes hints of jazz and neoclassical textures. Tableau is a difficult album to separate into any one genre, a benefit of The Orielles' instinctive looseness and willingness to try new things. Hazy, dream-like emotions follow them wherever they go, and we can't wait to see what they'll explore next. -JC
Oso Oso – Sore Thumb
Sore Thumb, the latest album from New York emo band Oso Oso, is one of the most deeply felt releases of 2022. Part of that is down to frontman Jade Lilitri's brilliant song construction: frequent chord changes, thrilling bridges and choruses, pinpoint riffs, and heart-tugging lyricism. It's also down to Tavish Maloney, the band's guitarist and Lilitri's cousin, who passed away earlier this year and whose spirit hovers over the entire album.
Leaving intact the work that he and Maloney tracked and recorded – sans any editing or intense engineering – Sore Thumb is a poignant hangout album of demos that waxes nostalgic on the bonds of friendship. There's an existential power within Oso Oso's tales of kicking back, experimenting with mind-altering substances, being a shoulder to cry on, and riding your luck until it dries out. Lilitri accentuates the power pop vibes on the silly but heartfelt "nothing says love like hydration," in which he serenades a Gatorade while in the throes of an intense hangover. Opener "computer exploder" captures the desperation and messiness of young adulthood: "It's fine if the love and the money run out/ If the drugs run out I'll die," he quips sardonically over strangling power chords, nailing the shortsightedness of youth. Meanwhile, the centerpiece track "describe you" carries a prescient emotional weight. As Maloney's chords are breezy and wistful, Lilitri's words sift through a mountain of tangled nostalgia for the past, on what amounts to the best chorus on the best song of the year. On Sore Thumb, fans will once again find strength in Lilitri's self-reflections; forever and always, they will find strength in Maloney's indefatigable spirit. -JC
Panda Bear & Sonic Boom – Reset
If you drafted Panda Bear this year, you're definitely reaping the numbers he put on the board. In addition to Animal Collective's incredible return in Time Skiffs, and a prolific run of features and collaborations with the likes of Braxe + Falcon, Teebs, George FitzGerald, and Nosaj Thing, his album Reset with kindred spirit and longtime collaborator/producer Sonic Boom marked a welcome return to a side of his sound not explored since the late 2000s. 
And while Reset may not be Person Pitch 2: Electric Bugaloo, it does tap into the sampled nostalgia of his lauded 2007 album that fans rightly anticipated upon announcement, while succinctly bottling Lennox's hooks in new, streamlined ways.  Songs like "Everyday" and "Go On" firmly lodge themselves in your head, with Lennox and Kember's vocals perfectly complimenting each other's strengths. Earworm and album highlight "Edge of the Edge" almost immediately imprints itself in your frontal lobe. "Livin' in the After" pushes Panda Bear outside of his comfort zone with a mariachi-flavored sound pulled straight from The Drifters' "Save the Last Dance for Me." It's another song that underscores just how brilliant the duo's approach to crafting songs overtop of these classic loops is. Overall, Reset is the sum of its parts and then some. Here's to hoping that the duo continues to give Jordan/Pippen a run for their money. -Chris Cubbison
Pool Kids – Pool Kids
Delightfully mathy and wonderfully catchy, Pool Kids' self-titled album is a real step in the maturity of a group of such obviously talented musicians. They could have done what a lot of other artists akin to them tend towards, which is feel the need to show off all the jewels in their collection of techniques while disregarding the task of writing a good song. Pool Kids uses complex individual arrangements that coalesce into a clear, concise, and approachable sonic idea. Approachability can be sometimes looked down upon, as if that means the music will lose its integrity. But songwriting is a skill just as difficult as technical prowess. 
Through tempo changes and tone shifts, nothing feels out of place. Even the atmospheric moments are potent and interesting. Each listen yields new tastes and textures to parse through. It provides so many good moments peppered throughout the runtime that it's impossible to tune out. Pool Kids manages to be gentle, complex, powerful, and just plain fun. -Seena Ratcliffe
Rat Heart – Ratty Rids The Clubs From The Evil Curse Of The Private School DJs
Over the past couple years, Tom Boogizm has carved out a squiggly niche in Manchester's electronic scene with a prolific string of releases under his Rat Heart moniker. Ratty Rids The Clubs From The Evil Curse Of The Private School DJs – which plays off a similarly-titled 1981 album by dub legend Scientist – is the cream of that crop. Touching on everything from house to post-punk to electro, Ratty Rids The Clubs darts and scurries all over the place, much like the titular rodent at the heart of the record.
The album is cloaked with warped, cavernous warehouse rave conjuring an aura of fog, smoke and rain. Rat Heart toggles about like a journeyman who's experienced a myriad of dance music cycles; once Boogizm nibbles on one particular sound, he's scampers on to the next. Highlights include the frantic, rattling breakbeat of "YeYe," the dub-infused jungle odyssey "No Tick 4 Lads in V-Neck Shirts," and the flickering, ominous ambience of "$hatterdance." He also settles into a quirky mid-tempo sweet spot on languid jam "Wot Happens If U Just Eat Crisp?" Throughout the record, Boogizm's vocals are lathered with distortion and delay, acting as another instrument in the composition. The album's frenetic, defiant punk energy and nifty rhythmic convulsions keep things fresh at every turn. Ultimately, Ratty Rids The Clubs is the antidote to the staleness that can often consume underground dance scenes. Right on cue, Ratty to the rescue! -JC
Rosalía – MOTOMAMI
29-year-old Spanish songstress Rosalía, known for her austere reinvention of flamenco, has infused new tumultuous electric sounds from the Latin world and yonder in her latest album. MOTOMAMI, a unique 16-track diary-as-audio assemblage, is a spicy collage of the formidable singer's style and experimentation – going through time and space of electro-pop, bachata, and reggaeton ballads that are woven together flawlessly.
The opening track "SAOKO" manifests that musical freedom with the duality of intoxicating free-jazz drums and a synth bass line that pays tribute to Wisin y Daddy Yankee's 2004 single "Saoco." As a Catalan woman, Rosalía never fails to pay tribute to the genre's originators wherever she can. MOTOMAMI is packed with references to the genres in which she dabbles – among some other name drops are Willie Colón, Fania Records, and reggaeton duo Plan B. "La Fama," featuring the Weeknd, is an electrifying track about how much fame blows (ironically, the track has made her even more famous). Rosalía's pristine soprano tone is impactful, but the dynamic emotional power she wields behind it is undoubtedly what draws listeners into her exhilarating world of minimalist raps and swaggy raw talent. MOTOMAMI is an experimental, multifaceted album that stretches itself across a wide range of genres while exploring the darker side of Rosalía's relationship with her ever-expanding fame. -Jessica Perez Williams 
Silvana Estrada – Marchita
You don't have to speak Spanish to fall in love with the haunted beauty of Silvana Estrada's music. Across sparse, somber chamber folk, the Veracruz, Mexico singer-songwriter's wistful incantations of death, loss, longing and love transcend all language barriers on her breathtaking breakthrough LP Marchita. 
On Marchita, Estrada harnesses the power of lush instrumentation: violin and cello building to sweeping emotional peaks, cuatro venezolendo mimicking the plucky sound of a ukulele, and body-pulsing rhythms. But her immaculate singing voice remains her greatest weapon. Her voice soars as she sows the seeds of infatuation on the delicate, bittersweet single "Te Guardo," whose sounds slowly collect like a gathering storm, reflecting the emotions inside her. The record's minimalistic production allows every note and chord to surface with intimate beauty. Percussive boom-snap rhythms consume "Un Día Cualquiera," while light fragments of piano and horn give "La Corriente" a soft touch of jazz fusion. And then there's the heartbreaking stunner "Ser De Ti," on which Estrada grieves for someone special from her past, and confesses the hopelessness she feels without them: "Que sin tus manos, este cuerpo está de más" ("that without your hands, this body is useless"). The serenades, eulogies and poetic hymns on Marchita form one of the year's most affecting albums. With that kind of power, you don't need a translator. -JC
Slikback – CONDENSE
Rolling waves of bass static crash like walls of snow in an avalanche. Industrialized tribal beats shift and schism harder than tectonic plates on a fault line. Drum machines puncture like nail guns on sheets of metal. Synths are distorted so hard as to resemble cyclones. The soundtrack for a heady spiritual reckoning. All these jagged elements collide on Kenyan electronic producer Slikback's CONDENSE, an album cocked and loaded with punishing deconstructed club grooves and mystical auras.
Employing a roster of 15 radical guest collaborators, Slikback embarks on a disorienting excursion of hellish rave sounds. A vast array of styles rises to the murky surface, including industrial techno, progressive trap, IDM and any other sound you could pull from the underground tool shed. "Tyranid" and "FOG" are earthshaking tracks with mechanical bass stabs and violent kick drums so walloping they'll make your vision vibrate. Full of cascading doom melodies, stuttering hi-hats, slithery vocal samples and piercing, hollowed-out blast beats, the 14 bangers on Slikback's CONDENSE collectively resemble the soundtrack to a catastrophic natural disaster, with moments harrowing enough to blur the lines between reality and fantasy. At its destructive core, there's a snowballing supernatural feeling to the album bordering on biblical – as if to usher in the Day of Judgement. If that apocalypse ever arrives, CONDENSE would be the perfect album to play us out. -JC
The Smile – A Light For Attracting Attention
The Smile's debut gives the immediate impression of inevitability – of being something its makers couldn't stop themselves from putting to tape. Why that something is not a Radiohead album is anyone's guess at the time of writing, but A Light For Attracting Attention certainly lives up to Thom Yorke and Jonny Greenwood's high pedigree. 
Much of the album sees the two most visible Radiohead members return to the angular, economic, deceptively groovy guitar rock perfected on the band's 2000s staples In Rainbows and Hail To The Thief, which might give the impression that this project is an about-face. And truth be told, if the band's orchestral, introspective previous effort A Moon Shaped Pool neglected an itch, A Light for Attracting Attention deliberately scratches it. But A Light often luxuriates in lower-key moods too, and the mood is not backward-looking at all, with Yorke's writing being as urgent as ever and ex-Sons of Kemet drummer Tom Skinner lending a newfound dexterity to the proceedings. Whether A Light feels familiar to you will depend on your relationship with Radiohead's music, but it nevertheless provides a directness, openness and presence that Yorke and Greenwood's primary outfit haven't brought to the table in some time. If that group stays dormant, The Smile's debut is more than proof of concept for what's to come. -John Warlick
Soccer Mommy – Sometimes, Forever
Sometimes, Forever is the third release by Nashville's Sophie Allison, better known as Soccer Mommy. The album pays tribute to '90s rock bands – think Oasis' guitars and The Cranberries' yearning – and is full of Allison's signature soft voice and biting lyrics. It's the perfect sunny listen with a gloomy disposition – a feat that may seem impossible but is clearly Allison's perfect wheelhouse. 
Allison doesn't shy away from experimentation with this project and expertly pairs it with pop hooks that leave you humming after each listen. Drifting away from her previous record's shoegaze lull, Sometimes is maximalist in the best way and is the most layered and sound-intensive Soccer Mommy record yet. On top of production from Daniel Lopatin, aka Oneohtrix Point Never, Sometimes highlights Allison's writing chops – a mix of honest, introspective, and vulnerable tell-alls. While reflecting on bad habits or self-harm ideations, Allison does not preemptively brace the listener, but rather states it as a fact and nothing more. One of the best examples appears on the album's opener "Bones"; Allison first confesses hopeless love, only to compare it to a painful life-saving procedure. "You make me feel like I am whole again/ But I think your heart could use a tourniquet/ 'Cause I've bled you out and patched you up again/ Far too much to call it love." -Makaila Heifner
Soul Glo – Diaspora Problems
Soul Glo have seriously leveled up. The Philadelphia hardcore band took their sound to another stratosphere on their breakthrough masterpiece Diaspora Problems, which is full of seething defiance, screaming, and a few manic bouts of rapping. It's an album that strikes a stinging emotional nerve and is likely to give you whiplash if you head-bang to it for too long.
Pierce Jordan is the band's lead vocalist and fearsome leader. Throughout Diaspora Problems, he's like a match to kerosene – unleashing blood curdling screams over plunging breakdowns and combustible riffage. Opening anthem "Gold Chain Punk (whogonbeatmyass?)" is as catchy as it is brutal, featuring a quirky refrain that serves as one of the album's central motifs. That fear and violence follows the band on "Jump!! (Or Get Jumped!!!)((by the future))," whose machine-gun like percussion and beatdown guitars have Jordan contrasting their newfound success against the generational trauma of day-to-day survival. "Trauma's still beating them within an inch of they life," he shrieks, followed by the depressive imagery of "living on Juice WRLD Pop Smoke time." On "Driponomics," their fusion of rap and rock is more like a midway point between trap and metal, with hi-hats, industrialized synths, and a fiery guest verse from rapper Mother Maryrose. The album is a scathing takedown of American society, tackling topics like police brutality, economic inequality, broken healthcare systems and fascist hate with a slice of dark anarcho-punk humor. Soul Glo is proving that hardcore is headed in a radical direction, and Diaspora Problems will beat your ass in the best way possible. -Kaya Haskins
SPEED – GANG CALLED SPEED
Though Speed's debut is an EP, it still carries the heft of a proper album. Nothing about this record feels tentative or unsure. Gang Called Speed is a proclamation to the world about the identity of the Sydney, Australia band. Within 30 seconds, it's clear what they intend to do both sonically and lyrically. 
Harmonizing guitars, which burst into a crunching rhythm, creates an unstoppable energy that lasts for the next 14 minutes. The lyrics show a righteous anger towards prejudice and inequality, not afraid to fight against people and a system that violently oppress. Though it is in all ways a hardcore album, it still manages to feel fresh. It freshens up its riffs and rhythms seamlessly throughout each song. It knows when to stick and when to twist. In its own brash and unyielding way, Gang Called Speed is a tasteful take on a genre that can become tiresome when artists continuously pile on breakdowns and seemingly random "heavy" elements. They understand the flow of energy through a song to keep ears tuned in and bodies moving. It's 14 minutes of pure hardcore that will burn in your brain and make you want to throw yourself straight into the middle of a pit. -Seena Ratcliffe
Static Dress – Rogue Carpet Disaster
Instead of relying on overproduced gimmicks that can give some bands a cheap pop but suck the soul out of an album and make its impact fleeting, Static Dress relied on what makes a song, an album, or a band stand the test of time: truth to themselves and dedication to their craft. Static Dress has spent the last two years producing music that pays homage to its roots, while instilling a vitality that is incredibly enticing. On Rogue Carpet Disaster, they find a new corner of themselves to explore – a different interpretation of their influences – creating a world of their own in the process.
"Fleahouse" comes screaming through an electric hiss, as if coming into this world out of a sea of white noise. It feels both desperate to prove itself and assured in what it will. Roaring leads and a heart-rending chorus lead to a breathless bridge thick with suspense that pays it off in the end. The ironically named "Sweet" morphs from a bouncing, confident song to a swarm of acerbic despair. "Push Rope" is a full-on emotional breakdown bottled into three minutes. A distillation of a reflexive self-isolation brought on by social anxiety. 
Those first three songs are proof enough that this is a great album, but Static Dress managed to quadruple that output to create an expansive, well-produced, emotive soundscape that can only make one excited for the future. -Seena Ratcliffe
Sudan Archives – Natural Brown Prom Queen
Power comes easy with Sudan Archives' explosive heat. The violin-wielding R&B songstress' exquisite taste and emotive drive fuel an onslaught that is uniquely her own with immaculate control. With the release of Natural Brown Prom Queen, the Los Angeles-based artist has cemented her place in the scene ever further while claiming a fresh patch of musical property in the process.
Her latest body of work explores her virtuosic style and brash lyricism with ecstatic grace. Key track "Selfish Soul" exemplifies majestic vocals that ride up top amongst a somber pulse. The world Sudan Archives creates is ethereal, yet supported by diverse R&B influences that offer a familiar taste for more cultivated listeners. A lush fusion of genres is apparent and transparent. That combination reveals her respect and attention to the craft across the musical spectrum. She is willing and unafraid to push sonic boundaries and take things to new heights. Listeners can tap into each track on Natural Brown Prom Queen with ease and replay. What better way to combine 2022 in a way that has a little bit of everything? -Myles Hunt
Toro y Moi – MAHAL
MAHAL is Toro Y Moi's most cohesive collection of songs to date. Sonically the production is perfect. The record rips through hit after hit: "Postman," "The Loop," "Deja Vu," "Mississippi." Guest artists include Salami Rose Joe Louis, The Mattson 2, Sophie Royer, and most notably Unknown Mortal Orchestra on opener "The Medium." Chaz doesn't just gift us a spectacular album, he gifts us a whole Jeepney-driving, pot-smoking psychedelic universe accompanied with films, visuals and listening parties with paper mache characters. MAHAL sounds like the walks we take to clear what goes on inside our minds and online.   
As an early pioneer for genre-bending chillwave, Toro has dabbled in house, R&B, hip-hop, and psych rock, and on MAHAL, he takes everything he's learned and blends it together seamlessly. The production is explosively detailed while appearing mellow, and gives the impression that anyone with Ableton could do it. But that's the Toro charm; he feels just like one of us! He forgets to check his mail, he thinks online trends are cringe, and some days he can't get out of bed when he thinks about the state of the world. On the surface, MAHAL doesn't want to be taken too seriously. It's lyrically simple yet funny. It's also about submerging yourself in your own world, or better yet Toro's, and losing track of time while waking up on Monday and saying, "What the Fox?" -Kelly Kerrigan
Weyes Blood – And In The Darkness, Hearts Aglow
Once you've had a taste of heaven, you'll want it again and again. Last month, Weyes Blood's Natalie Mering returned with another retro-widescreen orchestral pop masterpiece in the vein of 2019's legendary Titanic Rising. Featuring gripping meditations on alienation and sweeping romantic overtures, And In The Darkness, Hearts Aglow carries a floating angelic weight as well as heavy doses of melancholy, restlessness, and uncertainty.
Mering constructs sophisticated chamber pop arrangements that recall Pet Sounds-era Beach Boys and Carole King. Her voice might be the prettiest in all of modern music, and on Hearts Aglow, she wields it like a cheat code. Allusions to the site of James Dean's fatal car wreck on the cinematic road single "Grapevine" help parse the unresolved wounds of past loves – overtop a symphony of church bells and violin. On "The Worst Is Done," Mering wrestles with the isolation and anxiety that continues to consume us post-pandemic. "They say the worst is done/ But I think it's only just begun," she croons, suggesting that we're too traumatized from our past scars to truly return to the way things were ("we're all so cracked after that"). But she indulges in unabashed romance on "Hearts Aglow," drifting aimlessly with the swooning hope that love will cure all. And then there's the ambient ballad "God Turn Me Into A Flower," a devastating emotional knockout and song of the year contender. With immaculate production from Foxygen's Jonathan Rado, Hearts Aglow is another beautifully baroque triumph that's sure to do a number on people with zero emotional control. As it turns out, love and beauty are the tools to fight back against the ugliness around us. -JC
Whatever The Weather – Whatever The Weather
There's a fluid sonic energy associated with fluctuating temperatures, and Lorraine James knows this keenly. The debut self-titled LP by the London producer under her Whatever The Weather moniker is a pensive slice of ambient electronica – a concept album whose 11 individual tracks spiritually mirror the parameters of various climates. Although placid in its nature, Whatever The Weather is full of kinetic thermal energy – freezing, thawing, blossoming textures that snowball right into your psyche.  
Mostly setting aside her deconstructed club sensibilities, James settles into a wafting palette of minimal techno, drone and glitch. The stable warmth of opener "25°C" formulates with rippling kraut synths and languid vocal echoes, which fade perfectly into the icy "0°C." Bleary synth notes bounce and chime alongside off-kilter glitch beats, inducing mounting tension amidst the onset of hypothermia. Frantic breakbeats perk back up again on "17°C" before evaporating entirely on "14°C." With 14° being the most baseline temperature on the album, James delivers comforting neoclassical piano keys and swelling synth ambience, smoothing out an equilibrium. The heat ticks back up on "30°C" through uptempo IDM before flatlining again in the scorching exhaust of "36°C." Meanwhile, pulsating hi-hats mimic drizzling rain on interlude "2°C (Intermittent Rain)," while fluttering outro "28°C (Intermittent Sunshine)" brings the album to its soothing, full-circle conclusion. By design, Whatever The Weather is a cyclical sound collage for all seasons, and some of James' most inspiring work to date. -JC
yeule – Glitch Princess
This year, hyperpop continued to evolve right as glitch pop made a big comeback. At the center of that intersection was Singapore-born, London-based musician yeule and their celestial sophomore LP. That album, Glitch Princess, is a stunning identity crisis hacked with dark pop extravagance – both a depressive dystopian odyssey and a bursting expression of inner turmoil.
Following their excellent debut Serotonin X, yeule's latest is courageous and vulnerable in every sense. There's a little bit of everything here; flecks of witch house, seapunk, drone, ambient and more get wrapped in a bow of abstract avant-pop magic. The skeletal yet towering ballad "Electric" contains piercing vocal pangs that give it a stratospheric emotional kick. At the heart of the record is a crisis of identity that mirrors the chaos of the virtual world, where attempting to make sense of real life can be just as disorienting as the onslaught of online personas, RPGs, digital currencies and NFTs. yeule parses these feelings of emptiness on "Too Dead Inside," whose bleary, slinking synths and startling drum machines induce feelings of creeping dread. Meanwhile, "Bites on My Neck" traces the wounds of broken love, with deathly imagery abound thanks to cathartic, bending synth notes and distraught lyrics. With glittering production assists from Danny L Harle, Mura Masa, and Kin Leonn, yuele's Glitch Princess is a pained self-reflection complete with Atari bleeps, processed vocals, and robotic spoken word interludes. It's a true slice of musical cyberpunk. -Kaya Haskins