The synth pop legends dazzled in Queens along with an incredible set from Nile Rodgers & CHIC
Duran Duran are wrapping up their FUTURE PAST tour and returned to New York City with Nile Rodgers & CHIC, and Bastille for a concert at Forest Hills Stadium in Forest Hills, Queens on Friday.
Before their set began, Nile Rodgers announced that the show was the group's final night of their run with Duran Duran and that they didn't want it to end. He declared that they'd like to party like it was 1979 before launching into CHIC's "Le Freak," a song that was written due to Rodgers and Bernard Edwards being rejected at Studio 54 one night despite being invited by Grace Jones in the late 1970s (Ms. Jones was originally scheduled to perform tonight as well but withdrew before the concert). Rodgers & CHIC performed some of their well-known hits, and Nile also shared anecdotes before songs were performed. The band included a medley of songs he wrote for other musicians and Rodgers revealed that even his mother wasn't aware of all of the hit songs he wrote for other artists like Diana Ross ("I'm Coming Out" and "Upside Down," which were played for the audience). He also played a snippet of Will Smith's "Gettin' Jiggy With It," which samples Sister Sledge's "The Greatest Dancer," and transitioned into a short performance of that song along with another Sister Sledge hit ("We Are Family").
We learned that Nile suggested that Madonna's second album be named Material Girl with that track being the first single of that album. Madonna disagreed and chose "Like a Virgin," as the debut single and album title instead. Nile joked that since Madonna wasn't at Forest Hills Stadium tonight, he could do what he wanted and went on to perform both songs that he produced for that record. For Daft Punk's "Get Lucky," Rodgers revealed he was diagnosed with cancer when working on that album with the group, and here he was over a decade later in front of us on stage, cancer free. Their extremely fun set concluded with two David Bowie songs ("Modern Love" and "Let's Dance," with drummer Ralph Rolle singing on the latter), and "Good Times," which featured a transition into "Rapper's Delight," with Nile rapping the song that sampled a song he co-wrote, 50 years and one month after the birth of hip-hop. 
Duran Duran appeared on stage at 8:10PM to an extremely excited audience and started their set with "Night Boat" from their self-titled album from 1981 – a song that I love and never thought I would hear live. They performed a few of their hit singles in succession ("Wild Boys," "Hungry Like the Wolf," "A View to a Kill," and "Notorious") before playing a track from 2021's Future Past, "Give It All Up." Vocalist Simon Le Bon announced that Duran Duran had a long-standing relationship with New York and one of the band's first shows here was in Long Island. For "Is There Something I Should Know?" the visuals projected on screen were images of Duran Duran gracing magazine covers from the 1980s, and for "Friends of Mine," there were scary filters put on the faces of audience members, turning them into Dracula, a Jack-O-Lantern, and spiders and snakes crawling on people's faces and heads.
On every night of their tour thus far, Duran Duran have been dedicating "Ordinary World," to the people of Ukraine, and Simon asked the audience to put their phone lights on where many in attendance fulfilled that request. Before the next song, Anna Ross came forward to duet with Simon for their 1993 single  "Come Undone," and we got to hear the title track from Duran Duran's forthcoming album, Danse Macabre, which will be available right before Halloween. We were also treated to a cover of Melle Mel's "White Lines" as well. The audience was asked to pose for a photo taken by keyboardist Nick Rhodes before playing the final songs of their set, "Girls on Film" and partially covering Calvin Harris' "Acceptable in the '80s."
The band returned on stage for a two song encore with both Simon Le Bon and bassist John Taylor donning Duran Duran hockey and basketball jerseys that were available at the merchandise booth. Le Bon asked us to reach into our most sacred of places to retrieve our cell phones to turn the stadium into a galaxy where each phone light became a star before he played acoustic guitar on "Save a Prayer." The final song of the night was "Rio," the title track of their second album, with the audience singing and dancing along up until the show ended at 10PM.
You can scroll through below for more highlights from that spectacular night:
All Photos By Edwina Hay
Duran Duran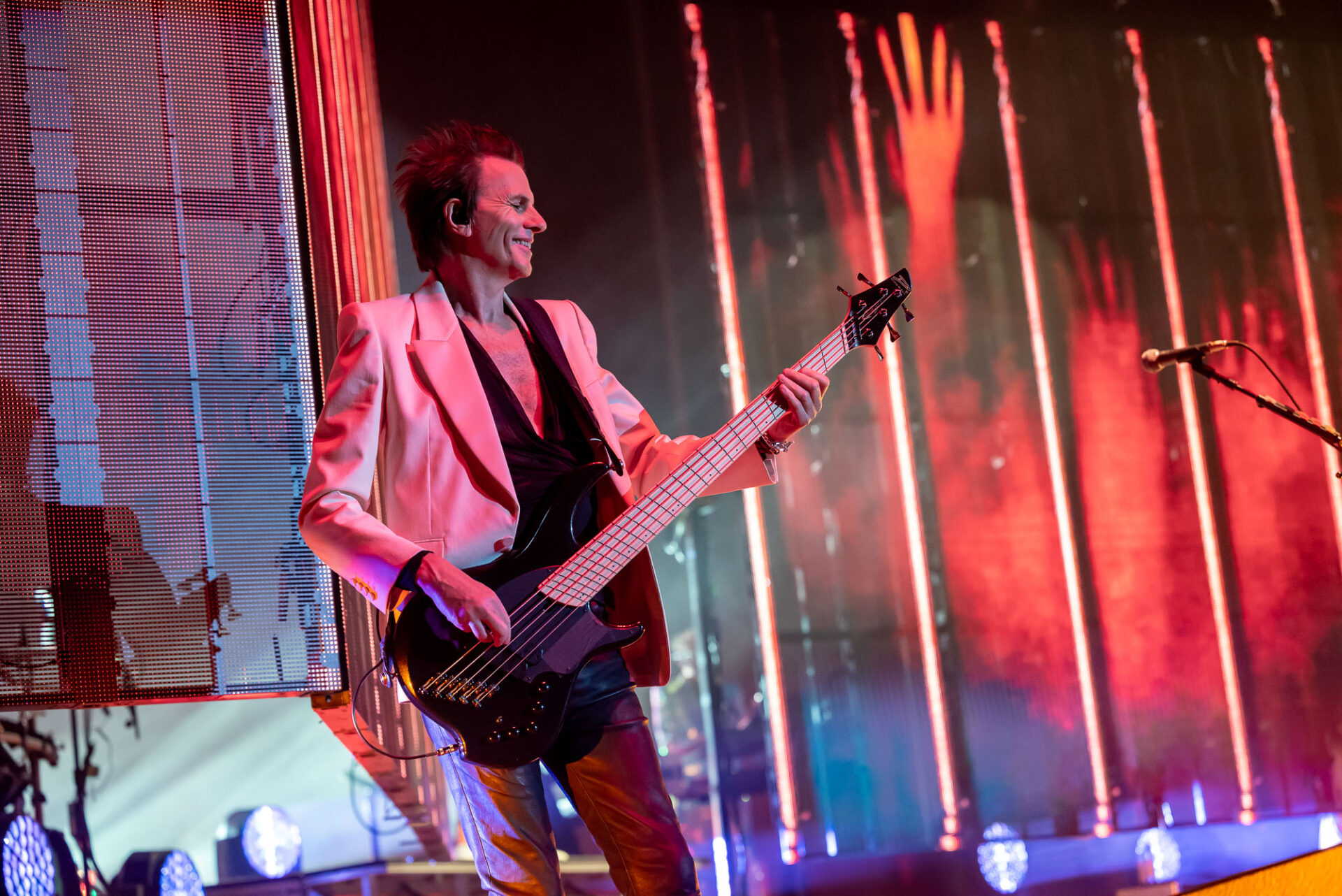 Nile Rodgers & CHIC