The California band's frontwoman takes us through the pure, powerful & tender "I Believe In You"
"I'm giving you my heart, and I'm giving it to you with all that I've got."
The listener is obliged to believe in Carly Bond when she croons this smooth declaration as the chorus closes in Meernaa's new tune. It is the group's third single since releasing their debut LP Heart Hunger in 2019. As a part of a signing announcement with Keeled Scales, "I Believe In You" seems to meet the groovy "On My Line" and the dreamy "Another Dimension" somewhere in the middle, as far as spirit is concerned. This song stands alone, though, with a call for grace and perseverance. It's pure. It's playful. It's powerful. It's "so tender." And luckily, it's ready for your spring playlists. 
Bond has many hats to wear on any given day. Not only is she the frontwoman of the rising California group Meernaa (Mee-err-nah), with whom she writes songs and plays guitar, but she also co-owns Altamira Sound – a recording studio in Alhambra, CA – where she engineers and produces music for various projects. Impossibly impressed, I wanted to learn how it felt to be on the cusp of launching with her own group while supporting and inspiring others in the indie/DIY scene at Altamira. It only took a minute or two to rest assured that she maintains her cool quite easily. 
Happy One Year Anniversary to you and Altamira Sound. How does it feel now that it's been a year in operation?
You know, when you're thinking about something for longer than it's been in existence, it kind of feels surreal, you know? But it's awesome. Awesome.
What's been the most rewarding part, would you say?
The community around here. It feels like it's kind of blossoming into a cool space that feels like it was in need of. I don't know about the (Los Angeles DIY) scene in particular, but it feels very familial here. 
Sounds like there is a lot of good energy brewing out there. I do wonder, though, how does it feel to be in the mix as an engineer and producer while producing and making it as a performer yourself?
It's pretty seamless. It's pretty chill. I think I just don't think about it very much. It's just a day to day thing as far as where I'm going to spend my time. You know, what am I going to be in service to? I don't know, it can feel overwhelming, I'm sure. You know what it feels like to switch hats and to schedule and plan and get into a different mindset for whatever you are doing that day. For me, I like to be in service to other people, and that's my skill set. 
I feel like you can hear that in the music – that sort of service. What advice would you give to someone in the indie/DIY scene, or someone that would come in to record at Altamira?
My advice would be to be patient and find joy in the endless journey of learning. Don't expect anything. Get comfortable with rejection and grow from it. Collaborate. Find your community and explore as much as possible!
Massive. And the new single ("I Believe In You") is super rad, by the way. Of course, everyone always wants to know where it comes from exactly, but what was one of the anchors of the song? 
I'm stoked you like it. I don't know, you lose perspective when you're holding onto something for so long. Like, "is this really that?" But it started just with a little melody that I had three years ago. I'm sure everybody's talking about this, but the pandemic pushed everything back so far, and it feels like so much time has passed. But it started with that melody and my partner, Rob (Shelton), who plays the keys, had a couple chords for it. As I was singing a snippet of the melody, he came up with this progression for it. We tracked it – I didn't have lyrics for it, and then we shelved it for like two or three years and didn't think it would go on a record. I was just kind of over it at that point, and then Rob said, "you should sit down with it and try to finish it." I was thinking…man, I haven't heard the song in so long, and I'm not connected to it anymore. What am I gonna write about? 
Detached, yeah.
At that time, I had a pretty big falling out with my dad, and I was just reflecting, and the lyrics came out. I wasn't shocked, but I was like "Oh! That's what came out? Okay, cool."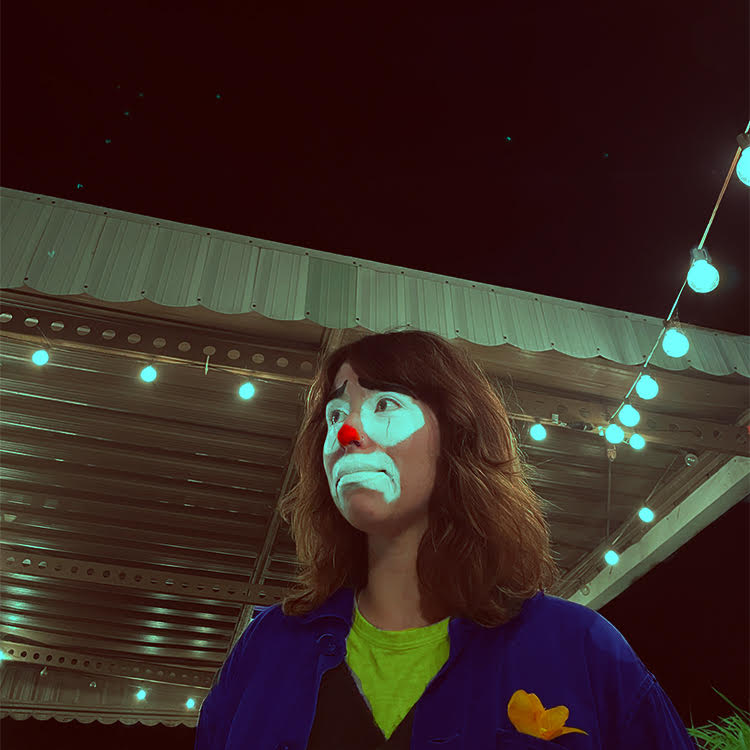 Like you connected to it in a different way than you'd expect?
Yeah, or it served as a vessel to really process some stuff…in a funny way. It's a very playful melody, but the lyrics are very much about believing in yourself despite what other people may raise you to believe. My parents were drug addicts, and I was raised believing I was going to end up in that role and follow that path. So I grew up as a kid hearing over and over again, "oh, you better be careful, this is going to happen to you." This song is just about believing more than that. You can do it. 
That's what I took away from the lyrics, that it could have been to a lover, to a family member, or yourself. It seems like it's a theme within your music that there are so many applications and that there's no one way to look at it. Would you say you agree?
I mean, I hope so. That's the goal. I'm going to write from a place of personal experience, but I like to keep it vague enough for other people to hear what they need to hear.
You can tell. And what can you tell me about the artwork for the single? 
It happened pretty last minute. The idea behind it is about believing in your child-self, but it's also about acknowledging your demons and not casting blame on them, but raising them up to be seen and appreciated in a way that isn't shameful. The clown to me is such a funny, sad character. To look at an image of a clown and just say "I believe in you, believe in yourself, you can be a clown if you want," you know? Or you can have the audacity to dream of being more than a (expletive) clown.
***
"I Believe In You" is ready to be heard and interpreted however you clowns need. Gleaming guitar and ambient synth ride on a drum machine underneath lyrics that can only be understated by Bond's singular, honeyed voice. Without hesitation or affectation, the leading line perks your ears up and sits you down:
"But I understand what love was.
What made it good,
made it unsustainable." 
The song continues to build in harmony with the bold confidence that comes from honest reflection, despite challenges and grief. Layer by layer, different voicings are employed to question or cut in on Bond before a choir of all ages echo her affirmations. A dirty saxophone is let loose to push the narrative forward. Another electric guitar comes in to rib at the rhythm. A funky keyboard keeps the chorus warm. The production is tight and clean, almost as if the band owns their own recording studio. You could call the tune soulful and jazzy, or you could just call it damn good. Meernaa thrives in the fringe, anyway. It is extraordinary to consider dancing to a song about fighting for your inner-child, but here we are, boogying our way to spiritual growth and self-love. 
Best Time to Listen: "Another Dimension" deserves either a slow morning alone to pine over a cup of good coffee or an intimate evening with a bottle of wine to share with that special someone. "On My Line" makes you want to put on your finest threads for a night out to leave jealous exes drowning in your wake. "I Believe In You," though, feels more versatile. I'd recommend it as the first song you blast in your car on your way to work to warm up with its positive energy and its clarity. It feels sort of like a sunspot on a cold, dark day. Time to bask in it. 
Meernaa (@_meernaa_) will be performing at SXSW on March 15, 2023 at The 13th Floor. Altamira Sound (@altamirasound) is accepting new bookings. You can contact them HERE for further questions and inquiries.