Week in Pop intro: Frank Ocean dropped a 45-minute visual album titled Endless; Lil B discussed Frank Ocean, feminism, style & more; Danny Brown dropped "Pneumonia" off Atrocity Exhibition available September 30 from Warp; Heems & Riz MC (Riz Ahmed) are Swet Shop Boys & they just dropped "Tiger Hologram" found off their forthcoming album Cashmere; Kanye West's international pop-up shops for The Life of Pablo; Flying Lotus announced that Royal was part of a larger film called Kuso; Crystal Castles dropped "Fleece" off AMNESTY (I) available August 19; Seu Jorge to perform covers of Bowie classics on his November 4-26 tour; Kool Keith dropped the track "Super Hero" ft MF DOOM off the upcoming Feature Magnetic album available September 16 from Mello Music Group; YG, Macklemore & G-Eazydropped the Matt Hobbs video for "FDT (Fuck Donald Trump) Part 2"; Danny Brown's upcoming album Atrocity Exhibition available September 30 from Warp to feature Kendrick Lamar, Earl Sweatshirt, Kelela, Ab-Soul, B-Real, and Petite Noir & production from Evian Christ, Black Milk & Alchemist; Chance the Rapper started the Rapper Radio service to request his music on your local dial; the Faint dropped the Todd Fink & Graham Ulicny video for "Skylab1979" off the upcoming compilation CAPSULE:1999-2016 available September 30/October 30 from Saddle Creek; Earl Sweatshirt dropped "Balance" ft. production from Knxwledge; Prophets of Rage dropped "No Sleep Til Cleveland"; Guerilla Toss announced the "Gtoss West Coast Shred 2016" tour; Mick Jenkins announced the new album The Healing Component available September 23 from his imprint Free Nation & dropped "Spread Love" ft. production by Sango; Azealia Banks demo "Blossom" emerged from 2014's Broke With Expensive Taste; Skrillex & OWSLA's Wiwek made a short film titled Still in the Cage; Flying Lotus checked his emails like a superstar on "The Eric Andre Show"; Car Seat Headrest dropped "Does It Feel Good (To Say Goodbye?)" from the short film Loudini; Johnny Jewel provided the soundtrack to the Fien Troch film Home; Isaiah Rashad dropped "i mean" produced by Black Metaphor, new album available September 2; Crystal Castles dropped "Sadist" off the upcoming album AMNESTY (I) available August 19; Phantogram dropped "Cruel World"; Metallica announced the new album Hardwired…To Self-Destruct available November 18 from Blackened Recordings & dropped "Hardwired"; L.A. Reid said that there is a new A Tribe Called Quest album in the making; Big Star boxset Complete Third available October 14 from Omnivore Recordings that compiles the recordings from the legendary Memphis power-pop band's third release titled Third / Sister Lovers; Captured Tracks reissued The Brotherhood of Lizards' Lizardland dropping the singles "On Planets Where I Was Young" & "The World Strikes One"; Oasis dropped a new edit of their "D'You Know What I Mean?" video; Suede reissuing deluxe version of Coming Up available September 30 from Edsel/Demon Music Group; Pizza Hut's playable turntable pizza boxes in the UK; London venue Fabric closed indefinitely; Freddie Gibbs was released on bail in Austria after being charged with sexual assault; we lament the passing of James Wooley, the former keyboardist from Nine Inch Nails; and John Lydon got bottled at a Public Image Ltd. gig in Santiago, Chile.
Moving ahead we are proud to present the following exclusives, insights, interviews, & more from Confident Hitmakers, Dazzletine, Wild Decade, Quick Piss, Adult Karate, Brasil, FRAME, Sarah P., Sunshine Faces, Tristan Eckerson, featuring guest selections by Hoops & more—in no particular order.
Confident Hitmakers
Collaborations & supergroups no matter what you think are some of the most important dynamics for real musical change, progression, fusion, evolution, and other forward leaning allusions. With the spotlight properly set on star-studded acts like Nice As Fuck, Big Grams, Prophets of Rage, and more—let us not forget Stockton's own hard knock supergroup institution Confident Hitmakers who continue to represent their hometown via a rotating cast of various players. Lead by Logan Wells (fka MLTD), a vertable army of childhood chums are enlisted like Eli Wengrin, Samuel Charles Regan (Satan Wriders), Justin Paul Vallesteros (Craft Spells), Nicholas Coleman (oka Nicholas Fisher), Kenny Yates to contribute when & where they can to this evolving collective. In the spirit of friendship & dedication to each individual's own creative gifts, Confident Hitmakers strength in numbers attests to the fortitude of bonds made from schooldays that have carried over into their adult careers.
The single "Cocaine Comedowns" itself is rife with all the obvious self-indulgences of hyper-hedonism with a narcissism that turns introspection inside out. The track created by Logan, Justin & Wesley Allard taps into the art of emotional emptiness where dreams of grandeur collide into reality all the while embracing nothingness while cranking out the most perfect novelty pop hit production that bubbles into a sailboat steered by an ultra-slick & smooth rudder, oar & sail. The visuals for "Cocaine Comedowns" follows an evening in the life of Hitmaker Logan Wells who portrays the persona of "Mr.Champagne" who gathers his own pensive nature, sentiments & thoughts on the derelict late night streets of Stockton. The tales of decadent destitution begin as Mr.Champagne emerges from his home like a seasoned star taking a walk with his own reflections. We are given a privy view of Mr.Champagne's home, backyard, to loitering in front of the neon-diamond glow of pawn broker whilst sipping his problems away with a random beaker of clear liquid. The camera follows it's star from the aimless adventures of window shopping at the strip mall, gazing at mannequins clad in fantastic fall fashions, to taking in some television while lounging outside; the nostalgic & gentle glow of the percolating production provides a subtext for what feels like a slice of the most wonderful yet weirdest throwback-pop revisionism. The sound & vision of "Cocaine Comedowns" works on creating a sense of retro-vertigo that measures towering ziggurat altitudes of heights that are equally matched to the whirlpool woes of rip tides that pull dreams & hopes into the oceanic depths of quicksand floors.
I play a character in the video named "Mr.Champagne", a down on his luck entertainer who's desperate to achieve fame and fortune. He aimlessly wanders around Stockton, California sipping unidentified clear liquid from his signature stylish beaker. Towards the end of the video Mr.Champagne glances through a shop window and notices a swarm of mannequins modeling modern fashions and in that moment he realizes that in his mind he will always be a star and that's the only thing that truly matters. All I care about is money and the city that I'm from, Stockton is my NYC, god bless.
Keep up with Confident Hitmakers via their site & listen to more from them via Bandcamp.
Dazzletine
We have covered Dazzletine since the beginning, and today we have the pride and pleasure of announcing the forthcoming of their debut album Organomy available TBD. The Pittsburgh, Pennsylvania band of glam shredding misfits lead by Dan "Dazzletine" Koshute returns in full flair form with the premiere for "Culled To Bells" that rings out guitar chords like the art & act of ringing of a bell of liberty & independence. Dazzletine remains a group obsessed with the heady rock & roll approaches ripped from the slippery 70s where those motifs & riffs are propelled forward ahead for the twenty-first century's children of new rising revolutions & expressions.
"Culled to Bells" starts off with the chords raging & rioting right out of the gate. Dazzletine-Dan deals out the dramatic & frenetic delivery that keeps the clamor of chords & keys in a state of perpetual combustion. The varying speeds of the progressions spin in chains of rapid fire, finding brief breaths in the bridges & changes that rise to red line tempos that sees Koshute taking the vocal theatrics to the hilt. "Culled to Bells" tackles the materials that comprise the composites of the world's most righteous ringers, taken from the forthcoming album Organomy that Dan from Dazzletine described to us with the following:
Organomy, our debut LP, was made to stand shoulder-to-shoulder to the great, cultural-event albums that we grew up loving. Expansive records that were universes in themselves that you could fold into your life, fall in love to, and became a part of you. Records that feel like they always existed. Like the Smashing Pumpkins' Mellon Collie and the Infinite Sadness. And commercial in the neglected positive sense of the word, meaning made for everybody but retaining all of it's heart and allowed to be listened to by the whole world. Organomy was recorded in Brooklyn and our hometown practice space studio in Pittsburgh on the banks of the Allegheny river. Produced to stand as affirmation to everything. Eternally Friday night in the free world. For the always.
Listen to more from Dazzletine via Bandcamp.
Wild Decade
The East by West coast duo Wild Decade present a following listen to their new compilation that documents their early years as The Actors titled I Think It's Fine: The Actors Recordings, 2010-2007 accompanies by an exclusive oral history of provided by Phil Maves & Dan Leech. Before they would be known as Bad Bibles—let alone Wild Decade—Phil & Dan were already working on scheming out a dream that would inspire their off shoot Proudest Ever (fka Ferns) and more. With the current incarnation as Wild Decade working from coast to coast; Leech & Maves provide a premiere listen to the early days & years that provided the foundation & basis for their current directions & connection.
Beginning with The Actors' High and Low EP era, we are appropriately treated to the synth underscored feelings & nerves of "First Date" that sets the tone. "Through a False Door" ruminates on life's chutes & ladders, to the cascading helium synth rising of "Go Home", the melancholy of "Dead Horse Bay" & theoretical electro bop that bounces & bubbles on "Theory of Something". Moving forward to The Actors' Foreign Stares EP, Phil & Dan paint a portrait of the brave new world with the wild tom-tom romp of "Frontier", moving to new dimensions of dissonance and ferocity with "Stop Blanking Everybody" that finds the duo firing on all cylinders of unbridled energy & constructive rage. The dark turn in tone as heard on the instrumental tension found in the soundscape of "Darkness Is Spreading", right before the presenting pleas for decent humane treatment on "Not A Beast" that illustrates a program that pushes toward something more human while utilizing all electronic everything. You can hear the increased depth & definition in the Leech & Maves sound by the time you arrive to The Actors' Anticipate Heat with the sidewalk rocking "Heat In the Street". The action is then hurdled through the atmosphere on the high-flying action of "The Skydiver", to the 10 years ahead of their time cut "Box Score", to the sweeping experimentalism heard on "An Unremarkable Location" that closes out the EP with epic illustrations of the mundane. Bonuses on the disc provide the Painting Fireworks remix of "Heat In the Street" that moves with an ecstatic & electric fervor, to slow jam b-side "Red Museum", closing out with the a-side single version of "Frontier".
Spotfiy stream for I Think It's Fine: The Actors Recordings, 2010-2007:
Dan Leech & Phil Maves of Wild Decade provided the following oral histories of their time as The Actors:
"Through a False Door" (track 2, originally from High and Low EP, released September 2010)
Phil: Let's go backwards in time, starting in 2010. "Through a False Door" was a genuine breakthrough, lyrically and musically. There's just a lot of heart here, inside a compact song structure. It's a great example of automatic writing. Every songwriter says this at some point, but in this case it's true: I was feeling lonely and I picked up a guitar and started singing, and most of the song just poured out. Lyrically, I suppose wanted to talk about complex things in an approachable way: mortality, transcendence, and the importance of other people in our lives. I'm singing at the top of my range, which is pretty obvious, but I had heard other singers do that, and it moved me enough to try it. Our upcoming singles follow the musical path forged by songs like this, combined with the quieter elements of our Conductor LP which, by the way, is the last great rock album ever made.
Dan: "Through a False Door" came at a time where we were both moving towards pure pop, and away from it. Shortly after the release of the High and Low EP we sort of threw our hands in the air and started a noisier project. I feel this song specifically never got its due, since the band was experiencing a transitional phase. But ultimately with Wild Decade, we came back to our strong points—melody, harmony, words. The tension and release between the verses and choruses really push the energy of the vocals. The guitar solo, in particular, marks a point where I began to really focus on creating melodic hooks that interplay with the singing, rather than shredding or whatever guitar players tend to do.
"Frontier" (track 6, originally from Foreign Stares EP, released March 2010; early solo version is track 16, released October 2007)
Phil: This song appears twice on this compilation: track 6 is the far superior full-band version that most people haven't heard. My former co-workers at Google had the (mis)fortune of hearing the early solo single version of this song (track 16 on this recording), but they were very kind and supportive and seemed to like the lyrics. I wrote this song while watching a "Mystery Science Theater 3000" short where they riffed on an old industrial film called Assignment Venezuela (fans of MST3K know that this short was a rarity and wasn't officially released for many years). Anyway, I was idly strumming chords while watching this, and then began singing about what was generally happening in the film, but I changed the story to be about how the guy just can't fit in. Whereas the short film is extolling the virtues of this place in a blustery 1950s tone, which makes for great joke fodder for Mike and the Bots. So, not for the first time with our band, comedy saves the day, and yet gives us a mostly-not-funny song.
Dan: "Frontier" really exemplifies the music-making process between Phil & I. We can start with an idea, a shell of a tune, or even a whole song. Then we'll completely blow it up, go through several iterations, and end up with a completely different final product. "Frontier" started as this swingy, jangly shuffle, that eventually transformed into a loud rock sing-a-long, just from rehearsing and playing it live. People seemed to respond to it whenever we performed it, and it became a live staple for us.
"Darkness Is Spreading" (track 8, originally from Foreign Stares EP, released March 2010)
Phil: This was our first attempt at making imaginary soundtrack music together, and so far the only piece like this we've released. I don't know too many songs that feature a triangle, a lap steel, and a melodica, but I found a way to work them into the arrangement, and they all sit really well. Dan and I are also sitting on several more instrumental soundtrack pieces in a similar vein as "Darkness Is Spreading" that we just never got around to releasing. For good reason? Not sure yet. (And again, we can't stay away from comedy completely: the title is a reference to a famous "Chapelle's Show" sketch, though the music has nothing to do with that.)
Dan: The origin of this song had everything to do with me getting a Nord Electro keyboard for our live gigs. Since we were a three-piece for most of the time as The Actors, I had to put on my multi-instrumentalist hat and play keys/synths/guitars/harmonies live. One day in the jam room, I came up with the main keyboard lick, and our drummer at the time, Justin Ward, responded to it immediately. From there, the three of us fleshed out the rest of the song and it became this interesting instrumental interlude during our sets. It also marked a time where we really began to experiment while recording. I remember plugging my guitar in, grabbing a cello bow, turning up the reverb to 11, and channeling my inner Jónsi from Sigur Rós. Interestingly enough, this song had another life when Justin sampled it as the basis for a track by his later group, NVO (San Francisco-based indie/jam/electronic outfit), which we were really excited to hear.
"The Skydiver" (track 11, originally from Anticipate Heat EP, released August 2009)
Phil: One of the few tracks where I sang and played all the instruments on the recording (check that reggaeton beat on the drums). Musically, this was kind of an affectionate parody of Talking Heads and LCD Soundsystem. Lyrically, this was about my experiences dating a woman who turned out to be an alcoholic, and the guilt I felt regarding some of the choices I made. It was a very unpleasant and stressful time, and this track was maybe the only good thing that came from it.
Dan: "The Skydiver" was the first recorded Actors song I heard. Phil had responded to a musician's ad I placed, and he sent me the link to this song. I was really drawn to the chorus slide guitar, and the way the bass and guitars weaved in and out with the vocals. It was one of the first songs I learned in The Actors, and was performed at nearly every gig we played. The pulsing beat and open sonic landscape seem like it would still resonate with what's happening now in live music.
"An Unremarkable Location" (track 13, originally from Anticipate Heat EP, released August 2009)
Phil: The oldest song on this compilation, from a writing standpoint. Some people thought I was referencing 80s pop songs with that main guitar hook, but the real musical and lyrical inspiration for this song came from more esoteric sources. The mood of the narration recalls some of Blur's weirder songs, the cut-up drums in the break are so clearly a DJ Shadow thing, and the piano during that section has a very deliberate ambient-era Brian Eno feel. But even there, Blur were referencing The Kinks and the Silver Apples, DJ Shadow was building tracks from samples of the producer David Axelrod, and Eno was drawing from Erik Satie. So, nothing anywhere is really new. Anyway, I wrote this as a much younger person wanting to leave my hometown. And then I did.
Dan: The first song I ever recorded in the studio with The Actors. After only jamming a few times with the group, Phil asked me to play the solo on this track during a recording session at Mark Pistel's studio in San Francisco. I quickly realized that Phil had a similar taste in comedy as me, so we would often (and still do) recite funny bits from Mr. Show, Bill Hicks, Dr. Steve Brule, etc. During that period we would constantly do the TTOMO (Three Times One Minus One) R&B parody from Mr. Show. If you listen closely to the guitar solo in this song, you can hear a little homage to "Ewww, Girl, Ewww" in the crescendo. As Wolfgang Amadeus Thelonius von Funkenmeister the XIX 3/4 would say, "Damn."
Listen to more from Wild Decade via their Bandcamp.
Sarah P.
Today Sarah P. followed up last year's solo debut Free with the invitational request to rediscover affection of the requited variety and more on "Teach Me How To Love" that features production from South-African artist Wisani. Since the Berlin-based artist left her former group Keep Shelly in Athens, Sarah has been collaborating with the Bilinda Butchers, Sun Glitters, Mmoths, The New Division, and more, all the while launching her own imprint EraseRestart. The pop singer continues to sew real feelings & perspectives into carefully woven textures of high end dance designs that underscore everything that brings the independent international communities of artists & music lovers closer together with heart.
As with each and every Sarah P. single, the pop canons and history books of musical matron leaders and electro matriarchs of the past & present are continually challenged & updated with every uttered lyric/note/bar & beat. "Teach Me How To Love" is more than just a soap opera play of passions on fire but rather an opportunity to discover new connections, paths of new proportions, and the hope for new & greater realizations. Reiterations of "again" and questions of "will you take me there, where the beauty never ends" seeks something greater than environments & states of despair for a new outlook & getting reacquainted with the formerly felt sentiments of endearment that reaches for a bond even greater than the one experience previously. With the excited notion of "the world can be our wonderland", Sarah displays what dreams & beauty that might arrive in a shimmering splendor of sound that rains down in a hail of rhinestone keys, gems, rubies, emeralds, and genuine feels galore.
Sarah P. shared the following exclusive introduction with us all about the new single:
This song is a collaboration between the great dance/deep house producer Wisani and me. Although it's a tad different from the rest of my work, "Teach Me How To Love" closes the chapter of a music era for me in the most celebratory way. My wish is that this song puts a smile on everyone's face, that it gets hummed a lot. My utter wish is that we turn all madness we live upside down and make our world a better place. During these times when everyday's daily news top up the one's from yesterday in ugliness and cruelty, it's totally up to us to seek harder for the light. It's who we are- humans are survivors and, no matter what, we shall not lose hope. It's up to us to make it right – starting from today by re-learning how to love!
Quick Piss
From the lands of Des Moines, IA; we are proud to introduce you to rock's new force to be reckoned with, as Quick Piss premiere "Thoroughly Fucked" from their debut cassette Rock 'N' Roll Impotence available September 2. This a group that is not here to whisper sweet nothing (or really whisper anything for that matter) into your ear, or satisfy your ego with comforting words, nor take any requests as they take their excited aggressive style to the very top. Quick Piss described their upcoming album as being something of their "Nick Cave & The Bad Seeds rip-off," but we have found their upcoming album to be one of the loudest & exciting new band in the Midwest right now.
"Thoroughly Fucked" is one of the many audio fixtures from Rock 'N' Roll Impotence that takes unfortunate situations (like dysfunctional allusion in the album title) and turns them into an event worth throwing a party around. The chorus celebrates the helter-skelter chaos of everything being "Thoroughly Fucked" like that feeling of leaving home for college, formidable trade, or retail stand where the weight of reality sets in long after the last bell of secondary school has rung. Taking cues from the undergrounds of the west & east coasts & southern trails; Quick Piss is not trying to be your favorite dream pop act but rather find some sort of catharsis from the crushed & crashed dreams. "Thoroughly Fucked" is the sound of getting expelled from the college of your dreams because of an elaborate football field prank, or doing donuts in your dad's car without asking (and subsequently crashing it into a stationary tree), and the the sound of outright unruly coming straight from Des Moines. Quick Piss is a signal of exciting things happening in the Midwest where aggressive energy is mixed with smiling synthesizers & skronk that sails like crowd surfers in an audience-ocean.
Quick Piss provided some exclusive thoughts about the creation of the album Rock 'N' Roll Impotence:
Rock 'N' Roll Impotence involves re-workings of formerly scrapped material, the current roster of a typical Quick Piss setlist, and brand new material that has been played maybe once or twice—if at all. In short, it's a career-spanning album by a band that hasn't had much of a career. For Rock 'N' Roll Impotence, producer Patrick Tape Fleming (The Poison Control Center) and engineer Matt Sepanic (Slipknot) contributed a bubblegum pop sheen to the barrage of controlled chaos that is Quick Piss. Rock 'N' Roll Impotence may prove confusing for punk idealists and pure-pop lovers. But Quick Piss does not discriminate between the two. Everyone deserves a break, an escape, an opportunity to get their shit fucked. Rock 'N' Roll Impotence is an incendiary care package for the fed up and fucked up.
Sunshine Faces
In our continued coverage of Sunshine Faces we are proud to present the singles "more than science" & "party dresses" accompanied with a reflective piece written by the artist Noah Rawlings himself. The feelings of following thought trails and the source of nostalgic feelings makes up "more than science" that seeks a kind of musical explanation for everything that science, religion & academia can't afford. The wistful keys & chords sway with strums that lead to scuzzy patches that bring the sentiment all the way home. That similar dream-state progression carries over on "party dresses" that romanticizes of fashionable textiles & wishful fantasies of intimate moments shared after hanging out with a special somebody at the disco.
Sunshine Faces' own Noah Rawlings provided us with the following introduction for his new singles with word of a new upcoming album:
Both tracks were recorded in my bedroom in Carrboro, NC, in a house I have since moved out of.

"More Than Science" was written while I was depressed! But I don't want to talk too much about depression—not because it's an unimportant issue, but because it often, even if it's real, becomes some sort of artistic self-indulgence. It's common to see a musician say in an interview, "I recorded this album in the midst of a tumultuous time," or something along those lines, and—to my mind—it seems easy for artists to let their sadness to inflate their ego. I don't know if that makes sense. This is confusing to talk about, because on one hand if I'm being honest; emotions, memories, and new experiences I don't know how to deal with often end up fueling my recording and writing. But I try to prevent myself from thinking my problems are cosmic or epic or unique. I want to marry sentimentality, romanticism, mysticism, self-awareness, humor, seriousness. A big wedding of paradoxical values and mindsets.
"More Than Science" was the result of a depersonalized dysphoria I often find myself in, in which emotions seemed trivial, and mathematical facts/efficiency/whatever seems the only worthwhile thing. I was trying to acknowledge both the validity and the limits of emotionalism. The second verse of the song, with references to weed/Pavement, is more tongue and cheek than the first—the experiences I'm describing are dually meaningless & meaningful abstractions of a possible experience; they aren't exact experiences I exactly had, or would want to have.

[laughts] It seems very silly to talk about pop music in such a specific way. Of course the way I'm describing these ideas and songs sounds much more calculated than writing and recording them actually was. The idea and sounds I'm working with are conceived very thoughtlessly—it's only after they're recorded that I really understand where they're coming from.

I wrote lyrics for "Party Dresses" in the silly location of a library. I was re-reading Baudelaire's Les Fleurs du mal and a little bit of Mallarme and I wanted to both satirize and indulge in some elegant language.

Both these songs are from an album coming out in like a week or so, called Quorum. Here is the artwork.
Erin Morris made it.
Listen to the new Sunshine Faces' singles via Bandcamp.
Adult Karate
KC Maloney from Radar Cult goes under the solo moniker of Adult Karate, who today presents a listen to the just released LXII EP from Plug Research that mixes dance minded music with a little something for those that prefer their tunes to resemble movie soundtrack epics. Between the arrangement of the beats and the sequence of all selected keys & effects—KC catches the listener in an expansive net of textures & focused compositions that take you on a late summer/early fall journey to new stretches of aural earth.
The opening title track initiates the adventure in a rumble of beats & atmospheric percussion to the car chase chill of "Chased", to the sinewy desert mirage motion picture soundtrack setup discovered on "This is Never". Tracks like "Joyride" sum up the motifs of the EP perfectly of the high stakes involved with unknown destinations and the determination of a road warrior taking on the rough highways of nowhere alone. The cinematic silver screen feels keep on keeping on with the pangs of woe & tension rising on the sinister trekking beat trot of "Murderer", right before the EP finishes with the cool crusing sentiments of levity on "So Low" featuring the "you got me feeling so high" hook from Adaline that brings an elevated elation like rising puffed clouds of smoke. KC Maloney provided us with the following exclusive introduction to the new EP:
Making LXII was a very exciting process for me. It was the first time I was creating music on my own with a release in mind. So there were no boundaries and no compromises. I could do whatever I wanted, which was freeing. I wanted to make these longer tracks, modeled after the 12″ extended mix dance records I grew up listening to, but with song structure that was a bit more song oriented, with vocals, choruses, etc.. Sound-wise, I wanted it to be a soundtrack for driving long distances late at night, preferably in the desert. I think I was able to achieve that. The EP as a whole is pretty dark but there are moments of light and hope here and there; kinda like life I guess.
Adult Karate's LXII EP is avaialble now from Plug Research.
FRAME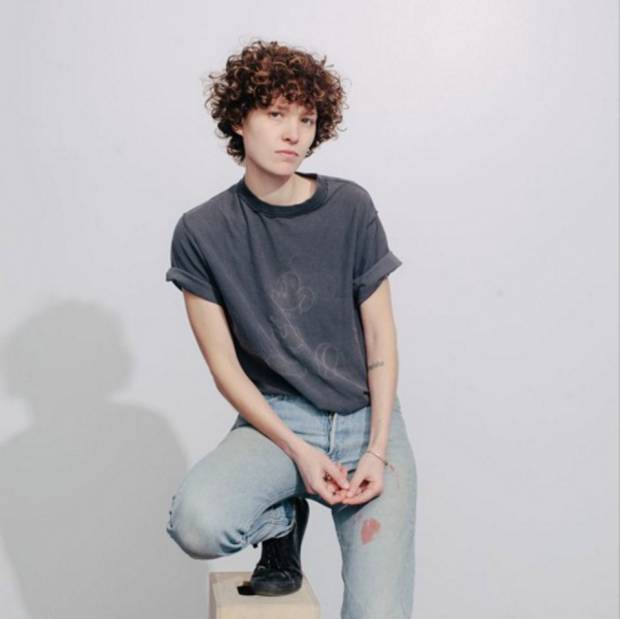 FRAME emerged into the pop spectrum in 2014 with singles like "Run Around" & "Polarizer" and today sent us news of an upcoming album with the brilliant single "Love Wasted". The vision of Brooklyn's Caitlin Frame, the Berklee student composes vignettes that depict the intricacies of complicated connections & relationships with arrangements that throw a hook at you on every harmonic iota of involved audio.
"Love Wasted" brings to mind all of your favorite vocal pop artists from the 70s & 80s that your parents & older siblings introduced you to back in the day. Caitlin conveys the wayward adventures of nights spent pursuing objects of affection & desires that evaporate like the morning dew that rests gently on the leaves & petals of plants & flowers. With the reiterations of "tell me what I did last night" all throughout the damn near perfect pop track; Caitlin conveys tales of a night where feelings and connections were imbibed and exchanged that are coupled with the confrontational math of "if you don't want it anymore, say you don't want it anymore." "Love Wasted" is FRAME taking the listener on a mesmerizing trip through the inexpressible expressions and those uneven grey areas where weird & vague feelings shake up the meanings on a variety of fronts that more often than not involve more than just two parties. Caitlin Frame described the new single and upcoming album with the following insights:
: "Love Wasted" is about the feeling you get when you're falling for someone—basically being blackout drunk emotionally. It's simultaneously about losing love and accepting it.
The forthcoming album (release date TBD) depicts the tail end of an 8 year relationship I was in and its breaking points—an open marriage and our idea of polyamory, intentionally breaking explicit rules we placed for one another and falling in love with someone a decade younger. It sounds salacious, but I think the fear of what love becomes after it's over is universal. I also think having a constant companion throughout my 20s made those years feel less uncertain because we had this love, a sense of comfort was easy to settle into, so to have that all fall apart on the cusp of 30 felt like a true failure. I'm really happy with what I turned those emotions into, I can listen to these songs and it reflects the struggle, but it's also a beautiful book end to my marriage.
Brasil
The three year wait for Brasil's follow-up to their 2013 self-titled album is over as we bring you the Oakland group's new album At Paradise Park recorded locally with the great Jay Pellicci at New Improved Recording and released through Death Records/Grabbing Clouds. Jasper Leach returns with Tom Ferguson, Paul Korte, Michael Vattuone & Sam Weiss (fka Pure Bliss) with a new cycle of songs that provide more further scuzz & fun fresh from the East Bay as the group sets out to back up their self-proclaimed claims of being the "best rock band of the twenty-first century."
Out of the chaos of following up their first album, Jasper & company bring the big guns & and all the angst of their stops & starts as heard on the opener "Fuck Peace". Starting things off with rolling electric storms, power chord invitations of come ons & more on "Gentlemen", harmonized romantics on "Molly", to further defining the Brasil band sound with standout numbers like "U&I/100%". Channeling energy in coordinated & calculated bursts of flame & fury, "No Code" runs caffeinated laps around the sun while requesting you to a "stay a little longer" on the refrain from "River Song" followed by the affectionate & catchy "Zoë is a Redhead" right before triumphantly rocking you with the stoner wordplay of "Gary Indica". At Paradise Park presents Brasil's best compositions & arrangements to date where every note is in it's right place and every chord resonates in a genuine manner. "Desperate Man Blues" provides exposition on the fears of dudes, to the long distance anthem of "30k Miles Away" (worthy of being a single in it's own right), right before shutting down the party with the heavy-hitting "Sluggo" that slugs one straight to the kisser. Join us after the following listen as we catch up with Brasil's own Jasper Leach.
Give us all the in-between stories between the release of the Brasil self-titled to masterminding the new album At Paradise Park.
We started working on material for this record the week we finished the old one. We figured it would be pretty easy and quick since the first album was so fast. Wrong. At the beginning we had a discussion about doing a winking take on the concept of the "depressing, darker second record." (see: In Utero, Dragnet, Dub Housing, Closer, Metal Box, Man Who Sold The World, etc.) Boy, did we ever get it. Life happened, personal worlds fell apart and were re-assembled; as I'm sure you know, the Bay has also morphed dramatically since 2013. Musically, the decision was made to move far away from sounds that could be compared to Wilco or R.E.M.—two bands we don't really listen to but were compared to, anyway—and instead embrace Pere Ubu and Harvey Milk. All the above went into the album.
After a year and a half of stockpiling and throwing out material and endless battles in the practice room, we had enough to go into the studio, but disaster struck: the place we picked had faulty wiring, our confidence was immediately eroded and the sessions disintegrated in a drunken mess with one of us knocking over their equipment in the middle of a take. It would have made a great documentary, but not a great album. When we got the rough mixes from the sessions, we realized it was nigh a complete wash, un-salvageable. Those tapes will hopefully never see the light of day. Horrified but undeterred, we immediately made a call to Jay Pellicci and booked sessions at a studio six blocks from our rehearsal space.
Describe working with Jay Pellicci & Sam Weiss in creating the new album, and how their wisdom and contributions guided this record.
Jay was our engineer on the first record. We picked him because he engineered some of our favorite Deerhoof records. We were delighted to find that he is a prince of a guy in addition being a wonderful engineer. For this album, we followed him to the studio he now co-owns, New Improved Recording in Oakland. At the pre-production meeting, he and his brother Ian, himself a great engineer, pointed to a mystery piece of equipment in their effects rack, a passive compressor formerly used in broadcasting. "What does that do?" I asked. "We don't know!" they replied, with glee. He was our guide every step of the way, assuring us we were doing the right thing at a time we needed it, indulging our push for different sounds, re-dos and remixes.
Sam Weiss was the lead guitarist of our absolute favorite, now long-gone band, Pure Bliss. For this album he became our fifth member, contributing some stellar parts (see the second guitar solo on the break of "30K Miles Away" for reference) and keeping things from being too dour with his endless, irreverent humor. In an email I sent him before the sessions, I instructed him to play his keyboard parts "confidently and naively." He came in cold, no practice, and nailed them. Great musician, great friend.
How did the Oakland neighborhood of Paradise Park inspire this album?
Tom and I (and for a time, Mike) lived/live in Paradise Park. The album as a whole is a portrait of that place, the people we know, the sounds in the street, what it's like to be up all night, fall in love, fall out of love, try to escape town on 101 North, and just try to get on. The individual songs are portraits of people we know in the guise of autobiography, and/or vice-versa.
How did you link up with gracious & talented & beautiful people at Death Records and Grabbing Clouds Records & Tapes?
Paul used to play in a band with Death founder Brian Wakefield, the legendary Burnt Thumbs, and later drummed for the first incarnation of Melted Toys. We really wanted this record to come out on a label, and Death seemed like obvious choice. Wakefield listened and wrote us a long email about how much he liked it that he then thought better of the next morning. Death signed us. Matt Riley of Grabbing Clouds also staffs Death, heard the record and wanted to co-release and we said "OK."
Death and Grabbing Clouds are, to my lights, the most representative collectives of the current rock zeitgeist in the Bay Area. They have a free spirit and open mind; check their rosters if you don't believe me. The Deathstock festival in Guerneville this year was truly unbelievable and special, all independently run with zero corporate sponsorship, just people who love music and want there to be an active, healthy scene in the Bay. We're happy to be part of that team.
Tell us about your residency at The Night Light and all the artists & groups involved.
We played our first club gig at The Night Light and it's been a bit of a clubhouse there for us ever since. Our good friend Jason Kick set up these shows with us so we could do something special for the new album. If you're reading this, it's already too late, but August 16 we had my new favorite SF band Teenage Chain (neo-shoegaze/VU crunch) and eternal favorites Paint The Trees White (spaz-literate pop) on the bill, before we got up and blazed through all ten tracks of our first album. If you missed it, sorry – we will never play that set again!
Next Tuesday, August 23, we'll be playing all the new album, "At Paradise Park," joined by Froogy's Groovies, a fellow Death band who have the anthemic summer 70's pop vibe with a grungy edge, and Sagittaire, pretty-boy chamber pop who take a thread from Big Star into the modern age.
August 30, we will play all our other songs and a very special surprise cover, accompanied by Dantel Hood, an improvisational combo featuring some of our most adventurous musicians in the scene replete with interpretative dance, Yea-Ming Chen, former Dreamdate dream-popper gone country belle to sterling results, and Kokomo Hum, electronic pop-rock that really rocks, with whom we share our own Paul Korte.
Other great East Bay x West Bay artists we should be all about right now?
Too many, but let's try. Wizard Apprentice. Frank Ene. Julia Mazawa. Emotional. Violent Change. Owen Adair Kelley. Hafner. Ca$h Pony. The World. B. Hamilton. Saything. Once And Future Band. 1988. Blank Square. White Cloud. Heather Jovanelli. Qualia. The Classical. Also, you're living under a rock if you haven't been listening to and loving Jay Som or Tony Molina. Do yourself a favor, get out from under that rock.
Tomorrow's hope for the Bay Area?
The collapse of tech, the relocation of young yuppie families to the suburbs they're trying to turn the East Bay into, the arrest of San Francisco Mayor Ed Lee by the FBI, affordable rent for all, dramatically increased aid for the homeless, the absolute end of local law enforcement murdering unarmed people of color, and last/definitely least, certain record stores letting bands put up flyers again.
I also like overcast, shitty weather—bring it on.
Catch Brasil via their Tuesday night residency at The Night Light in Oakland; August 23 with Froogy's Groovies and Saggittaire and August 30 with Kokomo Hum, Yea-Ming Chen and Dantel Hood.
Also catch Brasil playing on KALX Berkeley 90.7 on Saturday night, August 20 from nine to midnight.
Brasil's new album At Paradise Park is available now.
Tristan Eckerson
Cincinnati born and Asheville based artist Tristan Eckerson has been working on his debut album Pan Galactic Three Day Pass that is your guide to traveling to the cosmos via your headphones on October 14. With a rich portfolio of musical education (including classical training for piano in his youth) that includes recording with members from Ray Charles Orchestra, to composing string arrangements for Magik*Magik Orchestra & more; Eckerson gives us a taste of his upcoming outer space/out of the world adventure with "Indarra". Taking the concept of a composing something that would normally be for a grandiose orchestra with a real personnel to play these instruments, Tristan created what he referred to as his "Minimoog Orchestra" where the cosmic creation of emotion stirring strings & brass is done by scores of synth layers that embodu unbound euphoria. The track swells like a symphony that builds up like watching a growing tree observed through elapsed time that stems from a bud in the ground to a full-fledged tower of branches, leaves, & natural offerings for the world. Tristan Eckerson provided the following exclusive insights about the making of "Indarra":
"Indarra was actually a piece that I originally wrote for solo piano. I wanted to make an electronically orchestrated version of this piece for the Pan Galactic album, along the lines of Jean Michel Jarre, Sigur Ros, Steve Reich, etc. Of course that's a lot harder than it sounds, and this "Minimoog Orchestra" version was what I ended up with. I really like huge, orchestrated, sweeping kinds of pieces, and I felt that Indarra really lent itself to that style. The whole idea was to make a piece for a symphony orchestra, but then instead of "real" orchestral instruments that needed real humans to play them, just swap everything out with synthesizers and let the cosmic freak flags fly."

ATR31 presents the effervescent beat-vapor atmosphere stream of "The Air" from her upcoming self-titled debut EP available August 26 from MANIMAL. ATR31's mystical rhythm based productions lends to the cloudy restraint of the haunted house mix "telling all those bitches that you love them too."
Los Angeles odd-jobbers Casinos released the Grant Phillips animated claymation video for "HNNH" from their recent full-length An Album available via Danger Collective Records. The banjo supplied by Field Medic & piano supplied by Albion Moonlight & Casinos' own murmurs are treated to images of the macabre fit for Halloween (celebrated year round by many already) that makes a perfect match to compliment the eerie Charlie Manson vocal samples.
Shake a tambourine & a tail-feather to the Brit-Pop bop of "Tides" taken from the upcoming album Fairweather the anticipated fourth album from Brooklyn's Dinowalrus available later in September. Like the Gallagher brothers in 1996, or Ian Brown & the Stone Roses on Spike Island; Dinowalrus dons their best Mancunian pop steez that sees the band rolling together as a unit that sounds tighter, bigger, badder & better than ever. An event not to be missed.
Dirtnap Records is readying the world for the album Places to Hide available September 9 from Portland by New-Mexico band Low Culture who shook us out of our safety places & zones with "Comfort Zones". Their follow up to their debut Screens finds the group working with Stan Wright at Portland's Buzz Or Howl Studios where the punk is whittled down to just the basics where the guitars follows the lightning hop of the percussion to jolt you out of your own sulking situation with an energized interjection of liveliness.
London's Colouring (fka Osca) just dropped the translation of electronically coded thoughts on the single "About You", b/w "Comfort Now". The combined effect of doting & fixations fuse together in a rhythmic brew that Jack from Colouring described with the following; "It's our version of a dance tune. It's about addiction and a loss of control over your feelings for someone."
From San Francisco's premiere taste maker imprint Father/Daughter Records; Never Young unleashed the forever young, loud & snotty vitriolic venom & saccharine pop skronk with "Beta Male Erotica". Taken from the forthcoming Singles Tape II: SoftBank available October 11, Never Young cast off the blind innocence of youth with the sound of what might have happened if Brotherhood of Lizards/Cleaners of Venus would have come of age during the early 90s. In short….whoa.
Cool Ghouls have officially released their anticipated new album Animal Races today via Empty Cellar Records, and we have your following limited time listen. Recorded by the always incredible Kelley Stoltz, the band dazzles in ways the 60s never quite rocked you with all the sun-christened fascinations that take off from the onset of the title track, the solar-tilt-a-wheel of "Sundial", the three-miles high of "Time Capsule" (that is a total anachronistic 1960 time capsule in it's own right), the back-pages of yester-years of "When You Were gone", the two-cycle scooter pop of "Days" & more. For those that missed out on Cool Ghouls' original Tim Cohen-produced debut, there are no more reasons to miss out on one of San Francisco's most beloved & treasured acts.
Pillow Person brings the big maximalism with the ultra blinging track "Go Ahead" accompanied with "In My Game" available from Moshi Moshi today. The production lights up like a pinball machine plugged into aesthetic patterns that paint exquisite portraits.
American Wrestlers presented the world with the single "Give Up" off the forthcoming album Goodbye Terrible Youth available November 4 from Fat Possum. Gary McClure continues on a quest to craft together some of the most terrific pop-guided guitar arrangements & pedal configurations that are sure to have you throwing up your hands, arms, heads & eyes to the skies in greeting a thousand new days & nights.
Courtesy of Lotuspool Records we bring you the slow horse galloping swing & sway of "Pony Show" courtesy of Heidi Lynne Gluck. Heidi runs toward the sunrise & sundown with a passion that moves the conversation beyond the feigned pageantry that populates much of human interaction & discourse.
Fresh off the release of the album Easy, check out the The Backyard Sessions PDX No. 3 for Sarah Lane of The Late Great performing acoustic renditions of "Jealous Queen", "Hi Hi Hi" & "Who Are You" that strum various stories ripped from the pages of life's best anecdotal book. Sarah Lane's honest & human delivery sings in conjunction with the notes that interact along with the local acoustic & surrounding/resounding animals & incidental audio occurences.
Taken off of Raka Stylo's upcoming debut EP Retrograde; you are invited to take a trip through San Francisco's Mission District in the video for "123" that features co-production from Happy Colors & cameos from lively locals Los Rakas. Take a trip through the heart of the Bay for a carnival adventure like no other.
Stockholm's Lion's Den present the arty Loviisa Reeder video for "Time Time Time" where the band throws a galactic space jam party of their own devising. Booging down at a DIY happening edited with space-travel footage, Lion's Den will leave a lasting impression as the lyrical chorus hook of "people say you gotta believe what's in your mind, people say you gotta leave you past behind" will continue to shake you long after the song is over.
Kids Of The Apocalypse dropped their massive video full of animated effects & dramatic gestures & a whole lot of action & mystery that plays out in the Ernest Desumbila directed video for the higher ground seeking "Better Life".
Tay Sean brings about the cathedral christened ghost vibes with "Kathedral Spectre" found off the upcoming album Leavings available September 20 from HomeSkillet Records. The Seattle-omni artist delves into Brainfeeder level wave-lengths here where new bass progressions and experiments in analog distortion create whole new forms & cadence of new chord crafts that allude to guitar fields of fire beyond the Hendrixian hype.
Majestic Casual recently launched the offshoot Jason Nolan that caught our attention this past week with the shimmering single of delightful oddness & intrigue on "Opals And Banonos". Possibly referencing a Raffi classic, the classroom pop is traded for something else more mystical with synths & sentiments all aflutter as the aforementioned artist's timeless track "Apples & Bananas" is recited by the track's bowing conclusion.
Faulker brought all the hellos & halos with the bright lit rooftop stage video for their big bright pop anthem "Halo Me" that combines greetings with celestial connotations.
Colorado's A Shoreline Dream took us for an electric loop on their wild Ferris wheel flying free ride of "Whirlwind", available September 2 from Latenight Weeknight Records. Having worked with the legendary Ulrich Schnauss, Ryan Policky & Erik Jeffries blend together guitar, production & vocals that careen like standing amid vortex of a natural storm of a freakish nature.
Novanta's album Hello We're Not Enemies is available now from Seashell Records that brings the promises of blissful Italo synths to inspire the soundscape considerations from tomorrow's audio architects. Palermo by Milan's Manfredi Lamartina works with an array of keyboard tones & textures that emerge with the maudlin rising of "Sonder", the agony & ecstasy heard on "Goðafoss", the privy mood of "Mike", and the haunted histories that ghost in inexplicable ways on "Tell A Story". Cryptic percussive sequences allude to Morse code transmissions from space on "Akureyri", the far off beach of "Blue Lagoon", leaving you in the shining ambient ether of "Melted Eyes".
Soccer96 (Danalogue's Dan Leavers & Betamax's Max Hallett) dropped the track "Megadrive Lamborghini" from the album As Above So Below available September 23 via Slowfoot Records. Featuring visuals designed and supplied by Niall Trask & Andy Little, Soccer96 kicks a serious of classic house goals with an array of flashy analog visuals that cast a light on the throwback aesthetics that point to the possibilities of where dance music might be headed.
With news of their upcoming debut album Camera Trouble available October 28 from Group Tightener; Roses (Marc Steinberg & Juan Velasquez known for their work as Abe Vigoda's band) sharing the electro-enhanced emotions of "Accessory". Following up their Dreamlover EP, the DIY veterans who helped put The Smell on the map work to mold a floral sense for neat pop that brings us everything about the future of music that the Sarah Records roster pointed toward.
Jamie & Ben of Southern Shores present the new single "Riders" that rides & rows like an army of leaves floating upstream. Taken from their upcoming album Loja available September 2 from Cascine, Southern Shores show us the places where dance & dream pop gleefully intersect with natural grace.
Kadhja Bonet delivered a beguiling breath of hive hunting airs with the psyc-tinged strings that beckon & call on the majesty of "Honeycomb" featured off her forthcoming album The Visitor available October 21 from Fat Possum & Fresh Selects. Baroque hedonism meets the esteem of an audio piece of art deserving of being remixed into a thousand hip hop tracks, dance hall numbers, and electro dance floors bangers that focus on the cut's numerous sections that provide generative opportunities for new interpretations. Not to be missed for the world.
Chicago by Maine's Elijah Noll just debut his super sleak & unique mixtape titled Delusional that busts out all the big dance floor lover's rock anthems. The party gets gradually more and more lit on "Alive", bopping & rolling with "Ride", and the super smooth instant ballroom classic and standout track "Need U". Elijah turns the dial into full croon mode on "Raindrops", right before turning the big PMA bright lights on with the illustrious EP closer "Dirty Games".
PAPA shared the clap-along single "Comfort's a Killer" from their just announced album Kick At The Dust available September 16 from Hit City USA. Old friends Darren Weiss (fka of Girls) & Danny Presant stir sounds that echo the amphitheaters and venues that sponsor & host the greatest events that bring together fans & inquiring ears & minds alike.
Kevin Garrett who produced the opening track on Beyoncé's Lemonade brought the "Precious" understated romantics with his new single that deals with the rare & exclusive things that people hold to as sacred in varying situations.
Sam Evian is the chosen title from Sam Owens of Celestial Shore who has been preparing his debut album Premium available through Saddle Creek Records September 30 sharing the single "I Need a Man" that takes the entire lounge or parlor act style and makes the entire delivery & arrangement as outrageously entrancing as possible.
Hoops' Week in Pop
Bloomington, Indiana's Hoops release their anticipated self-titled debut EP August 26 through Fat Possum & we are delighted & thrilled to present their following exclusive Week in Pop guest selections:
Omni, "Wire"
Cool blend of post-punk sounds. It has a nice flare with great production.
Warehouse, "Reservoir"
These are our good friends from Atlanta. We like their originality.
Spissy, "Circling The Square"
A sparkling track by friends of ours who live in Bloomington. They're all fantastic musicians.
Patrice Rushen, "Forget Me Nots"
One of the best baselines we've ever heard.
D.L.I.M.C., "Mushrooms on My Ass"
Title says it all. Great song about nothing from Northwest Indiana.
Travis Scott, "Antitode"
We're a little late on this track, but it's very sick. It's a banger. Simple as that.
Ian Isaiah, "247"
We really like this video, the production is incredibly interesting as well.
Ghost Orchard, "Kindness"
Goodness outta Grand Rapids on Orchid Tapes.
Follow Hoops via Twitter.