With everyone announcing world tours and more underway, Impose's Week in Pop grants you an all-access pass to all the latest from a few good artists who are making a difference. But first we give you a rundown of the hype you may have missed, with word that Animal Collective have allegedly finished recording their new album; Ariel Pink to play with members of the Colorado Symphony, and Ash Ra Tempel's Manuel Göttsching; Chief Keef will perform as a hologram at a memorial tribute concert tonight in Chicago; Wilco dropped the album Star Wars out of nowhere; Damon Albarn revealed that a fifth Gorillaz album is indeed in the works; Kendrick Lamar got sued by photographer Giordano Cipriani for "The Blacker The Berry" single artwork; The "Blurred Lines" copyright infringement case will not have a re-trial upholding T.I. and imprints liable for $5.3 million in damages awarded to Marvin Gaye's family; Miguel gave Billy Corgan a co-writing credit for "leaves" to avoid any litigious infringement cases; 50 cent filed this week for chapter 11 bankruptcy; Neil Young to remove his music from internet streaming outlets; Weezy's Cash Money Records imprint has filed a $50 mil suit against Jay Z's streaming services; Birdman and Young Thug indicted for conspiring to kill Lil Wayne—Young Thug was also arrested in Sandy Springs, Georgia on an outstanding warrant for "terroristic threats"; our warmest thoughts are with Nick Cave and his family after the loss of his son, Arthur Cave; and we mourn the loss of electronic artist Susumu Yokota.
Catching up now with some of today and tomorrow's shining stars, it is our pleasure to bring you exclusives and interviews from Babysitter, Gagarin, Mother Room, Reservations, Cancellieri, The Domestics, Gary Wilson, Liphemra, Middle Ocean, Panda Kid, Pet Lions, Steve Taylor, Doug Bleek, Van Exel, featuring guest selections by Renny Wilson, and more—in no particular order.
Babysitter
Victoria, BC by Montreal group Babysitter have been independently (and via Shake! Records) releasing their cassettes for over half a decade now, and we have just learned that their new album will be available in early September on Psychic Handshake Recordings. Extolling the DIY virtues of post-punk/art-punk/no-punk ethics and audio arts on full speaker blast, the group prepares to release their 7" split with Calgary's Hag Face July 30 via Pleasence Records and Resurrection Records, and today follows up their recent Maude Deslauriers video for "Sad Folk Singer" with the world premiere of the Jordan Minkoff directed video for Babysitter's new single, "Hard Times".
Take a stroll with Babysitter's Kristian North around Montreal in Jordan Minkoff's video for "Hard Times" that begins at a subway terminal before taking you to the surface of the metropolitan streets dwarfed by sky-scrapers, churches, vintage buildings and the illustrious color and bold illuminations brought out through effects and filters. Sporting shades and walking in time to Babysitter's own bass and beat cool-stepping rhythms, animated cross-hairs and subsequent explosion effects follow the band's long-haired leader as he denounces the anemic and acerbic downfall of world powers in a prose that would bring a crooked smile to the face of Mark E. Smith himself. "Those less fortunate should be pulled up by their own…bootstraps, like being a self-made man, recession, what's that? All I see are corporate pigs trimming the fat, while Hollywood makes a joke of sex, the NSA like Catholics demand confessions." The observation of institutionalized overlords are spoken-sung while taking a leisurely city stroll as we watch day turn to night, as Kristian delivers a state of the world soliloquy punctuated by a healthy of dose of paranoia that spells out the signs of the times that allude the song's title. "A capitalist sees no charities, only expense, and it's hard times we're in." Join us for more wisdom from Babysitter's Kristian North, right after the following debut of "Hard Times".
Describe reflections on the Babysitter ride from the beginning to now as if this were a mini-doc on the band.
Babysitter is five years old this fall. It came together as just Andy and myself, we met as coworkers and we'd pass the time at work talking about Flipper, Royal Trux and Neil Young. Casual jamming evolved into a dedicated band pretty quickly, we burned through a few drummers and five or six tapes and a couple of tours and Aden joined us on drums in 2012 and the lineup has stayed consistent since then. We released the first LP and we toured pretty heavily for most of 2013. After that, Victoria wasn't really where we wanted to be so we came out here to Montreal.
Tell us about moving from the West Coast to Montreal, and what that jump was like, how it affected you all, and how the Montreal scenes are treating everyone?
The move to Montreal is fine, our record label Psychic Handshake is based in Montreal and we have lots of friends over here. If you are Canadian and interested in music or art or any sort of comparable low paying lifestyle Montreal is sort of an endgame, the rent is cheap and there's probably the best music and arts scene in Canada so its a no brainer, at least to me. The west coast is so expensive now.
We are pretty impressed by the wild Jordan Minkoff video for "Hard Times" that brings the creepy surveillance culture of our contemporary 'big brother' spy-systems as standard operation to life in a humorous, thought provoking, and aesthetically pleasing pop art kind of way. What are some of everyone's favorite thoughts about making this, and how exactly was this brilliant, DIY but dazzling video made?
We've made a few videos with Jordan and he's really great to work with, it's a pretty organic process. "Hard Times" was shot in the winter, Jordan and I just sort of walked around Montreal with the video camera and shot ideas as they came to our heads. Jordan is a natural director, he'd say 'you should spit' or 'swing the scarf around your head' and I'd do it. After shooting Jordan came up with the sniper idea as a compliment to the paranoid nature of the lyrics.
What media, books, movies, sounds, art, whatever are inspiring you all right now?
Hag Face from Calgary are one of our favorites, Shearing Pinx new album is great and SHPX related project N213 Group Visions came through town a while back and were so good, Drainoliths new album is great, Gash Rat is amazing and their new album is great. Pretty inspired in Montreal overall, lots of really fresh sounds. Most recently I saw Mdou Moctar a Tuareg guitarist from Niger and it totally blew my mind, it was really a revelation for me.
Tell us what you all can about (the new record on) Psychic Handshake, and how is it unlike any Babysitter record yet?
It was recorded on a two inch tape machine in Montreal, our friend and collaborator JLK features heavily on the record playing on several songs. This record really represents all the sides of Babysitter, we didn't hold back with the weird shit but there's some fantasy radio hits too.
Fall post-release plans for you all?
We are doing some tour dates on the east coast in September after the record comes out, and we hope to hit the west coast sometime too.
Babysitter's new album will be available in early September from Psychic Handshake Recordings.
Mother Room
The following premiere of Mother Room's "Arise" was an atmospheric creeper cut that carefully wades you into the deep end of Pacific Oceans to fight a metallic leviathan. Found off the upcoming 7″ split with Planning For Burial available July 21 from The Native Sound, MR's mainman James Meuleners follows up his debut LP Scorched with the sound of singed earth and doom cast electrified steel reverberations. The Oakland, California artist transforms the delusions of tranquility that people hold toward the Bay Area and demonstrates the severe level of titanic clamor that the East Bay can masterfully execute. This ain't your older brother's doom metal, the modernist post-Sabbathian sludge here is mopped up and distilled into something stronger, sicker, stranger, but stomps as hard as a 10 ton mammoth at the rate of a codeine and molasses milkshake cocktail.
James from Mother Room takes his time to allow "Arise" to breathe as he keeps the track's mystery of ephemeral and physical elements all existing together in a tangible and feasible sound assembly. There is no rush for the great gavel smashing rhythm plod motions that begin after a minute and 20 seconds into the jam. From here nearly four minutes of pulverizing stoned-ogre licks drone forth on a slow, steady, and slogging path. The tracks breaks odwn into a series of squelched electrics that send a variety of distortion tones from pedals, plugged-in discord done to sound like a mess of gear melting before your eyes like a Dali Lama print. After the following debut of "Arise", check out our interview with Mother Room's James Meuleners.
Describe for us the conditions and events that lead up to the creation of Mother Room.
Well, the band I was in was going on hiatus, and I had all this energy pushing up from the depths. I just started recording these new songs that had no name, no place to rest. So I put the name Mother Room on them. I never thought I would play show or record an album with this project.
Is the name sort of a reference to the home room nature of these recordings?
No, ha ha. The name comes from the farming of "crops".
From the debut album Scorched to the epic, mammoth single "Arise"—how do you feel Mother Room as a project has grown since it's humble beginnings?
It has grown so much since day one. I'm actually blown away by it, I never thought that I would do one release, now I'm releasing a split 7″ and have two more releases to be out by years end. Big shout out to Julio over at The Native Sound!
How did the Planning For Burial split come about?
It came together after playing a couple shows with Thom on the west coast last year. We kept in contact a developed a friendship. He 'gets it' to say so simply. We've both been part of different music scenes growing up and as adults, and I can honestly say if the internet and all forms of music media coverage and hype all died tomorrow, he would still be playing music just for himself to enjoy. I respect that more than I can express, so as soon as I pitched the idea of doing a split together and he agreed. It was on.
What are you excited about in Oakland these days?
Oakland is Oakland. There is the good the bad and the ugly out here(at risk of sounding cheesy). There are so many different artistic energies that meet up together out here, more than music. I'm excited by the fact that is not an easy place to be an active artist here because of high rent costs and a saturation of the arts here. It's impossible to do things half assed because if you're going to do something you better do it all the way. I feel like Oakland doesn't have time for people just trying to look cool, what do you have to offer?
Any Bay Area heroes, favorites, underdogs that you want to go e a shout out to?
I'm proud to call these bands friends, Unconditional Arms, The American Scene, Teal, Terror Agenda, King Woman, Chasms, Creative Adult, All Your Sisters, Foie Gras, A/S/L, Culture Abuse, Achromanticist.
Some non bands—but amazing artist and individuals: Lauren Zimmerman (Organs in Sleep), Jeff Wright, Charles Vincent, Senny Mau, Garret at Relative Minds, The Empty Waves collective, Dalton The Roach King, Dan Stilwell, M.J. Bernier…I know I'm forgetting a bunch of people, but you know who you are.
El Taco Zamorano!
Mother Room's split with Planning For Burial will be available July 21 from The Native Sound.
You can also hear Mother Room's "Arise" via YouTube:
Gagarin
Gagarin, the solo outlet from Pere Ubu's Graham "Dids" Dowdall just released Aoticp on GEO Records, and we present you with the following listen, accompanied by some words from the artist. Dowdall sports an impressive list of previous collaborators that count luminaries like John Cale, Ludus, Nico, Eric Random, Suns of Arqa, Band of Holy Joy, Raf & O, Low Bias, Zor Gabor, Roshi ft. Pars Radio, and countless others. From these forays into the arenas of avant-garde audio arts, Graham finds himself working in the new fields of technology and components that make up the fibers of micro-genres, and breaks the molds and tags that leaves the track open for the listener to wax poetic about what new-fused scenes and styles may or may not be present.
The Gagarin adventure of Aoticp begins with "AMMIL", where you are taken on a journey that bends time and space as electronic flanging items are hurled in your immediate direction at all times. Then those elements of electrical buzzards become part of an audio generator machine that speaks in robot beeps and contains an atmosphere and level of consecutive bass drops that will keep your heart in your stomach on "EQUORANDA". Decisive moments in the cycle take on cinematic qualities like the way "HILVERSUM" keeps things at a tense level of nerve wracking anticipation, right before the fantasia of electronic engineered auras of horror will compel the whole of your attention on "EPIDIOLEX", to exploring the found sound fusions connected to console sourced trickery on "TROGLODYTE". The cyber-punk matinee keeps the madness rolling on "FERAL DREAMS", as electronic dissonance becomes the destination objective on the chrysalis cracking cut 'HOMESERVICE Louder Kick", right as you are dropped into the Woody Woodpecker glitch gear shaft of "BAKELITE". The mind can be almost heard dropping from conscious and into the day dreaming state of rapid eye movement on "ECHOLALIA", with more chamber audio definition and distortion experimentation on "Light Programme", right as "WANDLE" walks you through the dance inspiring suite that will keep your spirits lifted for the rest of the day at least.
Graham Dowdall provided us some reflective words during a soundcheck on tour on the making of Aoticp, and how Graham's work in both Pere Ubu and Roshi have informed his music as Gagarin:
Aoticp was recorded over the last year between long Pere Ubu tours and a variety of other work. As usual to ensure some uniformity I revisited and mixed all the tracks over a short period in winter at the end of a 50 gig touring schedule. This album has a variety of influences going on. In part I'm playing with some elements drawn from all sorts of electronic music ranging from happy hardcore to soundart some of which I wanted to reference in a quite obvious way, and some in passing. The other element was some aspects from my cassette release Outside Broadcast which was based on analog radio sounds. The cassette format suited this but I wanted to revisit some tracks in a shorter and more hi-fi sound world.
I'm writing this from a soundcheck stage with Pere Ubu which is clearly a very different experience from making solo electronica and musically I don't think playing with Ubu affects the Gagarin sound much. What does impact is David Thomas' attitude to being creative and pushing forward all the time. Also the very down to earth approach to attempting ambitious stuff.

Working with Roshi is a very different experience as the music is much quieter and spacious and the gigs very different obviously. Neither band sounds like Gagarin but both satisfy different elements of my tastes and interests which is why Gagarin is purely electronic to some extent. I like some rock and also folk and I'd miss having some involvement in those musics otherwise. Ubu also gives me the chance to play bigger gigs which gives me a license not to try to be commercial. Working with Roshi allows me to produce a wonderful voice—something I think I have a talent for and to work in the intimacy of a duo rather than the rock monster of Ubu!
The Gagarian album Aoticp is available now from GEO Records.
Reservations
Three years following their self-titled debut, Reservations present a listen to their debut studio album Taking Time with the sweet smoked desert lullabies and sung frank expressions on the premiere of "To Be Honest". Available July 21 before their East Coast tour, the duo of frontwoman Jana Horn, and Good Field's Paul Price have welcomed percussionist Jason Baczynski into the Reservations to provide an airy emotive sound anchored to the curt honesty at work in Horn's lyrics. The arrangements comfort like the company of low flying clouds that bring ground soaring fog and forlorn accompaniment to Jana's confrontational course of delivery that serves heartbreak and the bubble bursting break of delusions done expertly through song.
"To Be Honest" provides vivid scenes from one of those pivotal 'talks' that someone in even the best of bonds has to do at some time or another. The conversation that breaks down the differences in needs, perceptions, personal definitions of expression, unfulfilled wants, and exhibition of defenses met with a lonesome desert mourning processional melody. Jana is able to keep the colloquial expressions intact in her delivery that demonstrates blunt truth while encasing the bitterness through tones and notes that registers like the most endearing of cadences. After the following debut of "To Be Honest", read our interview with Reservations.
Take us through the expansions and developments that have taken place between your folky self-titles to Taking Time.
Well, there's three of us now. The first self-titled EP was just Paul and Jana ('drumming' and all) so there's an obvious element that Jason brings as just being the missing piece. But then there's the maybe less intuitive transition, where the music just changed. Things got heavier, more invasive. But at the same time, Jason's intuition as a drummer is to always leave space, to just create a pocket for the rest to settle in. The songs met their intensity without becoming overwhelmed. When we were recording the album, we were listening to a lot of music together, putting on Neil Young records, Radiohead, some early and later Midlake albums. Kind of all over the place. And remnants of those records are mixed into the psychology of the songs.
What song craft methods have the three of you employed here on the new album?
Jana writes the songs. She's foremost a writer so sometimes the songs need something—groove, feeling—that's Jason and Paul. And then Paul has the ear for everything else. He hears that single note on a fuzzed out keyboard that maybe no one notices, but the song needs. He's makes us think we're never done, until we tell him we are.
What is the key to always creating expanses of space in your music?
For us, what's not being played is just as important as what is. Some songs we recorded endlessly only to deafen most of the tracks in the end. We always say you can never leave too much space. Which isn't easy. The thing about space is that you always want to fill it.
Latest from the Austin scenes?
There's actually a swing-dance scene that we've been really getting into. Jazz.
Local artists you would like to give a shout out to?
Big ups to Nori, for playing really honest, vulnerable and intimate music. They've got a lot of guts. A band called Lomelda feels really important, too. Their live set is something else. And then there's Good Field (Paul's band) which we're inclined to say is the best thing going on in Austin right now. It probably is too, but who knows really. It's like trying to figure out if your sibling is attractive. Too close to tell.
Reservations' debut album Taking Time will be available July 21.
Liphemra
Liphemra remains one of LA's most passionate and sonically progressive phenomenons that transcends medium through a variety of disciplines (percussion, production for audio and visual, songwriting, singing, arranging, collaging, adinfinitum). Her single "Magazines" follows up her Part 3 mixtape and has just received the fashion art video treatment directed & edited by Liza Mandelup, cinematography by Noah Collier, produced by Jess Magee that features Beatrice Rague Von Schleyer. Liv Marsico, the frontwoman behind Liphemra has also just released a zine titled did u cry through Burger and Lolipop Records that features poetry, Liphemra lyrics, pictures, and contributions from Arvida Bystrom, Penelope Gazin, Liza Mandelup, Adi Rajkovic, and Rachel Surnow. Also playing Low End Theory July 22, and presenting upcoming remixes from from Alpha Pup signees Toylight and Kalva Won; the beautiful, heart holding cult of Liphemra continues to confidently march forward.
The Liza Mandelup video for "Magazines" follows Beatrice Von Rague Schleyer through the night through the hollows of dim evening lights to the quiet and intimate places of moon bathed beauty. From the surrounding ghostly glow of haunted Hollywood mansions, our protagonist Beatrice finds a safe haven utility shed to be alone with her own self-styled swift moves . The mixed collected ideas of beauty, self, and the need for sanctuary are brought together in interpretive visual brush strokes that updates the allure of Sunset Boulevard-esque LA mysteries that play like modern day specters of the sensual, and psychic consciousness.
Toylight also remixed Liphemra's "Magazines", where loops of "even after the tears" is met with sparse percussion that leads toward electronic bass experimentation and lab like fusions. Also too, the upcoming Kalva Won remix of Liphemra's "Magazine" brings out more subdued dance lounge layers that take on the courses of new rhythm sequences and sensationalism.
Liphemra mastermind/wunderkind/impresario of new school aesthetics Liv Marsico talked with us for a bit about the new recordings, video, remixes, and more in our following discussion.
Tell us about the making of your Burger & Lolipop Records released zine did u cry from Obelisk Press, combining your own poetry, pictures, and lyrical talents with works from Arvida Bystrom, Penelope Gazin, Liza Mandelup, Adi Rajkovic, & Rachel Surnow.
I've always been really into writing my poetry & lyrics in journals…I love creating beautiful pages that are handwritten and often times will paste pictures or little images next to them that relate to the words. I've never made a zine before this one but I draw so much inspiration from my fellow artists in LA…especially my girls! It is nice to have something physical that encapsulates the Liphemra world.
Tell us your thoughts on how you feel the remixes from Kalva Won and Toylight impacted the single, and what did you discover about the song through their remixes?
Kalva Won and Toylight are two of my favorite producers right now…they both continue to blow me away in their own separate ways. Each of the remixes draw something very different from the original song. Both evoke sentiment & nostalgia. They're amazing artists and inspire me all the time with what they're working on. Seriously an honor to have them remix this song.
Interested in hearing about the new material in progress, and what you're most excited for your upcoming Low End Theory July 22 show.
The new material coming out is definitely going to be a lot different than anything out now. All the songs out now I produced myself on the computer. "Magazines" was finished with the help of Theo Cohen. He is really an amazing talent & producer and a joy to work with.
The band now consists of my boys Miles Gray (bass), Trey Findley (guitar) & Chris Parise (drums) and myself.. the upcoming songs are a reflection of all our artist visions and i'm so excited to share them!
I'm so excited to be playing Low End Theory because I grew up going there every Wednesday night just in awe of all the amazing artists that would play. That place has inspired so much of the music I make. Eternally grateful to Daddy Kev, and all the other residents for keeping the energy around that place so raw and truthful!
Other LA happenings and artists that the world needs to embrace?
I've been really inspired by all the female artists in my life lately. Liza Mandelup who directed this video constantly produces work that is so unique and Arvida Bystrom is an amazing photographer & video artist who will be moving to LA soon. Nina Ljeti is another amazing film maker who moved here a little over a year ago. There is also a gallery space that opened up not too long ago called Sunday Los Angeles run by Adi Rajkovic, and pretty much everything she curates and produces is incredible. LA is on fire right now.
Favorite LA bands right now; The Paranoyds, Winter, Sadgirl, and Froth.
Liphemra plays Low End Theory in LA on July 22 along with Taylor McFerrin, Nocando, & Daddy Kev.
Steve Taylor
LA based musician Steve Taylor has embarked on a long road to the recent release of his new album The Land of Milk and Honey that saw a series of EPs, lineup changes, offshoots, and side projects. Having worked closely with and in numerous groups like Rogue Wave, Jackie Greene, and Rhye; the new album finds Steve combining passions of acoustic, electric, and prog-variations that present the rich arranged album he has alluded toward for years.
The interpersonal expressions that sometimes go unsaid are displayed on full blast with the opening embrace of "Waiting On A Friend", that treats the listener to a realized rendering of "Sitting" (originally found off one of the artist's earliest recordings), before experimenting with Moogs and unbridled romanticism for life on "Pale Blue Eyes". Taylor's keen understanding of 70s songwriter tricks of composition and well placed care burst like lightly warped VHS tapes of vintage Fourth of July pyrotechnic exhibitions on "Fireworks", to the deep soul searching that reaches beyond the mythological metaphors on the title track. The live favorite "Hey Lady" pours like the beams of sunlight on the dew specked foliage, keeping the gorgeous graces of genuine AM radio orchestrations ever expanding on "Soft Ammunition", spring note strums float through with psych undertones on "All I Want Is You", bubbling into the Topanga Canyon-esque twang of "Prospect Park", before leaving you with the big curtain closing folk baroque cinema sweeper "To Be Graced". Though some of these songs have seen previous small batch releases, the arrangement and scoring of Milk and Honey allows the Steve Taylor songbook to shine in ways never heard before on the this scale.
Steve Taylor wrote us the following foreword on the album that has been years in the making:
This album The Land of Milk and Honey was originally slated to be a minimalist acoustic affair. Something to put out quickly after my first album took eons to come out. I was also toying around with the grand idea of simultaneously putting out a stripped down acoustic guitar album and an electric piano rock album, but I was having trouble executing it, as I was playing all of the instruments, producing, and engineering everything at first. I had some nice basic tracks going on both. Eventually I focused more on the acoustic album, but I let my arranger mind run wild, adding vibraphone, pedal steel, Moog and Mellotron in addition to fleshing out some of the tracks with drums and bass.

Then I really got sidetracked, taking sideman gigs with Rogue Wave, Jackie Greene, and Rhye. Even though these weren't constant touring gigs, they diverted enough energy to leave the album in a not quite completed state. After I left Rhye, I recommitted myself to my own musical and artistic visions. I was feeling pretty fussy about the tracks that I had recorded, but knew I needed to get a new album out in a bad way. I finally added some Leslie and tremolo guitars to "Waiting On A Friend" and "Pale Blue Eyes" which bridged the gap to the Byrds-ian California soul and progressive rock worlds respectively. I also remixed some of the tracks and voila, here it is!

Thematically the album touches a lot on loneliness and longing, but in a beautiful natural setting. The Land of Milk and Honey to me was this ideal of love or a utopian society, some kind of peace of mind or a land of resolution and harmony. It's something I've been searching for for ages but it seems there's still a lot more road to travel. I think ultimately we create our own world and reality on a macrocosmic and microcosmic level, so I'm still figuring it out…

Musically, I've been really influenced by the more pastoral and mystic elements of progressive rock and AM Gold/Laurel Canyon folk. Crosby, Stills and Nash's first album has been on heavy rotation for years, as have certain tracks from King Crimson, Fairport Convention, Burt Bacharach and Simon and Garfunkel. I think of this album as pretty impressionistic in it's chordal/harmonic approach. I'm a big fan of emotional chord changes. I'm drawn to that within all genres of music and try to have that as a big element in all of my music. I'm a big fan of classic pop. I hope there are some hooks in there that will draw people into the album as a whole. When it comes down to it I'm trying to make timeless music, something that's moving and relatable and can connect in a lot of ways…
The Land of Milk and Honey is available now via Bandcamp and everywhere.
Panda Kid
Panda Kid recently released the album I Saw My Soul Leaving on Already Dead Tapes, FDH Records, Lolipop Records, and Bandcamp and we bring you both a listen and some words from the artist. Delivering us their first album all the way from their home in Vicenza, Italy; Panda Kid provides new twists to vintage digs and celebratory drum sequences through a DIY lens where the scope of pop progressions only progresses and widens as the album plays on.
The cosmic journey begins with the galactic bound "Panda In Space" instrumentals that drops you into the surf, sand, and scuzz party of "Garage On The Beach", to the novelty dirge of "Your Candy". As the season calls for releases that reflect the best summer imaginable, "A Long Long Summer" brings a bizzaro gallop rhythm section and lo-fi guitar ripping rhythm controller. The limits of fidelity and fuzz get pushed to the tinny max on "Confidences" which depending on your mood will either build your confidence up or down, while "Arizona" sets you sail on a magical mystery Abbey Road Studios-esque tour that tastes like a cool, refreshing tall glass of iced tea. And then this is where you continue to hear Panda Kid shine at their analog best on hypnotic electric hymns like "We Will Be Palm" waves guitars like branches at the arrival of some sort of messianic figure that has just arrived into town. And from here forth the gospel according to PK continues to be disseminated on the righteous groovy rhythm rocker "Sun Take Care Of Us" that contains a must hear secret closing section that slows things down to the electric thumping bass chords. The weird summertime dance party keeps on cooking with "Palm Spring$" that echoes sounds and styles from an other time, and place echoing the cult of the Rat Pack and the cronies of Sinatra, right before "Summetry" sets you to sail toward the allure of an endless summer sunset glow.
The band sent us the following [translated] cable overseas to provide a few insights into their first full-length, and August North American tour:
I Saw My Soul Leaving is my new LP, released this summer on Lolipop Records , FDH Records and Already Dead Tapes. It is a collection of old singles plus two new unreleased hits "We Will Be Palm" and "Sun Take Care Of Us".

The last year changed many things in my life, I moved into a new house, lost a personal relationship and friends, found new positive vibes, met beautiful people…but the only thing that never changes is my music.

This LP is just like my anchor, a fixed point and an opportunity for a new beginning.
Why not do it with a USA tour? We are ready to tour North America this August, this would not have been possible without the help from Onward Indian Touring.
August
04 Brooklyn, NY at Baby's AlrightT BROOKLYN NY
05 New York, NY at Webster Hall Studio
06 Philadelphia, PA at King Fu Necktie
08 Chicago, IL at Gunhed Studios
09 San Francisco, CA at The Chapel
13 Los Angeles, CA at Mrs. Fish
14 Los Angeles, CA at Bored To Death
16 Fullerton, CA at The Continental Room
17 TBA
18 TBA
Panda Kid's debut album I Saw My Soul Leaving is available now from Already Dead Tapes, FDH Records, Lolipop Records, and Bandcamp.
Middle Ocean
Andew Hamlet contacted us to introduce us to Middle Ocean, what started off as Pressed And with a live band, and then became it's own oceanic expanse of thoufhtful, psych-dipped waters of blue and green. The opener on their just released album I "Please Hold On" sets the tempo like a mellow romantic sun down, to the frayed warbling dawn of "Grown in the Morning", to the ultra chill tones and summer tempos found on "We've Got a Reason", to the ultra gentle twang chasms of depth on "Wishing Well". Instrumental fusions and jams continue to keep the sound soaring on sound casting cut "Far", trucking along the echoing Americana jet-stream riding "In a United State", the space-craft sailing "Interstate Blues", to the psych-spiritual of "Leaning on the Everlasting Arms", trickling down the folk roads of "Journey Home", the pitter-patter jog of "Statesville Sheetz" that bring you around to "Tell-Tale Sign" that leaves you with the image that twilight clouds bring with jagged streaks of the sun's glow in tones that run the gamut from yellow to purple. Hamlet with Mat Jones, and Reed Turchi provide with Middle Ocean an opportunity to chistle out their own fusion of nu-Americana song cycles that provide a sonic quilt rendering of music to travel the 50 states to, or just enjoy in the company of your earphone buds (or with a few good buds).
Andrew Hamlet recent talked with us a a bit about how Middle Ocean first began as Pressed And with a live band, recording at Ardent Studios, and more about their new offshoot:
In June 2013, the electronic duo known as Pressed And went on tour with a live band, featuring Matthew Jones, Andrew Hamlet, and Reed Turchi, a new addition on slide guitar. During a day off in Ann Arbor, Michigan, the group holed up in a studio to record the live sound. With these recordings, Middle Ocean set sail. Compiling the Ann Arbor recordings with solo material from Matthew Jones, who records as It is rain in my face., Andrew Hamlet produced Middle Ocean: I while at legendary Ardent Studios in Memphis, TN. The album shares the smoke and spirit of Ardent alumni Big Star, Jim Dickinson, and The Staples Singers and evokes nu-Americana of the lineage My Morning Jacket, Mazzy Star, The Grateful Dead, and The Allman Brothers Band. Jump in, and take a swim among the sound waves!
Cancellieri
Cancellieri is Ryan Hutchens who has just released his new album on Post-Echo that indicates the Denver, Colorado street corners of it's creation, 46 and Raleigh, premiering a listen to the scholar of life strumming sway of "Education". Based out of Columbia, South Carolina; Hutchens strums songs for strolling along southern trails, to chorus hymns in the key of confidence. Listen as the acoustics strum the distances between Columbia and Denver where Hutchens voice trails like an express engine trekking away from the hometown of the south to the pointed rocky mountain high peaks.
"Education" is made up of the fibers that comprise old Americana hymns, dusted out from the pews, and ripped from the pulpits of the past that tell a thousand plus stories in traditional songs and ballads. The sparse struck chords are met by low level rumbles that portend toward the aid of electronic ambiance that maintains a close connection to the echo that send the vocals of Cancellieri up into the skies like steam puffing from the top of a smoke stack chimney. The musings on humankind, the supernatural, and learning to finish what you begin are mulled about in Ryan's ballad that ponders all the thing that require continuous learning and practice to understand. Following the debut of "Education", read our insightful interview with Cancellieri, aka Ryan Hutchens.
Tell us about the experience of recording 46 and Raleigh at that Denver house located at the crossroad of the album's name sake.
This is my second go around at self-recording an album consisting of a mix of originals and covers. I had such a great experience recording and enjoying the results of Closet Songs (which was recorded at my brother's old apartment in Denver) that I knew I wanted to do it again. This winter I had been working on some new originals and I had been learning some old American gospel and bluegrass tunes to add to my live set. It seemed like a good fit to put together my new songs with a collection of these old American songs which have always been an inspiration for my style. One thing I wanted to do this time was have complete control over the album from start to finish. So I curated, performed, recorded, mixed, and edited everything myself from start to finish with the exception of a couple of banjo tracks and vocal additions from my brother. It was a really refreshing feeling to not have any outside opinions affecting what I was thinking and doing as I went about the process. I recorded all the vocals and banjo on a Rode NT1-A and I recorded the guitar with a direct line into my computer using Garage Band 2008 (which is vintage at this point). All of the songs have between two and ten individual tracks layered within them which gave me a lot of control and allowed me to clean up any extra sounds I didn't want in the final product. One of the biggest hurdles that I hadn't dealt with in the past was the constant traffic noise of those two cross streets just outside the windows where I was recording. I ended up strapping up or holding pillows around the microphone to get a quieter background and I think it worked pretty good. One of the most fun things about self recording with simple and limited equipment is all of those little creative things you have to do that don't really have anything to do with the music. With the help of unlimited coffee and some long walks around Denver, things went pretty smoothly and almost everything was done within a week of starting. I sat on what I had while I did the western coast leg of my tour, which allowed me to listen to the songs in a lot of different states of mind and situations. That gave me some new ideas for little tweaks in mixing and layering, especially in "Education" which was almost entirely rewritten when I got back to Denver just a few weeks ago.
What sort of educational experience and ruminations inspired the soft strumming "Education", with that understated distorted electric picking that lies just beneath the surface.
"Education" as it currently exists is completely a result of what I learned playing it at my live shows this summer. Before I left for tour, I had recorded it with an entirely different rhythm and structure, but similar melody and the same lyrics. Live shows can tell me a lot about my songs and how other people receive them and how to get the most out of the key elements of a song. It just felt like it was on shaky ground when I played it live so I went back and played with the melody and lyrics and decided on that slow and smooth picking style, which I've favored with a lot of my originals and covers lately. I realized I had to play to my strengths as a solo performer and that is to have an uncluttered, clear, and 'pretty' sound. The distorted electric guitar line underneath the main picking line was just something that was fun to experiment with when I had the luxury of being in a house with all of my recording equipment. I use very similar elements in some of my other self recorded songs from last year's Closet Songs. The key is getting to the root of what a song should be, and then you can have fun with it with all the tools and instrumentation of a band or a studio.
Tell us what you are the most excited about lately in Columbia, SC.
I have not been home since October 2014 and the itch to be back is growing every day as I travel east and south. Columbia has always been a great home to me as an aspiring musician and now as a working performer. There are plenty of little spots to work on your craft, bigger spots to grow with it, and a community of hard working and supportive artists to learn from. Toro Y Moi and Elvis Depressedly (both originated in Columbia) are constant inspirations for me because of their great tunes and their commercial success. As of late, I am probably most excited for the growth and potential I see in two local groups; Stagbriar and Dear Blanca. Both of those bands have members that recorded on my album Welcome To Mount Pleasant and have played with me live in one of my rare full band shows. They're all talented and dedicated to what their doing and I think we'll be seeing them doing real work in the music business in the coming years. Another thing I'm excited about is the creation of The Music Farm which is Columbia's first legitimate mid-size venue since Headliners closed. The reason this is such a big deal is because they've been great about getting locals booked there and it gives local groups a chance to play with professional touring bands on a professional stage. The mental edge and the marketing boost this creates for our locals is hard to overstate.
Other local and maybe not-so-local artists that you would like to recognize that are making a difference, but not getting enough coverage?
First person that comes to mind is David Adedokun. He is a singer-songwriter and all around musician in Columbia, and I think he is known by and has had a hand in the progression of most of Columbia's current musicians and bands. On a personal level he has been super supportive of me as I travel the country and it's nice to have that positive voice from my hometown when I'm playing to strangers in a dive bar a few thousand miles away. Also, he puts together my favorite open mic (the only one I go to anymore) where I have been able to learn so much about my songs and my performances. Another thing that I would like to recognize is "Girls Rock" which is a week long program that happens in cities across the US during the summer that gets girls out of their house and into bands where they learn what its like to play instruments, write songs, perform, and deal with the lead singer's ego. Many, if not most, of the adults putting this thing together in Columbia are ladies in local bands. I think it must be such an awesome experience for the kids and its creating a new generation of artists and art appreciators.
Cancellieri's new album 46 and Raleigh is available now from Post-Echo.
Van Exel
Sky Council Recordings operator Tim H. White, aka Van Exel released his concept album Constellation X that hurdles through the cosmos like a cult 70s sci-fi flick that breaks past the conventional barriers of time and place constraints. Known for his collaborative assists with artists like André Obin, Artisan Loyalist, Meghan Wolf; his alter ego Van Exel brings on the soundtrack from a film that may have been lost like vintage celluloid stored in tin can coffins left on the shelved catacomb tombs of a fictitious forgotten time capsule.
The modern and space eras clasp together in "Series 74", that sends you through the electric glowing caution coaster "Distant Warnings", as syrup sludges of excess jet fuel spill forth from the synths that signal the sensation of warped speed movements on "The Statik Eclipse". The next mission in the cycle brings you to "Drifting Phases" the percolates a deluge of digital pulses that signal the essence and chromatic aura of afterburner initiation on the jet firing "Cylinders Aglow", to the analog crossover to digital in the binary age transformation that is illustrated in the classic sample strewn "Galaxy Chambers". The sequences and secret knowledge of planetary compositional makeup comprise "Star Systems", that take you through the multi-dimensional synth-star-soup of the title track, to the safe landing story-tale time of polygon wire-framed memory renderings on the closing cut "We Saw Wire Filled Skies". To discover more about Van Exel recent adventures through the auditory cosmos, read our recent interview featured after the jump.
As someone who has collaborated with other artists (i.e. Andre Obin, Artisan Loyalist, Meghan Wolf), and remixed countless others—where do you find that the dialogues from your own solo work begin to take shape?
I do my best to stay rooted in being a music fan first. I listen to and explore as much music as I can both new and old. Not only on Soundcloud and various taste-maker blogs, but out in the world. I love absorbing how the modern day culture uses music as an energetic current. For example, I'm from and live in NYC, which is such an epicenter for creativity and boundary pushing. Whenever I'm at an event in a new art space, club, restaurant, house party etc, I naturally lock into what music is playing, on what kind of system (DJ, Laptop, house system) and how it changes throughout the night. I get really inspired by an overall environment and those certain moments that have magic to them. That point in time when you just feel an event elevate and people start vibing and blending into a unit. Music is almost always the main part of that equation, and that's why i try to capture. Recently, I was at a fashion party at MLK studios. One of the designers was music curating and was pretty clever with Traktor. He started cutting together some early Metro Area tracks with Little Dragon and older Juliana Hatfield vocal loops. It was at that moment people started viscerally reacting and the event morphed from mediocre to dope. I commit those vibes to memory then let them inspire me in the studio. My desire to re-create that feeling (not necessarily any specific track or style) dictates the outline for my own thing, I then keep building from there.
What sort of struggles and breakthroughs did you experience in creating Constellation X?
This was the first collection of tracks I've produced with absolutely no running timeline. I was really enjoying being a label guy, executive producer, A&R. It was good to focus on other artists and expand my business reach for a while. However, I am always going to be writing and creating no matter what else is going on. it was during this time the C-X tracks slowly began coming together. The breakthrough was that early on I committed to not caring if the tracks all worked together, if they fit any definable distribution category, how long they were : nothing. It was simply a pure creative outlet as I focused on other aspects of the industry. The challenge was 'paralysis from analysis". Meaning because I had so much time to tweak, change direction, re-do this, scrap that…At a certain point I got pretty hazy and contemplated abandoning the entire thing. It wasn't until I listened to the group together after not hearing any of the individual tracks for several months, that I decided I really liked it, and that a theme had emerged….
Along with the ISO50 visual component, what other visual adaptations do you have in store? Are you considering turning Constellation X into a full-length feature sci-fi b-film?
There is an accompanying digi-booklet with the C-X album download (also designed by Seth Hardie from ISO50) that outlines the story of the album. It was a cool experience writing out a narrative for the sequence of tracks. It was a reverse score in a way. The music came first and then the script was created to enhance the music's story, not vice versa. I've been meeting with a couple of film directors I know to explore going another step with it. Perhaps a series of videos is what we arrive at or maybe something more ambitious…
Constellation X is available now via The Sky Council.
Pet Lions
Having just released their Forever Again EP, hear Chicago's Pet Lions lend some of that windy city summer weather style heard on their recent single "Summer Baby", and more that harkens to a place, time, and moment of a seasonal romance or fling for all seasons. The quartet of friends Karl Østby, Shuhei Yamamoto, Matt Dahl, Joseph Murphy express the sentiments of a repeating eternity through songs that spring the rays of suns as soundtracks for picnics, or days stolen away at a local plush park, or a clandestine hidden cove tucked away in a water's side enclave.
Working with Matt Dewine at Chicago's famous Pieholden Suite Sound on mixing, production, and the recording process—Pet Lions bring about a sound that gives a glimpse of Chicago summers for all the out of towners to enjoy with pangs of envy. "Till We Die" starts the EP out on a note of fervency where the band plays it like they mean it, before dipping in the eternal sunny fountain bath waters of "Summer Baby" that paint the portrait of a near mythic individual or icon of excessive infatuation. The title track "Forever Again" rocks with a riff progression that will have you feeling like you heard this single a decade or so back in some sort of faint and vague kind of way, earnest inquiries of expressive affection on "Shoe Me How", right before taking an expressway route to your heart on "Freeway" that makes all roads feel like they are pointed to a Chicago summer ticket of sunny felt sounds. Immediately after the following EP stream, check out our interview with Pet Lions' Karl, Shuehi, and Matt.
What was the experience of recording Forever Again like for you all, and reflecting back through all your releases to the Soft Right EP; what sort of progressions and growths did you all note on the making of this release?
Karl: When we recorded our first EP, Soft Right, I think we were all just nervous and excited about being in the studio. I was 20 years old when we wrote the majority of that. Going into it, we had much less focus on shaping a sonic experience than we did on capturing quality performances. I also think all of our musical tastes have shifted and expanded a little since Soft Right, which is natural. We were happy with how it turned out, but I imagine we'd have a different record if those songs were recorded today.
Our first full-length, Houses, was our first real attempt at creating a sonic space and feeling in a record, while still in the process of discovering our own sound. By the time we recorded Popular Nature, we had more or less landed on a style the whole band was behind, and felt like our songwriting had evolved as well.
We had a really great time working with Matt Dewine on Forever Again at Pieholden Suite Sound in Chicago. One of the best things about him and his studio is the awesome collection of instruments and gear he has amassed. This was definitely our most layered approach, and that was partly from us and partly from Dewine and his wealth of cool toys at our disposal. It was sort of like, 'well there's a vibraphone here… why wouldn't we want it on this song?' I think we kept ourselves in check from going overboard, but we definitely made use of almost every synthesizer and piano there, occasionally against keys player Joseph Murphy's will. Dewine's fondness for La Croix was also a huge bonus of recording with him.
Tell us what the experience of 2015 Chicago summer has been like for you all so far.
Matt: Chicago summer is everything. We only get a few months of legitimate good weather around here, so people tend to really go the extra mile in absorbing them. It's a lot easier to get people out to shows when it's not ten below zero, and with all the street festivals going on, there's no shortage of great local bands playing outdoors on a beautiful day while people eat sausage from a stick. You can't beat it. In a lot of respects, we earn the summer by enduring such terrible winters, so they feel all the more rewarding. The general disposition is a lot more upbeat, and that usually translates to good energy at shows. You don't have to work as hard to justify to folks why it was worth trudging a mile across un-shoveled sidewalks to see you play.
Can you tell us some of the behind the song stories behind "Summer Baby" and who may have inspired this song?
Shuhei: We wrote this in the depths of Chicago winter when it feels like summer will never arrive and you have to depend on nostalgia to get you through. This song is basically a result of seasonal affective disorder.
What's next for Pet Lions?
We're just really proud of this new EP and trying to do everything we can to get people to listen to it. We don't have any kind of big promotional budget, so we're relying greatly on word-of-mouth and kindnesses from organizations like IMPOSE. We're also in the process of booking a proper release show for the EP here in Chicago, which are always a good time.
Fellow Chi-town artists and bands you all want to give a shout out to?
Our friends in J Fernandez, Santah, and NE-HI are all making waves!
Forever Again is available now via Bandcamp.
Gary Wilson
Catching up with our buddy Gary Wilson, we bring you a listen to "I Really Dig Your Smile" off his upcoming album Alone With Gary Wilson available September 18 from Cleopatra Records. The Endicott by San Diego artist has been mystifying all with his funky-weird electric organ vignettes since his release of You Think You Know Me inspiring outsider artists to make their jump from the fringes and toward the center stage. Beloved by Beck, ?uestlove, Earl Sweatshirt, and countless others; Wilson continues on his blueprint map of making music from the heart about girlfriends, ex-girlfriends, iconic girlfriends, maybe imaginary girlfriends in love pop models ripped from his 1950s heroes like Dion DiMucci, Frankie Avalon, etc. After the following listen, check out our recent discussion with Mr. Wilson himself.
What's the latest these days from Endicott, New York or have you been spending some summer vacay time in San Diego?
Endicott is real nice in the summer. Nice and green. Just spoke to long time band member Frank Roma. He still lives in Endicott. He's working out with his saxophone. I spend most of my time in San Diego, Ca.
What synthesizers are you enjoying the most lately?
I use mostly my Yamaha DX-21. It has split and has most of the sounds I need. You can hear that keyboard on most of my records. It's from the 80s.
Tell us about the making of Alone With Gary Wilson, and the continuing narrative progressions of the ever elusive women from you life like Linda, Cindy, Karen, etc that make cameos throughout your body of work.
Alone With Gary Wilson was recorded in my home studio in San Diego. Again my favorite girls make the scene in my recordings. Never too far from my dreams.
You mentioned that you really hit off with ?uestlove and the Roots some four years back in our last conversation, and was wondering if a Gary Wilson and The Roots album was ever going to happen?
When I was on the Jimmy Fallon Show with the Roots backing me, Questlove and I had a conversation about him adding drum tracks to a new album I was working on. Nothing materialized from it. You never know, it could still happen.
Any other collabs in the works? That's rad that you got to perform onstage recently with Earl Sweatshirt too.
I usually prefer to work alone but if something comes up that strikes me as interesting, I'm in the game. Yes, that was cool working with Earl Sweatshirt.
I love how you have kept true to your original aesthetic from the duct tape, plastic, mannequins and the like. How do these elements continue to inspire you, your work, and performances?
When I was a teenager I was interested in the most extreme art, music, theater, etc. I guess this carried over to the present.
Who are you listening to right now, and which Dion and Frankie Avalon songs are your current favorites?
Listening to John Cage's piece "Music For Piano And Orchestra" with David Tudor on piano. That always inspires me. Favorite Dion tune? That would be "Runaround Sue". Favorite Frankie Avalon tune? That would be "Venus".
The report on the future of music, pop culture, and more according to Gary Wilson?
There will always be new music and art that's interesting. I often wonder about the avant garde in the 16th and 17th century. Was there someone at that time making tone clusters and noise on his instrument? Was there some one splattering paint on a piece of wood?
Alone With Gary Wilson will be available September 18 from Cleopatra Records.
Main Attrakionz's much awaited album 808s and Dark Grapes III is available now from Vapor Records, and we bring you the Kreayshawn video for "Dip" that gets trippy with some cool dance moves done to Mondre and Squadda's verses spilled over Friendzone's production. An all Oakland affair, experience the trippier side of the East Bay courtesy of it's hometown heroes. Find Main Attrakionz on the road tonight July 17-23.
Hear MondreM.A.N. break down 808s III track for track in the following Impose exclusive:
Adult Dude are readying to release their album debut Adult Moods July 31 on Animal Style Records and we give you a listen to the riff-roaring hook-chord chunk-fest "Riff Dog". Featuring some of the quickest and sharpest material heard yet from guitarist and vocalist Anthony Tinnirella, the artist himself described the song as a naturally occurring product of happenstance:
"Riff Dog: was a pretty-much-wrote-itself kinda thing. The first time we ever played the song at practice it was more or less exactly as it is today. It's a burner.
Doug Bleek
NYC artist Doug Bleek has been on a roll releasing singles this summer, delivering his most recent recording of "Inner Demon" that steps in time like tennis shoe rubbers that beat against a hot SoHo sidewalk in summer. Engineered by Daniel Schlett and mixed by Bob Mallory, Bleek is able to bring a funk with a message about bringing your own inner human to life's equations. Doug talked to us a little bit about how Michael Jackson's album Bad may have influenced the new track with the following words:
I had the chords for a few months and when I finally sat down to flesh out the song's arrangement, the bassline came out almost instantly. I showed the demo to a friend the next day and as soon as he heard the bass part, he was like 'Dude, Michael Jackson!' So, I listened to a ton of Michael Jackson while reworking "Inner Demon", in order to summon my inner Michael. I was hearing a lot of his music for the first time, I ended up getting really into the album Bad.
From Minnesota, meet Katy Morly, or just Morly if you please as she is about to release her debut EP In Defense Of My Muse August 14 from Cascine that follows up her Secret Songs singles "Seraphese" and "Maelstrom". The legend goes that in fall of 2013 Morley entered a machine with "a box of old instruments and a pair of borrowed headphones" where choral committed textures overlap into ethereal airspace dimensions with rolling rhythm to outline a vision of ascending and descending angels like an ancient Pentateuch fable.


The Domestics have just released their self-titled album debut with the all-independent-everything good people at Tender Loving Empire, and we have a strum & sing a long listen to the track "Jenny Says". The Portland quintet of Michael Finn, Leo London, Kyle Moderhak, Matt Moore, Brad Norton lend a song about the domestic issues of domiciles, sharing reign over home space dominions with a memorable chorus that will have you lip syncing along to the lines of, "Jenny says that the sky is falling, but there is nothing up above, I'm drawing diagrams of the world you're dreaming of, I'm believing everything that you say like I believe in our love…and I believe in our love." The band's own Leo London shared the following words on the process of making their self-titled:
When we record we like to keep it fun. We yell and curse and get really excited about this sound or that. We keep it light even when working on heavier material.
With World's Fair's Remy Banks taking us somewhere Higher as of recent, we bring you fellow WF member Prince SAMO's new cut "Who Dat" that runs a furious piano lined escape route down digital ghost tunnels courtey of Black Noi$e's production. And then SAMO defends his royal title with a prosodic attention to metric scales, slopes, that throws off the tripe-beam balance with dance hall spit hooks that blast out into Noi$e and Tyler Wenzel's hypnotic meltdown finish.
Streight Angular are releasing their new cassingle on their own imprint New New Records titled Shake Yo Booty / 420, with a show in Cambridge, MA's Out of the Blue Gallery Friday 24 where they will be both performing and shooting a music video with Citrusphere, Jesse R. Berlin, and Cute Uterus. Yoshi and the gang bring their horned-out Zappa-would-be-proud funk and brain-fried fun on the a-side "Shake Yo Booty", that is followed by the stoned all-together-now spirit of "420" that seeks the hippie-lettuce thrills of smoked-up sensations in San Francisco and lots of real good times.
Off their upcoming October 16 slated album Service Industry for felte, hear Lushes' new single "Low Hanging Fruit" that brings more static fuzz action of "back and forth" full of scuzzy fruits of the distorted sort.
Melbourne's Gold Class has also signed to felte and shares the wistful, weary, and full of wonder single "Life As A Gun" from the band's forthcoming album debut. The depiction and reflection of a life lived constantly on the go, on the run, and under the gun presents the toll it takes in a track packed with gut wrenching emotion, anguish, and air of wistful romanticism.
Introducing Amo, made from the mind of Yehiel H. Amo of Memory In Plant, Dag is a DJ, Syndrome, etc with Arik Moran who ups the dramatic ante in creating new music for the mind, music for interpretive performance, music for the stage, and for the senses. Find this and more on the upcoming 24 album.
Best Behavior's album debut Good Luck Bad Karma will be available August 14 from Money Fire Records and we have the opening track "Star Sign" to help provide you with a constellation guide to assist you on your own personal road map of life.
Onra's Fundamentals album is available now from All City Records, and we have the video for "Vibe With U" ft. Suzi Analogue from Matt Ferran & John Filmore that features warm after hours vibes and sensations.
Hear Happy Diving's "My Zone" full of fun scuzz and inner zone sentiments and styles from the double a-side So Bunted 7″ available today.
Jeen's Tourist (Deluxe Edition) is available now and we give you the non-album cut, "Remedy" that seeks an antitode over electric strummed reflections.
Carl Creighton had a molar removed, and so the prolific artist went ahead and made an album about it titled Chewing Tooth, covering "Me and Bobby McGee" and "Like A Virgin" in the process. Acoustic, sparse, and intimate moments abound and things get really sensitive on the heart string-tugger, "Goodbye, Chewing Tooth".
We bring you more from Mr. Creighton with a listen from Howth's recent June 2 show at Shea Stadium, hear some new songs with epic jams like "Thrown Like a Bone / Choking The Dog" that depicts the dog's life through prog-ish proportions, before "Delaware" provides a gentle moment of eyes closed drifting toward "Delaware" for a vacation getaway. Catch all the coverage of that same show via Impose's photo feature here.
With L'Orange & Kool Keith's album Time? Astonishing! available July 24 from Mello Music Group, check out the Jon Webb video for "The Wanderer" that features are cosmic voyager gathering up natural and essential resources for a space ace journey accompanied by jazzy piano keys that dance about the spoken sciences of wandering and wondering.
London's self-proclaimed 'Britwavers' Shiners deliver all the action of their poppy hooks and powerchord fests with their video for "Just Like You", made by the band and Peter Rossiter. The visuals provide you with all the joys and thrills of a holiday that you never want to end, rolling about the UK with your best of friends, doing whatever you want to do, anywhere, and everywhere.
This week saw Lower declare that their upcoming EP I'm A Lazy Son… But I'm The Only Son will be available September 11 on Matador, and you can get a first listen to the single "At The Endless Party" that begins the party with a dramatic event that rages with storming splashes of guitars, tense notes, and a grand audio scope of theatrical motions and imagined gestures.
PUP are hitting up Van's Warped Tour this year, and present a visual animated experience that shows animated versions of Nestor, Stefan, Steve and Zack that depict the fearless foursome making the touring rounds (amid myriad ups and downs along the way) the world over in the video for "Dark Days".
Emancipator's Seven Seas will be available September 25 via their own imprint Loci Records and we have a listen to the title track that features Madelyn Grant that feels like the experience of embarking on a sea vessel to sail the world while marinating on pensive reverberations from the inner zone of feelings and ruminations. Lyrics like "when your escape is your destruction" portray a sentiment of being cast at sea without an oar, and an engine that is low on fuel.
Check out the footage of various vacant lots filmed in Kings County, N.Y. that make up the eleven minute exploratory journey that is "Uncivilized" off the Tom Csatari Band album Outro Waltz available August 4 from Tiny Montgomery Records. As the senses explore the places commonly unknown, unseen, and less traveled; the band provided us the following insight on the adventures that await:
"Uncivilized" explores the exchange between growth and decay. The song opens with a momentous rush of detuned guitar, bottle-neck slide, violin, and lilting percussion which launches into a joyous build. After a melancholic and nostalgic bridge (with chanting voices almost inaudible), the song gives way to a distorted drone (ending a single step up from the song's original key), with live tape loops and trance-like rhythms devolving into a duet between the drummer's bells and the bass clarinetist fluttering a sweet and deranged melody in the uppermost register. The expression is echoed in the home-made music video: a montage of vacant lots filmed across Kings County in a single day. While reflecting the loss or absence of things past, we find new growth in their place.
Catch the release show July 23 at Brooklyn's Manhattan Inn, at August 6 at Union Pool, and August 7 at Cornelia St. Cafe.
South East London producer and crooner Guy Baron, aka Semi Precious dropped the single "Framing Words" from the July 31 EP When We Talk from Squareglass / NX Records. Byron blends this words into a subtle ambient drone jacuzzi with the jets on mute that keeps a metronome rhythm ticking, and a loop of chirping keys that squeak through the steady, and slowly rippling affair.
From New Zealand with fun, Ruby Suns' Bevan Smith is Introverted Dancefloor that gave us the "Happiness is Such a Mess" herky-jerky dance video directed by Rowan Pierce off his self-titled album available September 25 via Carpark Records. Known for his involvement and work with Involve Records, recording before under the monikers Signer + Aspen; the kinetic rhythm chemistry is put to visuals involving an odd paired couple of Errol Anderson and Emma Martin and their sick steps choreographed by Victoria Colombus.
From San Francisco, meet Hot Flash Heat Wave and their Patrick Sean Gibson video for "Gutter Girl" that stars Sophia Apt and a lot of local images of San Francisco, surrounding areas, hip locales, and more that are given the vintage Super 8 looking treatment of vintage vibrations. Find this and more off their upcoming album debut Neapolitan available September 11.
Electro duo Bag Raiders has returned with the first of their upcoming three EPs, and a have a listen to the bold, big and ultra pop electric banger "Waterfalls" that presents flashy, crystal-disco-ball confetti to follow ahead with word of their second album available in January.
Dicey Hollow dropped the rural foothill rolling and twang rocking "Rose of Maine" taken off the forthcoming July 24 self-titled EP debut from Dine Alone Records, where the hit parade pop minds of Nico Aglietti, Claudius Mittendorfer and Kyle Pass take Greenwich Village city slicker souls to Upstate New York's Mt. Tremper to allow for the transference of an higher altitude.
Feel that homeward bound good-grounded bliss with Little May's new single "Home" that seeks that sort of reckoning and rooting of solidarity and sound perception that only one's own abode can properly provide.
From Andrea Corsini, watch the video for A Copy For Collapse's "Grey Sunday" that presents a suspenseful way to spend your weekend between the strangeness of a rural weirdness, to strange encounters in a pool.
Off the forthcoming album Byzantium from Ear to Ear Records, watch the Jason Sheppard video featuring Sarah Fairchild for Lights That Change's "Voices" that transforms Rorschach ink blots into cast dye of designs and desires gathered together in a warm hearted harmony.
Society, aka James Gilder released the cut "Protocol" that runs full force with that classic big bravado sound that never gets old and is reminsicent of that one obscuro mid-90s CD that you let a friend borrow, but never saw it's return. The single will be available August 21 from Luv Luv Luv Records.
BC Camplight dropped a host of edited together vintage b/w film clips to compiled together to make up the music video for the cut "Grim Cinema" off the recent Bella Union album How To Die In The North.
Promised Land Sound lent the sweet care and comforting vignette of "She Takes Me There" off the new album For Use and Delight available October 2 from Paradise of Bachelors. The classic psych songwriting style sets sail like that special nugget that you found while toying with vintage car stereo knobs that fluctuate between the AM and FM frequencies.
Renny Wilson's Week in Pop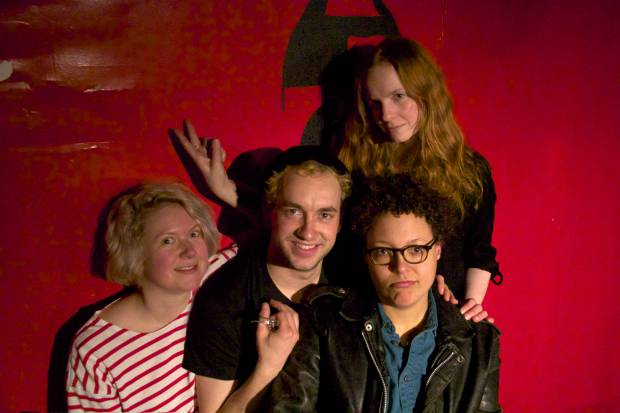 Montreal hero Renny Wilson recently released Punk Explosion/Extension on Mint Records, and today we are proud to present the always-entertaining artist's own Week in Pop guest selections, kicking off with the debut of a DIY video of Mr. Wilson covering a classic in a mix Renny calls:
Renny's Classik Cuts n' Covers
Renny Wilson, "Juke Box Hero"
"Juke Box Hero" was what I then considered the most over-the-top and corny song on the radio, and I would love to listen to it when it came on the super hits stations. I had a teenage epiphany: what would it be like to synthesize Foreigner with Crass? Of course, it took until now to finish all of the tracks, and I guess the vision sort of altered with time. This punk album was always a really big idea in my head, and something I was determined I could execute properly, but something I hardly ever worked on.
The Raspberries, "Go All The Way"
A pastime I often enjoy is looking at the cheapest houses for sale in the USA. According to Coldwell Banker's annual Home Listing report the current place holder for the most inexpensive housing in America is Cleveland, OH, with an average home price of $64,993.03. Another thing I love is listening to generic oldies stations when I'm in the van—even when I'm on tour, or driving massively long distances I'd rather scan through the FM band looking for something that catches my attention than listen to my big plastic bin of CD's and fry crumbs (my van does not have an aux component ¯\_(ツ)_/¯ ). Occasionally, you hear something that catches you off guard and you avert your focus from the highway and listen to catch a lyric that you can later look up on the internet to find out exactly what the hell it was. It may have been on a trip through that Midwestern state that I first heard The Raspberries. For the first (and last) time in history, stadium rock meets Roy Orbison meets "Please, Please, Me". A multi-layered masterpiece that's been widely recognized by unshaven male record collectors across the Americas as a key forerunner to the once infamous, still infamous rock & roll sub-genre known as power pop. Oddly, It doesn't resemble it's latter day imitators as much as it's own contemporaries the way the Rundgren or Big Star do. The machismo of the opening riff, as well as range expanding saccharine melodies and harmonies prove that it is simultaneously "power" and "pop". However, the stark separation of these ingredients are what give this one-hit it's off kilter charm. I've not heard much, or anything quite like "Go All The Way," and if I plan to go all the way to Ohio to buy a $25,000 house it's a given that I'd Google 'famous bands from Cleveland' first.
Five Man Electric Band, "Signs with Lyrics"
Everyone I know hates this song. In the first 20 seconds it hits the floor running – there's something familiar. Your mind panics, what is this again??? I know this…?! Steppenwolf? The electric piano comes in and you are immediately let down. You do know it – it's that fucking SIGN SIGN EVERYWHERE A SIGN song. (I experience the same, but opposite effect when "Jet Airliner" by Steve Miller Band comes on, initially mistaking it for the far less lucky "Life in the Fast Lane" by The Eagles). Fly trap, another 3 minutes of your driving life is about to be robbed from you, but I'm not a channel-changer. A song about a hippy putting his hair in his hat (which is a great trick by the way) and dissing some business owner. In the second verse the singer makes a lyrical no-no by rhyming "in" with "sinner". You've got to have a membership card to get inside and then BOOM, really sick guitar solo. In the third verse the poor hippy avoids tithing by sending god a note instead. This shit is actually pretty funny; and the cool intro should be its boon not its curse. I've endured the forced-play of this CanCon classic so many times in my life, I know it like the back of my hand. I love it and see no reason for the backlash, kids. Consider this a cry to shift public opinion.
Fatboy Slim, "The Joker"
Speaking of Steve Miller Band, check out this jem. I hate to latch onto anything as mainstream as the kitten kontent epidemic that's been plateauing the last few years, but what a video. (note: this is from 10 years ago). Even in 2004 Fatboy is lost in the near but bygone era he defined, and is willing and able to take you back pre-millennium, sonically—and even visually. The use of Bootsy on vocals a-le Deee-Lite fortifies this. Somehow, by simply quoting lyrics of three of his previously released songs, as well as completely lifting segments from forgotten doo-wop, Steve Miller passed himself off as a stoner kerouac jesus. Wait, the original version was also a hit in 1990? I can't say I'm surprised that that is where it's gravitational pull lies. When I was younger I assumed that whoever sang that joker toker song was a contemporary of Weezer.
Tom Middleton, "It Wouldn't Have Made Any Difference"
This cover of Todd Rundgren's second-tier Something / Anything breakup anthem (naturally after "Hello, It's Me") is etched deep into my mind. Another Canadian one-off from the early 70s, it has been over-circulated on the northern airwaves—probably since its inception. Because of CanCon rules, myself and many others have heard plenty of songs throughout our lives that we only assumed were hits worldwide (particularly state side) but were not at all. Not that this song has nearly the same faux-ranking as say, something by The Barenaked Ladies; I will attest that I knew it long, long before I knew anything of Runt. A YouTube comment on this video by N Gamble: "Tom and I have been working side by side now at Canada Post for one year plus and I have to say he is one of the most down to earth people you will ever meet." I guess having a cover go to #15 in the Canadian market meant as much then as it means today.
Kenny Loggins, "I'm Alright"
Caddyshack is the by far the most underrated Harold Ramis/ Bill Murray comedy. Maybe it's the sports theme, or the fact that everybody on my mom's side of the family has called me 'Spaulding' at family get-togethers (golf tournaments) from age 12 and onwards because I got shit faced drunk at cousin Paul's wedding in grade seven (by stealing drinks off of peoples tables). Whatever the deterrent may have been, it took me until an Air Canada flight during one of their latest spunky efforts dubbed Bill Murray Month. Apparently Caddyshack was a box office bomb; the direction of film was compromised so much that it eventually drove Ramis's other half Douglas Kenny to commit suicide shortly after it's release. Regardless, it set the tone for countless far less funny Hollywood comedic endeavours that have imitated it's style 'til this very day. Rodney Dangerfield's first time on screen, Bill Murray ad-libbing a third of the movie he was initially only supposed to have a couple of lines in. Nostril smoke and salt snorting nearly prove Chevy Chase as the funniest character in it, but Ted Knight takes the cake with his convincingly psychotic performance. Did you know that the bulk of the script was initially written about Danny Noonan and his Irish girlfriend Maggie? D'anunnzio and Motormouth had much larger roles – even the one-line actress who unwrapped the baby ruth in the swimming pool scene was initially a key character, not to mention all of the scripted scenes were shot. Anyway—I've gotten way too deep into this, the theme song ain't too shabby either.
Footloose; the Band, Edmonton Alberta Canada, "Any Way You Want It"
And from Edmonton, my hometown and where I am currently spending my summer. Yet another gem that hasn't been completely forgotten. Although I'm sure only one in 50 thousand Canucks can name the band who sings "Leaving for Maui", it remains canon. Nothing like a TV showcase where everyone in the band gets a complementary gift certificate for a pair of jeans. That asshole host, I swear to god he's still a 630 CHED personality in Edmonton—35 years later. Did you see the way he laughed off that poor girl? I mean Charlie isn't that flattering of a name, but neither is Randy. That's Edmonton for ya! Come to think of it, the trashy woman who lives next to my parents and screams at her boyfriend on their front lawn at 5AM, her name is Randy! Smooth.
Follow Renny Wilson via Twitter.