As The Imposition prepares to take on Austin again, Impose's Week in Pop keeps you up to date with all the latest, and all the best everything before it happens. First, we have Kanye West, and the release of his collaboration with photographer Jackie Nickerson via the zine, Season that sports his new Adidas brand and lots of nudity; we received a new Grimes track/video with "REALiTi"; mark your calendars for Record Store Day, April 18 and behold the release lineup list; Death Grips will release their "last" (maybe) album, the powers that b March 17 via Harvest , and released "On GP" from Disc 2 Jenny Death; check out the unveiled details on Kendrick Lamar's forthcoming album, To Pimp a Butterfly Ralf Hütter of Kraftwerk is allegedly suing eZelleron Inc. for titling their fuel cell charger after the iconic German group's namesake; The Strokes' guitarist Albert Hammond Jr. has partnered with Jacques-Elliott to make his own line of ties; former Blink 182 bro Tom DeLong shared a new song; Snoop Dogg joins the #ImUnloading anti-gun campaign; Raekwon and Ghostface Killah will evaluate the mixtapes of fans that donate considerable amounts to their crowd-sourcing campaign to make a documentary on Raekwon's legendary, Only Built 4 Cuban Linx; a trailer for the new Kurt Cobain doc Montage of Heck dropped; also, the trailer for The Damned doc dropped; meanwhile, Pinback's Rob Crow is apparently planning to quit the music biz; Marvin Gaye's family won $7.4 in their suit against Pharrell, Robin Thicke, and T.I. over "Blurred Lines"; Madonna told Howard Stern that she once dated Tupac; Jarvis Cocker's "Nu-Troglodyte Manifesto"; Shirley Manson's new open letter on Facebook, and subsequent post-script-post; we wish Morrissey a speedy recovery from the flu that allegedly caused the cancellation of his Tilburg, Netherlands show, but we hear the Moz is also scheduled to appear on Alan Carr: Chatty Man March 27 on Channel 4; and we are all mourning the passing of Gong and Soft Machine founder, Daevid Allen.
Moving ahead to salute some of our own heroes, we are honored and privileged to present the following range of exclusives, interviews, and more from ADVAETA, Dead Waves, Heart Beach, The Myrrors, EMEFE, GABI, Portable Sunsets, POW!, Terrace, Cruzie Beaux, Hector Bizerk, Lade, Robot Princess, Sunshine Faces, Wil$on, co-curated by Told Slant, & more — in no particular order.
Advaeta
When Advaeta released the single "Angelfish" from their upcoming Fire Talk album, Death and the Internet, our own JP Basileo interviewed the NYC trio of Lani Combier-Kapel, Sara Fantry, and Amanda Salane to understand further the band's brilliant balance of electric infusions and vocal harmonies. Following up today with a new roundtable interview, we are also privileged to debut Advaeta's "Gold Thought Exit", previously released as a 7″ in 2013 but newly recorded, and mastered to full sonic effect.
Redone, re-mastered, and bathed in a new golden glow; "Gold Thought Exit" is Advaeta arming themselves with their most precious thoughts, and making a break through a sector of DIY suites of gifted guitar arrangements. With the song's second turn of grunge-cast chord cues; the rumbling murmur and mumble of electric strings point toward an edification of a greater consciousness and cognitive level, opening the doors of perception with lyrics like, "See with your eyes of gold, you are energy, energy…" The fast footed progressions work in a constant balance with the passages of "Gold Thought Exit" that plummet down to the coldest riffs, and matriarchal choral rock theatrics of unbridled omniscience.
It is also our pleasure and privilege to present the following debut of the "Introducing" trailer for Advaeta's Death and the Internet. For the following two minutes, you get to enjoy snippets of blessed, blissed, and beautiful serenades of scuzz amid a slide show of performances, pictures, and other indications of upcoming excitement.
In case you missed it the first time around, here is Advaeta's addictive "Angelfish", followed by our exclusive new interview with Amanda, Sara, and Lani.
Interested in hearing more on how you all set your own scene amongst the Bushwick scenes within scenes, and within scenes.
Lani: Well I book and calendar shows at Silent Barn and for me, DIY and house venues are where I feel at home — Palisades, NOLA, Shea Stadium, DBA (RIP), Dekalb Jeggings, the Ho_se (RIP), Big Snow (RIP). The people who run and book these spaces are all friends, so I guess that's a scene in itself. I remember when getting kicked out of Big Snow also got you banned from Shea and possibly DBA or Silent Barn. ADVAETA once had a point where we played at Big Snow a couple times a month!
There are just so many different scenes within Bushwick (and the rest of Brooklyn), that it's hard to put a finger on how exactly we fit, but I'm not sure it's that important to us.
We like to book our own bills, and generally it's the weird stuff that holds our attention…or just if it's super bad ass. I love playing with good touring bands, so I'll try to get us on those bills as much as possible.
Sara: Music scenes are awesome because they provide community for people with similar interests & passions. But I don't think anyone, in all their vastness, ever feels a member of one agreed upon aesthetic over time. The scenes going on in Brooklyn are microcosms of human social flow. There are no clear boundaries, so all we can do is make what we make, support who we support, hang where we hang, for as long as it lasts. I know we're dedicated to being openly ourselves without any facades. If anything I imagine we're members of a growing scene that keeps it real and really cares about acceptance and artistic expression for all.
Amanda: Mostly we are an entity hopefully attracting like minds which inevitably forms a community. I feel like we're pretty independent from a lot of scenes which although is slightly uncomfortable there's the promise of being the base for our own thing. We're all female with a definite psychedelic mystical feminist bent and it's hard to fit into that outside of ourselves here so we've pretty much just set ourselves in place and are letting and hoping positive things form around us.

(Advaeta, photographed by Dylan Johnson.)
Interested in hearing more on the intuitive and emotive aspects, approaches, challenges, triumphs and more that informed the processes behind recording Death and the Internet.
Sara: We all saw a lot of pain and growth throughout the writing and recording of this album. For me our band was a womb where I could feel safe to creatively express those feelings and work out their lessons. A triumph, in my opinion, is that every word on that album is sincere as fuck.
Amanda: Well we all went through gut wrenching break ups so ya know, that was a pretty big one!
We have a very deep and intimate bond, what comes with that is a lot of self exploration and transformation. That's the struggle and the triumph. We're fuckin' family bro, these are my sisters. The psychic and emotional depth fuels our music and allows us to telepathically feed off of each other when we play. No joke.
Lani: This is our first full length that we've released and the songs span a writing period of about 3-4 years. Within that time we've all had intense breakups, new relationships, new jobs and living arrangements, and have literally gone through every possible emotion with each other.
I consider Amanda and Sara a part of my family, and together we have written these songs from literal sweat, blood, and tears.

(Advaeta at Silent Barn, photographed by Dylan Johnson)
What are you all the most excited about for your upcoming tour? Any showcases or SxSW events the three of you are stoked about in particular?
Amanda: I'm excited Lani and Sara finally got their licenses 'cause it's allowing us to go on tour as just the three of us — plus I don't have to drive their asses around anymore.
I'm psyched to see some old faces and meet new ones…just traveling in general, time disappears and there's nothing like it.
Lani: We have a lot of great shows this tour! We're playing a few of them with the band Beech Creeps — they're amazing so I'm psyched to play with them. At SXSW, we're playing a show on March 19 at Beerland with Running, Spray Paint, Beech Creeps and a bunch of awesome bands. We're also playing an all stars show on March 20 for the Exploding In Sound Showcase / Stereogum Showcase at Hole in The Wall with bands like Jeff The Brotherhood, Krill, Beth Israel, etc.
Sara: Every time we go on tour we meet such cool people. I'm stoked for that, seeing tons of good music, and having another adventure with my best friends — what could be better?

(Advaeta at Silent Barn, photographed by Dylan Johnson)
What are some of the top five things that have been on repeat listenings in the Advaeta circles?
Lani: Top five?!? I just have been listening to Glenn Branca and Spacemen 3 every day for the past month.
Sara: Trains going by, horns blaring, people yelling, electricity humming, and historically probably Joy Division, Velvet Underground, Stooges, Sleep, Ace of Base, etc on the speakers.
Amanda: We listen to each other talk, we don't listen to music together. I mean sometimes but nothing really repeats. To be honest if you're looking for influences here we're all pretty independent. For this project my biggest repeaters are Les Rallizes Dénudés, Can, Spacemen 3, The Electronic Hole, Neon Blud. But ultimately I think it is a testament to our sound that we are trying to cultivate some sort of pumping rhythmic lush noise layered velvet thing very intuitively without much outside influence.
Thoughts, hopes, meditations, mantras, Advaeta philosophies for the future and proliferation of the Brooklyn scenes?
Sara: I had a writing mentor who always said, 'the closer the lens, the more universal your message becomes.' I really like that. If the art you make is sincerely and authentically you, people will be able to emotionally connect to it. And that's the whole purpose of art, right? My hope is for people to stop doubting themselves and worrying about what other people have to say. Just do you babies, that's the good shit.
Amanda: Authenticity is key.. and by that I mean allowing yourself to be a channel, and not judging what comes out, but rather shaping it with a gentle hand as it comes. I know it's important for all of us to encourage others to create — a lot of people are very afraid of expressing themselves because of ridiculous standards that don't actually exist — you just gotta do it anyway. You've gotta get the angels and the devils out somehow.
Lani: Love is all there is.
Advaeta's Death and the Internet will be availiable April 28 from Firetalk Records.
Catch Advaeta on the following dates:
March
13 Pittsburgh, PA @ Gooski's
14 Chicago, IL @ The Observatory
15 Detroit, MI @ New Dodge Lounge
16 Murray, KY @ Dale's Youth Corner
17 Nashville, TN @ The Pussy Palace
18 Little Rock, AR The White Water Tavern
19 Austin, TX – SXSW @ Beerland – 9:30pm
20 Austin, TX – SXSW @ Love Goat – 8:00pm
20 Austin, TX – SXSW @ Hole In The Wall – 11:30pm
21 Austin, TX – SXSW @ Po Boy Place – 11:00pm
23 Houston, TX @ Notsuoh
24 New Orleans, LA @ Circle Bar
26 Athens, GA @
27 Raleigh, NC @ Slims
28 Baltimore, MD The Crown
The Myrrors
From the deserts of Tucson, Arizona; we are honored and thrilled to premiere The Myrrors' title track, "Arena Negra" off their upcoming album for Beyond Beyond is Beyond, available March 24. Like a quintet of nomadic spirit seekers on a vision quest to confront the other side, Nik Rayne, Grant Beyschau, Cody Schwartz, Connor Gallaher and Miguel Urbina knit together electric processional drone designed masterpieces that serve as one part audio aesthetics, and one part spiritual road map to transcendence. Bringing a mountain of head-space shifting guitars that descend in full right at the 12 minute mark; The Myrrors put their third eyes together to create kind a hypnotic reflecting glass that mirrors the mysteries, and psychic paranormal existences of being.
The album opener/title track, "Arena Negra" begins first with the lead-in bass, that invites the sinewy song of strings that frame Nik's chants. The epic sounds like a pagan call for all to join the great feast in a mythological banqueting hall, where loops of slow burning amplified barrels of guitars serenade the atmospheres and attendees present at the entire setting. Establishing the tone for the entire 42 minute album, the restrained ethic of unrelenting amplified auras collide notes to the chard earth, echoed throughout other songs off the album like, "Juanito Laguna", to the bio-sphere jambalaya of sound, "Dome House Music". We had the opportunity to chat with Nik from the The Myrrors about the making of Arena Negra; both album, and the song in our interview that immediately follows the debut of the title track.
First of all, what are the latest happenings out in Tucson?
Lots of rad stuff is always going on down here, we've got a pretty thriving artists community despite a recent tsunami of gentrification. Tucson's beautiful in the spring too, so we've more or less just been enjoying the weather recently, jamming, making music with our friends!
Can you all tell us about the creative journey that brought you to Arena Negra?
The recent history of the band has been a little convoluted. Our last 'studio' album came out back in 2008 and between then and now the band was more or less on indefinite hiatus as the members all went on to pursue various paths outside of music. We got back together around early 2013, started playing again and began workshopping ideas for a new record. We ended up with a tape of rehearsal jams called Solar Collector which served as a sort of stopgap release while we tried to figure out where we wanted to take the music, throwing around all sorts of different ideas and recording hours and hours worth of demos and improvisations. Grant and I had been listening to a lot of new music and obviously our interests had evolved somewhat over all those years, the new material definitely reflects a much wider range of influences than I think Burning Circles ever did.
Tell us about the making of the album, along with the nearly 12-minute title track.
Well, eventually we were able to pick and choose from some of these tapes and form them into the foundation of what became Arena Negra. Early recordings for the record were all over the place, from crazy free jazz experiments to long drone-rock jams, to 1970s Chilean folk songs, but I think we were able to condense all these influences on the final cut. The title track actually had an earlier incarnation that was considerably different from how it actually ended up on the album, with a much more prominent guitar riff, and slightly different lyrics.
How do you all record and write your songs together? Jam sesh styles, or is it premeditated, composed, and practiced?
Grant and I usually brainstorm ideas together and jam out different riffs or concepts that we want to pursue. When it comes time to recording the final tracks things are sort of constructed improvisationally, almost always using first or second takes — even on overdubs. Usually I'll come up with a vocal melody early on and sort of work it out without words until it solidifies into something that fits the piece, then put together lyrics or find something I've been working on that seems to fit the melody and mood.
Other Tucson artists we should hear?
There are tons, but The Night Collectors and Ohioan are definitely traveling some of the same space-ways!
Post-release plans for The Myrrors, once Arena Negra is unleashed?
We're playing Austin Psych Fest's Levitation Festival this May, more or less immediately followed by an east coast tour. In the meantime we've got quite a few upcoming shows around Tucson, and we're also starting to work out new material for a couple of different projects, including the eventual follow-up to Arena Negra.
The Myrrors will release their new LP, Arena Negra, March 24th on Brooklyn's Beyond Beyond is Beyond Records.
The Myrrors will also perform at Austin Psych Fest's Levitation and Milwaukee Psych Fest in May, ans well as the f0ollowing dates:
March
21 Tucson, AZ at The Flycatcher (w/ Moon Duo)
April
01 Tucson, AZ at Exploded View Microcinema
May
08-10 Austin, TX at Carson Creek Ranch – Austin Psych Fest presents: Levitation
14-18 Milwaukee, WI at Cactus Club – Milwaukee Psych Fest
EMEFE
EMEFE's Miles Arntzen has been a busy man, balancing his eight member strong NYC collective, his work in Antibalas, and as the touring drummer for Arcade Fire's Will Butler — we had a chance to catch up with Miles in between projects, and debut the following EMEFE song, "Come Back to Me". Taken from their upcoming self-released self-titled available May 5; the group busts out their biggest, and boldest pop arrangements to bolster up the felicity for a song about a plea for re-requited romance.
Arntzen describes in the following interview that "Come Back to Me" was inspired by a case of flying anxiety, met by his self-profession passions for the, "Prince-esque groove with the ease of Fela Kuti's Africa 70 band." The entire song operates with all cylinders firing, where every section is thought out in the most ambitious pop terms, and nothing is looked over. Keeping the narrative fun, spiked with turbulent jitters; Miles and company keep the entire affair levitating on a bouncy, cloud of air: "Floating up, floating back to and fro…" We talked with Miles Arntzen to find out how he juggles so many projects in our interview featured after the following debut of, "Come Back to Me".
How did you form the EMEFE collective, and how did it become an eight piece?
I formed EMEFE within months of arriving at NYU in 2009. I booked a show for us three weeks after our first rehearsal, so we had no choice but to be tight. The band was formed out of my passion to share Afrobeat and funk music with my friends, but over the years EMEFE became a self-contained scene of sorts, like a family. There has always been a strong core of people in the center of it all, each person playing a unique and important role in the group mind — that's the 8 people you see today.
How do you balance EMEFE, along with your work with Antibalas, and then as Will Butler's tour drummer?
For me, the different bands I've been involved with over the years have always informed each other. I am learning constantly from the different group dynamics that I step into, and those experiences always end up folding into my approach to EMEFE. Last year was about committing to building my vision for EMEFE, and this year is about making that vision a reality. It can be a balancing act sometimes, but I am fortunate to play music with people who understand and respect that I have a strong vision of my own.
How do the eight of you come together as a creative collective?
In terms of songwriting, the initial iteration of every song comes from me, but the song morphs into something stronger after it goes through the band. Sometimes Jas Walton (tenor saxophonist) and I write horn parts by just stacking layers and layers of tenors with a reckless abandon, and then I organize them after the fact. The song truly comes together when we are all there in the room, figuring out the most exciting way to play it, and making changes along the way. As a band, EMEFE has grown up on stage, not in the studio, so we are used to nurturing a song by playing it live. That's when we really learn what works and what doesn't.
This record, however, came together in an excitingly backwards way for us; we played the songs live for a few months, and went in to record the tracks with us all playing together live in the studio — as we have usually done. We decided, though, that we weren't doing the songs justice yet, so we spent almost a full year just editing and mixing them, searching for the songs like they were hidden treasures. We were uncovering the true nature of the songs through re-orchestrating and rearranging parts, and ultimately we came out with songs that we are genuinely proud of. The last part of the process, and the weirdest part by far, was learning how to play those songs live again, a year later, after the songs had went through that intense journey. The next album will probably start more in the studio, since we've fully realized the power of this band to make great records, not only play great shows.
Give us the stories, and insides on what inspired the making of, "Come Back to Me".
"Come Back to Me" is a really special song to me, a song that I have been working on for years. It was one of the first songs that united my influences in a comfortable way, and it opened the door for the rest of the songs to happen.
I am fascinated with fusing Talking Heads' quirky brand of pop songwriting with Prince's sense of funk and rhythmic accents. I set out to approach a Prince-esque groove with the ease of Fela Kuti's Africa 70 band. For all three of these influences, repetition is a big part of the music, and it is for me, too. "Come Back to Me", musically, is about a repetitive beat staying strong through different worlds passing by.
Lyrically, I wrote "Come Back to Me" when I had an heavy case of flying anxiety, and ultimately I related all that to anxiety about life in general. Life can feel like you're on an airplane with turbulence — feeling out of control, wondering how you got to where you are, and why you aren't where you want to be. Everybody faces these feelings, and some people are fortunate enough to easily keep them at bay…but the protagonist of "Come Back to Me" remains in the struggle, wallowing in these questions until he tries to break free at the end of the song.
Other artists you're really feeling, recordings in the works, and collaborations you want to give a shout out to, or discuss?
We are so excited to release our album in May that we have been pretty tunnel-vision about that these days. We are psyched, however, to share our style and approach with some truly great friends of ours. We're collaborating again with Miami's Robby Hunter Band on their new record — we supplied horns for them on their last record. We were pleased to lay down horns on Hoodie Allen's latest album. We also were prominently featured on our friend Grace Weber's recent release, "The Refinery".
We are surrounded by a ton of ridiculously inspiring artists that it's hard to name just a few. Superhuman Happiness continues to inspire — they have a new record coming out this year, too. Our old friend, and former EMEFE member, Billy Aukstik just started his own label, Dala Records, and one of our best friends Lily Wen is launching her label, Figure & Ground, this year too. Our good friend, and formerly EMEFE's singer/shekere player, Gabriel Garzon-Montano was just sampled by Drake, for heaven's sakes. All of this is getting me pumped up, there's so much good music happening!
The EMEFE creative musical philosophy, mantra, etc?
The new album explores the concept of static — in this case, static represents the mundanity of everyday life, the repetitive routines that we as humans fall into — made especially possible by technology's all-consuming nature. The music follows a protagonist who finds himself or herself in this static, and has a moment of self-realization that there is more out there, there are deeper depths…and subsequently embarks on the struggle to break out of the static. "EMEFE" — which means "Music Frees All" — exists there, in a place of relative peace with yourself and your world. Our mission as a band has always been to bring out that free space in all of us by getting lost in music and dancing. Because, above all, we are all moving through life together, so we should find a way to enjoy it together.
EMEFE's album will be available May 5 via self-release.
EMEFE will also be playing Brooklyn April 2 at Rough Trade with The Love Supreme and The Rad Trads.
Heart Beach
From their lesser sung territories of Hobart, Tasmania; meet Heart Beach, the tri-force of Claire Jansen on bass and vocals; Jonathon McCarthy on guitar and vocals; along with drummer and guitarist, Christopher Wessing. Giving the world the gift of following up the excellent single, "Always" with the mind and chest gasping world premiere of, "Breath"; the air that Heart Beach breathes and lives in becomes transported from the island down under that makes your world suddenly seem up and over.
Heart Beach master the art of space and pace in sound with some of the roughest, and delicate edges. Everything hinges in the relationship of the vocals to the guitars in that forward step measures timed by percussion, where "Breath" emulates the rhythm of jogging heart beats, and the chord struck exhalations of potent expression. That sort of charged aloof charm was in the sparse attention paid to the arrangement ts on "Away", where "Breath" ups that urgency through harmonization and personal hymns of intensity where confrontation of separations and "time will make it better" reassurances rise against the ever-forward marching power strings. Claire and Jonathon's vocals intertwine like inextricable chord-cable fibers, spilling forth songs of resounding, and electrified airs of resolve to Christopher's stern charging percussion. After the following debut of "Breath", read our long-distance interview exchange with Heart Beach.
Give us the story on how the three of you founded Heart Beach, out in South Hobart Tasmania.
Yeah, we live in Hobart, Tasmania. It's far south Australia – about as close to Antarctica as you can get and stay healthy or alive. Claire was working in a coal mine and Chris was the Foreman. There was a terrible accident they both ended up in hospital, and Jono was the nurse.
What sort of beach loving sentiments inspired the name for you all?
One word. Hinsby. The beaches here are notoriously cold as in the water is for wetsuits only. Not that we follow that rule. You have to be brave to have a go at life. But Hinsby is a beach close to our houses. All the cool kids go there. It looks out at these rocky cliffs and the beautiful smooth sky, the suburbs on the other side of the river, and is genuinely perfect.
Describe how the three of you make your kind of Ocean Pop.
We tend to start with a bass riff. Rehearse in a lounge room. Keep it simple.
Tell us about the evens and breaths that inspired the making of the tiding pushing, "Breath".
Breath is about…oh man….I suppose it's about that feeling of just rushing all the time. Claire wrote the words. It's about being anxious and not knowing when it's going to stop. And worrying about your friends being anxious too. The chorus has some wise advice from Jono that the only thing that mends a broken heart is time, and that really the only thing that makes anything better is time. And well the tide, that's just life.
What releases and other recordings are you all cooking up?
We are about to release our debut album – self titled. Very excited about that!
Other Tasmanian artists you feel need to break out to the rest of the world?
Well there are plenty and some of them are: Small Black Lambs, Catsuit, Treehouse, All the Weathers, Tantric Sax, Native Cats, Molle St Therapist. There are so many more. We love them all. Come visit us!
Listen to more from Heart Beach via Soundcloud.
Dead Waves
NYC's Dead Waves crashed on our shoreswith the Take Me Away EP, followed by their Steve Albini produced single, Oracles of the Grave​/​Promise, and are readying their new album, Nature, for release this spring. Lead by Teddy Panopoulos, his brother Nick, and Fabien Streit; Dead Waves return with more vitriolic, and acerbic anthems of anguish and aggression channeled in primal shouts, and bludgeoning thunder-chords from guitar axes (or perhaps axis?) of doom, on the world premiere of "33".
Trading Albini's Electric Audio sound for the the rough and raw environment of recording Nature in their Brooklyn rehearsal space. As evident on the tumultuous "33", the sound of metal clad titans sparring is provided with less filter, more degrees of chaos, as Dead Waves continues on making a bigger noise. The claustrophobia of the confined space can be heard where every strike of an electric string sends a rippling effect through all instruments involved, and audio items present in the mix. Mastered by Matthew Barnhart, the practice space smack down is brought some semblance of order for a band whose sound continues to get more, and more unruly. Teddy from Dead Waves talked to us for a bit this week, found in our interview right after the following debut of, "33".
In the time between the recording of your new album, Nature, and 2013's Take Me Away EP; tell us what the three of you have been up to over the past two years.
Since the Take Me Away EP we got a new drummer, Jordan Fogle, released a single recorded by Steve Albini, worked a lot of miscellaneous jobs, completed my collection of Garbage Pail Kids and have been constantly creating new music. We've also been playing shows throughout NYC and just finished recording our first LP, Nature.
In what ways do you all feel the band has grown, and creatively matured, and so forth over that time?
From the beginning of this project we've learned to do everything on our own and it helped us mature quickly. The more we go on we've all learned to just continue being ourselves. I know it sounds cliche, but it's true — at least for us. We have been doing what feels right and going with it. In a way we've grown by understanding the fact that we won't fit in, and we know our music isn't for everybody. We're just concentrating on the freedom in which music brings us, which also includes keeping the imperfect human element in it and being honest in anything we put out there, not losing touch or straying from the original reason of why we got into this in the first place.
What was the process of making Nature like, and was it like a spilling of primordial natures into the composition and recording process?
Yeah in a sense. We really wanted to express the dichotomy of pain, suffering, death coinciding with love, happiness and life and finding the appreciation and harmony of the two and then growing, moving past it all…taking a step back and observing it and entering a new realm with acceptance. So in a way, while recording this record, we tried to capture our appreciation of the para meta meeting of the unknown physical, and trying to go somewhere past it all like in a dream-like state which is living, and being in the unconscious, but in the conscious now. We were trying to encompass that outsider feeling we get, yet make it a somewhat of an enlightening experience. Trying to pay respect and care for something, which is nature, which is everything, and trying to help it but in the same time move away from everything, which is what nature is doing as well. As far as the recording process, we went from recording our last release at legendary Electric Audio in a professional environment, to recording Nature back in our deteriorating rehearsal space in Brooklyn, waiting to record our songs in between some guy drilling and doing construction work above our room. We actually used those drilling sounds and made them into the intro, "Hide", and outro, "Seek", tracks on the LP incorporating, our surrounding environment, and experience during the recording process into the record itself.
Tracks like "33" and so forth are such righteous, rippers…more guitars, more layering of guitars, louder, but a bit tighter too than before I feel…
Thanks Sjimon, that's nice to hear. Yeah we feel we're becoming better at recording our own sound. Nick wanted to try something different on this one as far as his approach towards the recording of Nature in comparison to his previous recordings. Also Matthew Barnhart (who has worked with Bedhead/Swans) from Chicago Mastering was the mastering engineer on the record and we feel he really helped enhance and bring out the sound of it.

What else is good these days in NYC that we should already be in the know about?
Like anywhere else, you'll get some good things followed by a lot of fucked up soul draining things. But, neighborhoods in NYC are always changing and it has always been like that. We're not the kind of people to get caught up in nostalgia, we're here in the now and trying to make our noise and trying to keep the spirit alive. There's still a lot of great venues and people who genuinely care and curate shows here, too many to name. New stuff is constantly popping up in different neighborhoods, adapting to what has unfortunately been going on throughout the city.
What have the three of you been listening to on repeat play in the gig van, or around the city lately?
It's so hard to say because we all listen to so much different kinds of music all the time, we're always listening to new things and trying to introduce new music to each other, so it never ends. Right now I'm punishing Nick and Jordan with Hanatarash's third album on repeat.
Spring and summer post-Nature release plans for Dead Waves?
We're playing The Petting Zoo in Philadelphia on March 20, then our record release show at Shea Stadium in Brooklyn on April 17, and in the process of booking a Midwest tour this summer, and trying to get a UK/Europe tour going in the fall. We're also working on new material for our next LP as well and constantly creating.
POW!
We have reported recently about San Francisco's POW! following up High Tech Boom with the forthcoming album, Fight Fire, available from Castle Face Records on April 6, and now present the debut of, "Here Comes the Spade". Standing tall amid the chaos and techie-rental-eviction crises and more, POW! are part of the revolution that decided to stay in SF, and hold out for as long as humanly possible in the face of big-tech money odds, and the epedemic of excessive redevelopment overkill. Byron Blum, Melissa Blue, Aaron Diko, and Seth Sutton here slam all their cards on the table, in a tricky song of games, attitudes, and about keeping tougher than the threat of these over-lamented, 'tough times.'
On the premiere of "Here Comes the Spade", POW! moves like a gang armed with the weapons of catchy, cool, and mean as hell synths, and curb-scraping/metal-grinding guitars. And while POW! moves their message and sound to new conversations, their sound in ways pays something of an homage to an SF that was once almost livable, before Valencia and 24th Streets in the Mission became exaggerated cartoon boulevard odes to gentrification (and the notorious Ellis Act, when everyone was talking about something called 'electro clash,' you could still find goodies in the Amoeba bargain vinyl bins, and the Silicon Valley suburban CEO vampires were just a threat off to the south. POW! remind us again that a radical revolution of sustainability, an enlightened era of abundant musical/visual arts, and human-kindness is still possible.
POW!'s new album, Fight Fire will be available April l6 from Castle Face Records.
Portable Sunsets
Brooklyn artist Peter Segerstrom is Portable Sunsets, who premieres the electro invisible robe beat and roll of, "Cloakmode", taken off the forthcoming album, Bless, available March 17 from Atomnation. The cold NYC center winter serves a backdrop for Peter, who once taught audio art innovations at Steim Amsterdam, provides synth and rhythm arrangements to serve as electronic kindling to keep the warm real until sure signs of spring emerge. Born in California, Segerstrom brings some of that west coast creative electronic approach to experimentation, where rhythms pay tribute to NYC and Amsterdam undergrounds, and sustained vocal loops haunt the entire track.
"Cloakmode" is the song for when the twilight lights get turned down, and the foggy, misty specters of night are drawn in by the cool, absence of sun, and minimal light. Utilizing self created synths made via MAX/MSP; the notes and progressions take on a variety of depth, dimensions, and the cadences that gently burn with the warmth of an incandescent bulb. "Cloakmode" feels like an invulnerability mode from a computer game, where you are a character who has acquired a magical device that allows for heroic feats that would be otherwise much more difficult to accomplish. To learn more about the world of Portable Sunsets, we were able to have a chat with Peter Segerstrom in our interview the runs after the debut of, "Cloakmode".
From what you recollect, tell us about what felt different for you making the new album, Bless, versus 2012's Mercy.
They are similar in some ways… They both took over a year to make and I wasn't completely certain that I was working on a record while I was working on both of them. Bless is an uneasy set of tracks… but I am pretty happy with it as a record. There are times when you have all these disparate elements and you put them together and suddenly they congeal into something. Bless is probably more a spring / fall record than a summer record. Mercy was more of a summer record.
What was it like making the jump from NYC to teach at Steim Amsterdam, and what did you find yourself learning creatively about yourself, and composition craft from that experience?
Steim was amazing. I had such a good time there. Having studio space and being in a different city can be such a great experience. I mostly recorded vocals and did some sketches for some new software that I had been working on that then became a part of this project Surfing that is coming out on 1080p. I was alone a lot although I got to spend some quality time with the Atomnation kids and the RTFKT crew… Being sort of isolated made me think about just iterating my tracks more… I sketched a lot, if that makes sense.
Give us some insight into your preferred methods of track arrangements and recording.
Like I said, my process is really iterative… I like to add and add. My friend Alvin Aronson who has been super supportive and is also an incredible electronic musician always chastises me for adding too much or 'overcooking' things. I am learning more about that but I also really like rewriting and rewriting and rewriting as a way to boil something down into it's best most basic state. That being said I am not that good at it… Arranging tracks is still a mystery to me although I am getting better at it. William Gibson (who I probably talk about too much) says in some interview that when he's writing a book he rereads it from the beginning every day until he is finished writing the book. I feel more and more that arranging tracks is like that. Start at the beginning and listen to something until you decide it's time to change it. If you get confused just go back to the beginning.
What kind of sentiments of invisibility and more gave rise to tracks like the electronic mysticism of "Cloakmode"?
Bless is a darker record. To be honest, I was fairly depressed for a lot of the process of making it. Some of these are torch songs, and some of them are just about undefined malaise that is better to make into music than to try to articulate in words. "Cloakmode" is also about the presence of things that we feel but rarely articulate or identify. Like tone of voice as it translates into digital communication…things like that…I am also slowly trying to figure out vocal harmony works…it's one of the funnest things to do.
Favorite obscure artists, producers these days between U.S. and Europe?
I am still really enjoying the output of the NYC house and techno scene and all the 1080p stuff. Patricia, Mcferrdog, Umfang, Project Pablo, ATM… There is tons of really great stuff coming out right now. Also really digging the Frank and Tony record that came out on Scissors and Thread. Also looking forward to Morgan Louis on White Material.
Thoughts on the progressive electronically minded scenes in Brooklyn, and NYC at large as of recent?
I am obviously a fan! There are so many scenes and so much good music and right now the feeling is really positive. People are really open minded. You can go out on a Tuesday night and hear a bunch of DJs play super high quality music that is incredibly diverse and people are just down.
Portable Sunsets' Bless, will be available March 17 from Atomnation.
Hector Bizerk
Percussionist-producer Audrey Tait along with Scotland's champion style emcee, Louie, together are Hector Bizerk, who debut their reflection on Glaswegian/Scottish culture and more on the world premiere of their collaborative multimedia feature, "The Bird That Never Flew". A companion piece for The Bell that Never Rang EP, the pair meets up with the creative minds of visual artist Pearl Kinnear, the talents of Liz Lochhead, with direction by Hendo Mackenzie, to bring you a surreal trip through Glasgow and surrounding areas like none other before. Through a medley of songs, Louie's lyrics are brought to life with visuals strummed before your eyes as quick as he can spit out the descriptions and narrations.
Audrey's arrangements begin with the acoustic, and chamber choral considerations, as Louie moves from the panning perspectives of personal tales and trajectories of real life stories, the more civic concerns pertaining to colonialism and various local characters are presented as the production turns into an electro enhanced mode of ambient expression. The cries of the populous stretch into problems of the political to the deeper endemic issues that inform everything from apathy, to aggression, from plastic people, to lofty politicians. As the experiences stretches across the duration of 17 plus minutes, the ups and downs of Louie's delivery are expressed from the edited collage of local images that depicts a virtual tour through Scotland with an overhead constant flow of conscious verses of acute societal and social awareness.
Sunshine Faces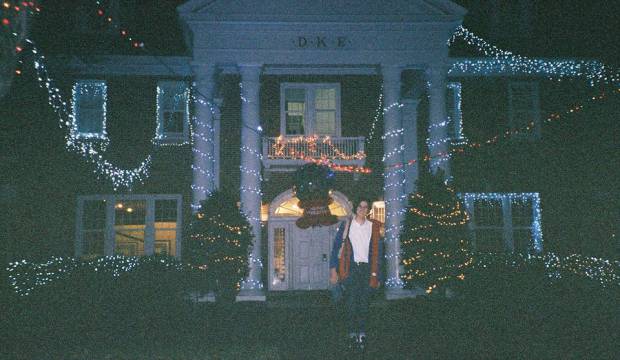 Noah Rawlings—claimed to be one of the most genuine musicians by some undisclosed sources from way out out in Chapel Hill, North Carolina—just clued us in to an album from Rawlings' band, Sunshine Faces, who just released his self-titled on Bandcamp. Soon to be available on cassette as well by Little L Records, Noah partakes in the bedroom, make it/create it yourself movement that has definite much of North Carolina's independent upstarts by providing his own home cooked stew mix on the bedroom made mastery.
You are introduced to the Sunshine Faces self-titled with the opening instrumental, "The blinds are thin; light floods your room", the room twirling feeling floods of, "Letting You Know", the scene serenade, "of Asheville", the lingering weirdness that consumes, "Linger", the intimate synth pop minimalist (and endlessly evocative) sad, beauty that is, "Garden Circular". And that's just the warm-up, as things kick into a higher degree of eagerness and energy on the single, "Teenage Prayer", exploring your conscious wave-length readings on, "Catfish Donahue", continuing the pop experiments on the crisp open winged flight, "Ephemeral", the mind trip spectacular (and nod to the o.g. phenomenology philosopher, Edmund Husserl, along with the Van McCoy and The Soul City Symphony classic), "Do the Husserl", before sending you off on a home-rainbow of wizardry on the lunarian crossing outro, "luno". Noah joins us after the following listen for a candid interview all about the world of Sunshine Faces, and more.
Tell us what initially initiated the project, Sunshine Faces, and what informed the name?
I recorded under a few different projects in high school but hadn't gone about doing so with any serious effort; I just kept telling myself I would once I got better equipment. That never happened, and so when I was about to graduate I started freaking out, wanting to preserve the upcoming summer, the last real summer I would have. That's when I began recording "TEENAGE PRAYER" and its music video and beginning a more deliberate musical project. Our name is ripped from a My Bloody Valentine lyric. The song "Loomer," has a line, "Pretty boys with their sunshine faces." I just thought it was cute and MBV is one of my favorite groups. It was either that or "party dresses" ("little girls in their party dresses") and I thought that if people tried to look us up they'd only get links to Nordstroms or prom websites.
Bring us through the recordings of the single that lead up to your first proper album, soon to be available through Little L Records, and tell us a bit about your particular set-up for recordings that run the gamut from the bliss waves of "Ephemeral", "luno", "Garden Circular", to your wizard brews on "Linger", "Do the Husserl", "Catfish Donahue", etc?
This first record was a lot of learning how to record, how to set up mics properly, how to do basic compression and eq (stuff I still don't really know anything substantial about), how to achieve certain kinds of sounds. As a result, I ended up experimenting a bunch with different effects and techniques, reading production forums, talking to friends about their methods. It was fairly trial and error.
The initial writing and recording for the album began two years ago. The first single was a reworking of a demo I'd released in fall of 2012. I think the length of time between recordings informed the pretty disparate textures of certain tracks. I didn't think I'd be putting something out with a song like "Catfish Donahue," which was recorded with a few instruments in a week, a few tracks before "Iuno," which took a couple years to make, and in which I used like 50 different synth tones. In some weird way it worked out though.
My recording rig keeps changing, but most of the songs were recorded in my parents' house in suburban Cary, NC, with some additional stuff added in my dorm room. Right now I just have one mic, a squire strat I bought when I was 10 (I've only managed to change the strings once, which I hear is no good), a couple keyboard, and a decent acoustic guitar. It's great. I don't think equipment or technical skill (or the lack thereof) should ever discourage anyone from making music.
What are the Chapel Hill scenes like, out there in North Carolina? What is your own to them, and other artists you really dig? I know Sam 'SMLH' Higgins is a big fan of yours.
I always had this ideal in my mind of a musical collective where there was a bunch of different bands with a rotating lineup of the same close friends, all hanging out and playing shows and recording together, so my junior year of high school we started this thing called "Swamp Church." My best friend, who the song "Catfish Donahue" is about, had an attic in his house where we would hang out with a fog machine, listen to WU LYF and worship pagan gods, and we began calling that Swamp Church. I kind of like the name's kitschy spookiness. The attic eventually evolved into this idea of a collective, and now we have a few bands–JC Graves, Illuminating Daydream, Reynolds, Sunshine Faces–who are a part of it. It's really wonderful and I love every involved dearly. Hoping to start releasing tapes for a couple bands eventually through Swamp Church, as a sort of record label. We'll see what happens.
On a broader level the Chapel Hill/Raleigh/NC scene is fantastic as well. The first *proper* show we played was a house show in Chapel Hill with Jackson Scott–an Asheville guy whose Melbourne record was one of my favorite from 2014–Less Western–who are a phenomenal shoegaze band from Raleigh and some of the kindest people I know–and SMLH. Sam is an incredible musician and songwriter and I think everyone probably needs to listen to his latest release. Within the past year it seems like things have really come together for local music in a way I never expected. The level of support and love from everyone involved is nuts. Almost all the shows we've played have only been booked with the help of people like Kevin (from Less Western).
Other local bands to check: The Grapes, Astro Cowboy, Free Clinic, Museum Mouth.
What else are you working on, and/or working with right now?
A second full length has been almost entirely recorded, mixed, etc… A lot of my song writing impetus is this stupid/obsessive urge to capture specific times and feelings before they decay, so all of the songs were written and recorded in my dorm room, because I wanted to preserve this particularly ridiculous and transitory time. It was nice actually knowing how to operate my software and hardware and knowing a couple more guitar chords, so the whole thing was essentially made in a semester, where the bits and pieces of Letting You Know fell together over this extended period of time. I'm still in the process of polishing that up, and I'm in no rush to get it out there now that the first record is out, but it's nice having it almost done. For one of tracks I got to collaborate with Emily Yacina, whose music and self I absolutely love; I'm very excited about the whole thing. Also working on a dance project called Candygrams with our keyboard player, John, and we have a few things we're in the process of piecing together.
What are the top five best things you are have been listening to constantly?
This whole year I've been pretty obsessed with Duster, who are basically the best "slowcore" band there is (whatever that means). Our bass player showed us this band Rocketship a couple months ago and I've been listening to them extensively as well. A lot of my friends think I should've gotten over bullshit twee/indiepop but for whatever reason nothing else resonates with me as much as these really earnest, melodic bands. It's dumb. There's a big House music thing going on in Chapel Hill right now as well, so I've been getting into that lately. I tend to listen to Ricky Eat Acid or Grouper almost every night before I fall asleep; they evoke similar sensations I can't describe. Also listening to a lot of Emily Yacina's new record. Randomly finding her music on bandcamp a few years back was one of the best experiences and I'm glad she's making music again.
Sunshine Faces' self-titled album is available now via Bandcamp.

Lade
Just weeks back we introduced you to Ethan Edenburg's project, Lade, and now we bring you a listen to the just released, the flood ep. "Asleep" is the awakening song that encapsulates inclinings of things yet to arrive in the extended player, with "My Ghost" picking up the gentling burning hypno-space, before you are spilled into the bath suite of many rooms, "Open Water". The title track drifts out to sea with some of the dreamiest, and poignant pop found on the EP, as "Maze" sets the hazy reckoning of wakened dreams into the ethereal air terrains of existence. Ethan wrote the following on the making of the EP:
Most of my tunes stem from a place of disappointment and frustration. I have issues with myself, society, the government, etc. But making music has always been the best part of life. That moment when the tune hits you hard. Finding what it'll be about and why and how to improve upon it. I've never had such a pleasurable experience taking songs from their seed to tree than with this EP. Since I've been in bands all my life, I love collaboration. However I usually write songs when I'm alone and once they're at a place I'm happy with, I take them to someone I trust. Mark Hadley, David Pramik and Sean Tracy are not only super brilliant producers, but my best friends. So the bouncing of ideas is such a fun and productive process for us. I like leaving certain decisions up in the air and I think the tunes are better because of that lack of obsessive control. In fact, the title track "The Flood" didn't start with a creation of mine at all. Mark had this instrumental that struck me deep upon first listen. I immediately began jotting down lyrics and melodic concepts. It really summed up where I was mentally at the time. We can take a multitude of steps to conquer our goals and silence our fears, but when the shit really hits the fan I think it's important to keep our mortality in mind and simply be grateful for our experience on this planet.

We're filming a music video this weekend for "The Flood" and there will soon be a live in-studio video out as well. The live band line up is a killer group of musicians, so if you get a chance to come see us, jump on it! I honestly look up to these guys and feel so honored to play by their side.
Terrace
Following up with Vancouver's Terrace after covering their single "Côte d'Azur" last year; we bring you a debut listen to "Exit Stars", the latest from the Techno Funk team that gives hints at seasons, and sounds yet to arrive this year. With the trio of Simon Lock, Kalani Polson and Alex Cooper returning to warm up your day; winter escapism abounds that seeks out the comforts, and solace of some far away beach out in the great somewheres beyond.
"Exit Star" has all the chill sophistication and pizazz that you have come to expect, and demand from Simon and the Terrace set. This is the escape into the red door of the mind where all dreams and fantasies can spring to life with the dance rhythms and romantic call of Simon's alliterative and reiterated calls of, "darling, darling…" The joys and hopes of impossible romance are found an outlet and recourse into the crystal blue spring waters that lay in the sensational lust of the mind's eye and central, sentimental nervous system-center. Once again, Terrace maintains to keep the sound of Vancouver pop slick, smooth, and super sweet. Once again, we bring you some exclusive words and insights from none other than the great Simon Lock himself, proceeded by the debut of "Exit Stars":
Well, the song "Exit Stars" is part of a trilogy of songs. The theme of it sees our protagonist cope with the feeling that his lover does not entirely reciprocate his emotions. With "Côte d'Azur" you had new love. New summer. New lover. In "Exit Stars" you see him selling a bit of himself, and accepting only what his object of affection is willing to return. Kind of like that girl you can never fully have. Even though it felt real for a while, now it's just a hopeless cat and mouse game hoping for one second she will come around and be with him.

But in perspective, it's about escaping. About assuming another life. As the album, out in May (yay), is focused around escapism and joie de vivre. It was written for that piece of your mind that wants to pick up and split. Go somewhere else. Become that person you've always wanted to be. Never to look back. And in the end you realize that in order to escape, you don't need to physically go anywhere. It's all inside you. It'll always be there. The mundaneness of life doesn't make our persona. It's just how much we chose to play into it. I promise the next album won't be so heavy in context. It'll be about fart jokes, and titty bars. Maybe.

And with that, I best get back to the beach. Currently holed up in the British Virgin Islands trying to master rum punch. Miss you. Wish you were here.
Terrace's new album will be available in May from Techno Funk Records.
GABI
From GABI's debut album, Sympathy, available April 7 from Software Recording Co.; check out the remix from fellow labelmate, Autre Ne Veut of "Fleece" that transforms the entire production into an electronically immersed audio experience that is softer than lace. Gabrielle Herbst's vocals are edited and arranged in a manner that buttresses a synthesized choral symphony that rises upward through the eternal spirals of chapel spires that point to the mystery of the heavens like rockets at arms. Gabrielle joins us after the listen for an exclusive interview session.
Tell us about the arranging and recording process that would create your upcoming Sympathy album.
I composed each song on Sympathy at different points in my life and in different mindsets. Some songs were written on my living room floor in the middle of the night with my loop pedal, others composed at Robert Wilson's The Watermill Center. Koo koo was written in my families barn in Massachusetts. Some of the tracks were fleshed out through improvisation and others were very set right from the beginning. I worked closely with my band to flesh out the material into precise arrangements.
In the studio I worked intensely with Paul Corley and Dan Lopatin on processing the songs and taking the music to the next level. The songs grew into larger than life versions of themselves and I'm so grateful to have had such inspiring collaborators. In the studio, the recording process was a combination of my band and I performing the songs exactly how we rehearsed them, and allowing myself to improvise in the moment–making spontaneous decisions with my vocal layering that I think ultimately added an exciting depth.
What sorts of sympathies inspired it for you?
The artistic process can be a very isolating experience. Living in your own head and losing track of reality is something I think many artists experience. The idea of sympathy is a beautiful concept to me — stepping outside of oneself to feel for another person — to feel their pain and loneliness. This album is both inspired by sympathies for certain people I love and frantically trying to reach out and connect with listeners — finding a solace and connection through the human voice and together transcending the alienation that I feel inside and know others do as well.
Tell us about working with Daniel Lopatin, and Paul Corley, on this. All those folks are talented heroes.
Daniel Lopatin was a really exciting collaborator. He was one of the first people to truly understand my vision for GABI. As soon a he heard the tracks, I could tell he saw my true colors, my voice — my musical logic. He's a brilliant editor, musical thinker, and sound magician, and I feel like he helped me develop new angles of myself. He also introduced me to Paul Corley, who I worked with daily on Sympathy. Paul quickly grasped my musical instincts, and truly helped make my vision a reality. He was an incredibly inspiring and beautiful musical thinker. Working with the two of them felt like a dream team.
Thoughts on this absolutely amazing, and ridiculously good remix of "Fleece" from Autre Ne Veut?
I love Autre Ne Veut's music. His beats, his hooks, his intuitive vibe that is just so much his own. Arthur and I go way back and I was excited to hear what his remix would sound like. It's such a respectful remix, keeping the elements of my voice in tact and changing the structure, ryhthm and beat to really make it his own. I love it — it's really thrilling to hear our sounds collide and meld. I'd love to do more work with him.
What's next for Gabi?
I'm playing the Marfa Myths Festival in Texas on March 13 and then headed to SXSW for a few shows. In April I have a some exciting NYC shows at Rough Trade on April 6 and my release show at Le Poisson Rouge on April 22. Sympathy comes out on April 7 and my first Europe tour is in the works. I'm really excited to take this material on the road, work on new collaborations and keep writing new songs. The next album is already floating around in my head.
GABI's debut album, Sympathy, will be available April 7 from Software Recording Co.
Cruzie Beaux
You may remember Kristina Reznikov (formerly of Drop Electric) when she debuted her project, Blanche Has Friends, and now the DC based artist is back with her new band, Cruzie Beaux. On the debut of her first release as CB with, Demo 1; Reznikov fuses the electronic elements with big shards of shrapnel barbed guitars. Hear the hair whipping fist clincher, "You're a Dog", to the song of amorous sports and the like, "Baseball (All My Life)", the relationship ruckus pop of needs and wants, "Girlfriend", the tipsy trip dips into the internal narrative of, "Drunk on a Sunday", bringing you to the work week that is treated like a weekend on, "Monday Night". We had the chance yesterday to catch up with Kristina, in a new interview piece that immediately follows the commencement of, Demo 1.
Clue us in further on retiring your project Blanche Has Friends, and the rise of your pop rocker alter-ego, Cruzie Beaux.
Well, Blanche Has Friends was more of just a project that was made up of scrapped songs I had written for Drop Electric. It just got a little bit muddy for me and I wanted to start fresh with my writing. That being said, I also wanted a more definitive sound/genre. BHF was all over the place a little bit, and I wanted to stay more specific, so people could relate more. I went with this kind of noise rock-electronic sound.
Where does the name Cruzie Beaux come from, and what inspired it?
Cruzie beaux is named after my grandmother, Josephine Cruz. She and I like to watch French movie together. My grandmother is probably the coolest person you'll ever meet. And so are her mexican 18 grandchildren. We are close.
Tell us what lead you to the heavier sound, and the recording process of Demo 1.
I've always kind of produced on my own, but I knew for this work I wanted someone professional to do it for me. So I went to Rocky Gallo in New York City, and he is a master at the beach, crunchy guitar. He knew exactly what I wanted and he did it. In writing and mapping the drums I also kept them super heavy. I probably had too much 808 in it originally; Rocky made it a little more accessible.
I've always been drawn to the heavier sounds. I grew up obsessed with metalcore and later some heavy underground electronica. I also have always really liked the punky choir type of "oi" vocal that I heard in my favorite street punk bands. I tried to incorporate all of that. But tried to keep it raw sounding.
What other recordings and releases might be in the works for Cruzie Beaux?
I'm really trying to have a new single ready the end of May. For the summer. Now that I've got my sound down I'm ready to explore and kind of go nuts with it.
What have you been listening to on heavy rotation lately?
"Dust" by Halos. Look it up, it's addictive.
Other DIY artists you want to give a shout out?
Me and Karen are rocking DC right now. Also loving chomp chomp, DJ ayes cold, and an electronic artist named John john. Ill be playing a gig with all of them may 30 at dc9.
Listen to more from Cruzie Beaux via Soundcloud.

Robot Princess
Robot Princess, the darlings of Beau Alessi and Catherine Anderson are readying their Teen Vogue LP, and Action Moves EP for release March 24 from Fleeting Youth Records, and we are proud to bring you the single, "Violent Shooting Stars". As Fleeting Youth Records continues to keep the DIY pop aesthetics (also associated with the similarly minded folks at Double Double Whammy, and so forth) intact; Robot Princess make songs for feelings about friendships that are stronger than bracelets, amulets, and charms; as hyper active imagination takes off to those places that always leaves you feeling good in the end. Beau and Catherine shared the following exclusive thoughts on the making of the single, album, EP, and more:
Beau
"Violent Shooting Stars" was just one of those phrases I had scribbled as a possible song title, then rediscovered maybe a year later. I was at the botanical gardens with a girl who had misread a placard that said, 'violet shooting star.' It's a story about being in a place in life that's calm and quiet and maybe a little lonely, and thinking back to times when things were a lot crazier. And how the past can seem so unbelievably distant. It's a feeling I used to get when I'd drive around at night.

This may have been the first song that we worked up from this batch. Our producer Travis Harrison at Serious Business forced us to keep working on the pre-chorus until Peter and Joe came up with the really cool locked groove that the drums and bass fall into. That was huge for this song. The lyrics were originally a lot cheesier — something like "your eyes are pale grey like your sweater" — and I was probably going to throw it away. Then the "swamp monster" part popped into my head one afternoon, and the rest of it all kind of clicked together immediately. In general when I'm in songwriting trouble I just try to throw some monsters in there.
Catherine
Beau asked me to join Robot Princess in the winter of 2013. At that point, the songs on Teen Vogue were already about 80% written. "Violent Shooting Stars" was one of the first songs that I learned with the band. I'm a guitar player at heart, so picking up a Keytar for the first time was a bit daunting. It took me months to get used to the feel of it. "Violent Shooting Stars" was one of the first songs that I truly felt comfortable playing and singing on stage.

Flash forward about two years; now I've produced and mixed our latest EP, Action Moves, as well as a batch of brand new songs that we are currently working on. I cant say enough about how fun this process is. Beau's mixing and production comments are usually in the vein of 'let's make this part sound even more fucked up,' so I get a chance to really play around with a lot of effects and panning options. There's a moment on the upcoming Action Moves song "Wendy" that is a particularly good example of this.
Wil$on
Get to know LA's rising emcee, Wil$son, who just dropped his 93 EP that we have to cruise your mind and vibrations back to the magical year the 9-3. Get motivated on the opener, "Motives", slowing it done with the fresh off the brain, "Freestyle Pt. 1" produced by The/Cords, remixing Jai Paul's "Jasmine" with big barreling synths, turning the year back by turning forward, and turning up on, "Saturday Morning 97", pausing for refreshment but not pausing for breath on, "Gatorade". Keeping that The/Cords production bumping, "Swag Raps" lets loose some of that LA steez, going for the goal on, "Win", before bringing it all back home on the title cut, "93".
93 EP started out in August 2014, as a small project to earn a little notoriety but eventually sparked into something more. We were inspired by great diverse mix tapes like Franks Ocean Nostalgia Ultra and Wale's mixtape About Nothing, pulling from various genres and internet gems to finally craft 93 EP. Sessions for this project were built around going to The/Cords home studio in Compton and just listening to music. Sometimes they made beats an I rapped over them other times we just watched YouTube videos an fished around soundcloud for something cool.

The year 1993 is actually the year I was born, and I felt like not only did 93 EP have a ring to it, it also let fans into my personal life as ventured into a bit on songs "Freestyle pt.1" and "Saturday Morning '97″I plan on talking about my life story more In depth on my debut LP
From GRMLN's album, Soon Away, available from Carpark Records; peep Yoodoo and the gang playing amid different film filters, and the like on the Hooded Collective video for, "Avoider". Read our recent interview with Yoodoo Parks on our premiere stream of, Soon Away.
Helsinki, Finland's poppy punks Van Dammes bring some quick tempo action shaking on their b/w video for , "Vesna (Flash in the Nigh)"
Emerging from Nashville, introduce yourself to Cappa, with the big bright light burning pop of "Hush", that hits a rapid succession of pop pleasure pressure points that adheres to the Canadian experimental creative orders while entertaining the fancy big stage allure.
Torres' album, Sprinter, is available in May, and we got the Casey Pierce directed video for the single, "Strange Hellos" that features the Brooklyn artist's fervent stare that is met with blurrs of effects, images of bondage, lighting effects, and more subtle (and not so subtle) treatments. Catch her at SxSW March 17 through 21, with further tour dates May 4 through July 2.
From London with love; meet Hælos, who dropped the word spinning single, "Earth Not Above," their first release for Matador Records. The trio of Arthur Delaney, Dom Goldsmith, and Lotti Benardout utilize three part harmonies to further turn the globe, conversations, and atmospheres of underlying ambience and more.
MURS' new album, Have A Nice Life, available May 19 from Strange Music, and we got a taste where your LA favorite walks that balance between the conscious gift of verse, and styles informed by the turbulent streets.
We just learned that the Canadian wonder Un Blonde (aka Jean-Sebastien Audet) has plans to release his upcoming album, Water the Next Day, on April 21 via cassette and digital on Egg Paper Factory. and we got your first listens with the warp electro-shamble funk of "Look", to the electric melt and mesh of, "Always".
If you just happen to be a fan of folks like Oddisee, Phonte, Rapper Big Pooh, Apollo Brown, Open Mike Eagle, Ras Kass, L'Orange, Oh No, Red Pill, Masta Ace, Gift of Gab, Quelle Chris, Exile, Blockhead, yU, Tall Black Guy and more; than you are not going to want to miss the just released Mello Music Group compilation, Persona, that features a handful of your favorites in one place.
Maya Jane Coles as you probably already know is Nocturnal Sunshine, with an album debut slated for May 26, and we have her remix of Sam Smith's "Lay Me Down" that brings a high-flying kind of prog-house style that sets sail for ambitious — yet minimalist heights.
Britain's own, Clarence Clarity is on tour with Jungle in support of his debut album, No Now, available from Bella Union; and we have the hallway CGI motions that presents strange symbols to match the electric strangeness, and lyrics in Japanese kanji characters.
Portland's Vursatyl is cooking up the new batch, Crooked Straights, available May 11 from BBE Music, and we got the first listen that features some blues and rhythm vocal flavor from Dion. The sound of feeling sweet and super on a sunny, Sunday afternoon ring true in this joint delivered from the American Northwest.
In the latest from Seamajesty, we pick up where we left off, with James Yates' weekly release of ambient tracks, and tape loops that are finished and released on the same day called, "Tea & Biscuits". "#1" provides space like music for wandering minds, with "#2" sorting through the white noise static to hear pretty, spaced out melodies, as "#3" moves the adventure from an episode of "Nova" to atmospheric ambiance, as "#4" sounds like a classic movie soundtrack designated a big, breaking decision point (a la the school of John Carpenter synth-ology). Stay tuned for more to come from Mr. Yates' Seamajesty vehicle.
And in case for whatever reasons you missed it; you owe yourself to experience the incredible, ethereal and oh so real realities, textures, and terrains traversed in the gorgeous new EP II, from Yumi Zouma, available via Cascine.
In more Cascine news via their singles imprint CSCN; the new single, "Only U" from London's et aliae does that emotion guided approach to production that seeks to trigger the emotive receptive responses from a designated certain listener, of whom will receive a coded, and endearing message from the track.
Shana from La Luz has started Shana Cleveland & The Sandcastles, declaring the arrival of Oh Man, Cover The Ground, available May 26 from Suicide Squeeze, leading us ahead to the golden olden years of, "Golden Days". Like the psychic knowledge of Americana and Europe modernist pop displayed in sound by La Luz; Shana stars in her own kind of western where stage coach songs of drifters and deserters through dusty, hop-along-song styles that mix sound-stages, dusty dives,
Spilling a little out for Biggie on the anniversary of his untimely passing; Montreal's own Wasiu drops some of that old Isley Brothers "Between the Sheets" flavor on, "Gros Lysick".
NY's ED-APE gained notoriety from winning a Stones Throw contest by remixing Peanut Butter Wolf and Charizma's cut, "My World Premier", on his track, "UP, UP, UP". Presenting the self-made video, ED is offering listeners a chance to win a rare copy of the 7″ vinyl, to those who cop his new mixtape joint, YOUR FACE HERE.
Watch Dean Engle from Quarterbacks playing "Weekend" solo in Brooklyn, and having a chat with Viva Radio's Ted Shumaker. Quarterbacks win, time and time again.
Playing Brooklyn's Silent Barn with Helado Negro and others April 1, to celebrate the release of, Carousel, available March 31 from Bayonet Records; check out Jerry Paper's DIY almost-at-the-gates-of-nirvana single; "Halfway Zen".
Most likely inspired by the film that also shares the track's namesake; Ships Have Sailed's "Drive" turns up that ultra-over-the-top pop reserved for the heroic ending conclusions to the most campy and cult blockbuster features.
The Soft Moon's Luis Vasquez recently co-curated our Week in Pop feature, and today we bring you a little further down into the void's abyss of isolating idolatry with, "Desertion", off the upcoming album, Deeper, available March 31 from Captured Tracks.
Greek artist Σtella (said like Stella) just released her self-titled album debut from Inner Ear Records, and we give you the following listen. Tensions and static kick the LP off with "Picking Words", the Grecian post-punk of, "The Map", to the closing wandering vocal wanderlust of, "Libya". The world of Σtella is one that sounds like walking through ancient ruins, and catacombs inhabited by the histories and memories that meet together like hands held in congruent congress.
Dorian Concept's Joined Ends Remix EP will be available April 7 from Ninja Tune, and we bring you the industrial playland from Kuedo's remix of "Ann River".
With word of the album Send Two Sunsets available May 5 from Apollo Records; Gacha gives us a taste of the electronica dance dimensions of, "Bliss" (ft. Natalie Beridze).
From Deerhoof's recently released album, La Isla Bonita; we bring you the fun, animated video from Geoff Hoskinson for the intricate arrangements that comprise, "Tiny Bubbles".
Peep the Chloe Little video for Spring King's poppy, "City", to put some pep and spring in your winter, featuring rad moves from Amber Little. Spring King's EP is available now from Mermaid Avenue (Mom + Pop Records), available in the UK on April 20 from Handsome Dad Records.
Peach Kelli Pop just dropped the jumpy addictive allure of, "Plastic Love", from the upcoming album, III available April 21 from Burger Records.
Return to the source of the world's origins, by re-entering the explosive and inciting incident of the big bang in musical real time, on the lush pop of, "Back To The Stars", from​ The Landing's forthcoming, How Strange To Be, available later this June.
Zero 7 shared deets that their upcoming, EP3, will be available April 14 from Make Records, via Kobalt Label Services; and we have the reflective chill, downtempo reflections of evenings past, and the evenings up ahead on, "Last Light" ft. José González.
Off their upcoming Public Access EP from Terrible Records, hear Public Access T.V.'s crisp, chiming clear guitar tones and emotive power hooks on the single, "Metropolis".
Touring the US March 18 through April 2; check out Jozef Van Wissem's string strummed vignettes translated to the day & night worlds of faint light, NYC illuminations, evening silhouttes, and such on the video for, "Confinement".
Watch the Forrest Pando and Zaynah Akeel Pando video for Lowland Hum's "Odell", that presents elapsed time, motion, movements, and close-up shots that captured the inner thought zones, spaces, and sentiments. Read our recent premiere and interview with the duo, here.
Taken off their Spectrum EP, Italy's Luca Bandini and Alessandra Gismondi, aka Shad Shadows return with the video for "Gimme Pain" that features camera footage bathed in the synth blue hue of perpetual night.
Watch the Bear Damen video for Jacco Gardner's new single, "Find Yourself," taken off the upcoming album, Hypnophobia, available May 5 from Polyvinyl. Jacco stars with Mickey Cohen in a psychedelic short of winter mysteries and mayhem to match the fuzzy, frayed sensory of the song.
Peep the Jesus Rivera aka Demonbabies video for Pictureplane's IHC single; "Hyper Real", that keeps that post-physical life pushing.
From Suwanee, GA; check out Chief Scout's video for, "Oh Shit", directed by Dominar Films that captures the courses of calamities through special effects, tricks, and that effect from the Matrix where time is halted and stilted, but for a brief moment.
Jaakko Eino Kalevi's self-titled will be available June 16 from Weird World, and we have the track "Double Talk" that brings some fluttering flights of feeling that dips and dives beneath the subtext, and masqueraded text, and duplicitous talk.
Told Slant's Week in Pop

(Told Slant's Felix Walworth, photographed by Eric Phipps.)
In our continuing admiration and obsession with the proliferation of The Epoch, we are thrilled to present the following Week in op co-curation courtesy of Told Slant's Felix Walworth:
Shamir, "On The Regular"
I heard this song for the first time last month, while I was in the process of moving into Shamir's old room at The Silent Barn. Both the song and the video have been stuck in my head since! "Hell Yeah."
Loone, "Silky"
Loone is the recording project of my friend and enormous crush Noel'le Longhaul. Over the past year, Noel'le has become one of my favorite songwriters, composers, and performers. Loone puts me in the forest in a way that feels lonely and exploratory. Sounds like remembering something. Queer druidic hymns. "Very Dope."
Yowler, "In The Bathroom"
I just listened to the new Yowler record this morning, and was immediately inspired to finish a song I had been working on for months. Coincidentally, the song I was working on also locates itself, at least in the beginning, in the bathroom. Maryn's songwriting pushes and pulls between impressionistic imagery and simply articulated vulnerability. It's "The Shit."
Harmony Tividad, "Purple Soft"
I've been totally obsessed with these demos for a little over a month. When I first saw Harmony play, I was anxious to approach her because of how completely moved I was by her performance at a Girlpool show in Brooklyn. When I walked over to the merch table to vomit compliments everywhere, she revealed that she also liked my music! It was a really nice, mutually supportive experience, the kind that can feel rare in the context of this silly, sometimes incredibly guarded music scene. On top of being a wonderful weirdo, Harmony is an incredible songwriter. She has a blunt voice, and her lyrics are urgent and personal. You can tell that Purple Soft had to be written. "So Dank."
eskimeaux, "Broken Necks"
This is sort of a weird thing to put here I guess, considering that I play drums in eskimeaux. BUT this song is definitely not mine–it's Gabby's and it's amazing! Whether Gabby is writing ornately or simply, her lyrics feel equally immediate. The chorus of Broken Necks is playful in a way that doesn't detract from the emotional urgency of the words themselves. Gabby manages to write songs cleverly without being a "clever songwriter." Do you know what I mean? It's "Unlocked."
Follow Felix /Told Slant on Twitter.