Here to brighten and enlighten your summer news stories feeds through the social and media channels, Impose's Week in Pop brings today's and tomorrow's headlines, and an obligatory look at a few of the week's inescapable trending items: First there was Katy Perry expressing a desire to join the Illuminati; learning that Steve Shelley and My Bloody Valentine bassist Debbie Googe are working with Thurston Moore on an album and tour; finger biting at Beyoncé and Jay Z's "On the Run" tour stop in Pasadena; a man getting bitten at Lollapalooza during the Artic Monkeys set; Dev Hynes and girlfriend Samantha Urbani finding themselves with their own confrontational fracas at the same festival; Mad Decent Block Party turning disastrous; Tom Petty sounding off about EDM fests; whisperings that a Kathleen Hanna and Miley Cyrus collaboration might be in the works; the epistolary protests of Brian Eno; and finally, could Marianne's Faithfull's ex-beau Jean de Breteuil really be responsible for Jim Morrison's death? These are the great current conundrums that continue to plague our restless minds.
But bringing you now some of the week's best news, we are proud to present exclusives and interviews with Luna Aura, Hey Anna, Kalen & the Sky Thieves, TRENDS, SMLH, Sumbu Dunia, Ennui, May McDonough & Co, Sounds of Sputnik, Weyes Blood, co-curations by Aan, and more — all in no particular order.
LUNA AURA
The vocal pop artist is back. 2014 might be known in the future's bound history books as the moment when the electronic enhancements of sung breaths fell out of fashion, or left to the experimentalists (i.e. Eric Lindley, aka Careful) as the untouched, semi-naked voice rose to become the stuff of new pop dreams from the East and West coasts (not to mention Canada, EU, UK, SE, etc) and all the cities and suburbs in between.
From the deserts of Arizona, we turn the dial to the pop world of Luna Aura. Throughout the process of recording her self-titled EP, we heard the track "Too Young To Die" — a response to the Born To Die Lana Del Rey referenced in the "all the boys in the back playing video games, all the girls getting buzzed trying to call their names" — an exercise in flirtation with the majors while entertaining the independent spirit of adventurism.
Then arrived the single, "Radio", a bridge between the bedroom penned letters and big industry auditions. Developed into a visual rendering from LA crew Fweshly Dipped, the dramatic reenactments of attachment, distance, and detachment are played out in representative and interpretive blocking and choreography between Luna Aura and a ski-masked Sal Banuelos, of the Elektrolytes' dance crew. In our world premiere of the music video for "Radio", Aura and Banuelos present themselves as blank canvases, standing tabla rasa in neat formal attire.
Melody addictions get hooked into discovered co-dependencies where 'hooked' takes on double entendres of verse/chorus/beat hooks. The camera snaps back and forth between the pastel-painted pair, along with their neatly dressed selves as Luna Aura embraces the complexity and paradoxes of attached infectious-affections. Following the video debut of "Radio", Luna joined us for a insightful look at the making of her upcoming EP, and more.
As you ready your EP for release August 26, what has summer 2014 in Phoenix, AZ been like for you?
I've lived in Arizona for most of my life, and I still haven't gotten used to how uncontrollably hot the summers can get. Other than not being able to touch my steering wheel out of fear of third degree burns, this has been one hell of a summer for me. I spent most of my fall and winter crafting my debut EP, and I had the opportunity this summer to finish recording it at Capitol Records in LA. Aside from playing a few local shows, I have also been busy creating the image behind the EP, and working with some amazingly talented artists to ensure that the visuals behind this project are just as engaging as the music itself. Even though creation takes time, I feel like it's gone by so fast. Now I'm two music videos deep, and the EP is complete and ready to be released this month!
Having recently released catchy singles like, "Too Young To Die", and "Radio", tell us about what the process of recording your debut EP has been like.
Crafting the EP has been a long and exciting process. I've been writing music since I was about 12, but I never thought I would be creating the music I've made over this last year. My whole life I've written and performed as an acoustic singer/songwriter, but I had something completely different in mind for this project. I met my co-producer Sean Chris late last year, and together we were able to create all the sounds you'll be hearing on the EP. After creating the music, I would take it home and write the rest alone in my bedroom.
Love the video for "Radio", where bodies are treated like human canvases for neon pastels. How was it turning  "Radio" into a living, visual installation piece?
There was so much going through my mind at that time, and there was so much I wanted to say about growing up, love, being broke, being happy, and what I thought was important in life. The beauty of this EP is that there wasn't a moment where more than one song was being created at a time. Which is why it took so long to create the five songs that are just now being released. Time is money in the music industry, but it was important to me to give each of these songs their own moment. Let them grow and give them room to each be as unique as they wanted to be. Each song on this EP is so different, but there is still a cohesiveness to the project as a whole. I'm so proud of what we've created and I can't wait to share it with everyone.
Like the lyrics of "Radio", you describe your art with paradoxes like "rock and roll blood with indie soul" or "watch you break it down like a mainstream hit." How do you ratify and reconcile these two different polarities of concept, aesthetic and industry?
Creating the music video for "Radio" was honestly the most fun I've had on this project so far. I was able to work with some of my best friends on the set as well as my old friend Sal Banuelos from the Elektrolytes Dance Crew. The video was shot and directed by Fweshly Dipped out of LA, and they were so receptive of my ideas for the piece. I wrote "Radio" because of a relationship I kind of fell into while I was writing my EP. I met someone that I instantly connected with, but there were a lot of things going on at the time that didn't allow us to be together. The song itself is just about being hooked to someone or something that you don't necessarily want to be hooked to. Similar to how people feel about songs on the radio nowadays. You don't want to admit that you love that Top 40 banger on the radio, but there's something about it that just pulls you in. I wanted the video to feel very controlled and a little uneasy, especially because that's how I felt at that time. I wasn't sure about how to handle what I was feeling for this person, and I was always trying to keep myself under control. When I would show him that I loved him, he would pull away from me… and I would do the same when he showed me that he loved me. But every once in a while, we would be in perfect harmony with one another. Loving each other and allowing ourselves to be loved as well. I feel like the video portrays that beautifully.
How do you define the respective 'indie' and 'mainstream' constructs artistically from your own observations?
When I say words like 'indie' and 'mainstream' in the song, I'm really just playing off of terms I've heard growing up as a writer. People have given those terms a life of their own. Indie being hip, intelligent, deep, and honest. Mainstream being the robotic, contrived, and simple-minded. I don't really care about how people make each one sound. I love all music and, to me, all music is love. Which is why I wrote the lines 'Rock and Roll blood with an Indie soul,' followed by, 'I'll never be too cool for this, I'll watch you break it down like a mainstream hit.' My play on these words and terms is meant to be satirical in a social sense, but comparing someone I love to all forms of music is just me making a point. Loving any kind of music can be compared to loving someone to your core, and it can be just as addictive.
What are your thoughts and perspectives on the relationship between the independent artists and imprints and how they affect and inform the majors? It feels like the lines between the two opposites are often very grey.
Growing up, there was a serious divide between independent music and what you heard on the radio. Nowadays it's not as rare to hear an indie artist on the radio, which is awesome. There was a time where you had to be signed to a major label to really make a living off of being an artist or musician but now, thanks to our lovely friend the internet, we have a choice. Each artist can now choose which path they want to take, whether it be the independent route or to sign with a major. There's so much freedom in choice, and it's so exciting to see that both types of artists are capable of being successful no matter what path they choose.
What other big moves do you have in store, post-EP release?
I'll be releasing my self-titled debut EP on August 26th. It'll be available on iTunes as well as other outlets, and I'll be celebrating the occasion with and EP release party on August 30th at the Palomar Hotel in downtown Phoenix! My future performances include the Summer Ends Music Festival in Phoenix on September 28th, alongside Foster the People, Kitten, Fitz and the Tantrums, and other amazing artists. As well as opening up for the amazing Aloe Blacc in Tucson on October 3rd! It's been a wild summer, and i'm so thankful for all those who have helped me get this far in my journey. I can't wait to see what the rest of the year has in store.
Luna Aura's self-titled will be available August 26 via Bandcamp and iTunes.
HEY ANNA
After our recent debut of Mount Sharp's "Icaraus" video, we had the opportunity to catch up with fellow New York indie pop friends, Hey Anna, who premiere their new single with us titled, "By The Bay". A few years ago we reported on their single, "Blackout". Since then, the sister act of Anna, Erin, and Katie Rauch-Sasseen, along with Andrew Smolin, and Matthew Langner have released a self-titled and the praised Pompette EP, bringing us news of an upcoming Hey Anna LP. As the band of siblings and best of friends solidifies a sound that swings off the reflected beams of the moon, the newer recordings point to experiments in lyrical play, subliminal narrative motifs, and found samples of schoolyard games.
On the world premiere of Hey Anna's new single, "By The Bay", Caribbean calypso progressions are met with stories, and histories that are more than just an ordinary 'tic-tac-toe handclap game.' In the following interview with the Rauch-Sasseen sisters and the band, we learned about Erin's experiences during a trip to Cuba, and how the influence of hearing tales of hope and disillusionment inspired a modern nursery rhyme. With a lyrical set of metaphors, parables, abstract innuendos, and elaborate euphemisms, the story of the Cuban Revolution is be told in a charming tale of cross-cultural connections, and relations. Samples of British cherubs hopscotching their way through creative youthful sports and challenges are decorated by the quick rhythm catches that carry the sisters' voices along with a carousel of sound that could paint a smile on the face of a sad and forlorn tear drop. Like the chord changes and movements that are unique to "By The Bay", the single illustrates Hey Anna's ability to combine intricate elements of the foreign and forgotten memories of the past with imaginative song constructions and quick quips delivered in the vein of Mother Goose and The Brothers Grimm. In case you have been living under a rock for the past three years or so, Hey Anna and friends remain a treasure to the local NYC indie circuit. Check out our exclusive interview with the band, after this debut.
I know that you sisters moved around a lot when you were growing up, counting locales from New Jersey, Northern California, Kansas City, Montana and overseas; but I am interested in hearing the story behind your recent visit to Cuba that you all have told me was what inspired "By The Bay".
Erin: So, I've actually been twice. (Both visits were legal, don't worry.) I mean, it'd certainly make for a better story if I told you I snuck in through Mexico or Canada…maybe next time. Anyway, it was through a former job of mine. The first time was in 2012 and the second visit was last February. Cuba is this incredibly beautiful country with an insanely rich history, so much of which has nothing to do with the US, despite the fact that most Americans only know Cuba in the context of US Foreign Policy. Everywhere you look has a story. Everyone you meet wants to share their story. More than ever before they're being shared with the world thanks to a super active arts community in Cuba. As an artist, I knew from the minute I landed that I wanted to add a voice to what I heard and experienced.
I had dinner in the home of a couple that dropped everything and changed the course of their lives for a cause that seemed so incredibly noble and just. They lived through the excitement and early spirit of the Revolution as well as the dark and hungry days that followed the collapse of the Soviet Union. Watching their faces and hearing their words as we sat under a solitary light bulb eating malanga fritters, I could feel all those years of hope and disillusionment filling the room and filling me. I couldn't keep something like that inside.
Naturally, when I tried to write about it, nothing came out right. Anna and Katie had the back bones of "By The Bay" for a while, but it needed tweaking. One night we're playing with different lyrics and recall something we'd learned about nursery rhymes: they're always about something darker than what they seem (think "Ring Around the Rosey"). Also, the best way to indoctrinate children is with song. So we thought, 'what happens if we use a nursery rhyme motif to tell the story of Cuban Revolution?' And that's how we got what is now "By The Bay". We're curious to see how folks interpret it.
What is the story behind that tape-recorded voice sample with the 'tick tocks' and banter that book ends "By The Bay"?
Katie came across this incredibly adorable video of two little British sisters, Lola and Milla Harrop, giving step-by-step instructions for a version of a tic-tac-toe handclap game. She sampled their voices and cut it into an early demo of "By The Bay". Anna and I freaked out it was just so perfect. We contacted their parents and asked if we could use the recording. They were super obliging, which was great, because it really adds to layers of meaning in the song.
Having recorded music together as siblings for forever, when did you three sisters know that playing music either together or separately would be a big part of your lives?
Erin: When you grow up in a musical household, I think it's hard to pinpoint the moment when you decide music is going to be a part of your life. It just is. Like water. That being said, I think I can recall a moment when I knew in the very pit of my being that I couldn't live without making music. I was in fourth grade and it was during a school band concert in the choir loft of a church. I played trombone at the time. I don't remember what we were playing, but I remember the dénouement and the sound swirling around every surface and I wanted to laugh and tears were falling down my face, but I had to keep playing because I knew that if I stopped the people listening wouldn't be able to feel what I was feeling. I think I've been trying to recreate that ever since.
Anna: I agree with Erin, music had always been a part of daily existence. It wasn't really a choice, it was just something we did — like eating Cheerios for breakfast. Although I suppose that's not the best analogy considering there is some amount of choice as far as breakfast cereal is concerned. You can always have frosted flakes. Or lucky charms. Unless of course you were told to eat a heart-healthy breakfast. Then, magically delicious cereals would be something saved for holidays and special occasions — impermissible on a daily basis. In THAT case, (which, I admit, was the case in our family) I uphold the former analogy — playing music wasn't a choice, it was like eating Cheerios for breakfast.
Moving on (now I want lucky charms), the big moment when I realized that I wanted to be in a band, and I mean capital B – A – N – D, with my sisters was after I graduated. I was cleaning the kitchen tiles, or something along those lines, listening to music when the Beach Boys' "Don't Worry Baby" came on. I thought. Yes. Those lucky guys get to do that for a living. And I started crying. Just like Erin. OMG we're EMOTIONAL.
With the three proper Hey Anna releases being 2012's Blackout, the self-titled EP, and the celebrated, Pompette EP; what memories, thoughts, and learning experiences have you all gleamed from these recordings over the recent years?
Erin: I'd compare the progression to a kid who has all these art supplies and she's all 'look at my drawings!' and there's stuff everywhere and some of the pictures are made with acrylics and that one over there is chalk and the one dangling from the fridge is a sculpture of a turtle. Then she realizes she actually likes oil pastels the best and so there's a series of those for a while. Then she thinks, 'I still like oil pastels, but I'm going to use them on clay and throw them in a kiln and then add the glaze.'
Anna: Actually one of my favorite things is watching Andrew record his parts. He is a seven and is always questioning everything he does and ALWAYS wants to try new things, so when we get the "tape going" ha — as they say — Andrew just has THE BEST time ever. It's like 100%. Andrew Smolin. Anyone who knows him knows what I mean by that statement.
Katie: Matthew is a human machine when he records drums. But better than a machine, because he's in sync with our human brainwaves.
With "By the Bay", the stylistic approach feels even more varied, more eclectic, and adventurous. What else can you all tell us about what the future Hey Anna releases might sound like?
Anna: Oh my. Well, I don't want to say anything before it's all been said and done… kinda like saying I love you too soon…but we've got a few tracks almost finished and they do have a little something different occurring. The more I think about it, the varied, eclectic, adventurous approach you're hearing might be bridled madness, a rational irrationality. You know, on the surface the tracks stick to the Hey Anna format but underneath it, almost invisible — like an undertow — is this wild, unstable, lively, fire-eating, daredevil, foolhardy, reckless anticipation trying to break free. Ha — maybe that's humanity in general or my mood at the current moment. You'll just have to wait and see.
How do you sisters describe your creative songwriting and recording processes, in conjunction with the talents of Matthew Langner and Andrew Smolin?
Have you ever had someone else have the uncanny ability of understanding you better than you know yourself? Steve Fabian, urban planner by day/music writer by night, defines our group dynamic perfectly: "the guitar is crunching the beat is slamming, and the vocals just glide." Matthew and Andrew's energy and talent blends with ours. I can't describe it. We just mesh. It's chemistry.
With the new stuff we're recording, pretty much all of it was collaborative. Sure, the skeletal system for most of the songs was probably written by one of the girls in a room somewhere with the door shut. But the music you hear, the body and spirit of these songs is a result of everyone coming together and creating something. Those are some of the best moments..until, of course, someone starts screaming and it looks like WWIII is about to begin. But that's normal, right?

Other artists that are under the radar, underground, unsigned, or whatever, that you all feel need more recognition?
Anna: This summer the Asbury Park based band, Dentist, released their album. They're awesome. Everything I love all wrapped up in one garage-y, beachy, beautiful album. YOU GOTTA give it a listen.
Katie + Erin: Yeah, we've played with some really great bands and they all deserve more recognition. The Motor Tom, Bronwen Exter, Mount Sharp, Little Anchor, We're Ghosts Now, Coastgaard, New Beard …gah there are so many.
I have always imagined that you all make and listen to mixtapes featuring the raddest indie cuts from coast to coast, and was wondering what are each of you and all listening to this summer.
Katie: This summer I've been cleansing the palate with Charlie Parker. Oh and I started diving in Jimi Hendrix. Not really a summer of new stuff for me.
Erin: Laura Mvula, Sylvan Esso, Salt Cathedral. The new Warpaint album. Basically girls.  And a lot of Debussy.
Matt: The Cosmonauts, War On Drugs.
Andrew: Reemah, Sun Club, Groundation, John Browns Body.
How will Hey Anna close out Summer 2014, and welcome the forthcoming Fall and Winter seasons?
We're gonna be recording through August and September. No real solid plans on when we'll be releasing the album, we just really want to give each song the attention it deserves.  We've got a couple fall shows on the books.  A West Coast tour has been on the discussion board for a while, so it'd be great to make that happen.  Lots of things to think about and plan, but we want to make sure the energy is going into the music.
Projections and thoughts for your August 8 show, TONIGHT at Mercury Lounge?
Putting on a show in the middle of August can be a bit risky. Most people realize summer is almost over and get the hell out of the city. We really wanted to get this song out and celebrate it because we won't be playing in the city until October at the earliest. This show is gonna be a good time.  We're going have a limited number of handmade copies of "By the Bay" with an additional secret track for anyone who makes it to the show.
The new Hey Anna LP is coming soon, hear more via Bandcamp.
KALEN & THE SKY THIEVES
Following up her solo album, Fallen From The Sun, Kalen Lister — otherwise known as Kalen & The Sky Thieves — prepares her new album Bluebird for release this October, and premieres the gorgeous song and lamentation of opposites on the debut of, "Island". The band of Wayan Zoey, Jay Giacomazzo and Will Hanza provides the rippling richness of deep waters and the jagged, jaded rough terrain of rock isle shores. Symbolism and character trait clashes become a moving ballad where the quandaries and quarrels pile upon the consequences of what happens when a man becomes isolated as a plot of land surrounded by ocean.
On the chorus of "Island", Kalen spells out the mystery with, "you are an island, and baby I'm the sea." Bodies of land, bodies of water are described as the bodies of incompatible lovers, by the described difference in qualities, texture, traits, demeanor, and the ultimate missed connections. The Sky Thieves create the musical equivalent to a synthesizer toned sea, with understated percussion and guitars to emulate the gravel, stones, and coarse dirt of land. Kalen describes the unmet and unrequited instances of opportunities missed and ignored, backed by the band that implores a reconciliation while creating a somber air of sentiment that should become a staple on all future mixtapes for messy breakups. We had the honor of catching up with Kalen, to discuss the making or her upcoming album Bluebird, notes on her songwriting processes, and more.
As someone who has been musically inclined toward songwriting and playing piano your entire life, how do you feel the last 10 years of living in Brooklyn have impacted your creative side?

It's been a hell of a ride: fun, frustrating and immensely informative. For the most part, I've learned through doing. The people who I have worked and collaborated with (mainly my peers) have taught me the most about what it means to be musical, how to strive for honesty, when to do less, when to do more and how to communicate more effectively. The collaborative aspect of music continues to grow, which is a big part of why I can never stop. I'm addicted to the process, as painful as it can be when the love for making music is married with hopes of being heard.


What do you feel is the current state of the Brooklyn scenes?
I think it's dynamic and diverse and full of talent. It's tough though, because Brooklyn keeps becoming more and more expensive, which means artists need to find ways to make more and more money, often at the expense of our creative time. This is a sad reality that many musical masters who lived in the city in a different decade speak about — David Byrne and Patti Smith, for example. With that being said, there are so many creative and talented people from around the world making music in Brooklyn. Lots of it is crap​,​ but much of it awesome. In my decade here​,​ I've seen a lot of great venues that were truly champion of the artists shut down from Black Betty to Roses, from Zebulon to Southpaw. Fortunately, cool new venues that care about the music and not just the scene or profits are always popping up. And so it continues…further and further east of the river.
What was the process of recording your upcoming full-length Bluebird like, and what sorts of creative struggles and breakthroughs did you and the Sky Thieves discover along the way?
It was so much fun. After feeling pretty isolated bringing my former, solo EP, Fallen From The Sun (the one I built the band around) to fruition, this process was a breath of fresh air. I had support from these people who had become so much more than a backing band. They have become proper band-mates and dear friends. We really wanted to capture the live vibe of what we do, so we recorded everyone live in the studio, with minimal overdubs. Many of the final versions you hear on the LP were first or second takes. It was my second time at The Bunker Studio and so there was a comfort level there while working with engineer and co-producer John Davis. I learned a lot more about producing by watching John help guide the process and tease the best performances from my talented bandmates. Wayan, Will and Jay were each present for as much of the process as possible, so we really sculpted this thing collectively.
With the debut of "Island" today, what sorts of situation and moods lent inspiration and created the songs warm feelings of alienation? It has a somber and stranded quality that is both sad and beautiful, simultaneously.
This is a song I wrote a first draft of many years ago. I wrote it about trying desperately to love someone who was incredibly damaged and closed off. The song was about my desperation and sadness and yet also a levity that came with the realization that I couldn't change him and that I needed to move on, mourn and let go. A close friend encouraged me to play it out more, so I dusted it off and reworked it to until I was content. The song contrasts well with our heavier and dancier material, so I think it's a nice reprieve in our set and it quickly became a staple. We decided to record this band version because each of the guys weaves a hue of blue into the song that hadn't been there in the previous version.

How do you best describe your own personal songwriting and drafting process?
A good question and always tough to answer. I have no one way. Some of the songs are born out of practicing a new idea, or learning new repertoire and finding an element that I want to experiment with and elaborate on. Many of the songs I write that are ripe for KST begin with a bassline or a riff, which are some of my favorite things to write. Other times, melodic ideas and lyrics lead the way. As our sound as a band clarifies itself more and more, I bring less complete ideas to the rehearsal space to jam on and experiment with as a group. I've worked with Wayan Zoey, the drummer, the longest. He has a very analytic mind and breaks down music and style in a very different way than I do. I'd say, I lead with passion and then, Wayan reacts with reason. He is very creative in his own right, though, and plays the shit out of every instrument but vox and keys. He sort of acts as a musical director for our ensemble. Will Hanza and Jay Giacomazzo are both wonderful songwriters in their own right. They lend great insight to what's working and not and helped to write parts of the upcoming EP and even lend a critical ear to my lyrics. While I often have a pretty strong idea of particular elements that I want to hear, the guys also have a lot of space to express themselves. They are very expressive players and that's part of what I love about them. Collectively we sculpt the arrangements. It's this freedom and collaboration that's given everyone more ownership over the material and helped us to become a band.


Who are some of your fellow Brooklyn faves that really ought to be getting more attention?
The Rebel Ship is a band fronted and conceived of by my friend Jean Shepard (formally of Navegante). He is hyper creative and just has his finger on the pulse in an incredibly genuine way. His band is actually opening up for KST at Mercury Lounge on August 20, so get there early (6:30). Jason Lindner's Now vs. Now makes some incredible, fresh, genre bending music that must be seen live. Dynasty Electric and Clementine and The Galaxy are two other wonderful groups, both female-fronted. Their music is very much worth checking out and sometimes you can even find them on a bill together. No Surrender hasn't put anything out in a couple years but their album Medicine Babies might've been my favorite album of 2011. Pegasus Warning is doing some fresh things. I also dig Alfonso Velez, Ponyhof and Mother Feather. We've done a couple of shows with the band Bright and Loud recently;​ they write good songs.
Post-release plans for this fall and through winter?
We're hitting the road whenever and wherever we can to play for as many people as possible. We want these songs to reach everyone — both in recorded form and live in person.
TRENDS
We have been following the wonderful world of LA artist Marina Paiz, aka TRENDS since we first heard the scuzz and psych fun from, "Mind of Man", and the subsequent video of DIY Tom Cruise and Lana Del Rey homages on "Drive". The home, front yard, and rec-room spawned styles that Marina has been rocking are making moves for more garage stationed styles, with one of the first listens to, "Bang". The bouncy, 'anything can happen' attitude that marks everything we have heard from TRENDS to date is all in there — this time with more pointed, and glazed out guitars with a more 'mastered' approach to sound.
Marina's DIY everything aesthetic is always on, with a sensibility that looks toward the modern, tried, and true forms that have paved the roads of rock and roll independence. The closest thing you have heard to Marina recording her TRENDS project in a proper studio, "Bang", is the firecracker single that will make you wonder how many energy drinks the LA fast-folks are imbibing these days. But TRENDS isn't drinking from the Powerade well alone, Paiz packs the punch and pow to make music that is bright with instant action and attention to everything. The vocals follow their own drum beat, and the structure remains up to the interpretation of the listener, while TRENDS continues to set the trending bar for something more fun than flushing cherry bombs down the drains at the prep school lavatories. Find this single available from Manimal, followed by TRENDS covering Duran Duran's 1982 hit, "My Own Way" later this summer. But following your listen to "Bang", Marina caught up with us to talk about what's new in the world of TRENDS.
How has it been working on making more hi-fi garage sounds with your single, "Bang", versus your previous lo-fi psych and scuzz recordings?
All my previous tracks have been recorded either direct into an interface sans DI box or with a cheap Snowball mic up against a tiny Peavey amp. Everything was overdubbed since I had no band at the time. I never really mixed anything either, so I would have to admit that my lo-fi sound was caused by ignorance and high tolerance for clipping.
Bang was recorded at the Hobby Shop Studios with Andrew Murdock. His idea was to maintain the "garage" vibe but make it intentional this time around. I think it worked out rather nicely. Having a guitarist, bassist, and drummer present made all the difference as well. Peter Boskovich laid down an amazing bassline. I'm really happy with the direction this song took after he blessed it with his touch. Ayumu Minezawa swam from Japan to play lead guitar and Tevin Douglas flew in from Mars to drop the beat. It was my first time recording a track with other musicians and I have to say these fellas popped the cherry pretty good.
What can you tell us about other recordings, singles, and releases that you have in store?
Before I get into that I'd like to give credit to Jacquie Li for coming up with the artwork for the single. I was running dry on creative juices so she put her talents to work and I think it looks rad.
I'm working on another song right now called "Mayonnaise." It's a bit more electronic but I think it still sounds like Trends. I am really trying to get a full length recorded and mixed but we'll see how long it takes to get my ass off the couch.
The summer report from the LA scenes?
It's too hot to go out! I don't know what's going on outside but I can tell you what Trends is up to. We're playing The Complex on the 20th of August. Every other day I will probably be at home watching Netflix with a can o' Diet Coke and a Tupperware of raw cookie dough.
ENNUI
Get a listen to the synth-wind atmospheres on Ennui's new sun-sizzling single, "Summer of Love", from his upcoming album available September 2. Here the pop tones kick with drum machine brightness that excites all the synthesized particles to orbit around Ennui's delivery that makes every day feel like a neon dipped holiday.
Jim Doutrich of Ennui wrote us the following companion piece to "Summer of Love", with an official introduction to Telepathic Beat:
"Summer of Love" was the first song I wrote for the album. The parts came together quickly out of nowhere. I really wanted to capture a late summer feel and then the idea of a love story condensed into one day or song. The lovers are in a different world and forget who they might be back home or that they have to return.

The outro of the song was inspired by Brian Eno, Aphex Twin, and Oneohtrix Point Never. I'm picturing all the images of the couple's time together flashing by in a rhythmic stream.

Telepathic Beat is full of synth-hazed pop songs that will throw you a curveball or two. Some of tracks end up sounding like multiple versions of one song put together like a collage.
SUMBU DUNIA
Sumbu Dunia's upcoming album, Sister Nature is slated to be released later this year as part of Noumenal Loom's winter solstice batch, and we have Rui's video for "Hollow", excerpted from the Unmankind release. The atmospheres of tension from your favorite movies are set to time fragmented wide angle fish-eye lenses that capture real life in altered sonic sweeps. With all this in mind, Rui 'Lace Bows' Nogueiro helps connect us to nature on a deeper, intuitive level described in the following exclusive companion piece:
The video is kind of the logical extension of the music, which is basically about connecting different spots around the world, like if they always belonged together. It's almost as if the world was a puzzle you could put together the way you wanted, and it would always fit. Listening to the full album will probably give one a better a picture of this.

The album, called Sister Nature, is about all these connections and how they're all linked to nature, how we grow alongside it. This isn't something necessarily new, as, since our early roots there's an admiration and respect for nature, and constant attempts to recreate its beauty. And although I'm not particularly fond of our species, I'm eternally in love with what it is capable of creating. It's in our nature. But apart from this cheesy pale blue dot-ish perspective, in the end this is just me trying to get a sense of this planet and everyone living in it.
SMLH
SMLH, the operating name for Sam Higgins, whom you might remember from our coverage of the Hillsborough, NC's musician's Neon Visions single. Lately, he has been recording some demo song sketches for an upcoming album. Always ones to enjoy the art of the craft inside the artist's studio, we bring you some reel to reel rounds of rough drafts, and potential facets from a future SMLH album via, demos/4-track ideas.
The fun begins with"Summer Daze", where the vocals creep their way in and out while a world of fun whirls around the tape recorded spin, twist, turn, and go. "Crux of Cool" crawls and falls out of what sounds like could have been a demo outtake from a Drew Price collaborating with anyone connected to the Sinderlyn-Mac DeMarco subsidiary label camp (a division of Omnian Music Group, the expanding enterprise from Captured-Mike Sniper-Tracks). Stay with us after the listen, as Sam and I finally got a chance to catch up on all the latest.


Post-release of the excellent "Neon Visions" single, tell us track by track what you have going on here:
"Summer Daze"
This is a tune that wrote itself very slowly. I had written the lead guitar part and recorded it to my looper pedal a year or two ago and then shelved it because I didn't know what to do with it. I started experimenting with the loop a couple months ago and I realized I shouldn't try to overcomplicate things with pre-choruses and bridges and what not. Although the actual arrangement of the song took a long time, the words came to be much more quickly; the gyst of the tune is that North Carolina is way too hot and humid and it can put a damper on things. To save space, I recorded the rhythm pattern and the faux-organ tones using a Suzuki Omnichord that I bought my brother for Christmas a couple years ago onto one track so that I could still have room for the fuzzed out acoustic guitar track. The vocals sound super out of tune because I was running them through a Death by Audio Echo Dream 2, which has become my go-to pedal for everything. It's a funky (purple…) delay pedal with built in fuzz and modulation, so it can get everything sounding real hairy and real warbly.
"Crux of Cool"
This song is about how wanting and trying to be cool is lame and how people who do this find themselves in sticky situations. When I was first working on arranging this tune, it was more upbeat and peppy but I realized that it needed to be super slow once I wrote that dissonant lead riff that's in the verse. Then the meat and potatoes of it all came together when I was messing around with the goofy Latin presets on my bobo drum machine that I use on most of my songs; I had the drum machine playing in double-time while I played the real drums in half-time.
"Wheel Biter"
This song is kind of raunchy and the guitars are out of tune. Sometimes when I'm having a creative slump, I'll just hit record and see what comes out without really thinking about what it is that I'm going to play beforehand. On this number, I tracked the drums without any sort of plan; the push and pull of the tempo wasn't anything that I intended to have in the song prior to recording but I just sort of felt that it had to be in there once I started playing. It felt right as I was playing it and then when I listened to it through headphones it really felt right. I tracked the bass and guitars in a similar fashion; hit record, see where it goes. The name of the song is "Wheel Biter" because I had really bad road rash from falling while I was skating a couple weeks ago; speed wobbles, followed by wheel bite, followed by "my arm is bloody, time 2 rock n' roll \m/".

I know you have had some technical difficulties with your reel to reel recorder's snapped capstan belt. What is the true importance of analog recording to you, Sam Higgins?
I'm not really sure if my irrational fear of digital recording software can be considered "truly important", but I definitely think that using analog gear is what keeps tunes humble and prevents them from becoming sterile strings of ones and zeros. I think that what a lot of people label as "constraints" and "hassles" that come with using (supposedly) antiquated tape machines are what make them [tape machines] so great; you only have so many "do-overs" before you ruin the tape you're recording to, which forces you to be a more disciplined musician, and having a finite number of tracks to play with makes you have to get creative with minimally miking drums, bouncing stuff, etcetera. Not to mention, the distortion you get from redlining a semi-decent analog mixer is something that you just can't recreate in Pro Tools or whatever. Using analog gear definitely has its drawbacks though; as you said, the belt that's attached to the motor that feeds the tape along as it is playing on my Tascam 388 is kaput, so the machine is out of commission until I get a replacement belt. And even though my reel to reel is giving me troubles right now, I feel a lot better knowing that I can just open up the back of the machine and fix it when the replacement belt comes in the mail. It's nice knowing that a broken rubber band is my problem, rather than a cryptic dialogue box. What's truly ironic though is that once I finish mixing everything in the analog realm, I transfer the individual tracks to my computer so that I can share songs in the digital realm. Even though I do everything in my recording process pretty old school, it all comes down to routing the tape outputs to an interface that is hooked up to a laptop when it's all said and done.
As for the record, I think that using whatever you are most comfortable with, enjoy most, and most importantly have at your disposal to make music is awesome and that we all need to stop caring about "analog purity" and just get back to doing what we can with what's around. Rock and roll shouldn't be about turning your nose up at people because they aren't using equipment that has been deemed cool by a bunch of audiophile dweebs sitting in their recliners by a hearth somewhere.
I like how lazy, lo-fi, and lackadaisical "Summer Daze" and "Crux of Cool" are, and then you just hit us with everything you got on "Wheel Biter". Can we expect more of these dichotomies of your sound on the forthcoming album?
Firstly, I'm glad that you dig the tunes!
I don't want to give to much away about the record, but it is definitely dynamic. In general, most of the songs that I write are either very lazy and mellowed out or totally balls to the wall. I've always had this yearning to pick a "sound" and go with it, but it's something I've never been able to do. I really admire artists who can create their own sonic niche and stick with it, but I get so bored when I pigeonhole myself. I can't value the goofy drum machine bedroom pop stuff that I do over the nihilistically loud garage rock stuff without feeling guilty, so why pick one over the other? I'm okay with the fact that I write slower beachier songs and grittier punk rock stuff. I mean, look at Ed Schrader's Beat Music; Ed shreds for half of his set and then sings what he calls "lullabies" and totally gets away with it. Even though the lethargic stuff (like "Crux of Cool") doesn't really fit hand in hand with the more aggressive stuff I play (like "Wheel Biter" or "Blown Out"), I hope that the my music coalesces in one way or another and that I'm not just writing songs that are scattered hodgepodges of all the stuff I'm listening to at the moment. But as to whether or not this is actually the case isn't my job to decide. Plus, my music is all just really loud guitars and spring reverb at the end of the day.

The latest on the scenes from Hillsborough, NC?
Hillsborough is a tiny town north of Chapel Hill and west of Durham and Raleigh that is the county seat of Orange County in addition to being home to the late-great Billy Strayhorn, who is most famous for writing "Take the A Train" with Duke Ellington. There isn't really much going on here in Hillsborough, but there are a ton of awesome bands from the Piedmont right now: Spider Bags, Flesh Wounds, Less Western, Ashrae Fax, See Gulls, the list goes on. I guess all there is to say about "the scene" in Hillsborough is that NC New 86 just got repaved, but that's totally something to be stoked about.
Lisen to more from SMLH via Bandcamp.
WEYES BLOOD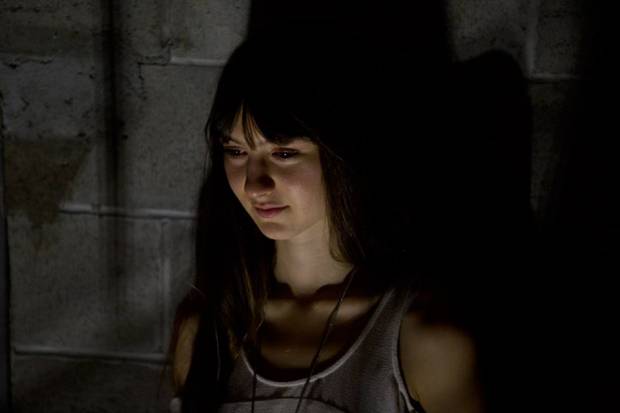 You remember hearing Natalie Mering (also formerly of Jackie-O Motherfucker) and Weyes Blood getting extra weird with Ariel Pink's Haunted Graffiti on "Early Birds of Babylon" from Mature Themes; get ready for more renegade American primitive rituals of the nu-folk sort, with "Hang On". Found off Weyes Blood's The Innocents available October 21 from Mexican Summer; Natalie leads you by the hand into a tale of holding and hanging tight. The grip on reality embraces the mortal wills to keep on when the rains wash away the why and where of identity to a synth organ that opens up a mystic folk dimension of outside artists and dissenters of great dignity and passions of the highest order. Hang in there, and "Hang On" with the new single from Weyes Blood, and join us after for our interview with Natalie Mering.
What is it about the very naturalistic and pagan-ish arts of folk craft that you find is really freeing for your own creative expressions?
I find that to be a multidimensional question that's not easy to answer in one way. It's not the naturalistic or pagan-ish arts of folk craft that frees my own creative expression, the freedom of my creative expression precludes association with naturalism or pagan arts, it's free because I believe that's the best way to reach people. The most freeing thing for creative expression is a lack of self-consciousness. Whatever happens after that is up to the perceiver.
What tales and stories of perseverance are behind the beautiful "Hang On", with all of its unique and original progressions and beat changes?
"Hang On" is about reaching the end of your rope and realizing that most of the conflict in your life is generated from your thought life and misunderstandings in your mind. They say life is 10% what happens to you and 90% how you react. When searching for stability in a polarized mind that's blurred, constantly stimulated in our world of content and media, it's easy to lose faith or decipher meaning. It especially becomes difficult when meaning revolves around people or identities that exit your life. No one can see behind their eyes, or objectively lift away from their emotions completely and see the big picture until a revelatory moment, and those moments don't happen everyday. But we can practice the big picture and hang on till the next revelatory experience. The point of hanging on is knowing there's supernal reasons for not giving up, and that has nothing to do with anything outside of yourself. External affirmation for your existence is just icing on the cake, but ultimately we're self contained universes of meaning.
What sorts of songs of innocence and songs of experience lent inspiration to your upcoming Mexican Summer album, The Innocents?
I'm not sure if any songs directly influenced the record besides the ones I wrote. Elementally I felt very inspired by naiveté and the dramatic quality of first-life experiences.
I almost forgot about your handiwork on Ariel Pink's "Early Birds of Babylon", what was that recording experience like? That song, and album are incredible…as time goes on I'm starting to believe that Mature Themes might be one of the best Ariel Pink albums next to all those awesome weird tapes, and Paw Tracks releases.
Ariel is completely unhinged in the studio. I showed up and he taught me the lyrics and basically gave me free range over the recordings, with a little bit of direction. There's one portion of the song where we were trying to mimic the unearthly squawks of the "Early Birds of Babylon" — I was squawking in the isolation room and Ariel unbeknownst to me was screaming by the board, inaudible to the microphone. Then he ran over, opened the door of the isolation room mid scream and totally startled me. It ended sounding like some ghost moan on the recording, and the experience felt very organic and spontaneous. Ariel's smart like that.
What was the tour like with Ariel and Haunted Graffiti? Note worthy stories?
During the short tour I traveled in another vehicle with my boyfriend at the time. I'm pretty sure the tour bus had more humans than it did bunks. Everybody was making crazy salads, falling in love, and some people punched mirrors.
Future Ariel Pink and/or Haunted Graffiti collaborations planned or in motion?
Ariel and I have never made plans. Recording together and singing in their band was all a spur of the moment thing. We're buddies and we have lots of ideas but generally operate on the level of fate and chance, whenever we see each other next.
What are you and the band listening to right now?
Tonstartssbandht!
Weyes Blood's The Innocents will be available October 21 from Mexican Summer.
MAY MCDONOUGH & COMPANY
May McDonough & Company's video for "Wrap Around Porch" is here with a colorful display of psyched out projected images. Before you can repeat the first verse, May & Co. bring back Warhol's 'Exploding Plastic Inevitable' as if it ever really left our peel-slowly-and-see hearts"
I bet Hell has a beautiful wrap around porch
At least, that's what I think of when you carry that torch.
'Cause after what you did to me, I gotta think eternity
will drop me off in the country, where I'll sip on sweet tea.
The LA group released this song on their recent album, Bullyboywithaglasseye that brings back some of that old world weirdness that walks the tightropes between an endless paradise and eternal downward slopes of perdition. The result as heard on "Wrap Around Porch", "Plump Little Fleshies", "Little Hemingways", and more is the result of analog Americana, with a switched-on indie pop perspective and take on the trails of yesterday. We got some exclusive words from May about the making of their arty new video, along with some thoughts about their new album:
We use a projection show in our live shows. So it was only natural to use the medium for our first bullyboywithaglasseye video. Rusty, our bassist, is an incredible artist. But, the video definitely has that 'Exploding Plastic Inevitable Show' vibe going. Channeling Warhol was deliberate. No one parodied Americana better than Warhol. And our song, "Wrap Around Porch" is satirical — all about toying with this idea that Hell is just a little piece of Americana. Hell is a fictional place, but equally so is this antiquated idea of America… at least that America — the apple pie, sweat tea, white picket fence America. That is definitely a fictional place.

Psychedelia and garage are usually pretty socially conscious in nature. So throughout Bullyboywithaglasseye we have a running theme of hollow symbolism. I mean, on the surface some of the songs appear to be about personal issues, and they are, but…they're definitely laced with a thread of iconic political and religious figures and instrumentation. I think we just wanted to say that we as people tend to give these concepts a great deal of power, whether religious or political, and maybe sometimes they can become too powerful. Maybe we all need to take a step back from them and ask ourselves, are we governing our infrastructures or are they beginning to govern us? Are we taking them too seriously? But don't expect a militant album, heh. We're subtle about it.
SOUNDS OF SPUTNIK
Off their album New Born available August 25 from Ear to Ear Records, check out the multi-country collaboration from Moscow's Sounds of Sputnik teaming up with Canada by Ukraine's Ummagma. On this video for the title track, the collaboration brings their droning-dream machines into the swiftly spiraling city scene environments that bring Russia, Ukraine, and Canada all a little closer together in a way that feels melancholic, encouraging a conversation of peace and respecting the autonomous integrity of neighboring countries that have become lost to the governing despots and lame-ducks who run the world. But taking you behind and beyond the headlines and divisive hype propagated everywhere, Sounds of Sputnik wrote us the following piece that transcends physical and political boundaries to make sonic nu-dreamscapes by working through cross-sections of collaborations across continents, and countries.
Sounds of Sputnik and Ummagma didn't start working together overnight. This was about growing sound together through a long-term friendship – first in Moscow when we were all living there, and then a whole decade later after mutual friends finally put us band in touch after moving back and forth between Ukraine and Canada. This is fortune in itself, as there are no phone books or directories in Moscow, so much of what happens is through personal relations, luck and happenstance. We were immediately abuzz with ideas, which we exchanged through Skype and email, sending messages and sound files back and forth and adding layers and changing things as we went. At first it was work and money that limited us from surmounting geography by personally visiting each other.

Then it was the massive upheaval happening in Ukraine and now the war with Russian forces. Things are super tense between these two countries right now — really ugly, explosive and violent actually — but we were determined to plug on with this project anyways. This sonic collaboration essentially began through transcending physical boundaries and has simply stood its ground to withstand the political and psychological boundaries that are now driving a wedge between these countries. Making light-filled driven dreamscapes, loaded with this amount of love and inspiration, and now sharing this with the world literally flies in the face of those who would otherwise wish to limit and control us. We invite everyone to help us grow this amazing sonic seed.
Dark Entries is bringing back the impLOG & Kirlian Camera re-pressings of both the Holland Tunnel Dive and Uno 12″ releases September 17. We got sample listens to both "Holland Tunnel Dive" and "On B'Way" to speed you through electro storm darkly. Not to be missed.
While Lowell prepares their album, We Loved Her Dearly, for release September 16 from Arts & Crafts, peep the Norman Wong video for "The Bells".
Off his upcoming Bass Rock Babies album available August 19, cop a listen to Oakland's Beeda Weeda dropping something for folks to shake a tookas or two to with, "Strip Club (Bedroom)," featuring some East Bay VIPS such as Too $hort and 1.O.A.K. Note the slapping production from Beeda himself, and Rob-E.
Peep the Joshua Lipworth video for Daniel Avery's electro ballad of recognized existence and being, "Knowing We'll Be Here". Found off his album Drone Logic from Phantasy Sound, the subterranean dance grooves are submerged even further in underwater dance moves. Look for Daniel hitting up Chicago's Smart Bar on August 22, Seattle's Re Bar August 23, and LA's always awesome FYF Festival August 24.
Populous shares new song "Vu" (feat. Clap! Clap!), off the upcoming album, Night Safari, available September 29 from Bad Panda Records / Folk Wisdom. Real name Andrea Mangia, the globally conscious artist follows up Drawn In Basic (from some six years back), where new tracks like "Vu" bring into view all four corners of the world, as one nation under a deep sub-bass line rumbles deep from the basement beneath the earth. Bad Panda is also an imprint to forever keep a close watch on, as their body of sound rocks the world.
Ruane Maurice recently co-curated one of our Week in Pop features, and dropped the beat bouncing track, "Farne", ahead of their upcoming September 9 slated self-titled for Stars & Letters. The terrain of musique concrète is turned over for fun production, and raspy, recited deliveries.
Choir Vandals rip out some monstrous sounds on, "Monsters", from their upcoming At Night EP available October 28 from 6131 Records. Austin McCutchen spins the garage rocking merry-go-round, around and around, spinning together as a fun, scuzzy, and tight number.
As Adult Swim Singles keep on dropping this summer, check out all the fun from our friends Diarrhea Planet on the the cut, "Spooners". As you would expect, Nashville's wild ones continue storming out a parade of sounds and all the sweet styles you would hope to hear from these Southern sons.
Madrid's The Parrots dropped the lo-fi and high tide times of their b-side, "I am a Man" off the Loving You Is Hard 7″ available from Bachelor Records. The Spanish garage rockers have been kicking out jams from appearances at SXSW 2014, Converse Rubber Tracks sessions, London cameos, and more, making them an artist to keep a keen ear on.
LA's Jafar Jahanshahi, aka Shines, released his self-titled this week on Color Station, with a harp-tripping listen to the sweet and serene air floating ambience of, "Hushed", featuring the vocal talents of K. Raydio.
It's time for some fancy, dance-y noir NYC pop beat-buzz on the Justin & Dead Red Eyes video for "Bullet Time", from Stereo Off's EP5. It's an amalgam of everything pertaining to 'what New York used to be' but with a DFA soul that sympathizes with the indie dance revolutions of the oughts—perhaps in a similar fashion to the way James "I'm Losing My Edge" Murphy romanticizes the No New York era's 'it crowd.' Whatever it is you make of it, enjoy yourself, and dance, dance, to the underground.
Our buddies Brown Shoe are readying to release their second EP installment with Lonely Beast Part II dropping August 19, with the West Coast canyon hymnal howl of, "Reservations". Aaron, Ryan, Bryson, and Landon Baggaley forever move their might into an increasingly righteous places, in an attitude and manner of brotherly perseverance; solidarity that makes no reservations.
Speaking of Noumenal Loom releases, Seth Graham's Goop has been circulating around the indie channels and we have been caught in the psych-speeded super-interstate trip from the visualized version of, "When I Was Sick". The chopped and spun church choir vocals are put to an idiosyncratic wavelength where the equilibrium break-neck shifts of audio-bursts melt away to let a haunting choral row of voices. Based out of Dayton, Ohio, Seth continues to challenge our own understanding of what music can be.
Peep Castanets' Sam Hamilton directed video for the song, "Tell Them Memphis", taken from the forthcoming album, Decimation Blues available August 19 from Asthmatic Kitty Records. Recalling the aforementioned discussion of auto-tune used for artful purposes, Castanets embody that very affectation and essence. Watch as the enrapturing purple tree-leaf glow draws you into a narrative of skater dudes just trying to have fun, and bust some boards.
Peep the title video featuring These from Tre Mission's Stigmata from Big Dada, where Andy Hines takes things out to the rural territories to spill stories of ancient vexes and more.
Montréal's mistress of the oceanic waves of rollings sounds, hear Sea Oleena new single, "If I'm", off her new album, Shallow, available September 30 from Lefse Records.
HEIDEMANN's Orphan EP will be available September 2, and we got the swashbuckling dual of, "Swords". The electric avenues of the modern day become medieval fields primed for facing off with formidable opponents.
Menace & Lord, aka Kris Menace (notable DJ) and Simon Lord (see Simian Mobile Disco) dropped the title cut off their debut album, Sun Moon & Stars, available September 15. Everything orbits around the lyrics in a big poppy-haze of the stuff that we once called post-house, now edified and entangled under the EDM banner.
Welcome back Bass Drum of Death, who give us one of our first rips off their upcoming new album, Rip This, from Innovative Leisure available October 7, and we got the hell-raising dead-raiser, "Left For Dead". It's like a zombie dive bar showdown, kind of, not really, but it's rad.
Our friends Future Twin will be premiering their brand new music video, "We're Here" at a release party happening in SF at The Roxie Theater on August 13, at 9:30pm. Lead by the true appointed daughter of the working band revolution, Jean Janie, the SF band has employed the same technology behind that recent Bob Dylan "Like a Rolling Stone" interactive video to create excitement and adventure of your own choosing. In case you missed it, get a listen to Future Twin's Chillality EP to cool down this humid Bay Area summer.
AAN'S WEEK IN POP
From their Party Damage released album, Amor Ad Nauseum, Portland indie idols Aan dropped the Rodrigo Melgarejo video for, "Wet & Dripping". The PDX game kicks it at home, with surrealistic regalia, reel-to-reel interludes interpreted literally, bottoming out in the bathtub, reaching the Nevermind deep blue chlorinated end of the swimming pool.
Also co-curating our Week in Pop this week, Aan sent us the following mix of their current selection of favorites:
Protomartyr, "Violent"
Vietcong, "Unconscious Melody"
Mac DeMarco, "Brother"
This is a true Mac DeMarco song. Some of the other songs may have escaped him, but this is his signature sound. It makes me want to wake up on a Sunday morning, smoke out of a bong, look across Portland and chill on my couch.
Bear In Heaven, "Time Between"
Bear In Heaven — this is what I think about when I hear the word Brooklyn. It also reminds me of Spike Lee's work and he's one of my favorite directors.
Chad VanGaalen, "Where Are You"
A tooth is getting off on a toothbrush. Do I need to say anything else?
Follow Aan via Twitter.