In our continuing efforts to provide entertainment, cheer, and inspiration for our chaotic times; Impose's Week in Pop celebrates tomorrow today while keeping you informed with a helping of some of the week's biggest headlines in popular culture. First, Future Islands dropped "A Song for Our Grandfathers" in time for father's day; Darlene to release new album Introducing Darlene Love later in the fall; Nas joined Run The Jewels in a performance at Brooklyn's Northside Festival at 50 Kent; While Killer Mike will not be running for a Georgia state representation seat, he did appear on "The Nightly Show"; Lil B discussed NBA curses & more on ESPN's "SportsNation"; Neil Young is not pleased about Donald Trump using his classic "Rockin' in the Free World" for his own nebulous political gain; Tyler, the Creator & Vince Staples's Hot 97 freestyle, while Tyler responded to a Reddit user who criticized his recent music; Waxahatchee world tour ahead; Janet Jackson announced a new tour, new music, & a new movement; Pavement rarities compilation series release cycle begins August 11; D'Angelo revealed that an accompanying "companion piece" to Black Messiah is in the works; Dan Deacon's "Meme Generator" video game; Thundercat announced the new mini-album, The Beyond / Where the Giants Roam; James Murphy's Heineken sponsored Subway Symphony rejected by MTA; Geto Boys have a Kickstarter going for upcoming album Habeas Corpus and are even offering up their own themed casket; Mercury Rev to release first album since 2008 with The Light In You available September 18; Smash Mouth's Steve Harwell's meltdown in Colorado at the Taste of Fort Collins festival; Foo Fighters canceled their remaining European gigs after Dave Grohl fell off a stage and hurt his leg in Gothenburg, Sweden; another Beatles stage musical is in the making; Courtney Love's lawyers are issuing cease-and-desist orders to theaters showing the conspiratorial documentary drama Soaked in Bleach; Billy Corgan performs all songs from Gishin record live; and we continue to support Mykki Blanco's bravery and courage.
Turning attention forward, this week we bring you exclusives, interviews, insights and more from bAd bAd, The Hussy, LACES, Máscaras, +Aziz, D. Wing, Main Attrakionz, Michael Stasis, Spirit Level, Totoake, guest selections by Yours Are The Only Ears, and more — in no particular order.
LACES
On recommendation from Shamir Bailey in his recent guest curation feature, we became enamored by the voice of Jessie Poland and her new project, LACES. The artist formerly known as Charlotte Sometimes, and who turned heads (and um, chairs) on "The Voice" reinvents herself in an evolution that finds Jessie looking toward her own inner muse of songwriting reinvention. Jessie's pop savvy portfolio in her latest stage finds her drafting narratives that combines the histories of passions, media pageantry, and everything that makes up her new stage expressed on her LACES self-titled EP. Applying her voice forward into the electronic pyramids and digitally designed production temples, tales of torrential affairs, lusty rendezvous, and mysterious adversarial suitors spring to life.
Presenting the world premiere of LACES music video for "Enemy", Jessie Poland produces, directs and edits with Jeff Bates to convey protagonists versus antagonists pop art using a solitary space and swift lighting effects. Rocking her own self-fashioned styles before an assemblage of projections that alter the environments that move from highlighting the aches and angst of the interior with flashing colors inspired by endless nights to the exterior expanses of gorgeous skies. The video for "Enemy" features Jessie stepping into the blue edged spotlight to the subtle breathing synth keys that build the rising timbre of the drama. LACES outlines out the perpendicular patterns of lattice like inextricable bonds, confiding openly in the things that keep people together, and the gradual anger, mutual displeasure, and dependencies that sometimes push couples deeper into a fierce bond. LACES turns the heat up in the build up and release of the chorus where thunder and lightning analogies turn up the romantic stakes in bursts of color lights, and wild gesticulations. As the different illumination themes are displayed on and behind Jessie, the moments of pause and escape are the moments of respite from the jagged firing of audio and visual effects where the breakdown lull before the chorus sees Poland looking at a wall of rolling clouds as if to contemplate the merits of staying to fight — or leaving in a freedom flight. After the following debut of LACES' video for "Enemy", read our interview with Jessie Poland.
Tell us how the beginning of summer in LA has been treating you, and the collaborative Laces crew.
Summer has been good so far. Just was in Vegas for some private performances and enjoying the nice weather! Just saw some of my favorite people, so I'm feeling inspired and energetic.
How does if feel to finally have the debut LACES EP out in the world?
It feels great and nerve-wracking! Now what? Right? Ha, ha.
Thoughts on how the collaborative creative process was different from previous projects, how it guided the path of the EP, and what sort of pop dynamics did you discover along the way?
What is cool about this project is that I was re-discovering music again. I really let the journey dictate where it was going. I got to work with so many amazing producers and writers. All these talented people really were just as much a part of this as I was. I also got to discover so many different sounds, because I was open to hearing them.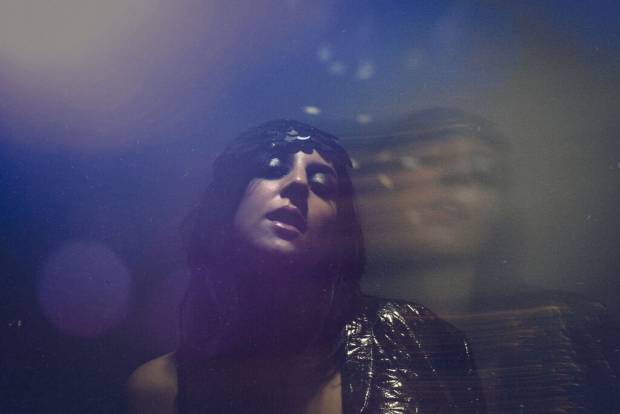 With Charlotte Sometimes as like your Sasha Fierce former alter ego, or Ziggy Stardust kinda persona-what ways do you find the ghost of work in the former impacting your current work in LACES?
I am not sure she has much of a say in the new work.
Tell us about what the making of the video for "Enemy" was like, working in conjunction with Jeff Bates to bring every aspect of your aesthetic vision to audio/visual life?
Working on the video was such a fun experiment. Jeff and I decided we were going to try to make something creative and spend as little money as possible. We used an iPhone, edited some stock footage, got a projector on eBay and shot it in my apartment. I couldn't believe it only cost us $150, and that was mostly the clothes I wore! I didn't know if it would turn out to be a disaster, but I am proud of what we did. What was cool about the video is that we shot it on the wall where my piano usually is and I wrote the song at that piano and that's where all the drama was. It felt like it was birthed there so it should have a full cycle of life there.
Any humorous anecdotes behind the scenes from your stint on The Voice?
I'll never tell…ha ha!
In what ways do you feel like talent shows are relevant in today's overly media obsessed climates?
I am not sure they matter as much these days. It feels more about the spectacle than the artist. I do believe it's just another platform to be seen and for that I am thankful. I really enjoyed my time on The Voice and love everyone I met.
How did that experience impact you, your own musical sensibilities, career, etc?
I met so many amazing musicians that I still hang out with and work with and that is invaluable.
What's next for LACES Any hints on upcoming collaborators in the works?
Stay tuned! I do have a show on June 24th at The Silverlake Lounge! Come on out!
The LACES self-titled EP is avaialble now via iTunes / Amazon.
bAd bAd
San Francisco's global vibing band bAd bAd released their album Waterboredom last May via Grabbing Clouds Records and Tapes, and we are thrilled to debut their entertaining stop-action video for "Dumps" made by the band's own guitarist Michael Zamora. Founded by Michael's brother Christian Zamora (of the band The Strange Land with whom bAd bAd shared a recent split 7″), with Eli Maness, Patrick Webb and Michael — the band's initial Turkish surf punk antics were met by a cease and desist order from Steven Tyler's daughter Chelsea Tyler of badbad in LA where the rights of autonomous intellectual property ultimately fell on the noted spaces between the 'bads' and the cryptic pyramid arched uppercase 'As.' A melting stew of west coast to eastern and middle east lands inform the sound of bAd bAd that harkens back to a simpler time like 2009 when it seemed like sweet scuzzy sounds were drifting out of every available garage in the Bay Area. The imagination and electricity emitted by bAd bAd's sounds are provided with a humorous visual episode of the delightfully absurd shot in the locales of Boston, and Cambridge, MA respectively.
bAd bAd takes the twang and reverberations found from the surf standard and isolates the chords to specifically timed sections set to their own unique rhythm patterns. And liking the timing schemes of the sound, those sparse sections are honored by the timing in Michael's video for "Dumps" where the actors, actresses and their follies are filmed like living clamation caricatures. The cartoon like expressions and action begin with blowing up balloons, hanging out on the porch, trashcan dwellers, colorful paper shredded puke, outfit switch-ups and more become part of the fun. A central sunglasses sporting long-hair slacker can be seen making his habitat on a wooden peer, later bombarded with balloon bearing friends whose movements and timing all are dependent on the regiments heard through the carefully timed measures from bAd bAd on "Dumps". Michael Zamora's video adaptation develops the motif of purging yourself from the weight of the world by not only daring to be different — but by rather daring to be weird and happy all the while. Following the video debut of "Dumps", read our chat with bAd bAd and The Strange Land's Christian Zamora.
First up, tell us about the current states of the indie scenes in the Bay Area, and SF from your perspectives?
Seems like all the garage-y post punk bands are getting noisier, experimental, and much more psychedelic. Dive bars and venues are closing left and right. Rent is at an all time high. Door prices are $12-$18 for your friend's band. DIY punk shows are hard to find, but there are some awesome people keeping it alive: Vacation (SF), Santo Studios (Oakland), Grassy Null (Oakland), Sutro Bath cave shows (SF) to name a few.
How did the process of making Waterboredom affect you all?
We were very adamant on making something which didn't need much post production. Less edits, more execution. This record is our transition from our once predictably worn surf esthetic to something much more stylized, open to improvisation, and increasingly non-linear, while still hopefully feeling cohesive. For example, Side B's over 11 minute track "E v e r y b o d y" was recorded in one take with Michael Taras and Jack Brown of The Strand Land, and Side A's "Untitled" was a song shotgunned off-the-cuff during the last day of recording sessions with Matt Riley of Grabbing Clouds. These newfound perspectives have helped us become more actualized as a band. Free to embrace the limitations of our individual budgets and time constraints, and confident to explore the uncertainties of improvisation.
What sort of ennui, and say water torture was involved, if any?
We became bored of our disillusioned garage-surf beginnings and wanted to expand our output and hopefully create a subtly meta, chronological documentation of our sonic growth. An unapologetically [sic] transparent juxtaposition of what we were and what we are becoming.
The video for "DUMPS" is so entertaining….describe shot for such the antics, mayhem, and fun in making this happen, and involving locals, friends, and so forth…
My brother Michael (who also plays lead guitar for bAd bAd) made this stop-motion music video for his 'intro film animation course' during his last semester at college. It's a lot like claymation, but with people! All shots were taken with borrowed gear in the Boston/Cambridge area and involved his friends and peers from school. Very no-budget.
The method of animation is called "pixilation" which uses live actors who make slight changes to their pose between each frame. Inspired by the pixilated films of his professor Paul Bush, as well as experimental filmmakers like Pascal Baes and Martin Arnold, Michael wanted to use stop motion to create surreal and surprise happenings only possible when working frame by frame. Very tedious, but very rewarding! Michael, the only member of the band that can be seen in the video since it was made on the east coast, makes an appearance as the moving trash can guy and vomiting cassette playing dude, ha ha. This is his first vid and likely the strange start to many more.
Other fun visuals in the works?
We shot another video a few months back and are still in the editing process. No budget means we are at the mercy of our film maker friends' busy schedules. Should have it finished by the end of this summer.
Other fave Bay Area bands, artists that you all adore?
SO many amazing Bay Area bands right now: Male Gaze, Scraper, Disappearing People, CCR Headcleaner, BAUS, Blood Sister, Violence Creeps, The Strange Land, BREAKARTS, Midnight Snaxxx, Emotional, Useless Eaters, too many to list…
What is everyone listening too right now?
Damaged Bug Cold Hot Plumbs, Male Gaze Gale Maze, Howard Nishioka Street Songs, Bruce Haack Electric Lucifer Book II, The Flying Lizards self-titled, and Raymond Scott's Soothing Sounds for Baby: Vol. 3.
Summer and fall plans for bAd bAd?
We just released a split 7″ with The Strange Land, out now on Grabbing Clouds Records and Tapes, that we're wAy stoked on. Also aiming to do a mini SoCal tour in September, day-jobs permitting, followed by recording a full length LP of all new material. We also have a lil EP we recorded last summer that we'll be releasing digitally in the next few weeks. Playing shows locally as often as we can.
Thoughts on the moniker uppercase/lowercase revolution?
Honestly, it's mostly for aesthetic, ha ha. I have a fascination with volcanoes, triangles and palindromes, and the the upper case A's looked reminiscent of mountains and pyramids amidst the lower case b's and d's. Bad Bad vs bAd bAd to me, give off two very different vibes. Globally, I think artists are always seeking new ways to separate themselves and create unique experiences. The "upper/lowercase revolution" is just another way to keep people on their toes. And frustrate writers!
bAd bAd's split with The Strange Lands, and their album Waterboredom are all available now from Grabbing Clouds.
Catch bAd bAd playing July 1 in San Francisco at Hemlock Tavern with Ubu Roi and CCR Headcleaner.
The Hussy
Following up with Bobby and Heather Hussy, aka The Hussy we bring you an advanced debut listen to their anticipated new album Galore ahead of it's June 30 release date from Southpaw Records. With recent releases for Volar Records, FDH Records, with recent Nobunny and The Faint tours, Bobby and Heather's latest offering finds them remaining true to their DIY guns of self-recording with an expanded addition of added instruments. The effect is a wider range of sound that finds The Hussy strutting their latest chops with volume and and attitude that is larger and louder than ever.
The expanded instrumental detail is heard on "Asking For Too Much" where a fuller percussion component can be heard along with the galloping thunder of guitars, reined in by Bobby and Heather's vocals. The Hussy keep the styles shifting on "Take You Up" that rattles the vintage art school pop canons for a titular chorus that will inspire you to shake a fist and/or tambourine and sing along with eyes closed or transfixed. Heather takes over on "What I Want" in a declarative statement of desire made like one of the candy-ist pop punk songs ever, while "EZ-PZ" questions whether easy street is all it's cracked up to be. The summer feeling of utter abandon rages onward "Made In The Shade", as "Channeling Sprial Stairs" surprises with violins adds to Heather's "who will you see, who will you be" mix. "Darkness" slows down The Hussy train to provide a somber reflective moment that mixes heavy guitars with traditional lamentation balladry.
Picking up where they left off, "Turning On You" doesn't just turn you but pulls the carpet out from underneath the listener in a preemptive attack—right before they hit you with the near garage pop perfection on "Keep My Heart". The Hussy takes a break from their quick tempo and blaze of fury with "Not The Weed" before Heather kicks along with a western boot, scoot, and deep-brain-fried electric boogie that takes over on "Luke". Bobby and Heather chant the refrain "just go" over and over on the hit-the-highway hint of "Down That Road", with the 'wink-wink' knowledge of understood and largely unspoken needs on "You Know" that ends with the turntable engine kill switch engaged. Heather then closes out the Galore show where her and Bobby bust out all their distorted noise makers to deliver a set of audio fireworks right before the Fourth of July. Right after the following premiere listen to The Hussy's Galore, cheek out our interview with Bobby Hussy.
You've been pretty busy as of recent with that Shawn/Digital Leather TIT 12″ co-op release for FDH / Volar Records, that Strange Mutations release for Volar, your electronic side-project Cave Curse, and then writing and recording Galore, and now with a big tour in swing. How do you manage to make all these things happen?
I'm a highly motivated dude so I try to make what I can make happen actually happen. Ha ha! I also booked and toured with Fire Retarded earlier this year in between all of that! The TIT stuff is pretty low key because it only happens when Shawn and I are in the same space, which is more often than you'd think living about eight hours away. He's down in my second home Omaha which forces us to collaborate quickly and efficiently when we are together. We both have strong ideas and work well under pressure I think so we make it work! Shawn is hyper talented!
Galore was really seamless to make. Heather and I work so well together and can bring ideas to life instantly. We've been in bands together a decade now and we've always had a great friendship and working relationship. Heather knocked out all the drum tracks 19 or 20 songs for galore in one day at my studio space. I overdubbed the guitar, bass and vocals later in various spaces we have around Madison (a lot of my amps are spread out at various places). Many of the songs we record and finish will never even be played again because we write so many songs some just have to be used for recording and some also don't sound quite right live when we play as a two piece. Recently we started playing with some other people and did a big show in Madison as a six piece. For tour currently we are playing as the classic duo we are known for.
Give us some stories and what sort of glorious things inspired your biggest work yet with Galore. What was it like using such an eclectic array of instruments, and arrangements, and that sort?
We really wanted to make something that lived up to just being a solid rock n roll record that hinges on pop tendencies. It's our most elaborate but cohesive record to date I believe. We pulled out almost all the keyboards since we just made that ultra heavy synth based Split LP with Digital Leather. We played a couple shows with synth players which was fun but the spirit of this band has always been guitar based songs.
"Take You Up" is the jam, those guitars and just glistening, gorgeous, and the vocals, lyrics, total fit like a DIY take on Scottish indie power-pop nuggets from the 80s. Can you tell us about what sort of undertaking were taking up during the making of this song?
That's probably my favorite song on the record! I'm really happy with how it came out. A couple years back I lived out in the South Bay of California and I wrote what would become the Outtro/Chorus of the song and I sat on it for like three years. I picked it back up and came up with the guitar hook and then the verse melody was just me playing around with my voice. Heather liked how it was sounding in my demos and so we tried it out and it came out really great. Big shoutout to Madison legend Jeff Jagielo (Squarewave, The Ivory Library) for playing the lap steel on the song and bringing it into new sonic territories!
Then switching gears to your Cave Curse side, what is about the minimalist electro side that appeals to you?
It's so different for me to do this sorta thing. Shawn Foree from Digital Leather and Todd Fink from the Faint really inspired me to make keyboard based music. I always loved gnarly stuff like the Lost Sounds but I never felt like that type of songwriting was my forte. With the Hussy everything is written on a guitar and that's always been my main instrument. At this point we've recorded and released over 100 songs that heather and I wrote on guitars, it's nice to try to do something different and experiment with audio textures. A good keyboard is so fascinating to me, they can do the impossible sometimes. I'm really partial to my Moog Sub Phatty and my Nord Lead 3. Between those two keyboards nearly any synth tone is possible and it's fun learning the ins and outs of complicated synthesis. And the project really started out because I was living in this basement apartment we called The Cave on a futon in a hallway and had pretty much no guitar amps to record loud stuff with. I lived there with two dudes from Fire Retarded and one guy that's in The Gonzo Rongs and now Heather Hussy, Claire, and Tyler from FRs new band Proud Parents. So I bought a nicer keyboard (Novation bass station II and then ultimately the Moog) and started working on some sorta dark wave minimal songs. Almost as an experiment. I was living in this horrible apartment and having a rough year and everything bad that happened to the roommates we'd call Cave Curse. So the project just came out of that. My roommates at the time hated hearing the single that's ultimately coming out on Volar because I would work on it constantly. That single is probably the most work I've ever put into two songs in my life. It was me figuring it all out, creating a new sound in my life.
More Cave Curse news the world needs to be aware of?
Not really. I'll just be working on the stuff in my free time. It's not my main thing by any means. The Hussy will always be that. We are leaving for Europe to tour on the new record after this American tour. After that I'll probably hole up for a while and write more hussy and cave curse songs. Fire Retarded is in the middle of writing and recording our second LP. We should be recording it in fall!
How have you found Cave Curse influencing the Hussy, or the Hussy informing Cave Curse?
Both are sorta just extensions of my songwriting. When I hear a cave curse song I know it would translate as a hussy song in many ways but at the same time it's structurally sorta the same ideal and concept. Just drastically different sonically and rhythmically since its with a drum machine and not a real person dynamically approaching the song.
Give us the top five tour jams that are being bumped in the tour van on this trip.
Five is an unlucky number. I'll give Ya six six six….
The Cummies, "Bullets and Aspirin" – favorite Madison band of all time
Pavement – anything and everything
Jon Wayne – the whole Texas Funeral record
Digital Leather – Anything on Infinite Sun and all the whacked out synth jams from Blow Machine.
The Minotaurs – demo recordings from this Madison upstart.
Lost Sounds – cover of Digital Leather's "Black Flowers" from the Future Touch EP.
Exciting tour moments so far?
The show in Richmond was great! We played with Institute, Nervous Ticks and Lost Trive. I threw up like five times driving into NYC, doesn't get more gritty than that. G. Gordon Gritty and the Nice Guys killed it in Boston! Saw my first Game Of Thrones episode in Buffalo with a new friend Jon, that was wild. Indianapolis was really fun because we played with Digital Leatger and We Are Hex, two of our favorite current bands.
Give us the latest snapshot of what the scenes are like currently in Madison, WI.
It's really great right now! Super wild shows, really good group of kids starting tons of new bands. There's heavy bands in the scene like Coordinated Suicides, there's new pop bands Proud Parents and Automatically Yours, and there's fuzz grunge bands like Dumb Vision and The Minotaurs floating around! All excellent bands doing new things. Kids really support shows nowadays too. It's pretty awesome!
And lastly, you are always up to something cool and creative; what new things do you have up your sleeve that we should keep an ear and eye out for?
I've got some tricks coming for sure. New TIT that has a different sound with live drums is definitely just around the bend from being recorded. Fire Retarded's LP number two is gonna be more blunt and traumatizing than the previous affair. Cave Curse might morph into a live thing but probably not. Never say never though. Maybe a collaboration with a friend or two making cool shit. Lots of friends to live and work with.
And obviously constant recording and evolution of The Hussy. Maybe a live tape of the Hussy when we played as a six piece and i multitracked it. Thanks for your time and keep an eye out for the tricks. TRIX GOT TRICKED. Dig!
The Hussy's Galore will be available June 30 from Southpaw Records.
Máscaras
Portland based trio Máscaras are readying their new LP Máscara vs Máscara for June 23 from Party Damage Records and Resurrection Records, and we present you with an advance album stream premiere. Known for their work in the bands (that we could think of), Orquestra Pacifico Tropical, Ghost Ramps, Deer Or The Doe, Sun Angle, Paper/Upper/Cuts, Hats Off!, Glass Knees, Minden, GALLONS, O Bruxo!, and more — Papi Fimbres (known as Papi), Carlos Segovia (aka DC), and Theo Craig (or T-KRAY) create an instrumental storm that exists well beyond the adjective vessels of their self-described 'maximalist indigenous psych' tags. The collision, cooperation, collaboration and overall appreciation the band shares for one another enables Máscaras to mix a series of paints with tones unbeknownst to international tongues, and can only be seen with the ears.
Máscaras' Máscara vs. Máscara brings an arsenal of amplified and effect-connected strings to bust up any square northwest beach party. "Burgers & Balrog" arrives on the coastal scene like a trio of luchadores who could turn a volley ball set-up into a main event. The narrative continues onward to cinematic proportions on the nomadic traveling "Desert Masks" that gives a provides a sense of adventure for traveling through dehydrated lands of sand. Things get more psyched and groovy where "City in Ruin" turns wavy like watching a metropolitan environment become reduced to the tourist attraction of abandoned temples and towers. Papi, DC, and T-KRAY can be heard building on one another's contributions until a jame becomes a full zoo of regal sound on "Animal Prince", right before fusing rhythm and note progressions that blends a sound of the Americas together on "NewYorican". Máscaras almost take it wasy on "Tortoise" that moves with MPH of a content turtle slowly making his way back to a bed of sand in the warm sun. This particular side of the band is continued on "Crimson and Chrome" that features the three balancing their quixotic instrumental blend of chord shredding while keeping a feel of serenity flowing through nearly every note. As a ballad for returning back to one's place of accustomed dwelling, "Going Home" provides the closing credits call where the three heroes slowly walk, or ride away into the bright orange horizon to seek a familiar face for sore eyes. Following the debut stream of Máscara vs. Máscara, don't miss our roundtable inteview with Papi, Carlos, and Theo.
Before we dive into Máscaras, I'm interested in hearing about where the intersections of your sounds come from, with everyone playing in numerous bands, projects, etc. Theo Craig, you are also known for your work in Smoke Signals, XRAY, etc…Carlos Segovia of Orquestra Pacifico Tropical, Ghost Ramps, Deer Or The Doe, etc….Papi Fimbres with Sun Angle, Paper/Upper/Cuts, Hats Off!, Glass Knees, Minden, GALLONS, O Bruxo!, and then we stop counting. Tell us a bit about this particular creative mutual appreciation that serves as the undercurrent, solidifying code of Máscars vs Máscara.
Theo: We honestly don't make much time for Máscaras, but that might be why it works. This project started as a jam and it was rewarding in and of itself. As we've become a more active performing and writing collective we haven't made much time to rehearse. We know we can rely on each other to come through and we put a lot of faith in one another. That said we're always listening when we play and adapting to the songs and other performers in the moment.
While we have some shared influences, we do come from very different geographic, cultural and musical backgrounds. There's some dirty, heavy stuff meeting up with prog and Latin ideas. As a musician, it has been an education to say the least.
Papi is such gregarious and loving person, he kind of invited us into his space and was open to our ideas from the get go. He really established a ZONE of mutual respect. Carlos is one of the kindest and most caring people I've ever met. I walked me and my partner most of the home one snowy night in Portland after a HATS OFF show. I feel like he's always looking out for us. I feel lucky to be able to perform with two of my favorite musicians and hold those hombres in such high regard.
Papi: The intersections from our sound come straight from just opening our hearts to each other when we're in the rehearsal space, honestly. We all come from very different backgrounds, musically speaking, but in a way they all coalesce in a raucous, harmonious way. I feel the music we play is unrelenting because we didn't necessarily write for any one person in particular. We just played what we wanted to play at the very beginning of our musical endeavor & have stuck with that element. It just so happens that it all holds solid & makes the homies go cray!
Carlos: I think we each bring a bit of a left-field musical vision to Máscaras, we didn't form this band and think "We'd like to add an instrumental noisy psych ensemble to Portland" It was 100% natural and unaffected, we did this out of the pure joy of playing music in each other's presence and seeing how creative and how far we can push ourselves musically in this ensemble and this is the voice that came out the clearest out of our first rehearsals" I'm a fan of bands that can ebb and flow live and roll with the punches and I feel that's why I love playing in Máscaras. We have arrangements for all the songs, but we have no hesitation extending parts out or improvising parts on the fly to suit our vibe that show. I tell people that playing with Papi and Theo is like getting on a rollercoaster and my job is to hang on and bring it. The album is truly a reflection of our live show, we set up and tracked and it's a moment in time from those days captured on tape.
What is the key to trying to make succinct, instrumental jams that rarely step past the three minute mark, but are total rippers that we all know could go on for like, what…20 minutes? 40 plus minutes maybe? What is the editorial secret on distilling the volatile fusions of these instrumental fuse to these kinds of neat economies?
Theo: Papi is a no bullshit musician. I think being in so many bands makes you economical with your time for a number of reasons, but you'd probably have to ask Papi about that. Like I said before, we haven't had much time as a group to rehearse, so we've had to make quick decisions about the songs in those rare moments that we're in the practice space. Carlos & Papi have kind of a shorthand for composition and they're really good at hacking out arrangements succinctly.
Papi: It seems to me that there has been a resurgence in the long, drawn out jams of psyche/stoner/metal schemes as of late & although I do appreciate that aspect, I get a little bored after the 10 minute mark. So, why not make songs that instantly put you right in space where you see Sun Ra & Miles Davis high-fiving each other?
Carlos: We've all been watching and playing music for so long that we all know we didn't want to be the band that bores their audience after 20 minutes of a guitar solo or drum solo. We don't ever want to be the band that bores an audience into apathy. Attention spans are notoriously difficult to maintain live with instrumental music so we made sure that they have melodies and interesting (to us at least) parts and changes. I think the freedom to improvise and the often unpredictable nature of the live shows brings a vibe that is different than any other band I've played in. And all that is present in our writing process and making sure that the songs that write and perform would be songs that we'd be stoked about if we were in the audience.
I understand Papi is headed toward Germany, and was wondering what creative-collaborative adjustments will be made, and how will you all be keeping this whole international, indigenous, maximalist psych going, and getting it out to the world?
Theo: We're planning on touring Germany and perhaps more of Europe while Papi's out there. Back home, Carlos and I plan to get together on the regular to jam and write songs. We'll send the 'good ideas' to Papi for inspiration and see what comes of it. I think we'll come out of it with even stronger material.
Papi: My wife and I are headed to Germany to continue our musical studies under the guise DRECKIG. I wanna really trip the fuck out over there and join weird jazz bands and kraut noise dudes. I already have a few bands waiting for me in Leipzig, so that's awesome. Eventually, Máscaras will join me in Germany and we'll tour all around Northern Europe & other places that want us to play (this is where if you're reading this in Germany or anywhere in Europe & want us to play your bar mitzvah, just holler!).
Carlos: Theo and I are planning on new material and sending them via internet to Papi and that way we can keep the creative ideas going back and forth. We do plan on bringing Máscaras to Europe next year and expanding our reach as much as possible. I wouldn't rule out a few new songs written or finished over there if we can find a rehearsal spot while Theo and I are there.
Other groups that you all don't play in (but maybe would like to?), but are really into right now?
Theo: La Luz, Unknown Mortal Orchestra, Summer Cannibals, Bitchin', Ty Segall….
Carlos: In Portland I'm always into Sun Angle (hint hint), my friends in Months have a killer new record coming out soon and I can't wait to hear what magic Boone Howard will conjure in the studio.
Summer and Fall plans for Máscaras?
Theo: We're touring the west coast and parts of Canada. This will be our first time touring together as Máscaras and I'm really looking forward to playing for some new audiences & with some of our favorite bands!
Papi: I'm throwing a one day, free, all ages fest on a 30 acre farm just outside of Portland called Homie Fest. A ton of rad bands that we all love including, Bitch'n, Talkative, And And And, Minden, Aan, Yeah Great Fine & The Ghost Ease, whom I FUCKING LOVE! Look them up. But a ton of other all rad homie bands…
Carlos: Summer will bring two tours and Homie Fest, Fall will bring a little travel and working on other projects.
Máscaras's album Máscara vs Máscara will be available June 23 from Party Damage Records and Resurrection Records.
Catch the band on the following dates:
June
21 Seattle @ Lo-Fi w/ Dreamhouse (ex-Rose Windows)
22 Seattle @ Sunset Tavern w/ The Ghost Ease
23 Vancouver, BC @ Rainbow Connection w/ Sprïng, Dead Soft, SP Davis
24 – 26 Calgary, AB @ Sled Island Music Fest
27 Missoula @ TBA
28 Boise @ Neurolux w/ Chastity Belt
July
03 Portland @ Dig A Pony w/ Thanks
+Aziz
Kuwait by New Orleans artist +Aziz presents the Ramadan gift of his song and video premiere of "RMDN" from SoHo Spirit that provides some comforts for all who might be celebrating with or without loved ones during any celebrated occasion. The balance of the spiritual with the self's thoughts on feeling connected to themselves, others, and more like the warm voice at the other end of a message from a missed call, the undiscovered text, the unread post, or forgotten letter. Meditations abound, with focuses on traditional means moving attention momentarily away from the Twitter followers and Facebook friends that provide various degrees of comfort and ego boosts during a rough day.
The Elizabeth Woller and Allison Andreano b/w video captures +Aziz, supporting vocalist Matthew Halley, and friends at the Hotel Particulier in SoHo, NYC celebrating the 10 night holy holiday with "RMDN". +Aziz along with a show of hands from surrounding friends sway their arms in waves clutching phones and other devices to "keep in touch". The promises of mornings found in the night, summers discovered in winter, along with exchanges that are missed lends a song that resonates with anyone who has experienced important dates away from loved ones. +Aziz describes the span of distance between people as something remedied through modern mobile platforms and conveniences while at the same time relishing in a deep solace of meditation that exists outside the social grids and network. Catch our interview with +Aziz following the video:
Describe for us the spiritual journey for yourself, your family, and friends from moving between Kuwait and the States, and how it was informed your music?
While many Arabs relocate due to unfortunate circumstances (e.g. socio-political turmoil, sexual prejudice) my relocations, especially to New York and then New Orleans, were intended to get some good music out of me and (perhaps more importantly) to get the whole 'Khaleeji rock' thing right. Toggling between different cultural operating systems just made me adaptive, so much so that I don't experience jet lag (I'm only half-joking). I grew up in Kuwait, but my musical ethos is fully invested in alternative rock, with bands like The Smashing Pumpkins, Deftones, The Mars Volta, Sigur Ros and Gorillaz being the most influential in my life. I love David Greenwald's recent tweet where he said "I guess it's 'better that all guitar rock now sounds like the '90s instead of the 2000s but it's still super weird!'
My commitment to working with New Orleanian and Khaleeji musical heritages stems from conversations I've had with music-obsessed friends such as Bahraini sound artist Hasan Hujairi and Kuwaiti composer Mishari Hamad, who continue to help me navigate the landscape of Khaleeji rhythm (e.g., samri, bahri, dazza, basta…etc.). I was interested in moving to Austin or Nashville but then New Orleans emerged as the turnkey solution for me. Having said that, the parallels between Louisiana and Arabian Peninsula countries are profound. The reliance on oil and hot weather being the most obvious. But there's something much more metaphoric in that both cultures exist in relation to the water, as import/export hot zones that are thus informed by a mosaic of cultures. Much like many of the musical traditions of New Orleans, Khaleeji music evolved out of exchanges with foreign cultures (and there is also a subtext of slavery and immigration that can really get heady).
In terms of ambitions, my music is informed by the interesting fact that contemporary Khaleeji musicians have yet to find their footing (with the notable exception of Fatima Al-Qadiri, who's currently kicking ass via Future Brown). But you know, even within the 'world music' genre, the most prominent musical heritages hail from North Africa, the Levant, Turkey, Iran, and India. Basically everywhere in the Middle East minus the Arabian Peninsula.
Beyond this, I see my music is an expression of not only Khaleeji culture but also Arab-American culture. Although I truly am not representative of either community by any means, I relate to, oscillate between and exist within those two identities. I suppose that's the most significant end-result of moving between Kuwait and the States.
What do the 10 nights of Ramadan mean to you, and what types of enlightenment have you gleamed from the fasting, focuses, prayers, and celebration?
I found out a long time ago that Ramadan is just as rewarding without the community component, but in a melancholic way. This is partially what "RMDN" is trying to convey or evoke. I love to go to mosques but being able to remove the community element from one's personal belief system is way underestimated. Most people just gravitate to groupthink and the inherent hierarchies.
I'm not the greatest of Muslims but there is a crystallization that takes place on the last 10 days of Ramadan, especially provided that one is praying on the daily. I associate the last 10 days with hyper-reading sessions past midnights at mosques; this is a time when various communities set out to complete a public reading of the Quran. 'On the fence' and 'in the closet' Muslims comes together in physical space. It feels a little like cramming for a final exam without ever taking an actual exam. Before these Tarawih prayers, there are many meals and of course Laylatul Qadr (the Night of Power) is a particularly intense night.
I moved to New Orleans right before the last 10 days of Ramadan last year. That was when I started writing new material after Soho Spirit so I guess it was a time of being in a flow state. Moving from NYC to NOLA last year, I had a terrible experience with the movers and lived without all my stuff for nearly two months. It was so intense to live minimally and it did actually lead me to be focused on writing new material whilst getting to know NOLA.
Your song "RMDN" places such a warm emphasis on keeping in touch with loved ones near, and far via means of the web, smartphones and the like. What reflections, connections, and events surrounding the holy month inspired the Seif Al-Din produced track?
Having the poetic license to keep my songs lyrically esoteric is probably my favorite aspect of songwriting. "RMDN" came to me in snippets and fragments, in a way that I suppose reflects digital media. During this time I was also stressed about finding my musical voice and its supporters. It took a while to find the concepts that would help me build my fan and financial base.
So yes, while "RMDN" is certainly about the warmth of connectivity through tech and social media, it is also about the colder connections: missed calls, emails that get no response, Twitter unfollowers, Facebook posts and emails falling on deaf ears. It's the uphill battle that most musicians endure, especially indie artists who go through an uphill crowdfunding
effort.
And fasting with Seif was fun, he's a very family-oriented friend and that was reflected in his approach to collaboration; we were friends before setting out to record a single track. Seif typically works with R&B artists and soulful Desi songwriters, so he was really able to expand the alternative and folk rock references I gave him as he helped me articulate the vibe you are hearing. The backing vocals of Matthew Halley also added an angelic, which enhanced my vocal melodies. Matt would also join me on banjo for another track.
Have you found it more comforting with the process of fasting to be able to keep in touch with others who are doing the same via social media?
Not exactly. Actually it's a funny question because I have heard people talking about fasting in the context of taking a break from social media. I don't rely on anyone besides myself to get through a day of fasting. I'm actually most comfortable fasting when I'm alone and those around me aren't aware of it. I think there's something very spiritual about confronting that part of yourself, not unlike the loneliness of an atheist man who lives in the midst of an Islamic country.
Ramadan has a special energy for Muslims: it's a time of reflection and togetherness. But while my childhood was filled with family meals and festive celebrations, I've had to fast alone many years since relocating for college. Now it's almost become a preference. RMDN is a song that works to surface my feelings about this sharp contrast, feelings which are reinforced by the hierarchy of social media and my inability to belong despite being swallowed by so digital platforms, each nuanced with its own etiquette, rhythm and tonality.
How do you feel that the video from Elizabeth Woller and Allison Andreano filmed at Hotel Particulier in SoHo, NYC from a few years back with it's overlaying visuals impacted the song, "RMDN"?
The short answer is that the music video creates a connection between RMDN and the EP's title. If you want the succinct answer, the video's visual identity adds a complementary connection to the EP title because the audience looks like phantoms or Djinn spirits or ghosts, whichever word you prefer.
Like any thoughtful music video, the work is an extension of the raw emotions that the lyrics are intended to evoke. The people you see if the video were my audience for UNCOLLECTABLE, a crowdfunded sound art experience I developed alongside a quarterly issue for ArteEast. We raised a little over $10K and did creative programming that gave birth to the music video's concept and so much more.
The basic premise of the music video is found in the audience's singular action during the chorus. The metaphoric contrast between the audience waving their lighters and then their cellphones at the end of the video is meant to represent the gap we feel between the digital and the physical presence, the sensorial and corporeality; that was my way of conveying the concept of "staying in touch" through audience choreography.
We have to ask; how did this Mipsterz (Muslim Hipsters) trend come about?
I understand that Mipsterz emerged as a way for Muslim-Americans to garner soft power with the intention of countering stereotypes perpetuated by a problematic media ecosystem. This mission is particular to American and European Muslim communities.
In an article I wrote for Khaleejesque's Clan Issue, a Kuwaiti magazine, I postulate that perhaps the movement got its start with South Asian-Americans and would be reinforced by America's Arab-American minority later on. In music for example, Mipsterz can be seen as an extension of the Taqwacore movement, which was spearheaded by The Kominas, a Desi band that initially gained recognition for bridging Islamic and punk traditions. In comparison to Mipsterz, Taqwacore was more edgy, angsty and masculine, so there was a real barrier to participation, especially given that so many Muslims
believe music is forbidden (or "haram"). Mipsterz are far more expansive, lateral, friendly, and inclusive as a movement; it just feels more like a Millennial thing and is thus more balanced in the way it is equally supported by all the various sub-communities of Muslims in the US and around the world.
Next things in the works for +Aziz?
I've been playing around with Periscope quite a bit. I'm lives-treaming everything from live shows and band rehearsals to practice sessions and intimate jams. I'm also working with Chris White on my second music video for Halal, another great song off the SoHo Spirit EP, which will be released the end of Ramadan.
And then finally, I'm developing a yoga-concert series with Lauren McCabe, a power and ashtanga yoga instructor in New Orleans. It's basically a series of yoga classes with accompanying rock music; it's going to be amazing.
D.Wing
We introduced you to LA artist D. Wing (otherwise known as Daniel Wing) with the debut of the single "Good 4 U", and now we give you more of the artist's rhythm and blues with the premiere stream of the Keep U EP available June 22. The opening title cut is an electronically enabled track about a relationship at the crossroads, to the cool carnal hunger of "Do U". Daniel duets with Kate Nash on "I'll Be Fine" where perspectives shift back and forth in the foreground of hand claps and hopeful synths that help to temper the balance between Daniel and Kate's back and forth exchanges.
Keeping the croon in fine form, "The Best Part" provides some of the production highlights on the EP that continues to provide incentive for late night enticing invitations. By the end, we are left with the familiar single of "Good 4 U" that heralds his own merits of expressing the benefits of what abundances of affection can be afforded. While Keep U at times trails into the Channel Orange territory of sparse and evocative background tapestries, D. Wing continues to illustrate his own creation of moods, and emotion through a sound where every note moves in conjunction with whatever theme is at hand. Daniel gave us the following foreword to the EP with these words:
This collection of songs that make 'Keep U' are the result of a time of healing that took place over the last couple of years. Through the process of making this record I had to learn to be true myself as a songwriter and artist. Each song on this EP is a reflection of how I've allowed myself to be vulnerable and let go of all the bullshit that had been holding me back.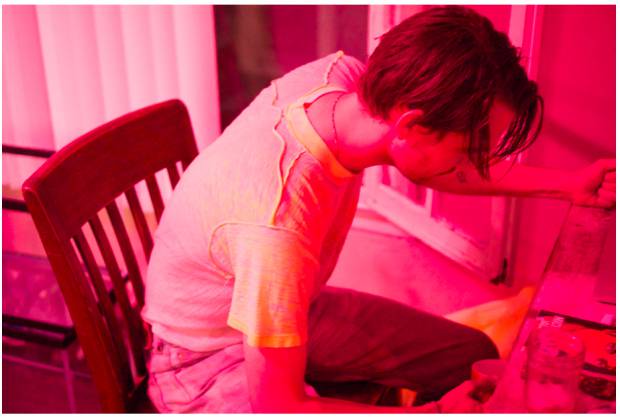 My hope is that those ideas and feelings come through and I look forward to continuing this journey and creating more of these soulful moments that we all relate to. What means the most to me artistically is simply making great music. It was so wonderful to work with my gifted friends—Jeff Ellis, Kate Nash and King Karnov. I love and respect each of them very much and I'm super thrilled about how it all came together.
Spirit Level
Lyndon Blue (of Leafy Suburbs, Seams, Solar Barge) along with Rupert Thomas (of Erasers, Leaving) are Spirit Level, who dropped their home recorded and mixed single, "Wanderer" that takes you out to the homestead fields, streams, and pastures that spell out the sanctuary comforts of found in one's own abode. Following up Spirit Level's 2013 self-titled, the new directions find sharper stringed electronically aided strings to guide the vocals toward higher grounds, climbing every mountain along the way. Rupert gave us the following insights on the making of "wanderer" that all revolve around rainy days:
"Wanderer" was recorded over the course of one rainy day in winter, and the finishing touches were put on during another rainy day in winter, exactly a year later. It was a different approach for the two of us: we didn't program any beats or loops, and we didn't really "write" the song beforehand. Instead we both improvised a rhythm on a dissembled drum kit, which we hadn't done before, and then gradually layered the melodic elements of the song. It's not a total departure from what we'd done prior, but it's a bit looser, a bit less structured. That's probably a balance we want to keep honing in the band — the balance between structure and free form, between writing and improvising. Sometimes you really want to actualize an idea, and other times it's nicer to let the process determine what the idea ends up being.
Main Attrakionz
Oakland's Main Attrakionz dropped the video for "Shoot the Dice" courtesy of Fact that features MondreM.A.N. and Squadda B joined by frequent Green Ova collaborator Shady Blaze. As the Friendzone production keeps the clouds soaring in the mix, Mondre, Squadda, and Blaze bust out the fine threads, let it rain bills while sharing stories about the crap shoots that comprise the game called life. The mind drifts into the stringed sections from the 'Zone's duo team of James Laurence Dylan Reznick that create a sound stream of thought to follow the trails of memories that the Green Ova brass illustrate in their verses. The long-awaited 808s & Dark Grapes III album will be available January 30 from Vapor Records.
As Main Attrakionz keep that classic cloud mode moving forward toward those perfect skies of the future like on the recently dropped track "Dip", we asked Squadda Bambino about Freak Nasty's influence on both him and Mondre:
Freak Nasty [was] not really a big conscious influence on us but I do remember my mom liking that song ["Da Dip"] in the 90s. I remember watching that video on The Box music network. Didn't know the artist was from the bay area tho 'til we dropped the song. The hook was Mondre's idea most def.
Michael Stasis
Michael Stasis has signed to Arbutus, for whom he is readying his new album RIP III available August 7 bringing a new cycle of the artist's latest musings and creations of the mythical, magical, and all stemming from the enchanted edges of life. The LA based artist works in the kind of medium of the self-style artist that marches to the beat of their own drum and chord progressions where Stasis uses a combination of classic pop song frameworks to formulate love songs from altered but affectionate dimensions of the familiar. Michael's own journeys from his home in Pennsylvania, to Manhattan, to California are almost heard in the way his music shifts from the tranquility of natural organic pagan orders, to the smart and succinct folk standard that NYC is known for, to his west coast style thirst for an ever-growing series of reinventions and experimentations that are owed to the individual's own discretion and chosen path of expression. After news brook about the new upcoming album, Mr. Stasis was as kind as to provide the following introductory preface for RIP III, plus a listen to the new single "Venus Of Soap":
I like the Play Count feature in iTunes. It's creepy to see how many times I've listened to my own music. RIP III is based on that, because it turns out I only listen to myself. It's like looking through a sketchbook or buying a home because you love yourself so much that you made a kid! A copy of you, for a little while. So the artist is like a kid, emulating other people at first, but once you are sick of that, like a three year old, you have to obsess over yourself. Hopefully you do it enough to notice the things about yourself that aren't like your influences, and those are the bits you keep, copying those mysterious moments of self-possession, each time reinforcing your idiosyncrasies until some new being emerges. Then you're qualified to help others. I don't know what the music sounds like.
Totoake
From Totoake, we have their new single "Save You" by the Santa Cruz quartet that brings about the savory sides of saviorship. The west coast wandering and California dreaming dream pop component can be heard in the crisp chords that can barely contain the amount of intention and inexplicable desires that begin to burst from the seems by the gargantuan finale. Elisha from Totoake described the new single to us with the following words:
I first came up with the opening riff and then put the bassline underneath it. It reminded me of like a super typical 1980's prom night movie scene, like a male protagonist running down a hall to like talk to the girl of his dreams or some shit. So I kind of made a song that was basically a back and forth between like an older person (or older version of someone's self) and a kid (girl or boy) in high school. Kind of consoling the kid on prom night (because things didn't work in his/her favor, I don't know). I just kind of made up this story in my head as I was writing the song. If it helps, think of like the prom scene from Back to the Future, or the one episode of "Family Guy" when they go back to the future when Quagmire takes Lois to prom in an alternate reality.
Danish trio Slaughter Beach just released their single "Spinning Globe" on Brilliance Records, and we have a listen to the world turning sound of the cut here. Based out of the small Denmark town of Odense, their sound grows to the size of the kind of moving monster jams heard on festival stages across the world during the wild, long days, and short nights of summer.
Italian duo A Copy For Collapse are Daniele Raguso and Aria Myrskya who have released their second album Waiting For on the imprint No Sense of Place. Heavy billows of fog machine cloud burst hang over head in ethereal downpours of warm waves of feeling that follow the echoed refrain-sustain of "ahhhhhs" throughout the song. "Grey Sunday" updates the Factory Records legends "Blue Monday" with a different color, a new day of the week that turns a holiday-day of rest and relaxation into an ominous synthy sort of affair. The Aucan remix of "No Failure" entertains a technocratic biosphere belief in the infallible artificially created artifice.
Check out the video for the DJ Rhettmatic produce cut "Classic" off Frank Nitt's new Fat Beats album Frankie Rothstein. The Detroit son who grew up in the duo Frank N' Dank, collaborator of J Dilla, Madlib, and more kicks it classic with similes, modern proverbs, seen staying original alongside Rhettmatic on the wheels of steel.
Joanie Wolkoff (ex-Her Habits) is back with Wolkoff, sharing the electro-shimmering jam "Going Back" made in collaboration with The Hood Internet for a big bouncing rhythm effect.
Released this week via Death Records, we bring you Clumsy who hail from Oakland, and present the following listening to the jingling, twinkling, and DIY-tripping album, Concentration. "Into Stars" is your take off into the cosmos, tumbling through the constellation planetary covenant through a flying mystical vessel on "Mother Ark", a mind and spirit washing interlude, daisy chain rock of "Flower Crown", flying through the coarse-fi skies of "Sandpaper Planes', and tackling the friend or foe eastern wind hopping pop of "Tasmanian Tiger". Love and psyched out visions intertwine beautifully on "Pisces Goddess", while "Cornflakes" gives you some breakfast vibes for thought, before the finale of "In The Eyes of a Dog" gives you the dog's life spelled out in a mountain avalanche of endless, glorious decay and distortion working hand in hand. Some on the surface might call Clumsy sloppy, but Matthew Horton and friends here accomplish the ability to defy the listener's expectations at every turn with some unusual chord changes, and movements that obliterate all predictions and bets.
Adult Dude has joined the Animal Style Records family with news of the upcoming EP Adult Moods available in July 2015. To get you juiced for the Brooklyners' upcoming album debut, we give you a recap listen to the singles "New Partner" that power punk their way through the shread-y but catchy chords heard further on the solid state of the stationary "Stay Put".
Continuing onward in the 'adult' section of band names, Adult Mom's Momentary Lapse Of Happily will be available July 28 from Tiny Engines, and we have the heart-hugging "Told Ya So" that helps you to feel okay about feeling again. Steph Knipe follows up Sometimes Bad Happens with further songs that stop you in your tracks with a flood of recognized personal instances shared through Knipe's lyrics that startle and strike in the ways of the explicit and sublime.
Our favorites Palehound dropped the smart styling new single "Molly" from the upcoming album Dry Food available August 14 from Exploding In Sound. The guitars, bass, drums, and vocals continue on a nearly locked rhythmic grid as the tale of selfish Molly is unfurled before your ears like nostalgic gossip.
Andrew Kalash, aka just surname Kalash if you will dropped his single "Defeat Me" that runs a hyper drive of rhythms that dart through a fog of ghost haunting synths as his coarse brooding lo-fi tape recorded vocals invite further distortions. From the invitation to engage and conquer, Kalash flexes through an unusual shambolic form that asks the listener to check his pulse while delivering a half-sung/half-mumbled/half-alive overdubbed aura that rests like a pop plague over addictive drum sequencing.
Following up their 2010 self-titled, we bring you Czech experimentalists Gurun Gurun's new album Kon B from Home Normal, that features an array of altered, and endearing soundscape of the unknown and absurd accompanied by the vocals of Cuushe, Cokiyu, and Miko to guide you through the electro-analog mazes.
Meet CMJAYMMOTLA from South Africa who deals in post-dance hall-hop style blended with Maskandi styles heard on the single "Pedi Montana" that brings something volatile for international discotheques. Real raw tales of concrete jungle heat burn in the severity of the topics that are pushed with the echo loops of continuous atmospherics and sparse percussive designs.
Let yourself feel the feel good feelings as they casually flow into your consciousness on The Domestics "It Came To Me" from their self-titled debut album available July 17 from Tender Loving Empire. That Portland sound of northwest ideas, and understanding that was around before the tech business class boom took over prevails on the heart found in this following tune.
Danny Wahlfeldt and Grave Babies are back with some fresh oil slick swamp soaked viscous swamp pop with "Something Awful" off the upcoming album, Holographic Violence available July 24 from Hardly Art. The existential abyss is confronted with a hero's heart that reaches toward a credence system beyond the synth spelled semblances of entropy.
Check out Jeff Burke and Mark Ryan from Marked Men's new nuclear side project Radioactivity that deals in the isotopes and sparks that radiate on their single "Pretty Girl" taken off the upcoming album Silent Kill available June 30 from Dirtnap Records. Jeff and Ryan turn up the quick revved motors of pure gritty garage pop through the crispest cables they could find to give you all the fury and fun of fast paced power and snot-nosed pomp.
From the ashes of LA's The Powder Kegs, Friendly Males have risen up with an upcoming album titled Nopalera available soon from Lolipop Records, lending a listen to their two recent singles. The first taste of "Murder and Ice Cream" provides an excuse to melt guitars, and analog electronics like it was formerly frozen heavy cream. "Bite an Apple" continues to entertain Friendly Males power pop psych styles that bite from the John Lennon pop method books and Apple Records roster.
Heaters' album debut Holy Water Pool will be available September 25 from Beyond Beyond is Beyond Records, and we have the crash and burn coasting "Kamikaze" that soars on the attack like swarm of buzz guitar bees.
With their tour with The Teen Age beginning July 18, hear Lazyeyes new track from "Fractals" off their Old Flame Records limited split cassette. A b-side from the Brooklyn band's New Year EP, the strange sections, and loose strands of the psyche are stressed over and sung about in a tale of caution, care, and comfort across a sweeping spectrum of glowing sound.
NYC's Lilly Wolf who dropped the big maximalist indie ultra-pop single "Pop Dream" last year dropped the piano rhythmic "Nerves", describing the sweetest hangover that some may want, or not want to get over. Wolf's radio pop balladry bops through chemical balances of natural, and pharmaceutically altered states that finds a chaotic state of peace between the pendulum swings of emotive being.
Australia by LA's Bag Raiders, the duo of Jack and Chris are figuring out the release date for their upcoming Waterfalls EP to follow up their self-titled album with bright electro bangers to pump a fist too. The result is "Vapour Trails" that stands begging to be mixed up, and ripped up by another electronically inclined artist.
Slim Twig entertains his David Essex on the DIY budget glam pop with "Slippin' Slidin'" from the forthcoming Thank You For Stickin' With Twig album available August 7 from DFA RecordsL. The artist deals in anachronistic cards that take on their own scuzzy, and sleazy pop art trash aesthetic that keeps you enamored for forever.
Miss Pussycat's album Anthropomorphizer will be available July 14 from Terror Vision Records & Video. Experience the puppet show soundtrack strangeness with "Shadow and Eve" that blends puppet speak with all kinds of synthy sounds.
Check out starRo's remix Gavin Turek's IHC 1NFINITY single, "Frontline", bringing bouncing warm hot spring percussion and vibraphonic touches that surrounds the stems from Turek's vocals. Find more remixes on the forthcoming release June 26.
Carlson drops the sparse but bumping and bouncing clever sequence of beats on the single "4" from the forthcoming album debut Never Easy Never Been Easier available June 23 from Driftless Recordings.
Start your dance party off proper with the biggest and boldest accents and pop tones possible with LA duo Holychild's remix of "Keep Pretending" from Portland's Pink Feathers.
Matthew Shribman and Sam Lea are Twin Hidden, and we have the big buzzy single "A Berry Bursts" that has all the free running spirits where every burden that holds you back from everything you want to do feel life at least for a few minutes.
Now you can not only hear the sweet sonic surrender from Briana Marela's "Surrender", but now the feelings become visualized courtesy of Christin Turner and Caleb Addison from the album, All Around Us available August 21 from Jagjaguwar. Listen, look and watch as Briana entertain the ghosts of the present and past through celluloid swatches of colors and silhouettes inter-meshed into broad strokes and video streaks ultra, vivid incandescent light.
Such Hounds dropped the animated video for "Drink To Sleep" that applies their DIY earthy, and earnest ethics into a fun house of drawn dramatics. Read our recent interview with Such Hounds's Matt Martin about the new single and more here.
From Sacramento's Zac Nelson, check out the Jordan Levie video of spinning spool threads for the song "Let This Unravel" off the album New Once available now on digital on on vinyl June 30 from Styles Upon Styles. The artist brain bending assemblages of fused rhythms, and seesawing sway of notes are complimented by the visuals of multi-colored strings being dispensed from cylinder stocks of many colors.
Max Richter dropped the following quick video introduction to his eight hour self described "atonal lullaby" SLEEP, specially designed to give the listener an "atonal place to rest."
Check out Media Jeweler single "Autopilot" of instrumental afterburner coasting cloud crasher engineered and mixed by Seth Manchester and Keith Souza at Pawtucket, Rhode Island's Machines With Magnets, off their album debut $99 R/T Hawaii available August 14.
Lex Pratt's vocals, and Megan Liscomb's guitars and songs completed by Jon Bonser drums are Soft Lions who bring their single "Spellbreaker" that breaks the monotony of any moment and era that ends old orders and initiates new beginnings. The 7″ is available July 7 from Velvet Blue Music that features the San Diego three create songs that break the molds of past experiences in the name of new memories.
From Boston/New Bedford, MA meet the Lesser Knowns, who whirl together mood swinging modes of styles into a series quick and crunchy pop vignettes. The title track starts off the fun, then a Black Francis ode with "Frank Black Says", kinetic freakouts on "There Will Be Dancing", riff rollicking hedonism on "Life of the Party", to the closing clap along tonsil belting cruiser, "You Don't Know". Lesser Knowns make loose, real rock and roll that celebrates the good times of now, while waxing nostalgic at the same time.
Get a listen to Marion Walker's "Seriously" / "Silver Drone" single ahead of the Serious Picnic EP available June 23 from Casino Trash. "Seriously" questions seriousness in a muddied mess of muffled vocals and rumbling guitars, while "Silver Drone" takes you a guitar drone drive out of the belly of the beast toward the far off beams from an unknown daylight.
Bristol, England by Toronto's Fitness Club Fiasco bring some haunted-ish tight massive pop with their opening track single "Ghost Dance" from their upcoming album Modern Thought.
Because everybody's doing it, you too now can experience MOONBUILDING 2703 AD, the new album from The Orb June 22 from Kompakt. The influential duo of Alex Paterson and Thomas Fehlmann that made you fall in love with the art of warehouse bangers to begin with return with an experiential work that takes you into the deep end of what deep psych productions can be. Catch The Orb on a world tour beginning today, running through November 13.
On the alternate styles of conventional vocal delivery on "Vinyl Skip" from W A L L A C E, the conventional execution of soul pop is mixed up into number designed for smoky lounge hall stages from a near, and not-so distant future.
From Good Field's album Future Me available July 28, check out the track "Business" that brings some real heart into the matters of work beyond the mechanical conventions of our collective BTO "Taking Care of Business" upbringings.
Holly Waxwing's Peach Winks EP is available now digitally on Cascine and on a limited cassettes run on Noumenal Loom (the imprint Holly, aka Garrett co-runs with girlfriend Isabel) and we have the digitally altered universe of "Chalant", visualized by Sabrina Ratté. The textures, and morphing of images that were imagined by the audio become a high art blur of CGI that is reaching toward a kind of kinship with analog televisions reception signals, and other image loops that are taken through a ringer of 3D digital corridors.
Seapony bring more music to unburden your fatigue and frustrations with the upward ascending single "Let Go" from their upcoming album A Vision available July 31. The slightly melancholy but melody laden moods from the 'Ponies make the weird world suddenly feel a little more normal (and comforting, and loving-like) amid the constant chaoses.
Yours Are The Only Ears' Week in Pop
From Brooklyn's prolific The Epoch collective, we are proud to present guest selections from Susannah Cutler as Yours Are The Only Ears's Week in Pop:
week in pop:
went upstate for a little while
listened to oldies in the car
I know I'd be better off in the country
went swimming
feel at home in the water
so many memories up there
listened to free cake on the ride home from little pond
thought about running away
but I think I'll stay
thunderstorms all night long
the rain is comforting
put on a movie
all my thoughts lined up as I drifted into subconscious
read that coincidences are the spirit world's way of communicating
hope it's true
—Susannah
Follow Yours Are The Only Ears via Twitter.