Mall Grab sizzles, ODESZA dazzles & Anfisa Letyago lays down the set of the weekend
Has it been six months already?
CRSSD Festival, the weekend-long electronic dance party that takes place at downtown San Diego's Waterfront Park, is the gift that keeps on giving. Unlike most festivals, CRSSD goes down twice a year, which means it comes at you quick and with double the fun. And although this past weekend's edition was a bit on chilly side weather-wise, it proved once again that CRSSD is just about the most relaxed, laid-back, and vibe-y EDM festival around.
Countless dance music enthusiasts, many of whom wore official CRSSD "HOUSE x TECHNO" jackets, flooded Waterfront Park early on Saturday to soak in a fiery DJ set from Chaos in the CBD. The New Zealand-based house duo lit up the Palms stage in the afternoon sun, racing through a set that was both incredibly diverse but also consistent and streamlined – never letting the energy dip for even a second. Their mixing and transition skills left fans engaged from one funky, sunny house track to the next, setting up the stage perfectly for Jackmaster right after.
English DJ Jackmaster is one of the most reliable and seasoned vets in the game, and he proved his mettle once again with a set that oscillated between grimy UK warehouse vibes and more frenetic tribal beats. The Palms stage, with its palm trees adorning the stage left and right and the Star of India ship hovering in the distance, was the place to be to get the party started early in the afternoon sun. As day shifted to dusk, the energy levels only ballooned from there.
The festival's commitment to securing consistent vibes at each stage paid off greatly. The Palms geared more towards house music, while the City Steps stage showcased techno nearly all weekend long. The main CRSSD stage, meanwhile, set up perfectly for live-minded acts.
For a dance music festival, CRSSD draws the most diverse crowd you can imagine. All age brackets felt represented, proving that between the house, techno, big room EDM and dance pop, there's a little something for everyone. In my case, Anfisa Letyago was exactly my thing.
Hailing from Naples, Anfisa Letyago is one of the brightest up-and-coming stars in the techno sphere, and her set on Saturday night came with a mountain of hype and anticipation. Thankfully, she fired on all cylinders and blew past even the loftiest of expectations. Leading in from a glorious set by Skin on Skin, Letyago conjured an airtight set of smoky, pummeling techno and had the crowd in the palm of her hand for two hours straight – and through a jungle of strobe lights. She looks certain to reign supreme on the EDM festival circuit, and possibly some of the major fests, for years to come. A legend in the making, for sure.
Saturday night culminated with a spectacular 3-hour B2B set from Ketama and Mall Grab, followed by Palms stage headliner Kavinsky. Ketama and Mall Grab fastened quirky, effervescent tech-house along with a bevy of edits and remixes, including one riveting section in which they played a mash-up of Sean Paul party anthems, much to the crowd's delight. Finally, house megastar Kavinsky, who famously soundtracked Drive, closed out the Palms stage by cranking the volume up to 11. The French maestro crafted grinding, static-infused garage-house with flecks of '80s soundtrack vibes, really sending the Daft Punk and proto-Ed Banger vibes to stratospheric levels.
Thankfully, Saturday didn't quite drain the life out of us, which meant there was still plenty left in the tank to take in the Sunday finale.
Right away, Toronto indie pop rising star Luna Li – who we interviewed in the lead-up to the fest (read HERE) – rewarded the fans who turned out early with a bright and engaging set of dream-pop and classical music fusion. Twinkling synths, hazy guitars, and an intermittent orchestral swell combined to send the crowd into a dream-like state, paving the way for a dynamic final day. Although the bulk of CRSSD bookings tend to be DJs, they are quite savvy at selecting live pop and rock-adjacent acts who can reliably get the feet shuffling, and Luna demonstrated this in spades.
From there, Sunday wound up being a showcase of veteran electronic talent. Beginning at 2:30 p.m. the legendary British DJ-producer Mark Broom led the surging crowd through a ferocious blend of rave, techno and acid house. Broom is the consummate pro on the decks, and his mixing skills remained largely unrivaled throughout the weekend, proving once again that the cream really does rise to the top. Then again, another legend in the form of Ken Ishii gave him a run for his money.
Following right after Broom, the Japanese DJ-producer nailed a 75-minute set of his own. The City Steps continued to be a beacon for higher BPMs as Ishii flexed a bevy of pop and Detroit techno sounds to a constantly growing crowd throughout the late afternoon. As great as CRSSD is at booking younger, up-and-coming acts, they're also quite crafty at bringing in the more established veterans who have been holding down the scene for generations, and Ishii continues to stand the test of time in that regard.
Kittin & The Hacker represented one of the more leftfield bookings at this CRSSD edition, as their goth and synthpop-minded electronic tunes provided something of a breath of fresh air in between offerings of pounding house and techno. Instead of a full live setup, however, they crafted a varied DJ set at the City Steps that allowed them a dash of stylistic fluidity that differs a bit from their live sets. The modest but fully engaged crowd showed them much love during their tight hour-long performance.
Sunday night brought with it a heavy dose of festival-core, and by that I mean big, stadium-sized crowd-pleasing acts like Lane 8 and headliners ODESZA. The sleek, emotional deep house of Lane 8 played perfectly to a massive audience at the CRSSD stage. Billed as a "special guest," he turned out an ideal subheadlining set that drew one of the biggest crowds of the weekend. From one peak to the next, fans were shuffling, singing, and bouncing up and down in unison as the cathartic vibes soared. Playing right before ODESZA is no simple task, but the Denver-based superstar more than held his own, warming up the vibes for what would turn out to be a massive festival-closing spectacle.
Ever the performers and showmen, ODESZA have carried their live performance acumen and electro anthems to festival headlining status with ease. Reaching yet another career peak, the duo are set to headline major fests like Bonnaroo and Outside Lands, and despite this, they have yet to turn their backs on the scene that made them who they are. Thus, CRSSD felt like a bit of a homecoming for them, as they've headlined multiple times over. This time felt like a victory lap.
With their live setup intact, and armed with their usual eye-popping visuals, ODESZA were simply in dazzling form. Fueled with crowd favorites "Love Letter" and "Late Night," they fastened a tight and explosive performance that not only sounded great, but hit hard along with all the visual bells and whistles in their arsenal. It all culminated with a spectacular rendition of "The Last Goodbye," which had fans riding on shoulders and signaling the heavens. For a festival of this nature, you simply won't find a better closing act than ODESZA.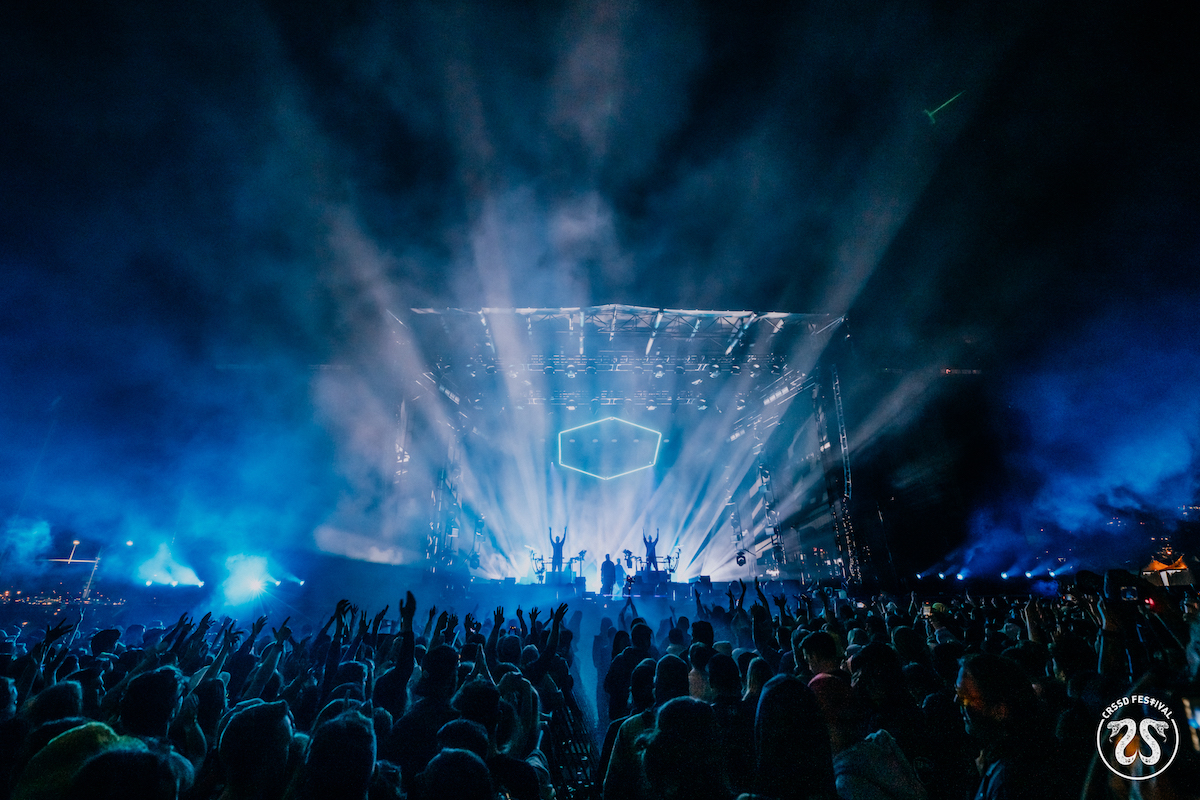 As always, logistics inside the festival were a total breeze. The organizers have the fest down to a science, and with the ability to hold it every six months, there's no rust to it whatsoever. From start-to-finish, you could find festival-goers smiling from ear to ear wherever you went. CRSSD is the ideal electronic-minded California festival, based on all the people who traveled in for it. Ultimately, you don't even have to be a major EDM head to fully love and appreciate CRSSD. Like I said earlier, it's the gift that keeps on giving, and we can't wait to do it all again in another six months. HOUSE X TECHNO forever!