With NYC lineup buzz reaching a critical level of saturation, Impose's Week in Pop continues its own tradition of running down our favorites from the week. But first, we have a host of pressing headlines to get through, as this week saw Kanye West talk to Lou Stoppard in a two-hour interview; Kendrick Lamar presents the "Kunta's Groove Sessions" tour, as well as dropping a tribute to Eazy-E; Beach House are releasing an immediate follow-up to their recent album Depression Cherry with word of their upcoming album Thank Your Lucky Stars available October 16; Rihanna revealed her upcoming album title to be ANTI featuring cover art by Roy Nachum; Grimes declared her forthcoming "Ac!d Reign" European tour with HANA, Robert Smith remixed Ride's "Vapour Trail", and announced The Cure's upcoming 2016 North America tour with The Twilight Sad; Joey Bada$$ talked about the presidential election; Action Bronson left the stage mid-performance during his Trondheim, Norway show; Mac Demarco contributed to the Dylan Greenberg movie, Dark Prism; hear Kurt Cobain's "Sappy"; Run the Jewels dropped the Adult Swim single "Rubble Kings Theme (Dynamite)"; Bloc Party dropped their new single "The Love Within"; Leif's new album Riot Boi available November 13 via Terrible, hear the Balam Acab-produced cut "Rage"; Boston Mayor Marty Walsh declared October 10 to be Patti Smith Day; Tortoise to return with The Catastrophist January 22 through Thrill Jockey, hear "Gesceap"; Lil Bub to release debut album Science & Magic for Joyful Noise available December 4; Tame Impala's royalty claims against Steve Pavlovic of Modular Records were dismissed; the moniker kerfuffle over Australia's Cuntz; Ticketfly got purchased by Pandora for a cool $450 mil; Smashing Pumpkins' Billy Corgan trades his @Billy Twitter handle for People and Their Cars photo site, and announced TNA Wrestling's "World Title Series"; Azealia Banks versus Nicki Minaj; Carles (of the notorious Hipster Runoff site) talked to Vampy Weekend's Ezra Koenig; we mourn the loss of Three 6 Mafia's Koopsta Knicca, and Frank Zappa's widow Gail Zappa; and now CCTV footage has emerged of Morrissey's infamous alleged TSA grope at SFO.
Moving ahead, we proudly present the following breaking exclusives, insights, and interviews from 14KT, Co-pilgrim, Dap City, ONO, White Laces, Head Over Heart, Adult Bodies, Kooley High, Liphemra, Alge, Flavor Waster, Micah James, Slaughter Beach, Sunshine Faces, featuring guest selections by Alex G, and more—in no particular order.
14KT
Seen and heard recently collaborating with Mayer Hawthorne as Jaded Incorporated, Detroit producer 14KT returns for our latest conversation about his new album Elelator, and the world premiere of the power pulpit cut "Podium" feat. Obie Iyoha. From previous solo albums like Nickel & Dimed, A Friendly Game of KT, 14Killa Tape, The Golden Hour, collaborations with AB, The Big Knock, Black Milk, Bun B, Danny Brown, Aloe Blacc, Jay Electronica, JMSN, Masta Ace, or his old collective The Athletic Mic League; KT (real name Kendall Tucker) has established himself as an integral part of Detroit's illustrious and most sought after leagues of extraordinary masters and arrangers of rhythms. The track "Podium" arrived out of Kendall's tour with The Black Opera from earlier this year, where he incorporates a sample of a speaker talking about hip hop conspiracies and the effects it has on today's talented and powerful youth as Obie lays down some rhymes about the tapping into the power of your own voice with the invitational hook communion call; "welcome to the podium, anybody can step-up."
14KT takes the future-tek electronic high ground that presents "Podium" as an expressive musical platform full of limitless potential and the power to enact a change in communities on both a local and global level. Synths and grumbling bass keys provide a tense and pensive audio arrangement that beats back against the thumping drum kicks as Obie asks those with weapons of words to "step up" and "speak up." The sample of the conscious pleading speaker asks tomorrow's emcees and artists at large to push the envelop to serious conversations and topics outside of the circular cycles of senseless and systemic violence and racist mindlessness. Obie Iyoha delivers a sermon and gospel of encouragement by virtue of utilizing talents of empowerment instead of feeding into the psychological, socio-political warfare of internalized discrimination and hatred. We explore all these topics and much more in our recent interview 14KT, featured right after the following debut of "Podium".
The thing that floored me is how hard, and how big "Podium" hits. How did you and Obie Iyoha come together with this big powerful ode to "stepping up"?
Earlier this year, I was on tour with The Black Opera. While on tour, I played a rough version of the beat for Obie because I really wanted him to rhyme on it. He was down. I shared with him some of the concept I already had, which revolved around the topic of utilizing the power of your own voice. He was digging it and wrote it. After I hear what he wrote, it forced me to go back and re-flip the beat to match his energy. It came out sounding real crazy. Never made a record like that before.
"Podium" is definitely a timely track of empowerment, and I wanted to know what for you personally and creatively was at work behind the song's inception?
I wanted to do my part as an artist reflecting the times and speaking on what's going on through my music. The beat was created from the imagery of unceasing cop killings, injustice, and churches set on fire as acts of racism we were all experiencing. On top of that, I was kind of upset at hip hop for not truly using the art to speak out on what was going on. I grew up on late 80s-early 90s rap you know. When injustices or issues needed to be addressed, everyone spoke out on it at the same time. I was watching a video of a guy speaking to youth about conspiracies in rap music and how rappers in general, neglect to speak on serious issues anymore. He mentioned how we get encouraged and praised when we ultimately rap about nothing. We stay releasing records about killing our own people and those get encouraged too. He ended his speech mentioning about how extremely talented and powerful kids are nowadays and how they can achieve so much more with this music. I really felt that and agreed. So I incorporated those pieces into the music and called on the young king Obie Iyoha to represent for the young black voice who is out here saying something. "Podium" is all about utilizing the power of your platform and your voice. Everyone has that power.
I was just thinking about it, and it seems like you have worked with everyone… Aloe Blacc, Black Milk, Bun B, Danny Brown, Elzhi, Jay Electronica, JMSN, Masta Ace, Mayer Hawthorne, etc… favorite stories from your collaborative experiences past and present?
Good times. All of those artists you mentioned are favorite stories for me actually. One of the most memorable is working with Bun B and Masta Ace. Those were two artists that I grew up listening to alot in High School. Cats stayed bumping UGK at school when I was young, so getting to meet Bun B, talk about life, and actually help produce a song with him from scratch in the same room was amazing. Masta Ace was one of my favorites. My hip hop group Athletic Mic League had a song called "Got'em Saying" on our first album in 2002. I started my verse quoting one of my favorite songs from Ace "Born To Roll". Getting to meet him in New York in the studio, build with him, and hearing him tell me how he heard about my music was a monumental moment for me.
How did the Drip.fm partnership come about?
My management company a-side Worldwide and I were brainstorming on new ideas to bring music directly to my fans. They mentioned Drip.fm. and reached out to them. I loved what Drip was doing and wanted to be a part of it. I have so much music and ideas I wanted to share exclusively with my fans, so I thought it was great idea to partner with them. If you are a fan of my music, please come be apart of what I'm doing at Drip.com/14KT.
Is it possible for you to drop any clues or hints on what you're working on right now, and/or who you're working with?
I'm always working on something. My new album Elelator is dropping October 16, but if you are a member of my Drip, you can receive it now. Working on limited edition vinyl for that. Also, I partnered with Street Corner Music to release my "14KillaTape : Redux" album coming around Halloween time for the beat heads. Also, I'm releasing the first of my Solid Gold 7″ series with Street Corner Music with a remix of D'Angelo's "She's Always In My Hair". I have a few collaboration projects in the works as well. I also have an interesting series I'm going to unveil for ya'll next year. That's alot of clues! TONS of music coming, to keep up with me, please subscribe to my Drip. You'll receive everything that way.
The 14KT philosophy, mantra, slogan, good advice, wisdom, etc that you can leave us with?
God is amazing. He can help you achieve things that you can't even fantom, so please continue to strengthen your faith and keep Him first in your life! Also, NEVER STOP LEARNING. Keep studying your craft, listen, try new things, learn from others, and don't be afraid to make mistakes.
Success will always be with you.
Peace and love.
14KT's Elelator will be available October 16, or get it now via Drip.
Dap City
Dap City is the sum of the combined forces of Charlotte's Rapper Shane and Asheville, North Carolina's RBTS WIN who recently released their collaborative album, presenting the world premiere of their Shamus Coneys directed video of fight or flight instincts on "Final Flight". Shane's Permanent Vacation x Deep Fried Family crew brings that "hi fives for lo lives" southeast style with the RBTS collective that brings about a sonic melding of producer/songwriter Javier Bolea and Cliff B. Worsham's arrangements beat driven atmospheres.
RBTS WIN & Rapper Shane congregate as the Dap City super-clique presented on the b/w visuals for "Final Flight". Shane describes the collaborative crew's "pack mentality" with RBTS WIN reciting the "burnt eyes" chorus that seeks directions of the crooked and narrow on that "fuck tomorrow, we're living like there's no tonight" hype. Together Dap City rolls like an NC super-group/super-crew that celebrates themselves in a collaboration that sounds natural and intuitive. Toasting to their own decadent high life, the confident swagger that spills from Shane's testimonial to rolling deep as a family inspires the imagination to draft fantasy fleets of collaborative hip hop collectives from the south, north, east, west, and everywhere in between. We discussed these strength in numbers insights and ethics further with Dap City's creative crew Cliff B. & Rapper Shane in our interview that follows right after the debut viewing of "Final Flight".
Tell us how the RBTS WIN and Rapper Shane became Dap City?
Cliff B: We had mutual friends in the Clt music scene and eventually I just started sending beats to Shane. It kinda just started like that. Next thing we knew we had an ep done.
How did the Asheville and Charlotte narratives align for you all?
Cliff b: The link up between Asheville and Charlotte has always been there. I personally have been playing music in Charlotte since 2001 or so. Its a quick drive of 2 hours and pretty much like a whole different world both ways. Asheville is this funky little mountain town driven by art and music and Charlotte is the big city with a thriving music and art scene. It was always just a natural link up.
How do you all respectively describe the making of a new city of your own with the Dap City joint?
Cliff b: Well the idea behind the name Dap City was that when you walk into a room of friends everyone is saying whats up. Daps all around and high fives and such. I just started calling that scenario dap city. Like…prepare yourself, you are about to walk into dap city. Ha ha, its kinda stupid.
Describe the collaborative style in both production and verse that really brought everyone together here.
Rapper Shane: As of late, my favorite sounds for me to do what I do over have been over this Dap City style of production. I'm always trying to hone the craft and I have felt most comfortable rapping over this soundscape. It has allowed me to grow and carry that growth over to other projects so it's just been rad all the way around. Plus I get an assist with that baby making voice of Cliff for the hooks… What more do ya need? Ha ha.
Cliff B: On the production side it was fun because I got to do some production in the vein of the producers I look up to. I've always been a hip hop head and this had been great to appease that side of me. I mostly listen to hip hop so this really was just like going home.
Other collaborations that you all got going on that we should know about?
Rapper Shane: I just finished recording an EP with ATL producer Ducko Mcfli. We've already started writing Dap City Vol 2 amongst other collaborations with other producers etc etc…just wrapped up a track with my guy Elevator Jay and Gangsta Boo. Hyped on that one!
Cliff b: Like Shane said we are already working on Dap City Vol 2. We also are working on an album with Clt based rapper Schyler Chaise due out in 2016. Other than that we are working on a full length RBTS WIN album so that is taking up the majority of our time.
What is everyone listening to non stop right now?
Rapper Shane: That new Jay Rock is fire.
Cliff B: Gangrene( Alchemist and Ohno) is getting hella play from me.
Dap City is available now via Bandcamp.
Co-Pilgrim
From Winchester/Oxford, UK; we are delighted to present Co-pilgrim's video premiere for "You Come Over, You Go" directed by Danny Quanstrom that depict's scenes from Oxford's Truck Festival and the quartet in the studio. Masterminded initially by Mike Gale who recently has been releasing solo albums, and follows up Co-pilgrim's previous records A Fairer Sea, and Plumes with the forthcoming album Slows To Go available October 16 from Battle Worldwide Recordings. Joined by producer and multi-talented instrumentalist Joe, Any on bass, Claire on supporting vocals (and band wardrobe detail); Co-pilgrims continue to weave together narratives about life's pilgrimages and feelings of both the presences and absences of other beloved figures (and social life fixtures of attention).
"You Come Over, You Go" is the antidote to chase away the gloom or any lingering worry and sadness over events and breaks that are beyond the grasp of control. Danny Quanstrom's video steals the listener and viewer away to Oxford where instantly you can partake in the Truck Festival activities, or join Co-pilgrim in the studio for a lively session or two. The recollection of unrequited feelings leftover after a separation are met with a natural c'est la vie approach to the swinging and swaying changes that the world presents whilst pursuing the routes on life's often intricate and complex road-maps (oka goals, desires, needs, self-actualization, etc). The coming and going is sung in lush acceptance met with warm collections of chords with good time images of festival going crowds, the band in their element, pedal setups, carnival rides, tent down time, and other images that emphasize the importance of embracing the idle moments and instances of the day. The message here is that despite all the arrivals and departures, the real joy lies in holding on and hanging in tight to the river raft ride of existence. After the following video debut for "You Cover Over, You Go", check out our interview round with Co-pilgrim's Mike Gale and Joseph Bennett.
Tell us about what the latest and greatest is in Winchester/Oxford these days.
Joseph: Oxford's a great place for bands, we have loads of great venues (though not as many as we used to) and a fantastic record shop, the Truck store, which is a great hub for the local scene. A couple of favorite acts of mine at the moment are the August List, a husband & wife duo who do great noir-ish country pop in the vein of the handsome family, and Maiians, who play kind of ambient electronica rock, but with 2 drummers, needs to be seen live to be fully appreciated, absolutely blew the roof off the tent at truck festival this summer.
Mike: There are a couple of local bands from around the Winchester area that I think are great, a guy called Incredible Weapons who makes beautiful Harry Nilsson type songs, he's kind of a reclusive genius around here, also a band called 'Burning House' who are just about to finish their first album, it's MBV, Smashing Pumpkins territory, can't wait to hear it.
How have the past few years, local experiences and the like informed the making of your third album, Slows to Go?
Joseph: For me as producer, hopefully getting better at my studio trickery, made a lot of records with artists local and national, so with any luck it shows on Slows.
Mike: The past few years for me have been a pretty intense and often sad time, my Dad died almost 2 years ago now and was seriously ill for the year before that so whether I like it or not that has definitely creeped into the songs I've written, but writing songs is a good therapy.
Compared to previous works Plumes, A Fairer Sea; what was different this time around for you all?
Joseph: Definitely much greater involvement from the rest of the band, Andy on bass (and visual creativity) and Claire on backing vocals (and band outfits!).
Mike: I can't speak for Joe, Claire and Andy but for me it was the first time that it felt like a proper band making a record. For me, Co-pilgrim was always going to be this ever moving project with different people etc but that has changed and I couldn't be happier, I'm working with my best friends and very talented musicians and artists—like Kimvi who designed the last two album covers—I'm very lucky.
What were some of the departures and arrivals that influenced the song "You Come Over, You Go" and the accompanying visual of live performance captures and more?
Joseph: Danny Quanstrom our genius filmmaker friend had this idea for a video, and it seemed it would suit this song really well…I'll have to leave the lyrical stuff to Mike!
Mike: I don't really want to talk too much about the lyrics for that song or any of the songs. Firstly I don't want to embarrass the person I'm singing about and secondly I think it's good for people to come up with their own meaning and visuals to go along with the songs. It's just about a person I love deeply who I don't hear from much nowadays. The video was shot at Truck Festival near Oxford and in the studio we make albums in which is also on the site of Truck Festival.
Fall and winter plans for Co-pilgrim?
Joseph: Play some gigs, and then crack on with the next record. Mike's already written the next nine(!) albums so I have to try and keep up
Mike: I've just finished writing the next album which will be called Moon Lagoon so I imagine we'll record it in December/January time.
What is everyone's favorite thing right right now, book, album, show, movie, whatever?
Joseph: Book: Confederacy of Dunces, John Kennedy Toole
Album: Lights Out, Bishop Allen
Show: Person of Interest
Movie: Inside Out
Whatever: The rise of responsible social movements in the UK & the US, with Jeremy Corbyn's Labour Party and Bernie Sanders insurgency against Hillary Clinton.
Mike: My favorite thing right now is a Cleaners From Venus double vinyl album that arrived in the post yesterday, it's beautifully packaged, has notes from Martin Newell and sounds amazing of course.
Co-pilgrim's new album Slows To Go will be available October 16 from Battle Worldwide Recordings.
Ono
Chicago's art anarchist architects ONO has returned, where original members Travis (no surname), P. Michael Grego and Shannon Rose Riley enlist Rebbecca Pavlatos, Jesse Thomas, Dawei Wang and other comrades (including Ministry's Al Jourgensen who produced ONO's 1986 album Machines That Kill People, & Cleveland's Lamont Thomas from Obnox) to keep the pages of their chronicles turning to today's own tumultuous states of turmoil and confusions. Announcing their new album Spooks materializing in the physical world October 24 from Moniker Records, ONO presents us with the world premiere of their self-made video for "Punks" that continues to question the status quos and constructs of fallacies that govern the signifiers of thought, mind, deed, and body politik.
The video for "Punks" combines metropolitan city images of building, draw bridges, and a nu-Frankenstein style ode to electrical conduits. Travis takes on the role as a shamanic power commanding doctor from an alternate (yet familiar dimension), joined by fellow masked bandmates and allies. With elecrical zaps being guided by metal devices and erratic maneuvers, to the gruff dead pan delivery of post-post-post-punk ironies and oddities like, "so now the old punks got religion, she's running up and down the street, singing save us from these punks Jesus, these sissies so indiscreet (repeat)." ONO dissects and deconstructs the 'punk' semantics from rebel, outlaw, to reform, domesticated, neutered, brainwashed, illustrating the 180 degree turn of manufactured revolutionaries turned agents of the system. Charged language abounds, combined with enough visual absurdity to highlight ONO's collision of piano touched classic, restrained electronics rhythms, and brass sections that provide an aesthetic backdrop for the group's atrocity exhibitions. Traditions of modern gospels, hymns, and spirituals are turned into statements of thought that turn the methods of so-called revolutionaries inside out to expose the courses of irrationality at work within our society's constructs of rationality and reason. Right after the following debut of ONO's video for "Punks", we caught up with Travis (discussing Vietnam-era injustices, life altering experiences, gay rights, performance art, & more), P. Michael Ono, Shannon Rose Riley, in a candid roundtable interview session.
How was everyone's summer, and what are the post-release plans for this fall/winter?
P. Michael: This summer has been filled with numerous rehearsals for a three act play written, conceived and produced by Chicago artist Heather Lynn. The play saw six very successful performances in September.
Fall and winter sees ONO back to playing several local shows including special live performance reunion with Dr. Shannon Rose Riley (ONO member since 1981) with Algiers and Bambara.
ONO prep for east coast tour including Moniker CMJ Showcase in NYC, and Boston Hassle fest in November.
Shannon Rose: My summer was pretty terrific. I finally finished working on a book about race and the US occupations of Cuba and Haiti that I've been working on for sometime. It will be out in 2016 on Palgrave. I also did a couple of cool projects with Ono—one a film collaboration with Jesse Malmed commissioned by the Chicago film archives.
Travis: (a.)Summer 2015. Trauma! 50 years since Summer 1965. I was an 18-year-old testosterone-driven military man (U.S. Navy Communications). GTMO Bay, CUBA (1964-1965). U.S. invaded Dominican Republic 28APR65. American/Israeli Intelligence Spooks stepped up racial segregation in DomRep/Haiti. Escalated assassination attempts against leaders in Cuba, Haiti, Kongo; Panama; Puerto Rico, et al. Civilians murdered and starved under LBJ polices of "Covert Economic Sabotage." Not enough holy water for the Colonies! MON 20SEP65, 0800: The worst, deadliest week of my life began. Ofc of Nav Intel interrogated me (lie detectors, electrodes and other "instruments" attached to various parts of my body). Eight interminable hours! ONI Spec Agent Munson wrongfully accused me of sodomy. Though dominated, wrapped in wires and beaten down, I maintained (truthfully) that I had never at any point in my 18 years committed "penetration however slight!" "Sodomy: Penetration however slight shall be sufficient to complete the offense." Munson found no evidence of sodomy, but Munson, pawn of LBJ's aunt Frank Martin, pursued me, violated me for four years. Rota, SP; Thessaloniki, GR; Vietnam! By Thursday night into Friday, September 23-24, uncontrollable hallucination: "I Dream Of SODOMY!" Munson's persistent, violent verbal torture flayed, surveyed, grenaded and bathed in blood every penile pressure point, and every offensive fantasy, setting the benchmark for all future sexual pleasure and pain! My world view changed for the next 50 years. Myths about Judeo-Christianity, the "nature" of God, the "love" of God and God's "grace" devolved. Sex, love, maleness and human emotions mechanize political vanity. Justice; slave state societies; "The Great Society" of LBJ, JFK and MLK: White, male collisions of power, competitive castration and separation. In the womb, all "males" begin as "female." Hypertension blood pressure levels September 20, 1965 until now. Isolation. Diffraction. Low self-esteem. Self hatred! As a member of Navy Emergency Ground Defense Force, NEGDeF, I learned to love my GTMO guns: Colt; M1; BAR; Bazooka; Machine Guns. Machines that kill people. Enter travisDjPTSD!
(b.)At P. Michael's request, I joined him acting in Heather Lynn's play Genesis and Nemesis. I also read Samuel R. Delany's 900 page Dhalgren. Now re-reading Dhalgren. Completed 300 drawings based on Dhalgren. Creating Noise pieces to accompany Dhalgren drawings. Reading Eugene D. Genovese's Roll, Jordan, Roll. Reading specific sections of Adler/VanDoren's Great Treasury of Western Thought.
(c.)"[P]ost-release plans…?" I defer to P. Michael, ONO leader.
What were some of the adjustments of perspective and focus after picking up where you left off?
P. Michael: ONO had remained steadfast with our statement of purpose since 1980 (no adjustments)
ONO STATEMENT OF PURPOSE:
Experimental Performance, NOISE, and
Industrial Poetry Performance Band;
Exploring Gospel's Darkest Conflicts,
Tragedies and Premises.
Shannon Rose: in many ways it feels like going home. One major adjustment has been the fact that I am out in California now. A lot of the work that i contribute is done digitally. I also come back home for studio sessions and to play live once a year or so. That is a heartache to me but also a great joy to continue to collaborate with P and Travis.
Travis: I was, and I remain, old, slow, un-contained out of touch long ago. ONOmatopoeia (my name for the band) separates ONO Noise from fashion, from music, from consequence. Other members are better suited to formulate ideas about competition. The ONOmatopoeia Statement Of Purpose was written January 5, 1980 with lyrical exploration in mind. ONOmatopoeia Before Music.
How have the additions of Rebecca Pavlatos, Jesse Thomas, & Dawei Wang enhanced the sonic and conceptual development of Ono?
P. Michael: Dawei carries on the abstract tradition of the outsider sound of the 80s iteration of ONO.
Rebecca and Jesse provided a more contrasting musicality to the ONO pot which some would say make the sound more accessible. Of course that's what trained musicians do, but the element of outsider sounds abound…
Shannon Rose: …brilliantly!
Travis Travis Travis: I defer to P. Michael, ONO leader. It pleases me that P. Michael found interest in my work (1980). Otherwise, I am 35 years AWOL from Harbhajan Singh Khalsa YogiJi's Kundalini 3HO Ashram to which institution I surrendered all desire, and committed my life in 1976. I live with Guilt. (Spooks.) Another story entirely.
Describe for us the changes/similarities in your creative responses from the socio-politico-economic climates of say 1983 that saw the release of your album Machines That Kill People to the end of 2015 with Spooks.
P. Michael: ONO had remained steadfast with our statement of purpose since 1980 (see above). Though with the addition of trained musicians the sound evolved and appered to be more musical.
Our socio politico-economic outlook has always been worldwide rather than limited to this country. Always present Travis as Vietnam Veteran and P. Michael as survivor of Catholicism.
Shannon Rose: Critical race theory.
Travis: I create every day. Therapy, rooted in an attempt to deconstruct personal vagaries bound by black death, (U.S.) American "Manifest Destiny," interference and framing. My neighbors are drugged. Defeated. Elderly kept alive as blood banks for pharmaceutical CEOs, military/financial institutions and the bleeding ulcer that is mid-east Wall Street. Perspective: 1893 World's Columbian Exposition. "Boosters" enticed investors by detailing how blacks and natives, like the buffalo, should be considered "temporary forces upon the urban landscape." Perspective: Pres. Roosevelt, Battle of San Juan Hill/1898: "It is manifest destiny for a nation to own the islands which border its shores…. [A]ny South American country misbehaves it should be spanked." Testosterone. Machines that kill people. NSA Spooks now as then.
Tell us the sort of religious-sci-fi inspirations behind the song and video for "Punks".
P. Michael: The spirit of "Shango: venerated in Santería and Haitian Vodoo as "Chango", the picture as witnessed by the lightning.
Travis: (a.)Words. I am native (Chickasaw/Choctaw) and black in America. Punk equals sissy! Nothing to do with music. Punk is an offensive, deadly term in virtually every community of color I know. "Boys who wear 'women's' clothes!" Punks are young black males used by older black males as passive sex objects. Punks are attacked, stigmatized and purged by both black Judeo-Christians and black Muslims because they are aberrations of biblical "nature;" lower than murderers. Punks are murdered daily in black communities (not always by blacks). Many post-modern punks find solace behind Buddhist Gohonzon. The most powerful institutions in black communities are religion and undertakers.
(b.)Video. A stark, Travis "Punks" video lacked traditional "action." Very long neurotic composition of drawings and pictures. Although P. Michael liked it, two or three ONO members screamed "lo-tech" and "no-tech." I destroyed it, and sulked. At that moment, an ONO fan, Dave Polkinghorne invited me to bring ONO to an experimental Tesla Coil display. (My images from the previous Tesla display proved wildly popular on social media.) P. Michael agreed. I wrote an open script for specific 'scenes.' ONO brought data collecting devices. Dave and his family fed us. We handed the footage to DaWei, and he and P. Michael assumed complete artistic license to create the extant "Punks" video.
Describe the Chicago of the post-punk era, to the Chicago of today. What inspired you all about Chicago then, and what inspires you all from the environments of Chicago today?
P. Michael: Chicago post punk era had a rich underground art scene—many creative folks in the stew —Chicago architecture, its old Churches, the Lakefront. ONO mingled a bit but were considered outsiders called punk…but not true.
Today there is still some creative art folks about. They are working in a more conservative environment that is now. ONO are more embraced by the community nowadays but remain outsiders sonically.
Shannon Rose: Chicago is one of the best creative cities. Proud to be a Chicago girl in diaspora.
Travis: (a.)Chicago. I work for P. Michael. I go into town when P. Michael summons me. I live alone. No wife, no husband, no sexy piece-a tail. No tv in eight years. Instead, I create daily, without fail. I talk to myself, and linger with longitudinals [sic] in my head. I die daily!
(b.)Inspiration. Apple iPhone6+, iPad(s), iMac, MacBookPro. I am inspired by Apple's ability to quickly, easily and efficiently document, edit and regurgitate my fantasies, my vulnerability and my antiquity. Apple fuels my old-age fundamentals!
(c.)People. Theaster Gates (friend); Andrew Rafacz, owner of Andrew Rafacz Gallery (friend); Prof. Drea Howenstein, SAIC Chicago (friend); Prof. Joyce A. Hughes, Northwestern University School of Law (friend); Faheem Majeed, artist (friend); Daniel D. Polsby, Dean, George Mason Law School (friend); Lt. Col Sean Sullivan, USMC (my best friend).
Some solid Ono wisdom that you can share that you all have learned over time?
P. Michael: "You can never cover dirt." —Travis/ONO 1980, "Fatima Police"
Travis: [further reading on "Foreign Relations of the United States, 1964–1968, Volume XXXII, Dominican Republic; Cuba; Haiti; Guyana"]
ONO's Spooks will be available October 24 from Moniker Records.
Go here for more ONO info.
White Laces
White Laces from Richmond, Virginia are the band that everybody was talking about all the way through the release of their Trance album from Egghunt Records and Happenin Records. From being included in guest selection presentations, name dropped with an cool and assured casual passing to religious level fervor—all in excitement of Richmond, VA's Landis, Jimmy, Jay, & Tori having their talented visions recorded by the legendary Jeff Zeigler at Uniform Recording in Philly (mastered at Timeless by Heba Kadry). In succession of their 2011 Shdwply Records 12″ EP, the 2012 LP debut Moves; Trance was the record that further solified Richmond's reputation as an exciting new DIY hub that has given us Egghunt Records stable favorites like Feral Conservatives, Manatree, OKO TYGRA, and much more.
Today it is our pleasure and privilege to present the colorful visions created by Dave Watkins for White Laces' world premiere of their video for "Heavenly Creatures" off the aforementioned and much lauded Trance album. Here light projections on trees shine hues of green, red, yellow, blue, where the omens, intuitions, and inclinations from the song's celestial projections are further mystified into the ephemeral metaphysics of different glowing auras.
"Heavenly Creatures" visually becomes the essence of White Laces sound distilled to light form projections on various leaves and branches edited in between sparse images of the group in between the moving array of colorful beacons that softly shift in and out of the frames of focus. Together this causes for an otherworldly minimalism where royal crowned reminiscence is transformed into a poly-fluorescent spectacle. In audio and visual form, White Laces blur and blend the lines between the dimensional lines and boundaries that separate heaven and earth, and imagination from the grounded and sobering measures of real life.
White Laces were as generous as to give us a behind the scenes look at the making of their epic album Trance, where they announce their upcoming mini-LP, and a few words on the making of the visual companion piece for "Heavenly Creatures":
Trance was recorded over seven days in Philly at the end of December 2013 with Jeff Zeigler at Uniform Recording. It was a pretty stressful time and we weren't quite sure how things were going to sound since we were combining live performance with bits of samples and synths from other sources, but we managed to patch things together. Pretty soon after we finished mixing we were asked by The War on Drugs to open for them on their first tour behind their album Lost in the Dream, and the record came out the following fall (roughly one year ago). We just finished our last set of shows for the year with our friends Myrrias last night and we head back into the studio at the end of the month to finish our new mini-LP, No Floor.

The video was shot on a farm outside of Richmond late last year. We were originally working on something for the song "Skate or Die" with our friend Mel Kobran involving some vaguely satanic proceedings and a lot of narrative. Dave Watkins (who is an excellent Richmond musician in his own right) rode out with us to add projections to the mix and we hooked a lot of equipment up to a fairly limited power source in a nearby barn. The original concept for the video was scrapped after a number of scheduling conflicts and lost video, but we ended up with a lot of beautiful pulsating footage shot by Dave that we decided fit quite a bit better with the song "Heavenly Creatures." Dave tied everything together and here we are.
White Laces' album Trance is available now from Egghunt Records and Happenin Records.
Liphemra
Liphemra over the course of recent days, weeks, months, & years has been releasing singles, videos, a multitude of collaborations, zines, & more that have enraptured our attention and imagination to a world of real feels, and visceral arrangements of songs and media made in the tune of real life and real emotion. Announcing her anticipated debut EP did u cry available March 11, 2016 from Future Gods; frontwoman/mastermind Liv Marsico brings a barrage of rhythms that evoke the acid house relics and ruins that then move toward her synth-string stages of opulence, ruminated reason, and lyrical reckoning that tear you apart from the inside out with the couplet refrain, "did you even cry? Did you even try?"
Liphemra shared a few words with us on the making of the forthcoming did u cry EP:
For the last year we've been working on the EP….writing and rewriting stuff…we've been recording it all ourselves in our rehearsal space in mid city LA. After trying other studios and working with producers—which is why this has taken so long to complete—we realized that it is a lot more enjoyable to make ourselves. Everything we've made elsewhere has been scraped. Luckily Trey (our guitar player) is also an amazing engineer/ producer and we're able to do this. Although its not glamorous by any means, it feels right and fun and we don't have to answer to anybody else about the musical choices we're making. As a band we're like family. These guys are my brothers and they're the only ones I feel comfortable making music with…we just get each other and I love them.
Head Over Heart
Tucson duo Jordan Prather and Belinda Peters are Head Over Heart who present the world premiere of their Jason Willis video for "I Don't Mind" that matches the duo's star crossed sentimental sound with timeless visuals of enchantment. Working in similar entrancing terrain as fellow Arizona contemporaries Bogan Via (sans the electronic excess) where duets soar to the places that defy conventional place and time that champion the affectionate bonds of romances to last for all time. Belinda and Jordan together harmonize a sound meant for haunted road-houses that quietly await company on lonely roadsides, to wallflower anthems for those left solo on the sidelines at proms and school dances everywhere. Head Over Heart works from the modern models of song construction to bring equals amounts of headstrong logic and heart lead passions that allows their compositions of bliss to bloom in our shared contemporary reality.
Featuring special guest appearances by Nova the cat, Jason Willis's video recalls classic camp cinema (a la the 1902 silent film Le Voyage dans la Lune from Georges Méliès) where the "here we go" motions from Head Over Heart's "I Don't Mind" take flight to the cosmic and metaphysical realms. Nova the cat commands the mystic adventure where Jordan plays the role of Belinda's card dealing fortune teller where tarot readings find the hidden passages of the past and future across clouds, stars, and vintage animated clip-art. Superstitions from palm lines to otherworldly felines take the duo and audience into a parallel world of classical carnival zodiac fare where symbols, omens, and esp abound as visual and imaginative accompaniment for one of the most epic slow jam dance ballads ever.
Writer and director Jason Willis provided us with an inside look at the psychic world at work behind the elaborate visuals for Head Over Heart's "I Don't Mind":
The inspiration came about pretty organically. The music felt so otherworldly and dreamy that when I first heard the song and closed my eyes I kept seeing images of falling stars and cloudscapes, but then the lyrics deal with failing romance, escapism and self-delusion! So it all set up an interesting juxtaposition that felt like a surreal and highly personal fantasy to me.

Visually the world of carnival psychics, fortune tellers and spiritual hucksters seemed to lend itself to all of that (with a touch of Professor Marvel from The Wizard of Oz around the edges), but the final piece of the puzzle really came from my cat Nova. As I was sketching out ideas she came over to my computer, sat down on the keyboard and just stared at me for about a minute straight before sauntering off. When I asked my wife what she thought it was all about she said, 'Obviously you're going to be in trouble unless Nova is in that video.' So you see, my cat runs the show in real life just like she does here.
Slaughter Beach
Odense, Denmark trio Slaughter Beach have just released their anticipated Love/Venice EP via the Norwegian imprint Brilliance Records and digital and we give you a debut listen accompanied by an interview session. Nikolaj Westi, Hasse Mydtskov, Mads Emil Aagaard have spent time crafting a release that contains lo-fi representation of feelings and exchanges reserved for late night phone calls, early am texts, to a sincere pop sound of what we imagine hearing at future festivals around the globe. Slaughter Beach takes observations and reflections of introverted thoughts and feelings and applies a full on sound that begins to convey emotions that step into the ineffable aural pools that linguistic mechanics cannot relay alone.
"ClearInsight" opens Love/Venice with a romanticism that flies forward at a quick and sharp pace like the speed of an affectionate heart falling fast. The swift rabid at heart sentiment is coupled with "Introvert" where singer Nikolaj's refrain of "I know you want to be alone" breaks down into the vocal chops and emotive interplay between chord and keys. As the name of the EP suggests, love is in the air throughout as heard further on "Made-Up True Love" where lo-fi fantasies spring to sonic life in what could have been a lost new romantic cassingle classic that is followed by radioactive slow burning total meltdown of the heart / appeal of affection that pushes expressions into subjects of sound; "and everyone seems to come around when you expose a sound that's hidden inside you…" All the action comes to a fitting close with "Spinning Globe" where the trio brings about their biggest sound that reminds us that through it all the world continues to turn on it's axis. Join us after the following listen for our discussion with Slaughter Beach.
Describe for us what your hometown home-base of Odense is like, and describe the routines and creative methods employed at your studio.
Odense is the third-largest city in Denmark, but it's really tiny compared to Copenhagen, there's not a lot of venues nor cool places to go out, but for us this means there's rarely any tempting alternatives to locking ourselves up in the studio and work on new songs. While working in the studio it differs a lot who's doing what, it really depends on who came up with the basic idea of what we're working on. In most cases though, Nikolaj comes with an outline of a song and then we all join in to take it further.
With the releases of singles "Clear Insight" and "Introvert", you all have been bringing the passion pop. Tell us what the making of this heavy-on-emotive highs analogue cassette was like.
We all have quite different approaches to making music, which really comes to show in the way this EP sounds. Hasse comes with a great predilection for pop, Nikolaj for classic songwriting and I (Mads) for the more guitar-driven 90's indie rock.
Tell us what else is going on around Copenhagen that you all have found to have helped inform your sounds.
Since we don't live in Copenhagen we're not fully aware of what's going on there, but a very positive thing that we can feel, even here in Odense, is that Copenhagen is creating a lot of attention towards Denmark, which is somewhat beneficial for us as a Danish band.
What are you currently working on right now for future releases?
These days we're wrapping up demos for our second EP which is going to be recorded in Copenhagen later this month. It's gonna be a quite different experience for us, as we're used to do all the recording in our own tiny studio, but this time we decided to try something new. The next you'll hear from us will probably sound a little less cassette-like, but still plentiful of new emotive highs.
Best things you all have heard lately that you are playing non-stop?
When you spend a lot of your time on making music, you're not necessarily in search of new music all the time, but occasionally something pops up on our radar and we'll listen to it. This year we've enjoyed the new records from Built To Spill, Speedy Ortiz and Beach House.
Advice, further insights and wisdom from the Slaughter Beach trio?
Don't do any harm upon animals.
Slaughter Beach's Love/Venice EP is available now from Brilliance Records and on digital with an upcoming EU tour in November, playing London's Old Blue Last November 9. More info here.
Kooley High
Kooley High just released their Heights EP today via M.E.C.C.A Records, and we bring you a listen to the full album, including the new single "Under The Sun" that showcases how there is nothing new beneath the fiery planet while managing to push their sound and state of mind to higher stratospheres. Featuring production by Sinopsis, the rest of the Raleigh, North Carolina crew of Charlie Smarts, DJ ill digitz, Foolery, and Tab One reiterate their rightful place in the hip hop and pop world through bars of matter of fact boasts while the mix stays atmospheric and smoked out.
Tracks like "Automatic" find the group coasting on the smoothest sensations heard yet from the Raleight set, marinating on the various sides of solace and loneliness on "Alone", to the level stepping staircase of "4th Dimension", to kicking it Kooley-wise with "Suave". Singles like the Foolery produced "Middle East Coastin" keep the beat clapping and slapping and coasting to the next episode, to the Sinopsis produced "Where I'm Going" that features Add-2 that defines hopes, dreams, and goals, tidying it all up with "The Cleaners", right before leaving you with the torch burning cut of persistence and perseverance with "Carry On" featuring Sandra Gell vocals.We recently had the pleasure of talking to Kooley High's own Tab One & Foolery in the following insightful interview.
Heights sounds like you folks are taking the KH sound to a higher zone. Tell us what the progression has been like for you all from Eastern Standard Time, Kooley High Presents: David Thompson, to working with Foolery on this new cycle.
Tab One: We actually brought back both of the home team producers, Foolery & Sinopsis to handle the bulk of the beats for Heights. We also got some help from Eric G, Tecknowledgy, and DJ Prince. The progression is funny because it's not something you notice as it's happening. It's just a natural thing. We always aim to make quality hip hop so, I think the fact we've been doing it for a while know comes through in the finished product. To paraphrase Guru; the rhymes have elevated, the style of beats has elevated, but it's still Kooley High.
Foolery: Well, first of all, thank you. Both of those previous projects and this new project all represent very different times for us as a group. Eastern Standard Time was created as we were all finishing school and still really learning our crafts. David Thompson had a very different vibe because it was after most of us had moved to New York and were really kind of struggling to find our way. I had the most immense beat block during that time period, and Sinop was still down in North Carolina, so the majority of those beats came from our friends DJ Prince and Napoleon Wright II. Heights is us as the core group coming back together and making something that sounds like all of us. We've got members in two states, so it has been a learning process, but we've figured out how to get our groove back, so to speak.
Take us behind the scenes at 9th Wonder's Bright Lady Studios on some favorite moments in making this new record.
Tab One: It's usually mad dark. There's also one or two cats hangin out in the main room. You'll usually spot Sean Boog, Krysis, Amp, 9th, Rap or some combination of them working or just kicking it. Recording was fun. We'd usually grab the booth when we could get it to ourselves. My favorite moment through the whole process was swinging by one day and chilling with Posdnuos. He was in town for the Hopscoth festival and dropped by the stu to chop it up with 9th. He was playing us unreleased De La Soul tracks that were incredible. I played it cool but inside I was like, holy shit!
Foolery: Bright Lady Studios is super chill. There's always good music being made or played in there. It's a great place to watch people do their thing and pick up some inspiration. I've got a spot not far from there where I can lock away and work on production; Sin has a setup as well, but when it was time to record we would go hang out until the booth was open. One of my favorite times at Bright Lady was when I had the extraordinary opportunity to meet and hang out with Sean Price. The man was just like you would expect from hearing his records: hilarious, full of stories, a really nice and down-to-earth guy. There was nobody like him. He will surely be missed.
What's good these days in Raleigh? You all seem to forever have some of the coolest scenes around.
Tab One: Raleigh's cool. A lot of cool creative people. You can ask the crew though; I'm usually at home.
Foolery: Yeah, Raleigh is pretty cool. Durham is mad cool too. There's a lot of great visual artists, a lot of great music, a lot of great food. There's a lot of universities. There's an incredible entrepreneurial spirit around here. And it's bubbling. Out-of-state companies have been building 'luxury' condos like gangbusters lately. But it's still not a big city. If you're on the scene you're going to know a lot of the people who are doing it. Everybody's cool.
What are you all listening to obsessively right now?
Tab One: Marc Maron's ["WTF"] podcast.
Foolery: I keep going back to both of the last two Tame Impala records. Really inspiring stuff. I can't get enough.
What are some of the secrets in taking both a sound and state of mind to new heights?
Tab One: Getting outside of your comfort zone and trying new flows, new styles, new approaches. It also helps if you have a Charlie Smarts in your crew.
Foolery: Vintage equipment. Marry it to the digital world. And get your mix tight. The drums have got to hit right.
Kooley High's new EP Heights is available now both on digital and vinyl.
Micah James
Following up his recent "Said 2 Much" single, LA's r n' b crooner and emcee Micah James dropped by a slice of that SoCal life with the video for "Shadows" from Thed Jewel, shot by Alex Jones with Blacktop Films editing. The video features deep thoughts on courtly love from James from relaxing in the pool to retreating to vacant fields and pondering the darker sides of the sun's prismatic beams and shadow casts.
Micah James was ever so kind as to share some thoughts on the inspirations behind "Shadows" and a bit about the making of this fun, cool, and sentimental sided video:
The lyrics in "Shadows" are about a seemingly mundane day in the life of the narrator. He picks out his clothes, brushes his teeth and accidentally gets locked out of the house, more or less. While out in the day, he meets someone breathtaking and everything illuminates, so to speak. "What light from yonder break" or whatever they say. He kinda falls in love only to realize that it was all a dream. He wasn't kissing his lover, his cat was really licking his face, which is fun I think. He's upset at first but is almost resolute that he and this dream figure will meet again at some point, in another dream—a safer, more idealized environment than the real world. I prefer that sort of ending because it doesn't place any kind of unnatural longing for a soul mate on the main character. His desire, we learn, isn't at all to find that in his daily life. He's cool knowing that it exists somewhere else, and even more at ease knowing that he doesn't really have any control over it. When they meet again it will be because it's supposed to happen that way.

The video was directed by Thed Jewel, who is new to music videos and very fresh. While we didn't want the song and video to be literal mirrors of each other, it is somewhat a surreal dream sequence. The house represents the challenging realities we all face: job, bills, food for the kids, weight loss, I dunno, whatever you got going on. The pool represents a departure from that. Initially a reprieve and subsequently a complete rebirth, if you will. There are scenes were I'm lounging in the water, in my swimsuit, kind of taking a break from "the house" but then there's this final dive that I take, emerging from the water in this wool suit. That poor wool suit, by the way—I hated to have to get it all soaked like that. But yeah, that's the new new. Cleansed of the desire to live in the house. Then we end off in this kinda neutral zone, surrounded by air and mountains and natural life. An area for you to design as you see fit. There's also the fun little bit at the end where I leave the house and the guy who actually lives there pulls up and is all "what is this dude doing coming out of my house?" People are protective of their things in that way. What they've acquired and worked for. I'm not mad at that but I think this video, much like the song, is saying that there are places where the rules and requirements of your physical world—whether it's one that's been thrust upon you or one that you've been stacking up for yourself—don't exist. Where you don't care who's in your house because you don't have a house to own in this alternate environment. Maybe that's just in dreams or perhaps there are more unknowns out there to explore. It sounds really dumb to say it like that and read it back in my head but you know what I mean.
Adult Bodies
Meet LA's Adult Bodies who just released their Drones single that continues Southern California's synth art pop wave of digital-electro modulations. Comprised of the talents and minds of Steven Wilkin (reorder, producer, editor, arranger, mixer, vocals, Korg MS-20 mini, Ablton Push, guitar, etc) & Matthew Kiernan (editor, arranger, mixer, Korg MS-20mini, Ableton Push, guitar, etc); the two blend the places where modern day technology both enhances and hinders the human and personal entrances of connection. Recorded in Echo Park's Loft Studio, Steven sings out his soul over digitized universes he programs alongside Matthew that bridge the gulfs and barriers between foreign and former friendly bodies and estranged hearts through the appeal of contemporary means of musical representation and expression.
Steven talked to us a bit about the forming of Adult Bodies, the making of "Drones", with some hints on what's next in the cards:
Adult Bodies, originally a solo side project of Sun Drug Vocalist, Steven Wilkin, was given new life this past year through a synchronistic move which brought him together with young up and coming producer Matthew Kiernan. Together in Steven's open space with concrete floors turned home studio loft, dubbed 'The Temple,' their contrasting styles and musical backgrounds launched the project into new realms of electronica, crossing many sub-genres of dance music and indie.

"Drones" is the first single on the Adult Bodies debut, Solid Colors : Modern Lives, expected early 2016. Drones features melodic vocals over dark, heavy synths, and hypnotic guitar lines, it touches on the complexity ex-lovers have of escaping each others worlds, while still being connected through social media, seeing each other's lives unfold literally in front of their own eyes. Moving forward, Adult Bodies will be preparing their live performance and working on collaborations. They are planning on releasing more singles before the year is over.
Alge
We bring you the recent single "Waiting On You" from LA artist Alge's forthcoming debut EP Diamond Inseams available November 20. Main man Jon Weinman brings electronic elements that entail the effects and acts of persistence that yield the sorts of surprises patience can bring. The sparse electric arrangement of elements keeps every single instrumental item sending a series of cool yet quick cues that trickle like a stream set next to the spinning four-track tape spindle. Catch Alge playing November 14 at LA's The Mid City Music Lounge.
Alge's Jon Weinman lent thoughts on what sorts of patience were involved with the process of making "Waiting On You":
"Waiting On You" is the first track that I've released that was entirely written and produced in Los Angeles. I wrote it soon after I moved and the music and lyrics aim to capture the sort of longing and isolation of being a stranger in a strange land, living in a new city with a limited network, and missing friends, family and loved ones. The track shimmers and just kind of rolls along, handing the listener off from one moment to the next, in a way mirroring the unceasing march of time. Its a love song at its core, but it is also a song about doubt and our inability to be anything other than the sum of our experience. Distance breeds isolation, and yet love is essentially the opposite of isolation. "Waiting On You" is about that juxtaposition, and the music is meant to personify that dynamic. In the end, it is sort of a musical case study of what happens when you stretch love out over a great distance. When you let it go does it spring back together and roll up onto itself or does it maintain its new shape?
Flavor Waster
Jodi Jones, Kevin Hilliard, and Patrick Taylor are D.C.'s Flavor Waster, who give us the tributaries that channel through their trenches and into the great vast ethereal ocean. Taken off their upcoming album It's Always Sunny When You're Cool available November 20 from School of Resentment Recordings, the band borrows some of the learned hardcore elements from their days as Caverns, to a sound that is grounded to earth and Jodi's reign that turns Flavor Waster's electric hail storm into melodic machines of fancy. After the following listen, check out our interview with FW's own Kevin Hilliard.
From Caverns, film scores, and other projects; how did Flavor Waster come about, and what's the story behind the name?
My bandmate Patrick and I have written music together since we met in high school. We're besties and trust each other musically to the point of co-dependency. We started Caverns together after college, starting working on commercial and film scores as that band winded down. While we were working on the score for the film "Fishing Without Nets," we both agreed we wanted to experiment with writing "band"-centric music again.
Patrick's family is from Guyana and he grew exposed to a lot of music from the Caribbean like Soca, Calypso, Reggaeton, etc. and turned me on to it not long after we met. We both dig hard on the rhythmic vocabulary of those genres, as well as stuff from closer to home like GoGo. I grew up with DC hardcore and turned him onto that. In our scoring work, we both became very comfortable with writing ambient textures and tones. Throw a mutual admiration for the vocal work of musicians like Nina Simone, Hope Sandoval, Liz Harris (of Grouper) and you have the basis our idiosyncratic musical recipe.
We met our drummer Martin MacAlister through J. Robbins – who needs no introduction and has produced a lot of our band and scoring work – J. was engineering a field recording of a session musician for a short film score we were doing and asked Marty to assist since he had interned for J. at his Magpie Cage studio previously. The musician was about the most unpleasant fella I've ever worked with, but we struck up a friendship with Marty and asked him to join soon after. We met Ryan Burke, who plays synths and some additional percussion, through Marty and then somehow found Jodi through the interwebs. She is our fifth singer, but the first one we knew was right so it's amazing she gave us the time of day.
There's no good excuse for the name. It references the fact that for almost any potential audience for our music there are some aspects of our sound that might excite them while others might fully bum them out. It also references mustaches. Basically I said something similar once in conversation with Patrick referencing the fact that I thrown a d-beat and blast beat into a song that up to that point was based entirely around a really pocketed 3/2 clave beat because I wanted to "waste its flavor". So that's that story.
How do you all describe the creative process in the group?
Patrick and I either write together or separately to flesh out the basis for a song. Sometimes one of us has a finished product but asks the other for notes and advice. Patrick moved to LA relatively recently, so we'll usually share demos with each other and keep pushing the songs forward until we've reached the goal line. Jodi and I work on vocal melodies together or she will just come in with one ready to go and blow me away. Martin is our producer and gives lots of awesome feedback and suggestions for the songs and Ryan has been a force in making our live performance coalesce into something we're really excited about.
What sorts of real life deltas and such informed "Delta"?
That song uses "Delta" in the sense of a difference between two values. There a lot of other candidates for song title, but we liked the idea of using "Delta" to conjure within the unsuspecting images of Jim Belushi and Bruce Willis playing the harmonica to some soul-destroying dad-blues band. If that is what some expects before the track starts, the hope is they will be pleasantly surprised and relieved while it plays. The lyrics in the song – and the theme of the album – are about how we deceive ourselves and others into believing something is the way we want it to be. Closing the "delta" between what "is" and what "ought" often requires a delusional belief that we can change ourselves. We almost never can, but once in a while we do and that self-deception makes it possible.
Tell us about what kept you all inspired during the making of It's Always Sunny When You're Cool.
We just believed we were in the process of making novel but compelling. For a host of reasons both in and out of our control making this album took years off of our lives. Also, meeting, working with, and becoming friends with Jodi, Martin, and Ryan kept things just fun enough to push through the heart-wrenching setbacks.
What's good in DC right now?
So much, but if we're just talking music I can honestly say right now is my favorite time in DC music since the 90's. The mid-aughts were a desert-like bummer but the last few years have been very fruitful. Off the top of my head I'm vibing on diverr, Collider, Hemlines, DC White, Fat Trel, Priests, Black Clouds, Kelela (though I think she moved), Young Rapids, Nature Boi, Witch Coast, Baby Bry Bry and the Apologists, The Effects, Joy Buttons, Polyon, and that's probably enough.
Sunshine Faces
Our last conversation with Sunshine Face's frontman Noah Rawlings indicated that he had already finished his second album, and today we bring you our latest interview with the North Carolina dwelling artist accompanied with a listen to the lush album Peaked available now from Little L Records. While it feels like only yesterday we were marveling at the bedroom and dorm room recorded Letting You Know cassette, Rawlings delivers big on the record he always knew he wanted to make that stands as a sound testament to the experimental artist's vision.
Built out of the previous experiences and song sketches, the blistering beams of light that continue our obsession with North Carolina's visionary pockets shine forth as Noah's Sunshine Faces bring the big sound on the opener "Sing Yourself Sleep" featuring Emily Yacina. The big slo-mo snow avalanche progression brings crashing breaks of sound that send us through dream pop echo chamber of "Kissing Every Day", where chords burn from bright to a sullen flicker on "Time Regained", turned up to the C86 indebted pep n' pop of "Peak City", and wrapping no-fi warbled recordings in the silk synth blankets of eternal atmospheres. Noah keeps his heart sown on his sleeve on the genius catchy craft of "Shawty Take Me Home" that creates an audio world of make believe right before your very ears. The momentum never rests as Noah keeps the spirit high in "Walt Saves The Scene", floating through the states of conscious being on "(Drowsy)", the homecoming in heart holiday of "Parks", the Grouper, Lady Lazarus piano recital school of "A Repetition", to the late night sleeping bag snuggled comforts of "Sleepover". Peaked is an album that pushes for a beauty and peace through sound and song amid an outside of world unrelenting unrest. After the following listen, read our recent discussion with Sunshine Faces' own Noah Rawlings that takes us even closer to his latest sound developments.
Tell us about the jump from your first album to your new album…feels as if you are wrangling in what could be the Sunshine Faces sound.
I wanted to make something a bit more focused and a bit more 'poppy" while continuing to experiment with recording techniques and effects. There are still ambient-esque tracks like "A Repetition" and "(drowsy)" but overall I think the pacing on Peaked is quicker and more 'cohesive'—to use a word I feel like I've been using a lot lately. Peaked was sort of the album I'd been wanting to make for a really long time, before Letting You Know even came out, in that it's shoegazey and dream-poppy the whole way through.
What have you learned about yourself as a musician from the process of the writing and recording the new album?
How smooth a process making a record can be. I worked on Peaked incessantly throughout last year, but I didn't have the same hang-ups I had with Letting You Know. I didn't doubt that the songs would turn out how I wanted them to. It was the most exciting and easiest recording I've done.
In our recent conversation around the release of your first album you mentioned that you and your keyboardist John were working on a dance pop project called Candygrams. Is that still happening, or are there any other side projects that you're involved with or in?
John is presently studying in Spain, so it'll be a while if we decide to work on anything new together. Right after he left we put out this two track thing though:
Any recent hangout sessions with our mutual friends Jackson Scott and Sam Higgins?
I think that Jack has descended into the psychedelic nether regions, into which I dare not venture. Sam has been drumming in the new iteration of the 'Sunshine Faces Live Band,' and we eat lunch together like every other day. It's a good time. Our favorite pastime is fucking around with this noise-generator that Colin from Spookhouses made Sam. It's incredible and may make an appearance on future SMLH/Sunshine Faces records…
What's good in Chapel Hill/Raleigh since we last spoke?
Hmm…well this musician, Molly, who makes music under the name Beverly Tender, just moved here from Philly and they are making Big Waves in the Scene.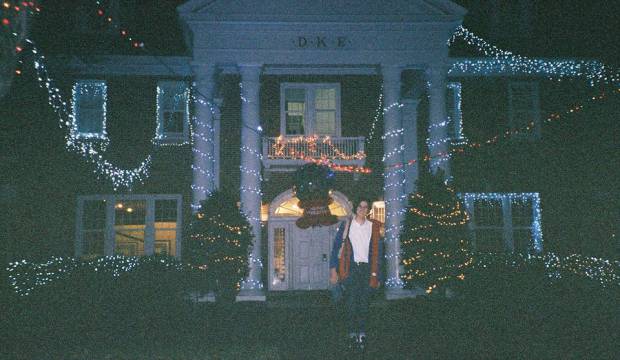 Further thoughts on what to expect next from Sunshine Faces and beyond?
Right now we are just playing a lot of shows and will be going on a winter tour with some of our friends, in support of the new record. We'll probably put out a mini-album in the spring, go on a summer tour, and then sort of stop releasing things for a while, in order to work on something big and special.
Sunshine Faces' new album Peaked is available now from Little L Records.
Graeme Bousada, who makes music under his surname, was kind enough to drop us a line with his new single "Cast in Gold" that he just finished up among an array of other recordings. The track trips off a skanking rhythm beat that kicks against the lush paradise tropic atmosphere where golden year delights and deluxe luxuries spill like extra sun shine drops that spill over from an already spent summer. Bousada introduces his current spate of works with the following dispatch from Vancouver:
…just north of you, on the west coast of canada, I've been writing music, music, music, endlessly….
Keep an ear out for further electro-lovers rock grooves from this northwest wandering artist.
Boston emcee Mr. Lif just signed a multi-album deal with Mello Music Group for 2016 and 2017 re-releasing his classic I Phantom November 27 featuring production from El-P, Edan, Insight, DJ Fakts One, NASA, Aesop Rock, Jean Grae and Acrobatik and we give you a listen to the El-P produced cut "Return of the B-Boy" to get you stoked for an upcoming exciting future.
Laura Stevenson dropped the uber-epic anthem of feelings that foam up when the walls are a-closing on in with "Claustrophobe" from the forthcoming album Cocksure available October 30 from Don Giovanni. Featuring production from Bomb The Music Industry!'s Jeff Rosenstock, Laura delivers on the most honest, brilliant, and assured sounds that can only be found amonst music by and between the greatest of pals and collaborators. Welcome to your new autumn obsession.
Also from Don Giovanni off the You look A Lot Like Me album available today from Mal Blum; watch the video for "Robert Frost" that features all those great times hanging with your favorite friends, favorite pup, with a little celebration of living it up in the fall season. Mal brings confessional matter of fact types of deliveries that talk about time progressions and how "everything is not what it was" with ruminations on the ups and downs of emulating the poet of the song's namesake. Direct by Mars & Mal and starring Broccolini The Dog, we have been informed that Broccolini was not harmed in the filming of this production and was given ample treats and love following his participation.
From Aleko's debut EP Amity, hear "Hold On Me" that deals in that after eight pm type of r n' b that requests the most meaningful of embraces. The keys and chords are restrained and the vocal's untouched and unyielding in emotive expression.
From Blue Daisy's new album Darker Than Blue from R&S Records, watch the Luke Carlisle video for "Gravediggers" that brings evening visions of mortal rituals that reach across the bridge to the immortal realms to a rumbling electric progression and steady hiss delivery.
Rizzla's Iron Cages EP is available now from electro radicals Fade to Mind, and the NYC artist brings us the Yulan Grant-edited video collage for "Iron Cages / Twitch Queen" that features collections of YouTube caught video images of global unrest, and other images of all around anarchy:
[This video attempts to subvert] the current American narrative of radicalized disruption, but not shy away from the reality of contemporary police violence.
We got the word from the Montclair, NJ underground (aka our new buds LKFFCT, see their recent interview feature) that Run For Cover Records just signed Pinegrove, and we got DIY-garage-practiced power pop of new opportunities, new joys, and more with "New Friends" off the forthcoming Everything So Far cassette available October 9.
Watch the ace video for Aces' "What Do You Think They'll Say About Me?" that feature Russ Flynn and Alexandra Stewart's synth-based synergy playing out in slo-mo sentimental displays to match the down low tempos and terrains of their sound.
Our buddies Face Tat are releasing a new album next spring that Mike G. described to us as being about "a sci fi / dystopian tale about people stranded on an industrial planet ruled by corporate AIs," and we have a listen to the electric dystopian single "Open Up Your Arms" to tide you over until then. Playing a slew of west coast dates from October 17-30; catch the band's latest updates from their previous It's Your Funeral EP that finds them exploring the darker electric corridor passages that blends apocalyptic overtones with latent modern day fears.
Los Angeles duo Oyster Kids recently dropped their debut single "Creepy" that creeps up just in time for your own annual all hallows eve mixtape moments. The synths and lazy beat slowly make their way through the entrance of the ears and into the playgrounds and jungle gyms of the mind that linger and loiter about long after the song has ceased from it's playback mode.
Hampshire's Habitats are readying their Jungles EP for release in February of 2016, and we got your listen to dance-inspiring single "Boogie Waltzer" that sees release today from the Decibel Collective. The band presents the sounds they have forged together from their time at Hudson Valley's Waterfront Studios where "Waltzer" boogies according to the blueprints designed by the quartet where every member is granted the autonomy of being a front and center contributing power. Following up their debut Diamond Days EP, "Boogie Waltzer" is a sign of Habitats' habit forming fun stepping sound directions that are soon to follow.
Kid Wave dropped the James Greenall & Chris Parton video for "I'm Trying To Break Your Heart" that celebrates those nostalgic romances that have long since rolled toward newer seasons and reasons off Wonderlust available now from Heavenly Recordings. The Wavers present ballads in sound and vision about the breaks and challenges that face that best and most bad ass of lovers ever.
Boogarins from Brazil release their sophomore album Manual October 30 from Other Music and we bring you the time-twisting psych jam "6,000 Dias". Listen as the days, weeks, months, years, decades, centuries and millennia fly by in front of your ears and mind. Stay for the chord shredding freak-out moments.
Oakland's own J.Lately deals in a kind of super atmospheric aura of rhythm & blues featured on his new single "I Miss You" ft. Champluther Vandross & Della, and super vibed atmospheres from producer Spencer Stevens. Find this on the artist's upcoming Let's Just Be Friends available soon. Together the crew harmonizes the feels leftover after the separation brought about by a break between the tightest of bonds. Must hear.
Watch the Patricia Aldridge video for Princess Century's forest based performance rituals that further illuminate her synth jam "Domestic" off her Progress album available October 16 from Paper Bag Records. Toronto icon Maya Postepski who you already know from Austra, Trust, turns her synthesizer symphonies into performance art concepts designed for rural spaces in the video that perfectly compliments the beguiling intrigue that exists between the notes of the mind dotting keys.
Watch the Serhat Arslan and Jordan Sommerlad video of sea and sky locales to accompany the earth song lore of Alnilam's "Lilac" off the forthcoming Indigo Sky available November 13. Nostalgic dreams of coast-side feelings and memories drift along to Alnilam's strings and sentiments of westward leaning oceanic inclinations that keep the mind and heart returning to those places of the past in the present states of consciousness.
Check out Margarita Louca's NSFW video for Shopping's "Straight Lines" that presents visual representations of the way we objectify those whom we love the most off their Fat Cat album Why Choose available now.
Foxing's new album Dealer will be available October 30 from Triple Crown and we have the new single "Weave" that features Conor Murphy tailoring along the single through the group's evocative tapestries of torch songs.
Because we know you are probably craving it, get down with the JD Twitch Optimo mix of Django Django's "Pause Repeat" for all your weekend revelry needs.
Check out Sye Elaine Spence the Jeff Scher direct video for the Dreambear produced track "1964" that brings animations and lullabies that resonate in those ways that shine lights on the fuzzy cognitive places of the internal incomplete archives that house cognitive experiences and stages.
Lydia Lunch collaborator Juan Azulay provides the moving video portrait of front woman Anna Bulbrook companion piece for The Bulls' "Rumors" off their Small Problems EP. The persistent rumors that stir about over and over in cycles in the mind extend from the mental framework and into the camera lens and microphone receiver.
We bring you Cape Cub's new single "Keep Me In Mind" that frames a forget-me-not love letter in the form of a song made to encompass the spaces between separated pairs of connective and kindred beings. Chad from the band describe the cut with the following thoughts:
To give you a bit of context for the song, I've been away from home quite a bit recently…This song is for that feeling when home seems a million miles away, and despite the wonders of technology, the ones that are closest to you feel out of reach. There's definitely a fear in the unknown, and that's kind of what this song is all about.
Hear SPELLES mind beguiling wild at heart folk baroque atmospheres on "Wild Heart" of her self-titled EP available October 30 from Sierra Bonita Records. The anarchic amor allusions at work here are free to roam throughout the mix conjured to further expanses thanks to the assistance of Bill Lefler.
Introducing Philadelphia's Jesse Hale Moore with a listen to his debut single, "Every Time," produced by Dave Hartley from the artist's forthcoming release via Canvasback. Known for his contributions to Philly groups like Nightlands, Auctioneer and Ladies Auxiliary; Moore's solo work finds the artist musing on inner reflective matters through the songwriting vehicles of r n' b inflections that display vulnerability and the synth touched displays of volition and musings on the human condition.
Caleb Groh from Nashville soothes what ails you with his theme song level jam "Let It Groh" taken from his upcoming Hot Pop EP available October 30. These are the kind of pop songs that you need to adjust your mood from whatever form of frump you might be in.
The Coathangers dropped by a listen to their surf-safari interrupting garage rocking rupture/rapture, "Watch Your Back" from their split 7″ with Black Lips' "Freedom Fries" available November 12 from out on Suicide Squeeze. Atlanta's lovable hooligan bring together a sound that screams and yelps to be reckoned with while enjoyed at the maximum volume that can be immediately afforded.
Hear "Zzyzx" from Library Voices who shred out the jams that turn let downs, and put downs, into pick-ups and lift ups off their forthcoming album Lovish available November 6 from Nevado Music. The classic power arena style jam is back as if it never left as the Voices stir up a feeling of wants and needs of an urgent immediacy that you never knew existed before "Zzyzx" arrived into your world.
Hear Still Parade's new single "Concrete Vision" brings further synth-crafted pop visions from Niklas Kramer that elaborate on his summer 2013 single "Actors" that further defines the elusive artist's sound.
Also check out Alex Eaton's visual ode to the ennui of memory in the reflective video for Lionlimb's slight-psych single "Bored Today" off the Turnstile 7″ available October 16 from Bayonet Records.
Watch the self-made video for Paul Bergmann's acoustic chill autumn ballad "Wishing Song" that features Warpaint's Emily Kokal off the Romantic Thoughts EP available now from Fairfaix Recordings.
Tokyo's Crystal release their first album Crystal Station 64 October 30 via the artful imprint flau, and we got the Shinya Sato video for "No Fun" that finds the trio of Ryota Miyake (also of Sparrows), Keita Onishi and Sunao Maruyama caught in a colorful array of 90s decorum (and retro 3D rendering) to match their vintage video game soundtrack styles.
Operator's EP release party "Gesamtkunstwerk" is happening tonight at Brooklyn's Reverse Gallery, and we bring you a listen to their Puzzlephonics EP available today.
Catch the following treated visuals of Kenton Slash Demon's "Syko" performed live in head twisting proportions off the Harpe/Syko EP available now from Future Classic.
Keeping up with one of our favorite IRL couples Diana Kolsky and Murf Meyer and their "Ménage à Trois Radio" program, as we bring you their latest conversation about life, love, relationships, sex, whatever, and more, featuring The Hold Steady's Tad Kubler.
Get eccentric and wild with Monogold's "Pink Lemonade" video from Mike Mueller & Sara Kinney where the frequency of guests and eccentrics increases as the performance-based video continues onward.
Portland, OR pop duo Dresses present the title track off their upcoming EP (available October 23) with "Let Down" that beams a bit of light for those in situations of internal distresses over break-ups and endings that often leave both parties with all sorts of unfinished and unpacked luggage.
With a fall and winter tour in the works (featuring support from Colleen Green and Eskimeaux) along with Run For Cover and AdHoc CMJ Showcases happening; watch Pity Sex's video for "What Might Soothe You?" (off their second album White Hot Moon) that features the band performing in a close up and personal perspective.
Watch the Cole Kush animated CGI video for "Heat" that looks like the strangest MMORPG epic yet taken off of Homeshake's Midnight Snack album available now from Sinderlyn.
Alex G's Beach Music is out now via Domino Recording Co., and is playing a release show/Silent Barn benefit tonight at SkyHigh Murals Future HQ in NYC (along with Palm, Emily Yacina & Frankie Cosmos), and also presents the sentimental John Vizzone video for "Kicker" right before taking over our Week in Pop.
Alex G's Week In Pop
The Philadelphia artist who needs no formal introduction (for the uninitiated, start here); Alex G has just released his Domino album debut Beach Music, and we are honored and privileged to present Alex Giannascoli's own Week in Pop guest selections:
Cold Foamers, "Sixteen"
Great Philly band.
Christians, "Give Your Demons Away (To Me)"
Video by Justin Blackburn.
Cousin Brian, Closer to Dog
Cousin Brian played their last show on Friday. I like this album a lot.
Great website.
True Widow
Favorite band.
Follow Alex G via Twitter.